There are many yarns that crafters recommend for potholders.
Potholders make excellent knitting projects when you want something quick and easy. Plus they are functional and fun to knit.
The best yarn for potholders is going to be one which does not transfer heat. Cotton is the best choice for potholders. Wool is also a great option for potholders.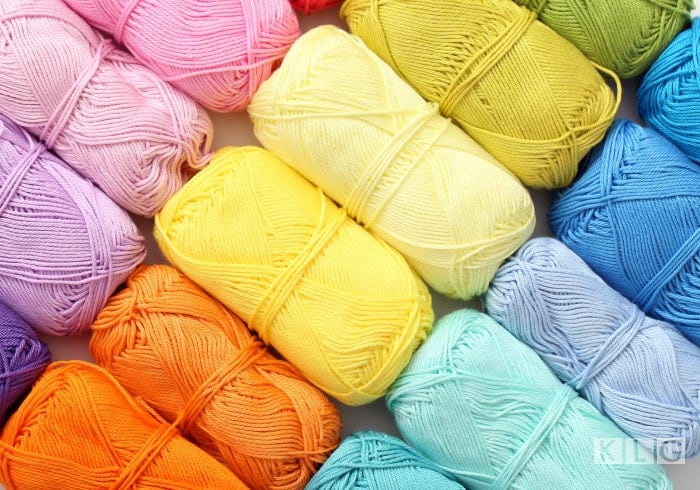 I also explore what yarn not to use in potholders – looking at you here acrylic yarn 🙂
Table of Contents
Best Yarn for Potholders
What is the Best Yarn for Potholders?
The main reasons for using a potholder is not to get burnt fingers or marks on your kitchen surfaces. A potholder's function to provide protection to skin and surfaces.
You will want your potholder to be thick so it insulates you from the heat. A pot holder must not melt or transfer too much heat.
When considering the best yarn to use in a potholder, you'd want something absorbent but without losing its shape.
Suitable yarn will be easy to clean, as potholders can get dirty with use in the kitchen.
You want a potholder that can be used, washed easily and then used again.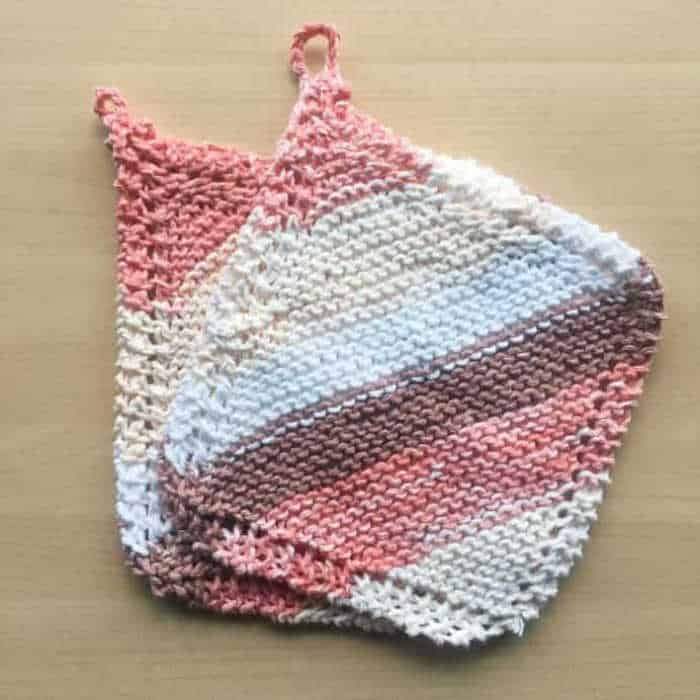 What to Consider When Choosing Best Yarn for Potholders?
Yarn that
won't melt
heat resistant
easy to clean
machine washable
absorbent
holds its shape after washing
knits/crochets up thickly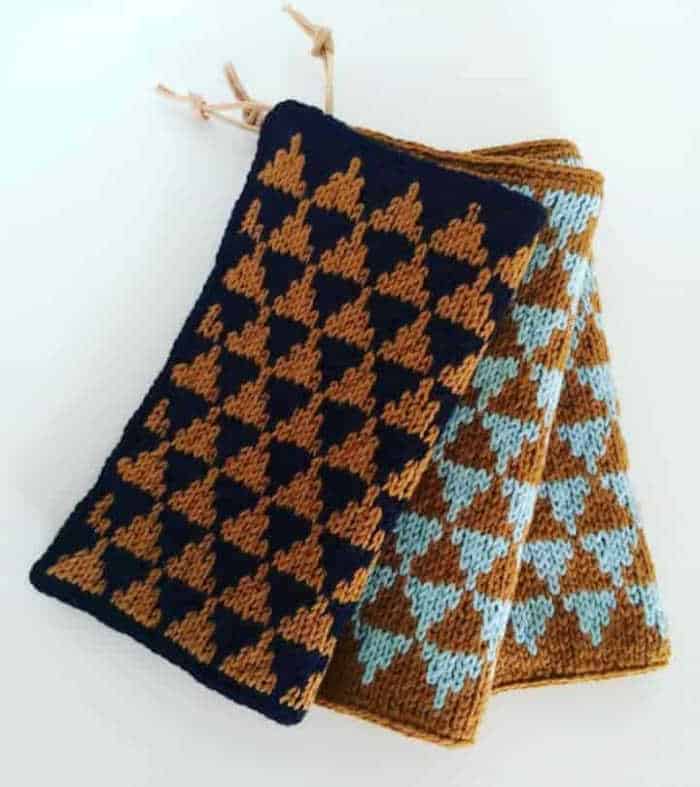 Why is Cotton Yarn The Best Yarn for Potholders?
Cotton Yarn has qualities that make it very suitable for making potholders.
It will not melt; is easy to clean and it is absorbent without losing its shape because it is inelastic.
The number one recommendation is Kitchen Cotton Yarn, as the qualities of this yarn mean it is exceptionally functional in a kitchen setting.
Kitchen Cotton Yarn is known for being particularly sturdy, absorbent, inelastic, matte (not shiny) and machine washable.
Organic cotton would also be a consideration as would mercerized cotton thread.
Let me tell you, cotton yarn potholders are fabulous. They are sturdy, washable and incredible at blocking out the heat from even the hottest of pots and pans.
Choose a pattern that has a good thickness of knitted fabric. When knitting a potholder, keep your tension firm as this will help to create a better overall fabric.

What Yarn Weight is best for Potholders?
When considering the weight or thickness of the yarn you choose you will want something that will insulate you from the heat, so it needs to be thick.
Look for a DK, worsted weight or heavier yarn (look for "worsted weight" and/or the number 4 symbol of the yarn label.)

Using these weights of yarns means the knitted fabric created is thick and protective.
Wool Yarn for Potholders
Although cotton yarn has been seen as the number one choice for best yarn for potholders, wool is also highly recommended.
Wool yarn will not melt if it comes in contact with heat. If it happens to catch fire, it should extinguish itself once it is no longer in contact with the flame.
Wool prevents heat from traveling through to underneath. It can be felted to provide a thicker "fabric" and is water resistant as well.
The problem with using wool is that it's not as washable as cotton or as easy to clean.
Machine washing a wool potholder could result in felting, and possibly ruining the potholder.
After all your work of making one, you don't want it to be ruined after the first wash!
To combat this, you could hand wash your woolen pot holders.
By all means if you want to felt your potholder then machine washing is a breeze!

Alternatives to Cotton Yarn
Silk Yarn which is also a self-extinguishing fiber could be used in a potholder.
But let's face it, you wouldn't want to spend lots of money on this type of everyday use project and silk yarn isn't cheap!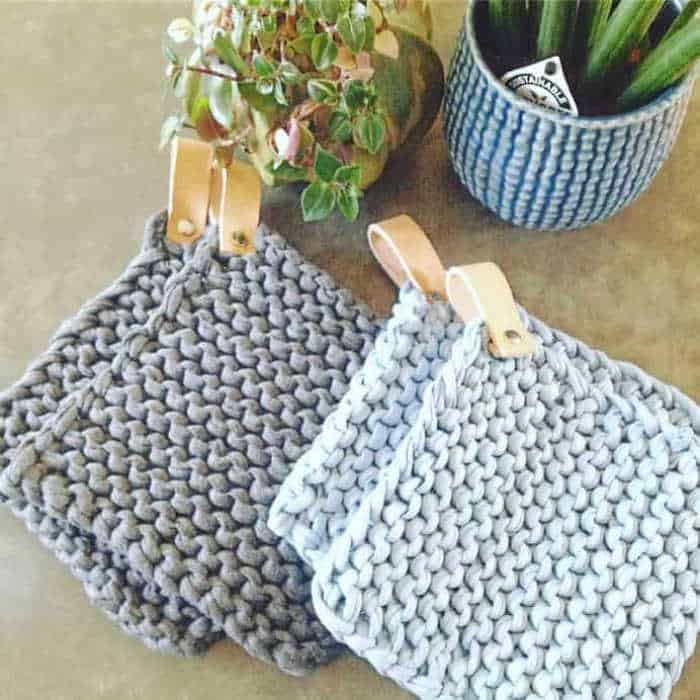 Yarns to Not Use In a Potholder
Even though Wool is the number two choice for most crafters, make sure you are using 100% wool.
Superwash wool may seem a good yarn to use, as it solves the problem of washability. The treatments used to make wool 'superwash' may cause flammability and you don't want that!!
Yarns such as acrylic, polyester, plarn (yarn made from plastic bags) orlon, rayon, Tencel or nylon. are not recommended as good choices because of their lack of heat resistance and are flammable. The synthetic nature of these yarns means they can melt.

Final Thoughts…
So there you go, kitchen cotton is The Best Yarn for Potholders.
We know you will find some gorgeous yarn to make your potholders to hang in your kitchen. They will be admired by many.
Perhaps your friends will be hinting at you making some for them 🙂
Something we forgot? Leave a question or comment at the end.

Now It's Your Turn…
I'd like to hear what you have to say. What did you think about today's post?
Or maybe you have a question. Either way let me know by leaving a comment below right now or send me a message on twitter.
You can also contact me here