When choosing a present for your crafty friend/family member, it's challenging to decide what to get.
Especially gifts for the knitter who has everything!
Everyone's different. The world would be boring if we had the same tastes.
I've included a diverse list of best gifts for knitters, to suit a wide range of tastes.

I've searched high and low for the best unique gifts for knitters, that won't break your bank account.
Everyone will be impressed with the energy you spent finding the memorable present.
Scroll through our list of great knitting gifts. You're sure to find something appealing.
Super Chunky Equals Super Fun!
The crafter in your life will adore this luxurious giant, bulky blanket knitting kit by BeCozi! Scrumptious super bulky, chunky merino yarn and Size 70 US needles are included to create a 40 x 60 inches blanket.
Your blanket can be knitted in no time.
If you've never knitted with large needles, don't worry. They're not heavy. You'll be surprised at how much fun it is! A beautiful addition to your home decor.
Charm The Knitter In Your Life
Not sorry about the pun 🙂 Knitters will adore this gorgeous silver bracelet with a stamped monogram initial charm, beautifully detailed silver yarn and knitting needle charm, and a silver craft scissor charm. They will wear it with knitter's pride.
Best Christmas Gifts For Knitters
Instead of getting a knitting kit, why not buy them a magical knitted ornament by somebody else for their Tree. Like these knitted mini Stockings by Leon The Cat.
Great Christmas knitting gifts and for crocheters. Adorable hanging on a tree or strung together to make a garland as home decor. You could put the garland together yourself with a little treat inside and gift that.
Personalized Christmas Stockings
Perhaps your creative maker is so busy knitting for others. They don't have time to make their own personalized Christmas stocking! Gift them their very own knitted Christmas stocking.
CampKitschyKnits have these designs made in traditional Christmas colors and fun motifs such as Christmas trees, snowflakes, reindeer, Santa, Mrs Claus and Snowpeople.
The Knitter's Library – Excellent Knitting Books
Some people enjoy reading and knitting. What about combining the two? A perfect way to pass time. One might discover a new pattern!
A few of my favorites. Just the pictures would make anyone want to knit!
Vogue® Knitting The Ultimate Knitting Book Completely Revised and Updated
This fabulous knitting resource is wonderful addition to someone's knitting library. So much knitting goodness packed into one book!
It has clear to understand instructions, gorgeous pics and beneficial techniques, tips, and tricks. Hours of informative and fun knitting withithn the pages.
Click to Learn More / Buy from Amazon
Ultimate Knit Stitch Bible: 750 knit, purl, cable, lace and color stitches by Collins and Brown
Knitters find their confidence increases and can take on new challenges. Having a stitch dictionary to explore all the various and stunning stitches is an essential item for a knitter. Think of all the designs they can create with this knitting knowledge!
Click to Learn More / Buy from Amazon
Knitting Rules! The Yarn Harlot's Bag Of Knitting Tricks
This book is not only helpful but hilarious! Author Stephanie Pearl McPhee aka 'Yarn Harlot' has years of knitting and life experience and there will be something useful. No matter what knitting level a person possesses. Stephanie's writing style heartfelt. A pleasure to read.
Click to Learn More / Buy from Amazon
Japanese Knitting Stitch Bible: 260 Exquisite Patterns by Hitomi Shida
Knitters need more than one stitch dictionary in their resource library. It's an incredible book full of Japanese stitch patterns. All of the patterns are charted, so keep in mind this is not a book for beginners. Designs featuring complexity and intricate details, lace and cables. A perfect gift for an advanced knitter who loves a challenge.
Click to Learn More / Buy from Amazon
People Knitting: A Century of Photographs
Photographs of people knitting from the 1860s to the 1960s. Fabulous captures of people of all walks of life doing their passion, through the years.
Click to Learn More / Buy from Amazon
I've reviewed over 100 fabulous knitting books in our article. To find more great reads like those mentioned above, read my post.
Audio Books
Needing something less materialistic? Check out great deals on fantastic audiobooks that are the perfect companions for road trips and lazy days on the beach.
Click To Learn More / Buy from Amazon
Time-Saving Solutions So Knitters Can Get Back To Knitting
Joy when you practice your hobby is often dampened by the mundane tasks you have to perform first.
Sewing ends in, organizing their yarn stash, winding big long skeins of yarn, wool or cotton into useable cakes, and more.
If the maker in your life complains about these tasks, have a look through these gifts. You might find one that will solve your friend/family member's problems.
They will be happy!
The Pure Joy Of Neat Yarn Cakes
Unwilling relatives will be thankful when the knitters in their lives, receive a yarn winder. They won't have to stand, arms outstretched for hours, holding yarn skeins to be wound into balls.
The Stanwood Needlecraft Hand-Operated Winder 4 ounce is a workhorse.
Gorgeous, neat yarn cakes are the result. Winding by hand will be a distant memory.
I've also reviewed many other yarn winders. If the knitter requires something larger, check out that post.d
Click to Learn More / Buy from Amazon
Yarn Swifts Go Hand In Hand With Yarn Winders
Teaming up a yarn swift with a yarn winder, winding balls will be quick and easy. Their yarn stash will have never looked so good.

Click to Learn More / Buy from Amazon
Store Knitted Projects Whether At Home Or On The Go

Yarn Storage and Needles Tote Bag – BeCraftee
The white-collar worker has their briefcase. The savvy entrepreneur has their laptop bag. But how many knitters have a bag that keeps all their things organized?
There were compartments for everything, for current projects, printed out free patterns, tools and accessories to crochet hooks for sewing the yarn ends in.
This is a gift that would make a knitter's life easier and more organized!

Click to Learn More / Buy from Amazon
Handmade Woven Basket For Yarn Storage
Make someone's day by solving the ever growing problem of yarn storage. A natural-looking woven basket for storing a yarn stash in. This would look great in any room!
Click to Learn More / Buy from Amazon
Feelin' Superfine
Love the pun used on this knitting tote, referring to the Craft Yarn Council Standard Yarn Weight System. Any knitter would have a little chuckle and be happy to have this on their shoulders. Plenty of room to store knitting projects, needles and a crochet hook for fixing mistakes and weaving ends in.
Click To Learn More / Buy from KnitPicks
Knitting Field Bag
Made to the specifications of Karen Templar, owner of Fringe Association, it is built to last. It looks so stylish. A lovely project and yarn storage bag. Karen has a great sense of fashion and her blog and facebook page are full of helpful tips.
Have A Look At Fringe Supply Co
A Gorgeous Project To Knit In A Box – Boxed Knitting Kit
The joy of opening a boxed gift is made even more special when it contains beautiful knitting yarn and tools including a Tote. Weekend Plans Kit – Mosaic is a lovely selection of yarn and interchangeable needles. Knit Picks knitting kits are great value and quality.
Click To Learn More / Buy From KnitPicks
Knitting and Cuppas Go Hand In Hand
A hot cup of tea or coffee is an essential staple of knitting. Having a funny labeled cup when knitting, will bring a smile to a knitter's face.
Needles, Notions and Handy Tools
A knitter can never have enough handy tools and gadgets to make their hobby more enjoyable.
Sunstruck Straight Needles Set
Beautifully crafted laminated straight birch needles set sure to bring a smile. Lightweight with sharp tapered points, super comfortable to knit with.
Each set includes a pair of knitting needles in the United States sizes 4, 5, 6, 7, 8, 9, 10, 10.5, 11 (3.50mm-8.00 mm for those not in the US.) Knit Picks also offer free knitting patterns.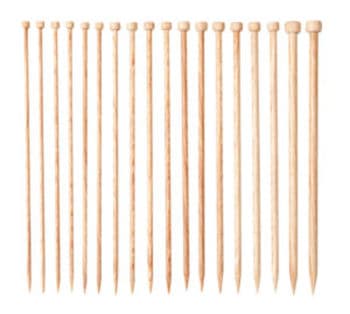 Click To Learn More / Buy From KnitPicks
Bamboo Circular Interchangeable Knitting Needles
Clover Takumi Bamboo Circular Interchangeable Needles are lovely to use. Their silky finish means the yarn doesn't catch on them, and it slides easily.
The set includes 12 needle sizes in tips and five different cord lengths.
Click to Learn More / Buy from Amazon
Every Time They Use These Needles, They Will Be Reminded Of You
Opt for a Personalized Engraved Pair of Bamboo Needles; you choose the wording and font. Size US Size 10, 6mm, (UK Size 4) 13″ long.
Bling Your Name Here creates engraved needles with a single line of text, up to 55 characters including spaces.
Stoneware Yarn Bowl
A beautifully made ceramic glazed bowl adds to the beauty surrounding a knitter. The yarn they work with will look gorgeous held in this bowl. No more having to chase the ball of yarn.
Sparkles The Unicorn Stitch Markers
Add some cuteness to your knitting projects with these stitch markers, starring Knit Pick's mascot, Sparkles the Knitting Unicorn!
Contains 5 total stitch markers (4 balls of yarn and one crafty unicorn) on a locking clip. Largest needle size that can be used: US 9
Click To Learn More / Buy From KnitPicks
Stitch Counter
You have to admire people who can watch their favorite programs when creating their knitting project.
They will be able to get right into watching their program and have confidence they haven't lost count of their rows.
Click to Learn More / Buy from Amazon
Clover Circular Stitch Holder
A convenient tool for when stitches need to be held, while other parts of the garment are worked on.
Click to Learn More / Buy from Amazon
Chill Out and Knit
Noise cancelling headphones – For when you don't want to be disturbed when counting your stitches and just relax.
Click to Learn More / Buy from Amazon
Extra Large Pompom maker
Who doesn't love extra large pompoms on knitted hats! This device will make large diy pom poms quickly and easily. Kids will love making these.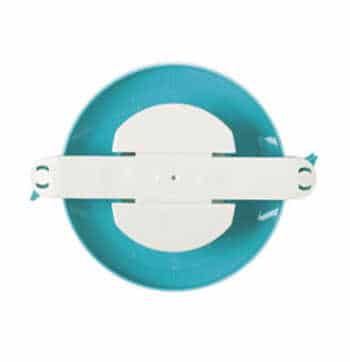 Click To Learn More / Buy From KnitPicks
Doctor Who Fan? This Knitting Gauge Combines Both Loves!
Casey at Tangerine 8 designed this nifty and unusual needle gauge – A Police Box. Great for creative knitters who love "Dr. Who."
Little Gifts – Cable stitch Needles
When knitting cables these come in super handy. There are different sizes, the larger ones will hold more stitches.
Click to Learn More / Buy from Amazon
Whoot too-woo! Owl Scissors
We all know about the stork scissors. But this owl is so adorable. Useful for cutting yarn and when cutting steeks. These scissors will brighten the mundane task of cutting loose ends.
Click To Learn More / Buy From KnitPicks
With The Knitting Done, Time To Block
Blocking Mats make a knitter's life so much easier. The knitted item can be pinned with blocking pins and stretched out.
These helpful mats will help you achieve the purpose of blocking, showing the true beauty of the lace design or knitted fabric.
Click to Learn More / Buy from Amazon
Click to Learn More / Buy from Amazon
Let There Be Light!
When knitters need a little more light to work their magic. Helpful for knitting intricate stitch work and also when sharing a room with others. Now everyone can share the room in peace, and no-one gets blinded! Makes for easy knitting.
Click to Learn More / Buy from Amazon
For Those Who Knit In The Dark
Hard to believe but, glow-in-the-dark needles! Needlelite designed knitting needles lit up by LED. These needles are great for knitting in low-light or dark conditions.
Think of all the low-light situations where you have been unable to knit
A movie theater
In bed
Around the campfire
Now you can do it in these situations, and the gentle glow of the needles illuminates your work without disturbing others.
Mini Knitting Notebooks
These are perfect for jotting down ideas and small enough to stash in a knitting bag. Kelly Connor Designs has created five different cover designs.
'Femiknits,' 'Knitting Plans In Progress,' 'Knitting Feeds My Soul,' 'Knits Out,' and 'She Had Dropped A Stitch.' Choose one or the whole collection.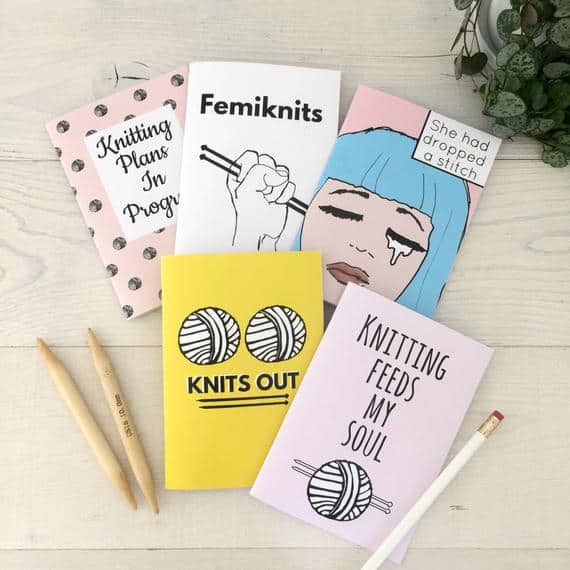 Knitting Themed Jewelry and Decorative Pins
Celtic Design Silver Shawl Pin
A lovely knitwear accessory for the lovers of knitted shawls. The Celtic design is beautiful.
Click To Learn More / Buy From Knitpicks
Enamel Pins For Knitters
They can be attached to knitting bags, totes, a sweater, scarves and knitting accessories. The dog and cat holding yarn are adorable, and the Handmade Life pin is very apt.
For those who love Alpacas, there's one for them!
Click to Learn More / Buy from Amazon
Click to Learn More / Buy from Amazon
Click to Learn More / Buy from Amazon
Click to Learn More / Buy from Amazon
Snarky Knitting Pins or Magnets for Knitters | Small Gift for a Knitter | Decorate Your Knitting Bag
Always room for 'tongue in cheek' and humor when knitting. Such fun!
Knitting Mags and Journals – Get A Read (And Write) On!
Pom Pom Quarterly Knitting Subscription
Our readers highly recommend the Pom Pom Quarterly knitting magazine. Find a story about a knitwear designer, the latest knitting patterns and yarns. It can be delivered in print or digitally. All sorts of fab project inspiration and covers the four seasons.

Knitting Journal
Perfect for knitters who like to keep all their notes, knitting patterns and inspiration in one place. Super stylish and lovely to write in. Karen Templar, the owner of Fringe Association, has created a product based on her personal use of knitting journals.
Have A Look At Fringe Supply Co
Funny Gifts For Knitters
Tacky gifts out there claiming to be funny knitting gift ideas. "Tacky Gifts" might bring back memories of a male relative in some silly apron or wielding themed tongs.
Don't worry. I haven't sunk that low in my selection. 🙂 Some of these are sure to make even the most jaded gift receiver smile.
Tongue-in-the-cheek Humor
Gifting one of these yarn bowls handmade by Barbara of Creativity Happens is classy 🙂 A fun gift idea!
Naughty or Nice Gift Card Holders
Fun gift card holders are knit in one piece with only one seam at the bottom. The pocket of the holder is knit in the round and then the flap is knit flat after binding off half the stitches. The colorwork patterns are fully charted.
Click To Learn More / Buy From Knit Picks
Gifts For Advanced Knitters
The one who's been practicing for years. The person with son many needles, balls, and projects. Feels like it's impossible to get something they'll find useful.
When you've got an experienced knitter on the Christmas gift list, or merely the gift list, it's very daunting on how to decide.
Don't worry. We've all been there.
A Luxurious Knitting Kit
Create a knitting kit from luxurious yarn you know they'll like and a pattern to go with it. Look for Cashmere, Silk, Kid Mohair, Fine Merino, and Baby Alpaca. Even if you're non-knitter with no clue as to what I have mentioned above, this kit will make someone very happy.
When Only The Best Tools Will Do
Sometimes, needles might seem like, a mop. Someone buys one the best price, and it works. When someone tackles more ambitious projects, suddenly they need a lot more options.
These are top of the range, and knitting with them would be a dream.
Chiagoo 7400-C Twist Tip Interchangeable Complete Set, 4-Inch
Click to Learn More / Buy from Amazon
Knit Like a Latvian Knitting Kit for the experimental Knitter
Hobbywool challenges you to knit like a Latvian with this beautiful Latvian Grey knitting kit! In the box, you'll get all the wool supplies, instructions and handy, colorful charts you need to make an exceptional pair of traditional Latvian mittens.
Presented in a lovely box, the 100% wool is soft and warm, prepared in hanks. It's the perfect gift for the knitter in your life.
Click To Learn More / Buy From Love Crafts
Yarn Gifts
It is fair to say that any luxury yarns like Cashmere, Silk, Mohair, Baby Alpaca, fine Merino or natural rare sheep breed yarn will be well-received!
Your knitter will adore one of these luxury yarns from Knit Picks. Free shipping is available from Knit Picks for orders over $65USD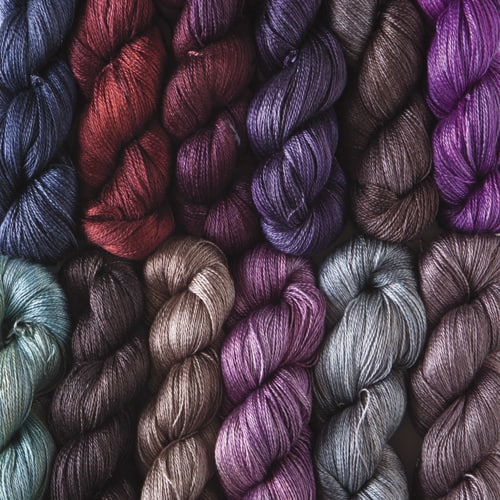 Click to Learn More / Buy From KnitPicks
Knitting Birthday – Great Ideas For A Special Person Having A Birthday
Birthdays. A wonderful day for all of us, where we celebrate our lives and spend time with families and friends. When it's someone else's, you get to join in their joy and happiness.
Ever had that experience when you give a present, the receiver opens it, and their eyes light up? Ever noticed how great it makes you feel inside?
Research has shown doing and giving things to others releases endorphins, making you feel happy.
Any of the gifts recommended above will be sure to please your celebrator!
Happy Birthday Knitting Card
Any knitter would like this colorful birthday greeting card. PaperOrThreads create uniquely designed cards and print them on high-quality card stock. The greeting inside says 'The World Is More Colorful Because Of You.' PaperOrThreads also has lovely designed gift cards.
Women's Hand Knitted Fair Isle Socks
Stick To Socks creates gorgeous hand knitted socks. These socks with blue and white fair isle design would make a lovely birthday gift for a knitter.
Make The Special Someone In Your Life Feel Gifted
There are many potential presents out there. I tried to find the best gifts, high-quality and unique.
I hope you discover something for that special someone!
If you're looking for helpful articles on all things knitting, check out my Knitting Resources, Everything You Need To Know About Yarn, and Handy Tools.
The gifts here are sure to please 🙂 To help others make use of this resource, please share it on social media. Thank you!
Image credits: © Amazon.com