Recently I worked at a public library next to a Town Hall. I saw a group of crafters gathering for the monthly 'Yarnistas.' I was delighted to find this happening! So I was inspired to write this post on how to join a knitting group.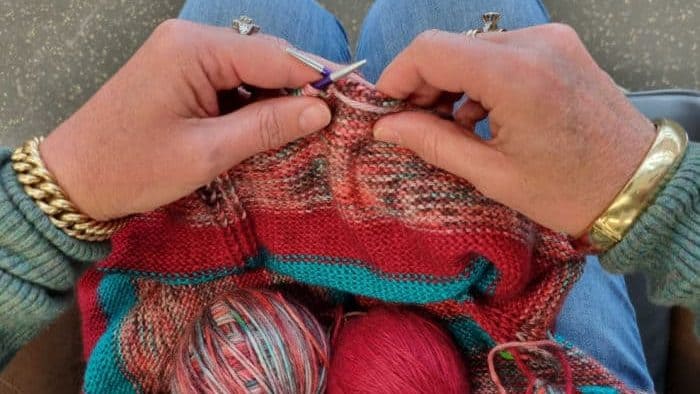 I wanted to check out what projects people were working on, and to chat with people who loved the same things as me. I introduced myself and asked whether people would allow me to have a quick chat and take a few pics of their projects.
I was made welcome!
I reviewed, fact checked and updated this post on June 25, 2023.
Table Of Contents
Yarnistas Monthly Knitting & Crochet Meetup
The Yarnistas catchup is coordinated by Farrah and Niki.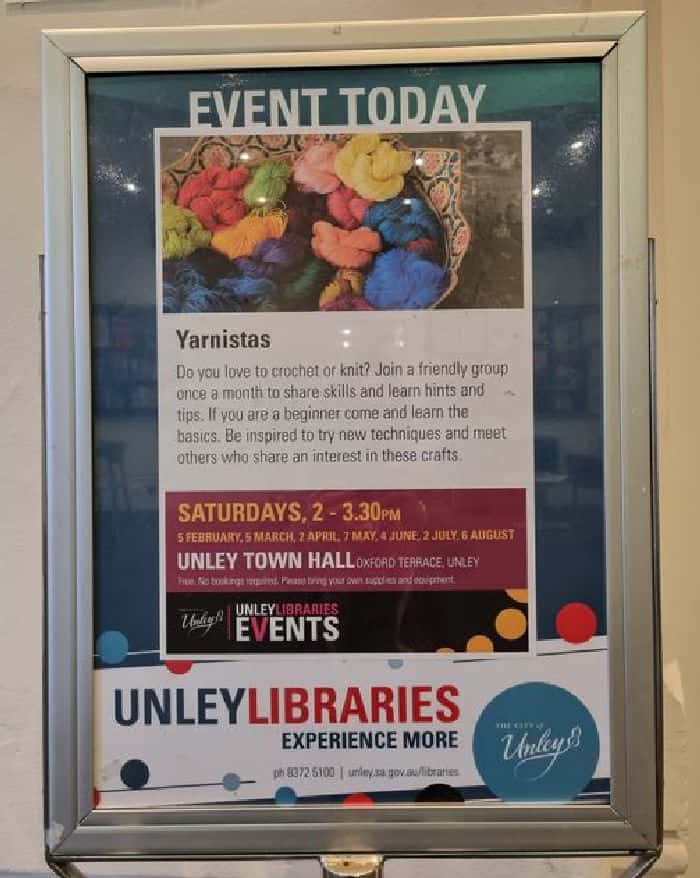 It's promoted by Unley Libraries and on the Adelaide Crochet Knitting Catchups group on Facebook.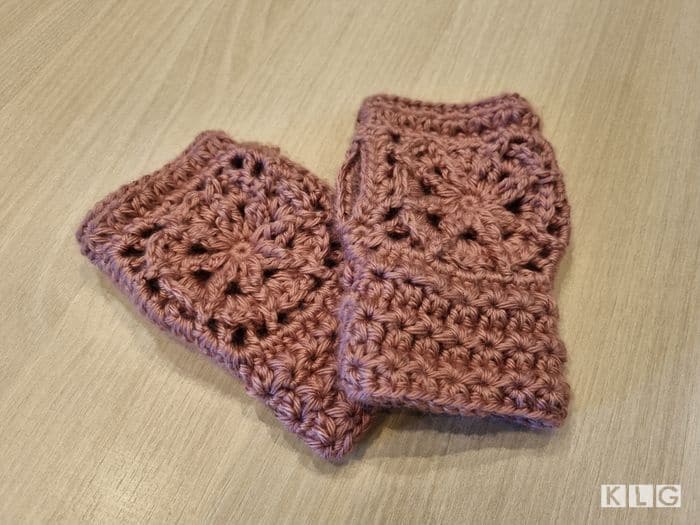 Farrah is a designer. Her business is The Crochet Fix. She was working on lovely crocheted fingerless mittens and beanies. We chatted about how the group provided community and advice on techniques in crochet or knitting.
Niki was working on socks using 2.25mm needles from her Hiya Hiya Interchangeables Sock set. Her yarn was in a lovely ceramic yarn bowl made by one member who attended the catchups.
I made my way around the table and chatted about each project with the person. I tried to take photos, to show each project and do each justice!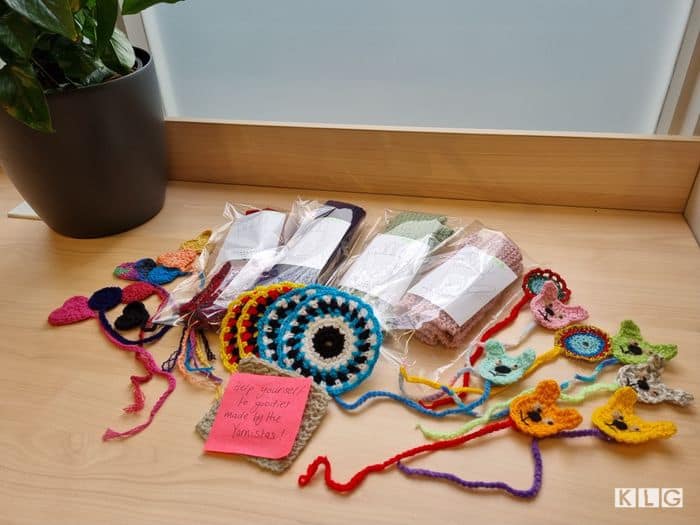 Members made items for charity and others were learning new techniques. The vibe was positivity and merriment. Each member was enjoying themselves. Lots of laughter and chat. Here are the projects the members were making.
Jane knitted garter stitch squares for a blanket project.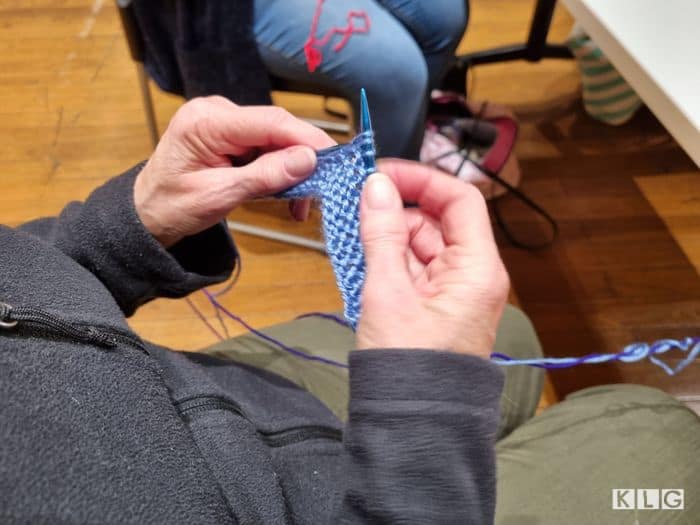 This scarf by Janet had a gorgeous open lace stitch pattern.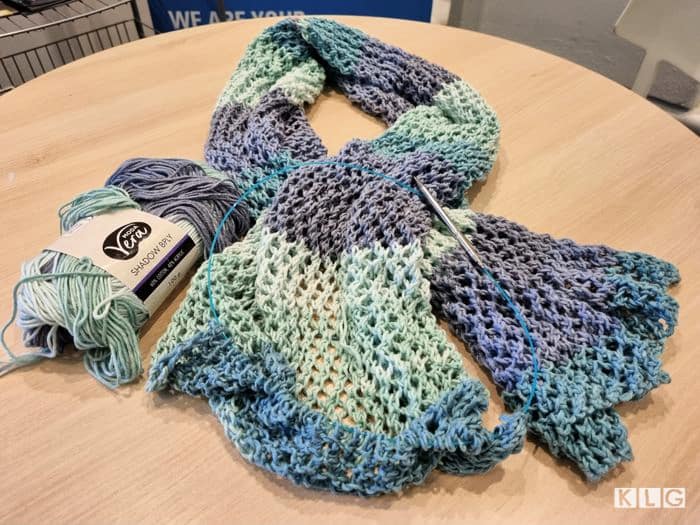 The Teddy Bear book marks crocheted by Maxine and others are sold at the Unley Library front desk.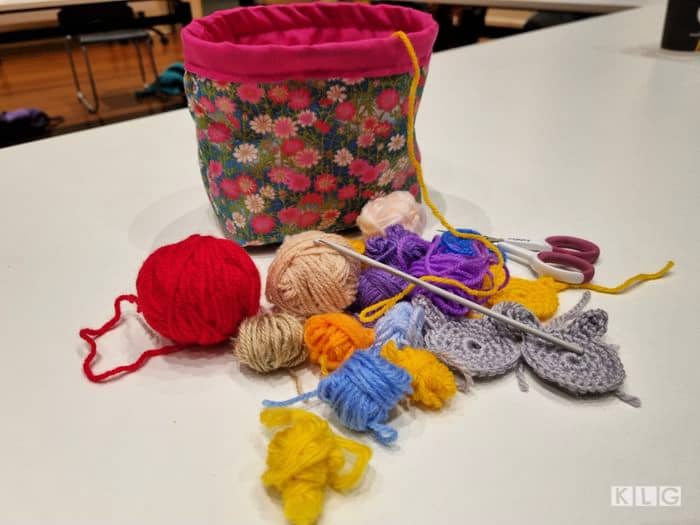 What fun these crocheted toys for RSPCA by Mel will make!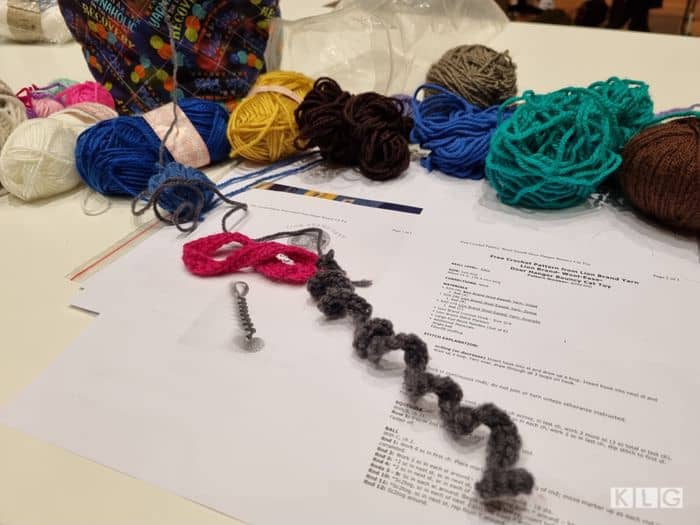 The crocheted blanket pieces by Jenni will be gorgeous!
I was amazed at the knitted in one piece beagle dog by Julie. The pattern was from the UK and 70 pages long!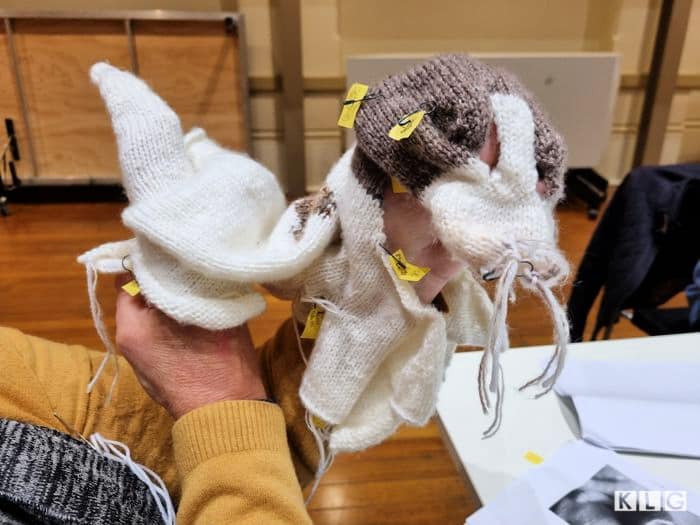 Julie told me it sat in a basket of unfinished projects for a few years and she was glad to be motivated enough to finish it.
Betty was knitting a Snood with Moda Vera yarn. We discussed how the colors worked so well together. This snood will be donated to charity. Her pattern was from a knitting book – Knitting for Winter.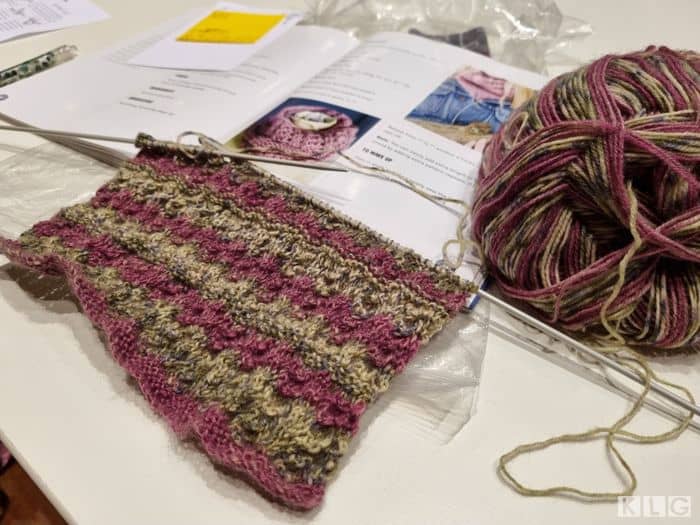 Betty attends the Yarnistas catchups but is involved with another group of knitters who donate their makes to charity.
These knitted Scarves and functional Tunisian crochet items by Joy provided her with a great sense of achievement.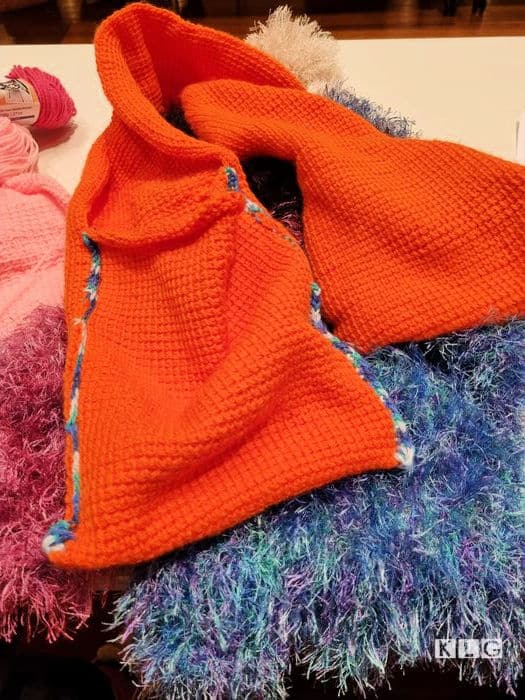 People have commented on how nifty her Tunisian scarf with pockets is for carrying her stuff. She does Tunisian crochet on a normal aluminum crochet hook!
This delightful and bright Crocheted Granny Square blanket by Sarah was created by yarn with color changes.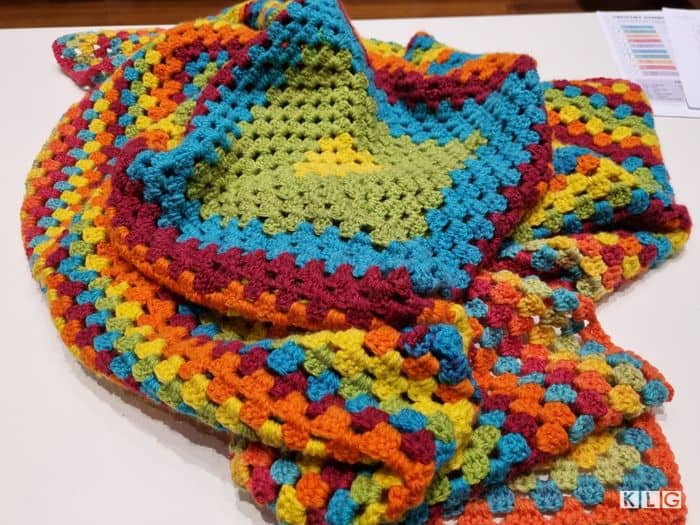 Yarn manufacturers are clever with the way the color pooling works out so well as in Sarah's blanket. Sarah showed me pictures of the knitted sweaters in cable designs and Fair Isle, her Mum had made her children.
They were beautiful and she said they're treated as heirlooms. Woolen garments are long lasting if well cared for.
It's been a while since I was part of a physical group. Traveling with my family means I'm not in one place for long. The last time I caught up with other makers was during the Soul Craft Festival online meetups on Zoom. I was grateful to have chatted about knitting and crochet with the Yarnistas.
It made my creative heart fill with warmth and joy!
Thinking how to get involved with a group or start one? Here are some tips.
How To Find Knitting Groups Near Me?
Search Meetup.com
Contact local libraries and yarn stores
Look on Ravelry
Research Knitting Guilds near you. Search for name of your region then add on knitting guild
Guilds in North America: ilikeknitting.com/knitting-guilds-clubs-directory/
Guilds in Australia: yarnologie.com.au/pages/australian-guilds-groups/
Guilds in the United Kingdom: kcguild.org.uk/sharing-knowledge/guilds-groups-and-other-resources/kcg-branches/
Look on various forums like Knitting Paradise, Knitting Help, Crochetville, or Crochet Talk
A community bulletin board at your library, coffee shop, or community center
Your local Facebook group
Instagram – designers have Knit-A-Longs (KALS)
The local newspaper
At work (some knitting clubs meet at lunchtime!)
Google – try searching "knitting group near me" and see if anything pops up! I got tons of results when I tried this.
How Do I Start A Knitting Group?
Step 1
Ask your friends if they're interested in forming a knitting club and meeting up to spend time on their projects. Get them to invite someone they know. Be open to all.
Step 2
Find somewhere to meet up like a café, someone's home, the Library, community center or Town Hall
Step 3
Find a regular time for your meetings. Decide whether the meetups happen weekly, fortnightly or monthly. People will remember when the meetups happen.
Step 4
What are the expectations of the meetups? Will everyone work on their projects? Will you pick one pattern? Will snacks/drinks be allowed? Could someone run a techniques class or knitting classes focusing on interesting stitches? Will the projects be donated to charity?
Step 5
Create a Code of Conduct with what is expected of membership.
Mastering Knit Stitches And Yarn: Tips For Joining And Enjoying A Successful Knitting Group
Stick the time and dates set
There are dynamics in groups
Sometimes these work or they don't
Set up a code of conduct for the group
Ensure everyone follows it
Respect and inclusivity are important
Things and people change, so be flexible.
You may have started as a knitting group,exploring techniques and yarns but being creative takes all forms
Conclusion
Are you involved in a knitting, fabric crafts yarn crafts group? What's it like? I'd love to hear your experience or tips in the comments.
Read Next: See my article on gifts for knitters, learn more about the craft with fun bite-sized facts here, and discover great knitting podcasts to listen to right here.
Pin Now To Save For Later