Ever come across knitting needles without sizes marked — usually circular needles and double-pointed needles?
Super annoying! Have faith, dear knitter. There's a tool to help you. You need a knitting needle gauge to figure out their size.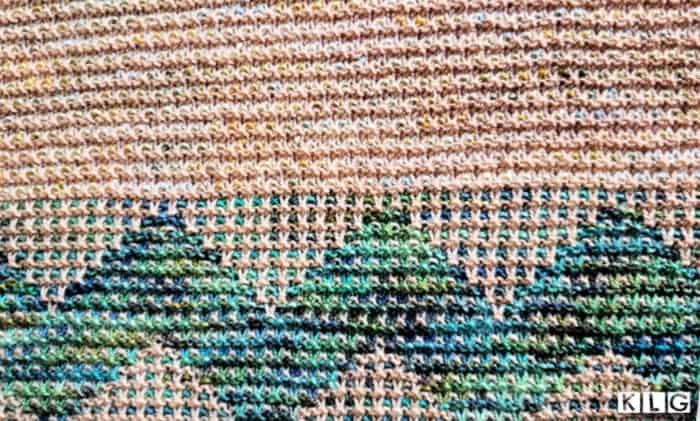 Table Of Contents
What Is A Knitting Needle Gauge?
Knitting needle gauges are flat knitting notions with holes in varying sizes. The holes are marked with the corresponding size of different needles.
Most knitting needle gauges have the US and Metric sizing shown. This allows you to use the holes to measure the size of a knitting needle.
Needle gauges are often combined with a knitting gauge ruler, which are short rulers great for measuring a gauge swatch.
Here's what you'll find on most knitting needle gauges –
Needle gauge: The needle gauge is the little holes. Each hole is labeled with numbers corresponding to needle sizes. Usually with US & Metric sizing.
Ruler in inches: You might see gauge rulers anywhere from 4″-6″.
Ruler in centimeters: Most gauge rulers also show the metric system. Great when you're working from a pattern that doesn't use inches.
Window: Some gauge rulers, but not all have an L-shaped or square window to help easily isolate your stitches and count the stitches and rows per inch.
They're an inexpensive tool and handy.
What kind of yarn do you use for arm knitting? Take a look at my post.
How To Use A Knitting Gauge Ruler
Grab your unmarked needle and start poking it through the holes in the gauge to discover what size it is. Start with a guess. For example, if I have a small needle, my first guess is it might fit into the US size 1 hole.
If the needle doesn't slide through the hole, try the next size up. If the needle fits through the hole with room to spare, then try the next size down.
The knitting needle needs to slide through the hole without extra space.
Here's an example – A needle might be US 4, but I'm not sure. When I try to slide it through the size 4 hole, it seems to go through quite easily with some space to spare. If there's quite a bit of space, I try going down one size.
When I put it through the size US 3 hole, it still slides through the hole, but there's practically no room to spare between the needle and the hole. So this is a size US 3 needle.
If you're not confident you have the right size, go down one more size to double-check. If the needle won't fit into the hole, the next size up was correct.
In my above example, the needle fits into the size US 3 hole. When I tried the size US 2 hole, I couldn't get the needle to go in past the needle tip, so US 3 was correct.
It would be lovely to think all needles are the same if they're labeled a certain size. Knitting needle companies have differences, so don't be surprised.
How To Gauge Knitting With A Ruler
Knitting needle gauge rulers are great for measuring your gauge swatch since it's usually measured at 4″ (10 cm).
Needle gauges with a little L-shaped or square window gauge ruler to measure the gauge is a great addition. It's so much easier to count stitches and get an accurate gauge measurement.
Ideally, you need at least a 4″ window to get a good sample of your swatch.
How To Tell Knitting Needle Size Without A Gauge Or Ruler
Knitting needles are measured by their diameter – the width of a circle. In mathematical terms, the diameter is the line segment through the center of a circle.
To measure your knitting needles, you need a gauge ruler with the metric system on one side and my needle conversion chart below.
Measure the diameter of your needle by placing it between the # marks on your ruler. Count how many lines it falls between.
Remember, the metric system works in 10s. One centimeter is equal to ten millimeters. It's not going to be quite as accurate as a knitting needle gauge.
This method is a little more difficult, especially once you get to quarter millimeters, but it'll do when you don't have other options.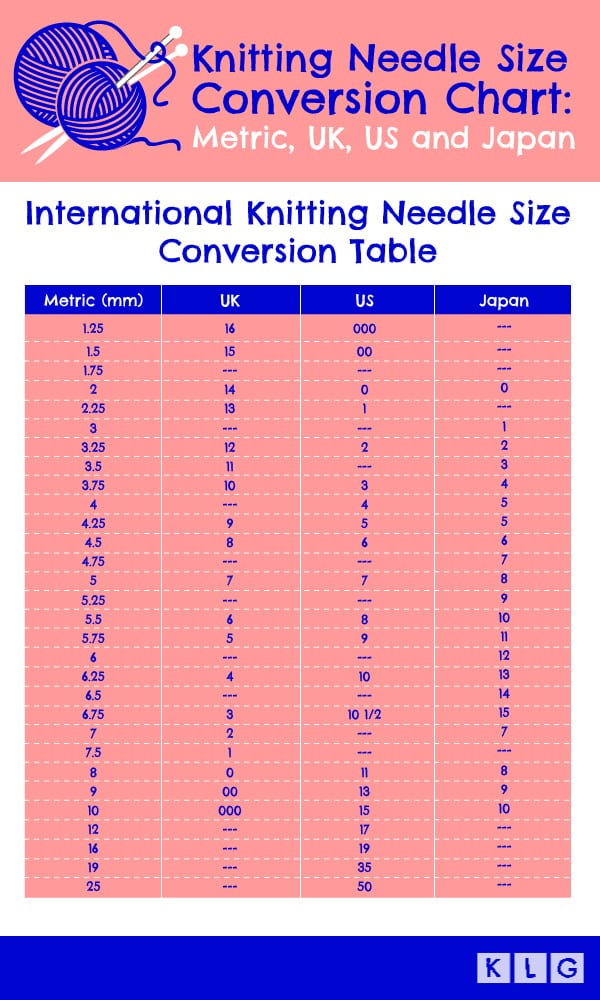 How To Measure Circular Knitting Needle Size Without Gauge
Follow the instructions above for measuring your circular knitting needles. The needle tips between the cord are like any other, measured by their diameter.
Clever Ideas For Labeling
Once you've worked out the size of your mystery needle, label it. If you don't, you'll have to repeat the same process.
Use a small piece of tape with the size marked in pen. You can get some beautiful washi tape to add some interest to your needles. This would be best with straight needles where you could place the tape on the knob end.
If labeling Double Pointed Needles, fixed circulars, or interchangeable tips, use different nail polish colors to color-code a size. Put a dash of polish on an index card and make a note of what size that color is.
If you have multiple needles of the same size, bundle them together and with a rubber band with a label attached, for example – Size 8
A fabric needle holder is an excellent option where you can label the slots.
There are various styles of gauges available for sale. I share some of the most popular ones below.
Clover Knitting Needle Gauge
Inspired by a knitted hat with a pom-pom, it measures 20 needle sizes : 0-19 and their mm sizes. The ruler in inches measures 6 inches with a colored section for the length of 4 inches.
Handy for a swatch. No metric measurement, and made of durable plastic.
Click to Learn More / Buy from Amazon
Susan Bates Knitting Needle/ Crochet Hook Gauge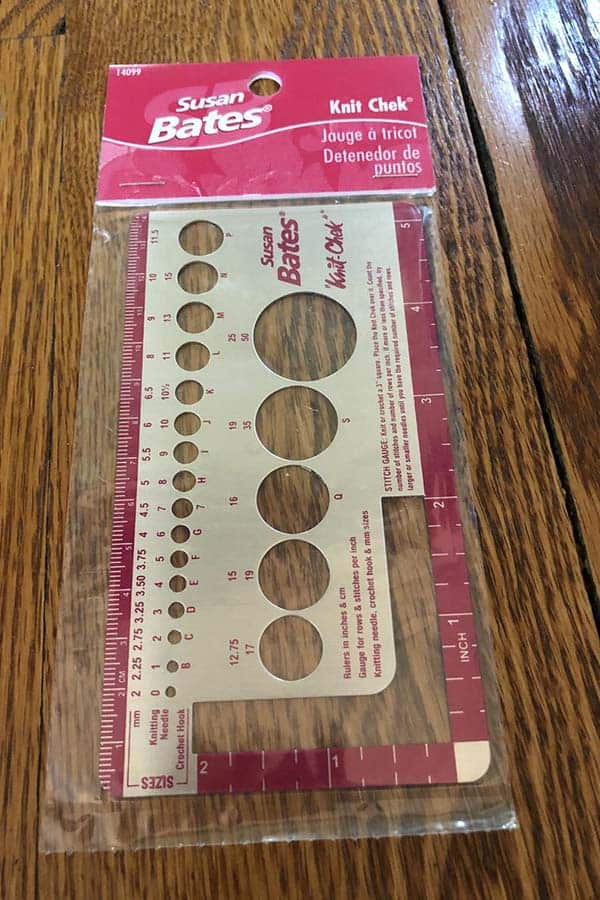 This is the practical and widely available Susan Bates needle gauge. The built-in rulers and gauge measure are very handy.
Besides providing both metric and U.S. knitting needle sizes, it also measures crochet hook sizes. It's made of metal, so it's extremely durable.
Needle Gauge Jewelry
These are very special knitting needle gauge jewelry items from the company Malogos.
The rings are a functional knitting needle gauge to checks US needle sizes 0-8. You'll get compliments on your sleek ring with its graduated holes and amazement when you put it to use.
The ring is 7mm wide and 1.5mm thick, a comfortable fit for most fingers. Each ring is made to order.
State Knitting Needle Gauge by Katrinkles
Katrinkles Shop has a gorgeous range of gauges. Here are the individual states of the USA versions.
Show your pride for your home state with these state-shaped knitting needle gauges. Inspired by vintage travel postcards, state knitting needle gauges make a great gift for your knitting friend and a useful tool for yourself.
The precise holes are laser cut from local hardwood and measure knitting needles from sizes 0 to 17.
Both the US sizes and metric measurement are etched above and below each hole to ensure it's suitable for every knitter.
These don't have a ruler, but there are many in her shop that does. Worth browsing through the different versions.
Multipurpose Knitting Needle and Swatch Gauges Ruler by MadamKnits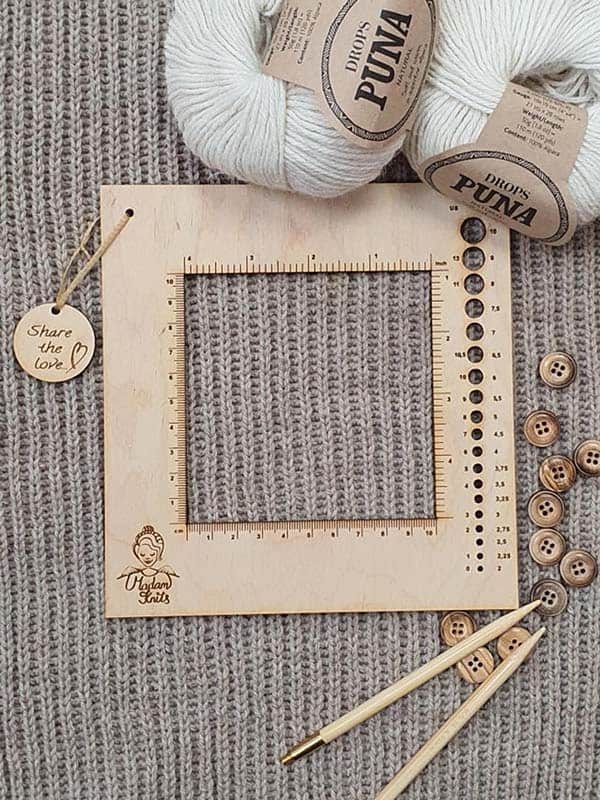 These handy square tools are used for measuring gauge swatches knit or crocheted in any type of yarn. Simply hold the tool up against your work and count how many stitches fit inside the cut-out square.
Used to measure needle thicknesses from No.2 to No.10 both in EU and US sizes. Measurements are in inches, and centimeters are marked on the left side or the top.
ChiaoGoo Swatch & Needle Gauge 5.5″
It's made of a semi-flexible plastic. Printed with the same information on both sides, except one side is a knitting needle conversion chart. The other side has a crochet needle conversion chart. The ruler is 5.5″ long.
Great to have a hook guide, yarn guide, and ruler all on one tool. Something that is a great size to fit in your knitting bag.
Click to Learn More / Buy from Amazon
Hopefully this helped you find an easy way to figure out the size of all those mystery needles sitting in your knitting stash.
If you have any questions or would love to tell me about your favorite tool, please get in touch here or pop a comment below.
Pin Now to Save for Later