I have answers on why and when to use it and recommended needle sizes for this thicker weight yarn. Read on!
This post is part of my series of articles explaining everything about the topic of yarn weights and a yarn weight guide.
I reviewed and updated this post on June 7, 2022.
Table Of Contents
What Is Worsted Weight Yarn?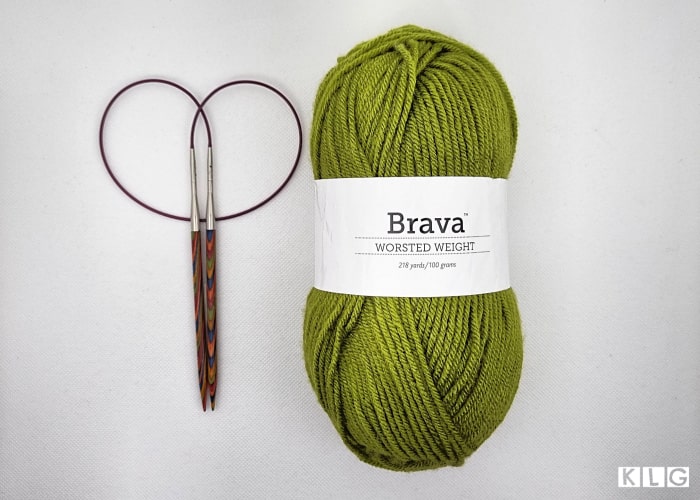 Worsted Weight yarn is a best friend for any knitter.
AKA – Afghan weight yarns or worsted weight yarns
Weight Category – Medium
Wraps Per Inch – 9 – 12
Knitting Gauge Range Equaling 4″ – 16–20 stitches
It's thicker than lace weight, fingering (super fine), DK weight yarn, baby yarn, crochet thread, sport yarn and 8ply yarn
It's thinner than bulky weight yarn, super Chunky, and 12ply yarn weights
What Weight Number Is Worsted?
It's weight number 4 in the yarn weight family.
Yarns In This Category
Afghan Yarn – It's often used for making blankets
Pin For Later
What's It Made From?
Cotton/synthetic blends
Wool, merino wool or superwash merino wool, (like Malabrigo Merino Worsted, Cascade Yarns & Plymouth Yarn)
Alpaca or baby alpaca (like Rowan Lima)
Acrylic (Berroco, Red Heart Super Saver, Cascade Cherub yarn, Caron's Simply Soft)
Wool/Synthetic (like nylon for sock yarn)
The best yarn has excellent reviews from fellow crafters.
What kind of yarn do you use for arm knitting? Look at my post.
Why Use It?
Medium weight yarn/thickness
Easy to work
Knits up quickly with little bulk
Many amazing colors
Great stitch definition
Showcase your beautiful skills
Designers love using this yarn weight
Use this yarn weight to test new techniques or stitches
If you're a beginner knitter, use lightly shaded yarn. It's easier to see mistakes
Use this weight of yarn to create any knitted projects and garments
This yarn weight is easily substituted.
You have plenty of options to choose from!
Yarn Manufacturers make it easy with a vast range
Keeps you warm and snug
Thickness doesn't vary much between brands
Great if on a budget
The amount of knitted fabric is more than if you choose bulky yarns. You don't have to purchase as many balls
Worsted weight is a fabulous for colorwork knitting
Easy care with superwash wool variants
What If It's Held Double?
When you hold two strand together, you create a bulky yarn!
Knitting needle size or hook varies on your knitting/crochet gauge. Make a gauge swatch before beginning a project.
See what tension and sized fabric you create and scale the knitting needle size up or down as necessary.
Ball winders make winding yarn so easy!
Uses For This Yarn
There's an endless variety of inspiration!
Afghans
Sweaters
Cardigans
It's a good yarn for scarves
Shawls
Cowls
Hats
Gloves
Mittens
Dishcloths
Sock patterns
Baby blankets
Baby items
Home decor
Throws
Cushion covers
Toys
There are no limitations to the selection of what you knit with worsted weight yarn. Use this yarn for gifts.
Make small projects using the Chiaogoo Twist Shorties.
Worsted Weight Patterns To Try
Here are great free patterns for knitters using Worsted yarn. They're divided by skill level to make it easier for you.
Hope you find a wonderful project to do next!
Beginner
Intermediate
Advanced
Learn To Knit A Headband pattern and video tutorial by the talented Knitwear Designer Chandi of Expression Fiber Arts.
This is an easy accessories project to do with one skein.
Where can I find the best place to buy yarn near me? I'll guide you.
What Knitting Needles To Use
US Needle Size – 7 – 9
For those of you in Canada, the UK, Australia and New Zealand – 4.5 – 5.5mm
Note: The above are guidelines only. Always swatch before starting a project.
Substitutions
Run out of this or can't find it? Here's what to use instead.
Two strands of light weight yarn held together
My previous article is Aran weight yarn and next up in the series is what is bulky weight yarn.
Looking for top rated sock yarns. Please read my post.
FAQS About Worsted Weight Yarn
How Do You Spot Worsted Yarn At Craft Stores?
You'll find the number 4 symbol on the ball label. (Yarn label.)
This yarn weight system is used by all yarn companies, regardless of country.
Light worsted is weight No. 3, aka DK or 8ply.
Here's a recommended yarn to try, Berroco Ultra Alpaca. Textile artists sell lovely hand-dyed ones.
Try brands like
Lana Grossa
Valley Yarns
Debbie Bliss
Most online stores ship to the United Kingdom.
How Popular Is Worsted Weight?
Major yarn manufacturers Lion Brand and Bernat claim this weight of yarn is their most popular yarn.
As it's readily available, and Etsy has many talented hand-dyers, this weight yarn makes excellent Etsy gifts for knitters.
How Much Worsted Weight Yarn For A Blanket?
A worsted weight blanket needs 750-2100 yards.
How Much Worsted Yarn For A Sweater?
A worsted sweater needs 1200-1500 yards.
How Much Worsted Weight Yarn For A Scarf?
A worsted weight scarf needs 300-450 yards.
Looking for the softest yarn for baby blanket? I'll show you which ones are best.
What Is The History Of Worsted Yarn?
It's named for the Worstead village in Norfolk, England.
As far back as the 12th century, this town produced smooth, even yarn and was a hub for spinning fiber.
Worsted vs Woolen
The word "worsted" also means a wool processing technique.
It involves combing the short hairs out of the fiber. The same length fibers are spun parallel to each other.
Is Worsted The Same As Aran Weight?
While they're in the same weight category (medium), aran weight yarn is slightly thicker than worsted.
Keep your yarn in place with a yarn holder bowl.
Now you have knowledge on this versatile medium-weight yarn. Worsted weight yarn is perfect for knitting beginners.
What have you knitted with this yarn? Tell me below. (Your email address is never published.)