Arm Knitting went viral some years ago. This knitting is on a massive scale. Instead of knitting needles, you use your arms.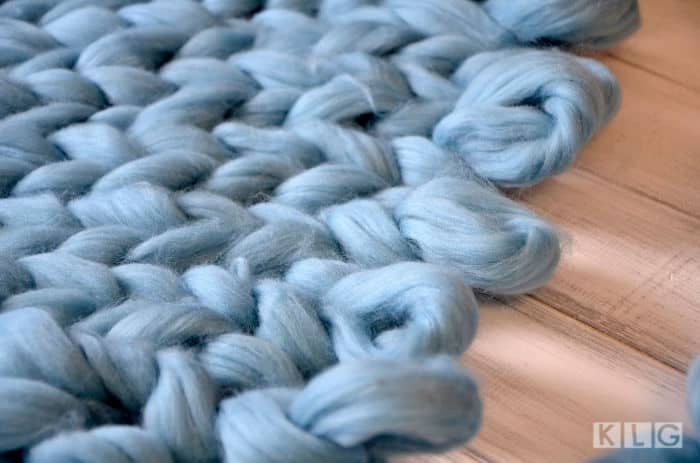 The best arm knitting yarns are 'Jumbo', 'Chunky' or 'Bulky.'
I reviewed and updated this post on August 31, 2022.
Table Of Contents
What Is Arm Knitting?
Arm knitting is a unique knitting technique when you use your arms instead of giant-sized knitting needles.
The loops of the knitted fabric are super-sized.
The thickness of the yarn determines how many stitches fit on your arm. Be prepared to make narrow items.
With Jumbo and super bulky yarn, make
Arm knitted garments
Scarves
Cowl
Blankets
Toys
Home décor items
This technique is popular for those in a cold climate. With practice, arm knitters create knitted goodies in little time.
Unlike knitting, don't turn the work when working back and forth. Swap the stitches from your right arm to your left arm.
Casting on the stitches on the left arm is better for lefties.
Giant or extreme knitting looks amazing, but storing massive needles is hard. Arm knitting is the go!
Beginners find it takes longer than they were led to believe.
Jodie from the Design Twins, and Janine from Happy Nesters made an arm knitting blanket and had challenges.
Knitting a blanket isn't the best beginner project! Knitting with arms takes practice, and no two arms are the same.
If you love the look of a pattern and the designer had thinner forearms than you, your blanket may look different.
The diameter of your forearms determines the stitch size.

In Lisa Schroyer's post, she explains how to find what diameter your arm is compared to knitting needle sizing.
How Do You Arm Knit?
Cast the first stitch onto one forearm
Continue casting on stitches as necessary
Use your hands to work through the stitches
Pull the working yarn through the loop to create a stitch
Place the new stitch on the other arm
Repeat on the opposite side
Have the stitches loosely on your arms
You can tighten them afterward
Be prepared to make mistakes, but be kind to yourself.
Casting On Stitches With Arm Knitting
The two Arm Knitting cast-on methods are the "M" and "Loop" Method. Many find the "loop" method easier.
I'd opt for the Loop method.
I found this tutorial by Anne Weil from Flax and Twine helpful. Her book Knitting Without Needles is worth reading.
Tips Before Starting An Arm Knitting Project
Decide what fiber – synthetic or natural
How bulky do you want your garment/blanket to be?
This determines the weight of the yarn. The best weights are Chunky, Bulky, Super Bulky, Roving, or Jumbo
Do you want one bulky yarn or a combination?
The thickness of the yarn determines how many stitches fit on your arm. Be prepared to make narrow items.
If you're doing a bedroom refresh and hope for something to fit a queen bed, you may be disappointed
Your stitches won't be completely even. The diameter of your arm varies from the wrist to the upper arm
The loops look like those on size 50 needles
Tips For When You're Ready To Start Arm Knitting
Have the yarn you're using unwound from the skein. You need to twist the yarn as you're creating the stitches. If the skein isn't unwound, you'll experience knots.
If using Super Bulky or Jumbo yarns like Knit Collage Wanderlust yarn, have a clean sheet underneath to keep it clean. You'll want to keep the expensive merino wool in tip-top condition.
Be prepared to concentrate completely on this task. If you're used to watching your favorite program when you're crafting, it's best not to when arm knitting
Have Saran wrap/Plastic wrap ready for when you take a break from your arm knitting. You thread this through your stitches, then tie the two ends of the plastic wrap together to stop the stitches from coming off.
It's easier to have stitches on bare arms.
You need to leave enough yarn (enough for about a row and a ½) to bind off. Keep your eye on how much yarn you have left as you near the end of your project. Jumbo Yarns have less yardage, so the end comes up quickly.
Try to cast your stitches onto your forearms tight. (That's when you get a nice even pattern on your blanket).
As you knit each stitch, cinch it up, so it fits firmly on your forearm.
When you cast off, don't to tie your loops too tight
Looking for present ideas for a knitter? Read my gifts for knitters amazon guide.
How Do You Knit A Scarf On Your Arm?
To knit a scarf on your arm, start by making a slipknot. Continue by casting on loops on your forearm. Using a bulky yarn cast on ten stitches (more if you prefer) on your forearm. You're ready to knit your first row.
Hold the yarn to be worked in your right hand. The same hand that has all the cast-on stitches.
Grab the first loop closest to your hand and slide it over the strand you are holding. This creates a loop.
Place that loop over to your left hand and tighten it on your left forearm. This is your first knitted stitch.
Repeat this process until you have moved over all the stitches onto your left forearm.
Continue with the second row.
This time you hold the yarn in your left hand, the same side holding all the stitches.
With your right hand, slide the loop closest to your left hand over the yarn. This creates a loop.
Place that loop on your right forearm.
Continue so all stitches on the left are arm knitted on to the right.
Knit how many rows you like until your desired length is achieved.
To cast off, follow these steps.
It doesn't matter which side your stitches are on. But let's say they're on your left arm.
Knit your first stitch, then knit the second stitch onto your right arm.
With these 2 stitches, you need to bring the first knitted stitch over the second knitted stitch, leaving you with one stitch on your right arm.
This is like binding off when knitting with needles.
Knit another stitch over to your right arm.
Bring the stitch that was on your right arm over the newly knitted stitch. You have one stitch on your right arm.
Continue with this method until you have bound off all the stitches.
Put the yarn through the last loop and pull tightly
This keeps the stitches from unraveling.
Weave in the ends. You can do this with your fingers
Cut off the excess.
Your arm knitted scarf is now complete
For a fabulous easy to follow tutorial, watch Chandi from Expression Fiber Arts video below:
Prefer to make an arm knit blanket? Follow these steps, and you'll have a gorgeous arm knit blanket in under one hour (give or take).
Before you begin, ensure you've blocked out about one hour where you won't be disturbed.
It's hard to stop midway when arm knitting.
Have a drop sheet over any carpet and be in clothes you don't mind getting some fluff on.
The yarn may not shed, but it's better to be prepared.
Pin For Later
How To Arm Knit A Blanket
Unravel about a 5-6ft length of yarn for your tail. Make a slip knot on your right forearm.
Create a V-shape with the working yarn (working yarn is the skein of yarn) and the tail with your left hand.
Push your right hand under the working yarn on the left hand. Pull the yarn from the tail through the loop. Take the loop and pull it over your right arm.
Keep casting the stitches on your right forearm. Make it tight, but not too tight. You need to continue this until you cast on 25 stitches on your right forearm.
Once you're done with 25 stitches, start over on your left forearm. Hold the working yarn in your right hand and pull off the first stitch over the working yarn. Create a loop with the working yarn and over your left hand.
Continue taking the stitches until all are on your left forearm.
Keep knitting from left to right, then right to left until you have about 34-38 rows or until you're happy with the length.
To join the ends to continue knitting, tie them together with the least amount of yarn.
Pull the knot tight
Once the ends are tied, continue knitting
Learn how to tie ends together with this video.
Once you've reached your desired length, the last step is to cast off.
Knit two stitches from your left arm to your right arm, as you did all until this point. Then slip the first stitch over the second. This is very similar to casting off with needles.
Knit another stitch on your right arm. Then slip the previous stitch over the last one. Continue until you only have one loop left.
Cut off the working yarn, pull it over and tie a knot.
To hide the tails, weave them into your blanket.
Trim of any excess yarn where you've tied knots to join the yarn.
Ta-Da! You have your arm knitted blanket.
FAQS About Arm Knitting
How can I make tighter stitches?
To make tighter stitches try keeping the stitches close as possible to your hand. Pull the yarn as you go for each stitch but not so tight it's uncomfortable.
Remember, arm knitting produces looser, bigger stitches. With a few tries, your tension improves, have patience.
How do you knit with multiple strands of yarn?
To knit with multiple strands of yarn, find up to 4 bulky yarns.
Pull out the strands from each ball and bring them together.
As you're knitting, keep all the yarns together, and each knit stitch is the combination of those fibers.
Enjoy making a unique look with multiple strands of yarn.
Hope this helped you. Enjoy making arm knitted projects!