Sick of messy yarn? Every knitter needs a yarn winder. Why get one? Read my full reviews of the best yarn winders.
Best Yarn Winder – Our Top Picks (July 2023)
Note: The above links take you to further information, current prices, and customer reviews on Amazon, Knit Picks, and Etsy.
Having a Yarn Winder makes knitting much easier and saves time. It's an excellent alternative to your tired hands, and the benefits are numerous. There are many options for yarn ball winders.
Hand-operated ones
Beautiful wooden winders
Crocheting and knitting technologies benefit both knitters and crocheters wanting to be efficient. This is the perfect chance to solve your messy yarn collection problem!
I reviewed, fact checked and updated this post on July 21, 2023.
Table of Contents
1. Best For Most People: Stanwood Needlecraft Winder
This hand-operated winder makes center-pull yarn cakes from 4 oz. balls. Say goodbye to a tangled mess of yarn. It's strong and easy to crank. Great for everything from smaller ball sizes, yarn with flecks to blanket yarn.
Winding from Amish (tabletop) or umbrella-style swifts? Buy one with this winder. I discuss it in my best Yarn Swift Review. While instructions for setup are included, here's an online PDF version of the manual.
Pros
The table clamp has a range of 1 3/4″

Made of quality materials
Easy to crank
Easy to operate hand crank
Great value for money
Doesn't take up much space

Has a high star rating

with happy customers
Excellent for winding scrap yarn
Cons
Only creates smaller balls. You may have to cut a larger ball in two
2. Best Budget Pick: Knit Picks Yarn Ball Winder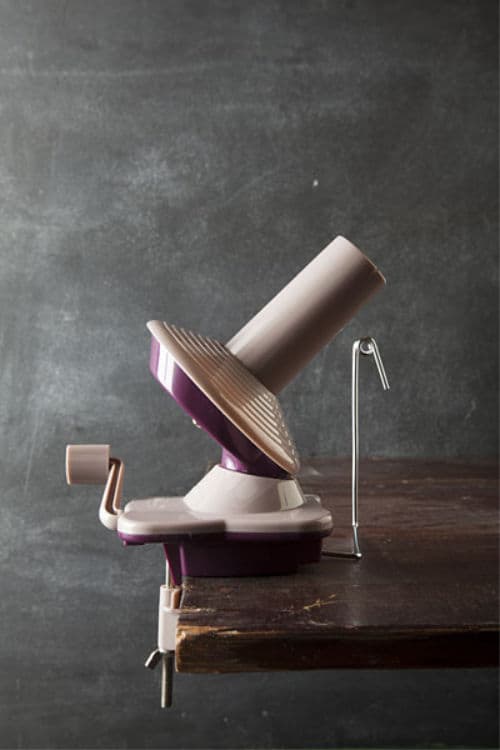 This compact yarn ball winder makes 3.5 oz balls, perfect for a lightweight thread. This winder pivots. If you have pain in your hands and wrists, the style of the Knit Picks yarn ball winder is comfortable. Much better than hand winding yarn.
This is the best yarn ball winder for those on a budget, and it best suits those with a beginner skill level.
Pros
Cheap price
Makes 3.5 oz yarn balls
Great for small projects or lightweight yarn
Clamps to tables without scratching the surface
Although it's mostly plastics, it's sturdy. The yarn guide is metal
Has directional arrows on the crank to show you which direction to go
Even cranking with minimal effort
A three-step setup
Perfect for beginners to wind yarn
Small, it stores in its box
User-friendly directions on the carton
Good if you have a tight budget
Position it for comfort and ease of use
Good if you have arthritis and tendonitis
Lightweight and portable, you can take it anywhere
The pull thread yarn balls mean your yarn comes out from the center.
Cons
Operating the hank crank isn't as fast as some of the bigger models
Keep in mind this is smaller than the rest featured in this post
Here's this affordable tool in action in this video by Toni from TL Yarn Crafts.
3. Best Luxury Option: Maple Jumbo Yarn Ball Winders With Table Clamp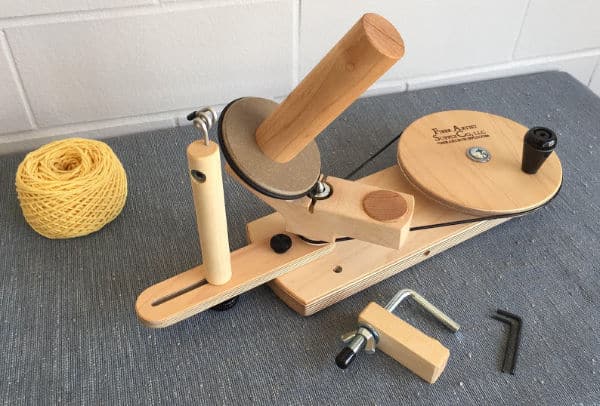 This hand-crafted Maple wood knitting tool is a quiet achiever. It can wind up to 1 pound of fingering weight yarn at a time. It's a workhorse. It's easy to assemble. Use it on your workspace or tabletop or clamped on an edge. It's portable and simple to use.
The style of this large-capacity yarn winder is charming. It winds approximately fingering weight – 1 pound, and worsted weight yarn – 10 ounces. The winder photo shows it unattached to the table clamp.
Pros
Easy turn handle design allows for winding large yarn balls
Less strain if you have wrist problems
Smooth winding motion
Replaceable parts (the steel and wood ones)
These winders are designed for durability and years of use
Made in the US
Multiple reviews with five stars
Large spindle capacity
Hard maple and premium maple veneered plywood parts
One year guarantee
Suitable for almost everything
Transform yarn hanks into compact center-pull yarn balls
Place on a work surface or clamp
Dimensions don't take up lots of space
Ergonomic design
Simple instructions in the info booklet
Excellent customer service if you have any questions or issues
Constructed to last a lifetime
Cons
Needs cleaning if you use it often
4. Hand-Turned Nostepinne Wool Winder For Handwinding Yarn Balls: One Skein Capacity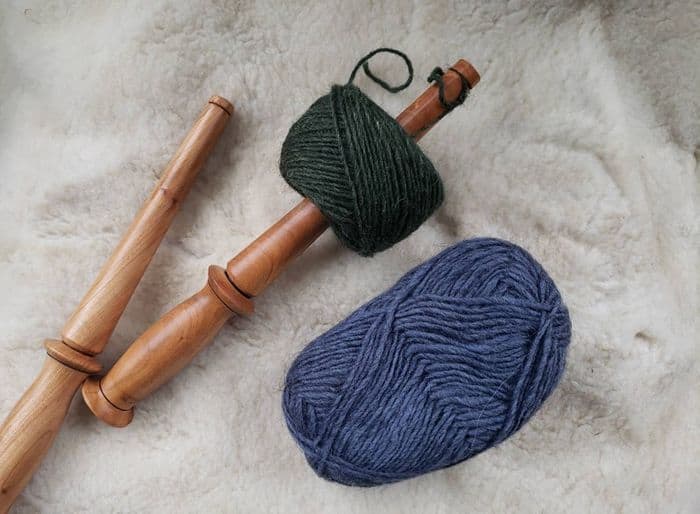 Made of wood with a varnished finish. The carved handle is comfortable to hold. There's a groove at the top to tie on the Yarn to start winding. Use a hitch knot in the yarn to begin at the top.
The other groves on this compact yarn winder are for decoration. Use a yarn winder like a Nostepinne if you have little room and are happy to wind by hand. It's a thing of beauty and has an antique look. Hand-wound wool winders like these are perfect for winding a yarn hank and yarn skeins.
Pros
The feature of simplicity
Creates center-pull balls
Free shipping in the US
This manual yarn winder comes at an affordable price
Great budget product option
Hand held & portable
Ships to the United Kingdom
The seller gives you a great shopping experience
Cons
Only winds as fast as you can
Yarn shapes and content vary depending on how you wind
The number of cakes you can wind will be less
Take care as too much tension stretches the yarn
Looking for a cheaper version?
For a good example, try the Yarn Valet. It's lightweight, comfortable, and has a tube compartment for storing stitch markers and notions.
Dr. Kelly from Ewe University Knitting Podcast reviews six styles. Dr. Kelly's recommendations are honest.
If you'd like to skip to the Yarn Winders review section, head to 11.08. In her video, she reviews the following:
Stanwood Needlecraft 4 oz
Stanwood Needlecraft Large
Strauch Jumbo Ball Winder
Nancy's Knit Knacks
Note: The above links take you to further information, current prices, and customer reviews on Amazon and Etsy.
5. Beisaqi
This good yarn winder is easy to install, portable, and lightweight. Good for smaller and larger ball sizes of yarn. Once wound, your yarn skeins or yarn hanks will be easy to pop into a yarn bowl and knit. It helps make things easier and keeps yarn in order!
Pros
Lightweight
Center-pull cake
Great stability in the frame
Place on your working desk or bench.
This device makes minimal noise
Excellent for examining yarn for imperfections and tangles
Good for beginners to knitting
Should ship to your country for a reasonable price
Cons
Instructions aren't so easy to understand.
6. LAMXD Needlecraft Large Jumbo Metal
This heavy-duty yarn winder is easy to assemble and clamps to a table without damaging it. It winds up to 10 ounces of Yarn.
It has two metal swing arms, one to hold the Yarn, the other to keep the tension, so you don't have to do it. This makes neat and compact center-pull cakes. Perfect for many yarn weights and handles larger hanks of Yarn.
Pros
The cogwheels and gears operate smoothly
Components are built to last
This item has a sturdy spindle
Any person can wind the yarn easily
One year manufacturers warranty
Winds large hanks with flat sides
Clamps to surfaces up to 2 1/8″ thick
Easy assembly for these items
Cast iron construction
Cons
Squeaks
If you go too fast, you can't control the tension
7. Lacis II Compact Size Winder
This ball-winder winds up to 4 oz of Yarn. Great for winding leftover Yarn into tidy yarn cakes. One of the choices for a light and portable yarn winder.
Pros
Excellent for winding hanks and leftover skeins into cakes of yarn.
Winds yarn without requiring cones or tubes.
Simple set-up.
Instructions for these plastic yarn winders are clear.
Cons
The arm slips occasionally
Doesn't handle large amounts of fibers
8. Lacis Jumbo
Winds up to 7 oz of Yarn. Winds the Yarn at a diagonal and creates large yarn cakes. Great for different types and weights of Yarn. It handles bulky weight yarns to lace-weight yarns.
Experiment with your tension using different types of Yarn to ensure no difficulty. A screwdriver with a magnetic tip is included. Handy for putting in the screws. This model comes with instructions, but here's a PDF of the manual for easy access.
Pros
Easy to set up the pieces
Great for winding regular yarn
Can wind larger amounts of yarn
Durable
Withstands many winds
Cons
Go slowly in the beginning until you get the hang of it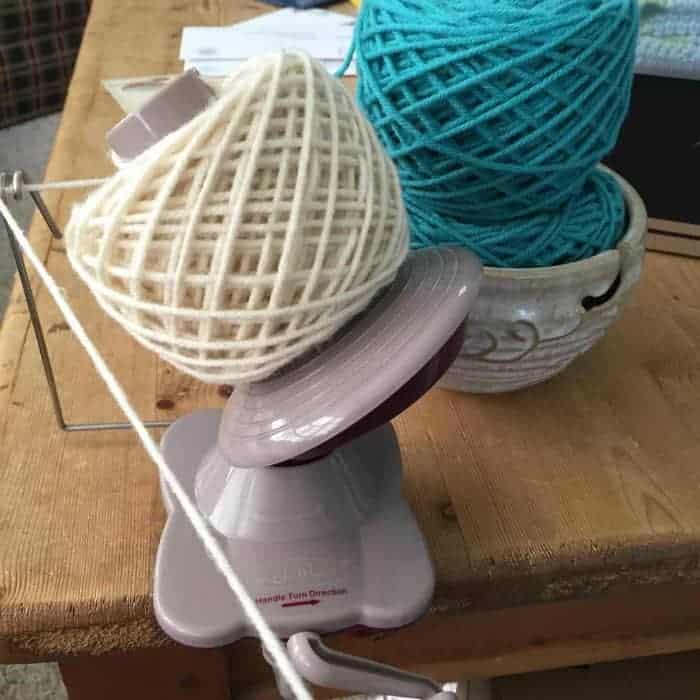 9. Knit Pro
Suitable for weights up to 3.5oz of yarn. It easily clamps onto any table for stable placement. Just be sure to extend the metal arm before clamping, as it can't be adjusted once in place.
Pros
Easy turn handle design that is thicker than others models means less strain on your wrists.
Suits up to 3.5oz
Hand turn screw on clamp is easy to tighten
Creates center-pull yarn ball
The clamp has a rubber pad to keep surfaces from being scuffed
Setup is a breeze
Cons
Difficult to wind slippery yarns
10. Stanwood Needlecraft Large
This larger version makes large 10 oz. balls. It's easy to use, sturdy, and made of heavy-duty materials. Easy to put together and store away. Stanwood has a reputation for high-quality knitting accessories. One of the best yarn winders on the market. You can get back to your knit or crochet patterns much faster.
The Stanwood Needlecraft Large metal winder works with fingering weights to bulky weights. Handles cotton, wool, acrylic, and luxury yarns, like silk, cashmere, and merino.
The cost is worth the investment considering it will last for years and wind lots of Yarn. (Unfortunately, it's not always available and is difficult to find.) A good alternative is the U-nitt Metal Jumbo 10 oz.
Pros
No need to cut 8 oz. balls in half
Features sturdy metal construction apart from the cogwheels, made from durable nylon material
Designed for heavy-duty use
Electrostatic paint so it won't chip or wear off
Requires little assembly
Excellent for larger skeins
Sturdy metal crank with comfortable plastic handle
Straightforward to use
Lasts many years
Super smooth operation and quiet
Anti skid rubber pads on the bottom keep it stable while protecting your table from scratches
Has a metal table clamp to grip to a surface
Makes nice yarn "cakes" with a hole where the yarn pulls from the center
Good value for money
Cons
See a demonstration of how it works in this YouTube video.
11. Knitter's Pride Mega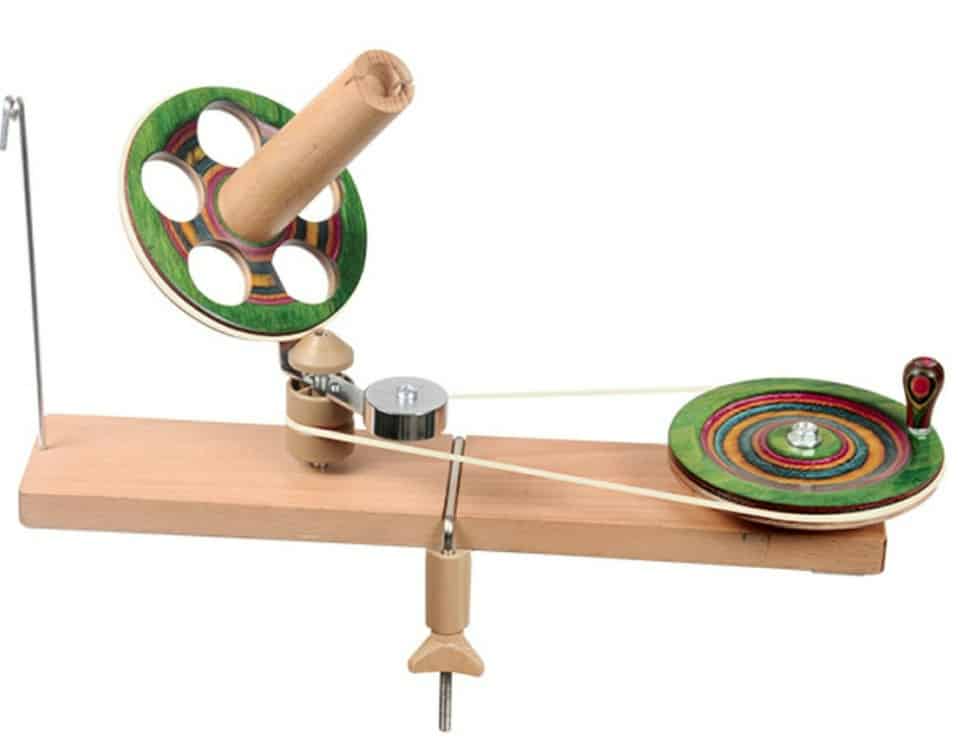 No more tangles, knots, and frustrating hand-winding. A skein or hank is quickly turned into a compact and useable cake. These handcrafted wooden fiber tools are not only elegant, but they make knitting and crocheting a breeze.
Pros
Features rainbow colors decal on the bobbin and the crank
Solid birchwood
Winds up to 15oz (450g) of fingering weight yarn at a time
Quality ball bearings for smooth operation
Anti skid rubber pads on the bottom to keep surfaces scratch free
Table clamp included
Cons
Expensive but a wooden version is sturdier than plastic.
This video by Jayda is an excellent overview of how to set it up and use it.
12. Butuze
This is an affordable yarn ball winder. One that suits beginner knitters or crocheters, as it comes packed with value. The pack includes a range of accessories including stitch markers, yarn needles, and cable needles. Although the manufacturer doesn't mention the capacity, you can expect to wind an average 3.5-ounce skein. You'd be best to control tension with your fingers by holding the strand close to the guide.
Pros
Clamp will work on thickness up to 1.5
Wind up to 3.5oz (100g) of fingering weight yarn
Suitable for smaller amounts of fibers
Easy to set up and operate
Cons
Thicker yarns might have to be wound in 2 gos
Some users complained about the popping noise it sometimes makes
The plastic materials are not top quality
The clamp doesn't have a protective pad
Only works with partial skeins of larger weights
The following options are no longer in production, so hence not in our list but they are worth mentioning because they were popular in the past.
Nancy's Knit Knacks Heavy Duty
This model was favored by many. I was in touch with Pete Charles from The Oregon Woodworker. He told me the owner of Nancy's Knit Knacks passed away. Unfortunately, the business hasn't found a new owner.
If you find one second-hand, I recommend it. I'll let you know if it becomes available again. Sign up to my mailing list to keep updated.
Nancy's is a sheer joy to wind, super sturdy and fast. It's long-lasting enough for the next generation. It had the largest yarn capacity of up to 16oz. Wind up to one pound at a time. It always received excellent customer ratings.
Simplicity Boye
This model seems to no longer be manufactured so getting a new one is unlikely. Although listed it is often unavailable. Second hand versions are for sale on eBay. An Electric Yarn Winder using 120v a-c power. It winds by itself. Included is an easy to follow manual and you watch your yarn wind into tidy cakes. Some found the electric motor didn't last. Looking for a powered yarn winder? See this post.
Recommended Yarn Winder Comparison Chart
Pin For Later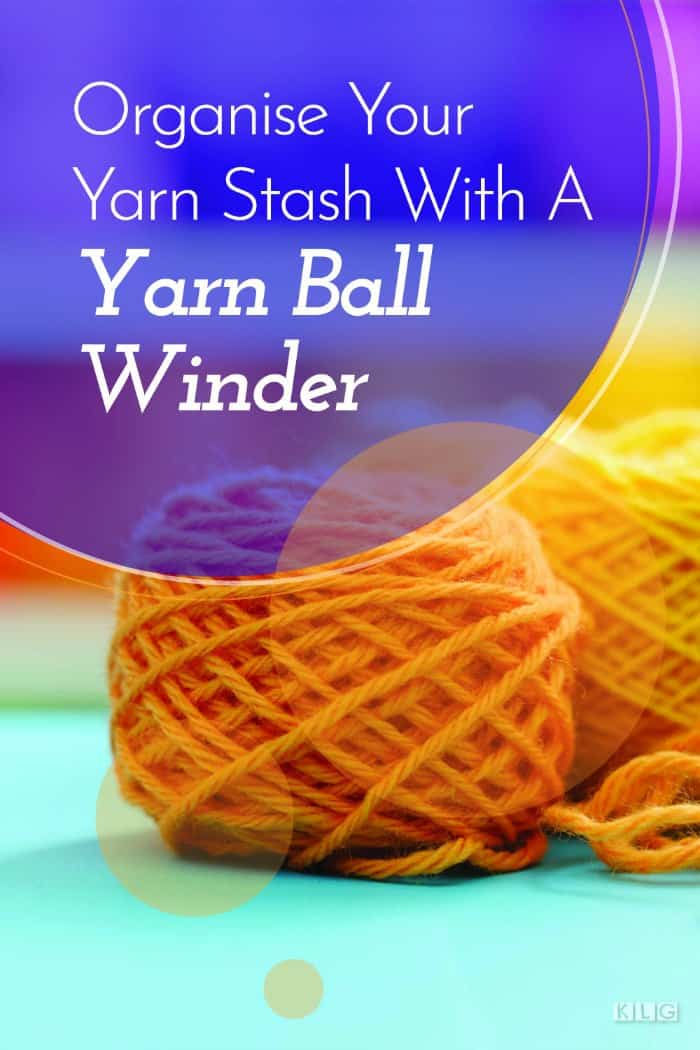 FAQs About Yarn Winders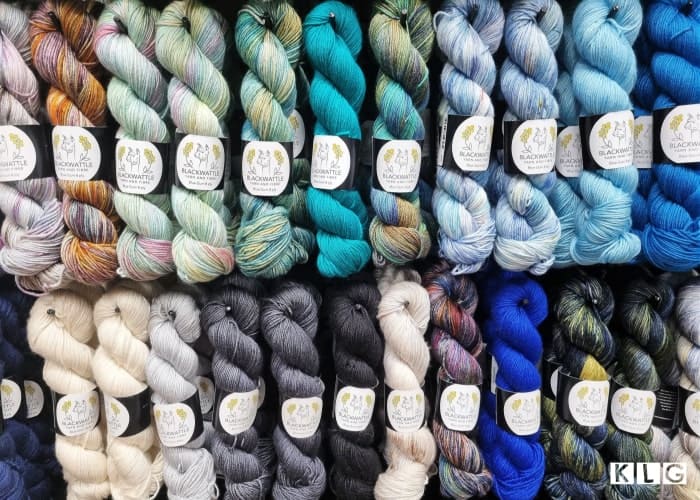 What To Look For
Here are considerations during the decision making process.
Sturdy Construction
Look for one built to last. Ones made of hardwood (like birch wood, rosewood, or beech wood) and metal are good. For ones with plastic, ensure they won't break.
Pay attention to the protection of the gears. If the Yarn slips underneath the gears, it gets caught. In sturdy models, the gears are better protected. The table clamps should be sturdy without damaging the table's surface in your craft room.
Easy Crank System
You want something for some serious cranking. While operating the crank, it should feel smooth and even while not pulling on the Yarn. The best yarn winder machine needs to feel sturdy and not like it's going to break off!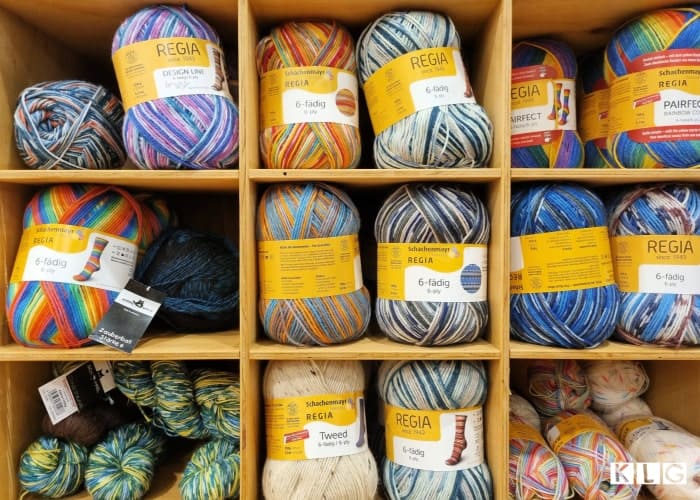 Ease of Set-Up
For beginner knitters, you want something quick, easy, and simple.
Size of Cakes To Be Wound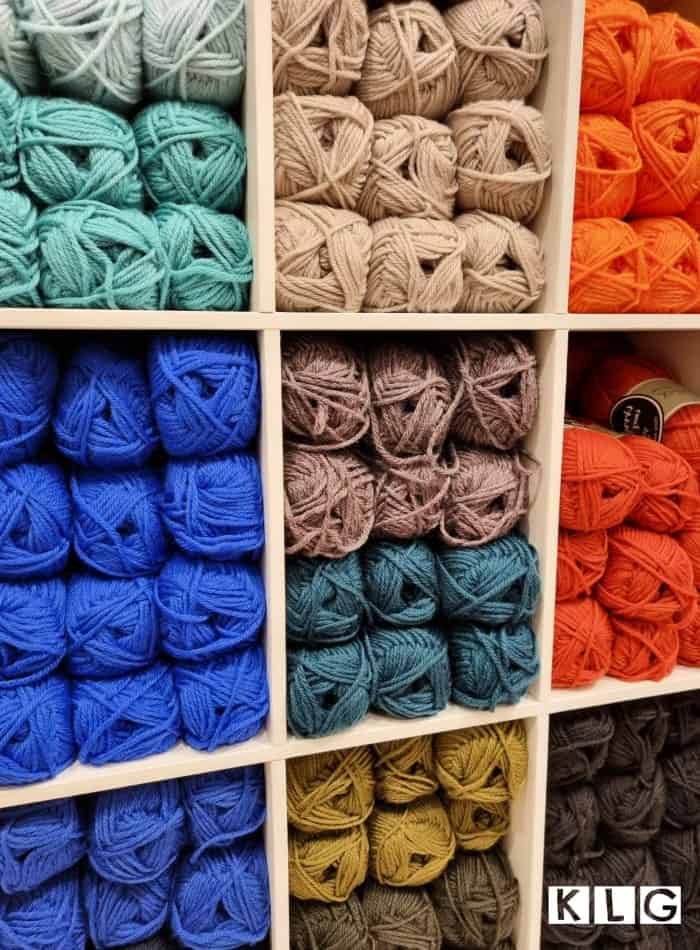 Consider your regular purchases of Yarn. Are the diameters and weights small hanks, up to 4 oz, or larger skeins/hanks 10 oz and above? Here is what experts recommend.
If you wind smaller cakes, look for one handling up to 4 ounces.
For larger cakes, use 10oz winders.
Anything above, use heavy-duty winder models made of strong materials.
Using a Ball Winder and Swift
Here is a fabulous video tutorial by Stacey at Very Pink Knits. The swift holds the Yarn while you wind it. Use a yarn winder and swift in conjunction with each other to save the hassle.
It's not essential to have a Yarn swift to use a ball winder. However, yarn swifts make winding easier. As knitters, we want to get to knitting! The winder can hold your hanks of Yarn in place as you wind them. Watch to see it in action.
The important thing is to take your time when first starting out. This allows you to stop tangles from happening. There is nothing more frustrating than your precious yarn getting into a big mess because you've gone too fast!
Visit my post here for a full tutorial. Want a review of great ball winders and swifts? See my post.
What Is The Best Yarn Winder?
Out of all the products we researched, reviewed and tested, we liked the Maple Wood Jumbo Yarn Winder the best. It delivers quiet, effortless pain free winding making it a worthwhile long term investment.
Given all the above, we believe that so many happy knitters can't be wrong and the Maple Wood Jumbo Yarn Winder is definitely worth spending a bit more on.
Pin Now Save For Later