Our Recommendations For Those In A Hurry
The Best For Most People – Stanwood Needlecraft 10oz Yarn Ball Winder This Stanwood is a solid choice, great value, reliable and suitable for most projects.
What The Yarn Stores Use – Nancy's Knit Knacks Heavy Duty Ball Winder Nancy's is a sheer joy to wind, super sturdy, fast, durable, tough and long lasting enough to pass onto the next generation, the only yarn winder you will ever buy.
Note: Clicking the above links will take you to further information, current prices and customer reviews on Amazon.
For those who want more, keep reading our full reviews of all of the best yarn ball winders currently available.
AT A GLANCE: The 12 Contenders For The Best Yarn Winder Available So Far In 2020

Note: Clicking the above links will take you to further information, current prices and customer reviews on Amazon and Etsy.
Get Smart About Your Knitting, Be Like Carol
Good friends Carol and Cynthia are both avid knitters. They are similar in their knitting speed, gauge and tension and the difficulty of patterns they choose. Every season, Carol always manages to produce more knitted garments than Cynthia. Something that Cynthia was always a little envious about.
Cynthia, although a fast knitter, with every new purchase of a gorgeous hank of hand-dyed yarn, she opts to wind her yarn into balls by hand. This often involves getting her reluctant husband, to hold the loops of yarn for her.
If he was unwilling, she would use the back of one of their dining room chairs. Sure, she got to watch her favorite T.V shows while winding the balls. But she took a long time to get balls ready to knit.
Carol realized early on in her knitting days, that winding yarn by hand was time-consuming and for her, a tad annoying. She had discovered the ease of using a yarn winder in her local yarn store.
It occurred to her that having the convenience of one at home was the go. Having researched yarn ball winder reviews, she opted for a yarn winder made of sturdy materials and could handle 10 ounces of yarn and a wooden yarn umbrella swift.
Carol was one happy woman. Her beautifully formed, center pull yarn cakes were a joy to work with and also to store. Her yarn stash looked super organized.
Carol created gorgeous knits every season and adored the ease of using her yarn winder.
One day Cynthia went over to Carol's for a coffee and a chat. On the dining room table, was Carol's yarn winder and swift set up with a hank of colorful hand-dyed yarn.
Cynthia asked for a quick demonstration and was amazed. Now she knew why Carol produced more knitted items. Later that afternoon Cynthia jumped on her computer and bought a yarn winder and swift online. The perfect knitting gift for herself. She couldn't wait for them to arrive!
Knitting Tool Joy!
Yarn Winders make knitting so much easier and help save time.
Every knitter is keen to get to the actual knitting part.
Your yarn stash will have never looked so tidy! Colorful yarn cakes all neat and organized.
There are many types of yarn ball winders on the market – simple hand operated ones, beautiful wooden winders, and electrical yarn ball winders.
We've researched what's out there and made some recommendations. After all this investigation, we concluded: Every knitter needs one of these.
We've read suggestions from top bloggers and sifted through 5-star reviews.
Here is a list of the best Yarn Winders we've found based on many hours of research.
Table of Contents
Why would you want a Yarn Winder?
Use it for Unwound Yarn
There is nothing worse than a horrible tangled mess when knitting directly from a skein or hank of yarn. A hank comes in a long, loosely twisted form. Many beautiful, expensive, hand-spun or hand-dyed yarns come in this shape. Yarn purchased from craft stores/online are typically sold in skeins.
To make it easier to knit with, you need to make them into balls or cakes. This is exactly what a winder does.
The best bit is that you can make center pull cakes, so you don't have your yarn rolling all over the place as you use it.
What is the difference between a ball and a cake then?
A ball is round and usually wound by hand. A cake is wound using a winder, has a squat cylindrical shape with a flat top and bottom.
A ball is round and usually wound by hand. The ball starts off with a small amount of yarn wound into a tight sphere. Yarn is continually wrapped around until a bigger ball is formed. It is not possible to pull from the center of a hand wound ball.
A cake is wound using a winder. The yarn is wound around a cylindrical bobbin and this is how the cylindrical shape is formed. When all the yarn is wound it looks like a cake with a flat top and bottom, hence the name Yarn Cake. It is easy to pull from the yarn from the center of the cake. It is also possible to pull the yarn from the outside.
Yarn cake
If you have a yarn winder, winding yarns into cakes is a breeze. A cake is a roll with two flat sides so that it won't roll. The tail is left in the middle of the yarn cake.
This means it's effortless to pull it out from the center, without the usual scrambling for the end inside the yarn ball and almost inevitable knot jumping out instead.
Uniform Tension
Many commercially wound yarns are very loose. This is great for storing, they can squish down, but a well wound ball or hank will help with maintaining consistent tension throughout a project.
Using a Yarn Winder helps with examining the yarn for knots, imperfections and color changes.
When using a yarn winder, examining the yarn for thin or weak points and knots will help determine where in the project each skein, hank or ball of yarn should go.
Some yarns such as Lion Brand Mandala and Caron Cakes have colors changes that appear throughout. This is great for when you are not fussy about when the color change appears in your knitting project. The beauty of rewinding such yarn is you can see the color change and wind it into separate colors if you want to have more control.
What to Look for in a Yarn Winder
Sturdy Construction:
When looking for a yarn winder, look for something that is built to last. If there are plastic bits, make sure they are not going to break right away.
Check the protection of the gears. If the yarn is likely to slip underneath the gears, it will get caught fast. In sturdy models, the gears are typically better protected.
The table clamp should also be sturdy and have a good grip, preferably without damaging the surface.
Easy Crank System:
You want something that can hold up to some serious cranking. While operating the crank, it should feel smooth and have an even tension while not pulling on the yarn.
It needs to feel sturdy and not like it is going to break off!
Ease of Set Up:
For beginners you want something that doesn't need hours to read the manual on how to operate it. Quick, easy and simple is what you'll need.
Size of Cakes To Be Wound
Consider your regular purchases of yarn. Are they small skeins/hanks, up to 4 oz or larger skein/hanks 10 oz and above? If you are regularly wanting to wind smaller cakes then look for a winder that handles up to 4 ounces. Larger cakes will be wound on winders that handle up to 10oz. Anything above 10 oz would either need to be wound on a heavy duty winder.
Using a Yarn Winder and Swift
Here is a fabulous video tutorial by Stacey at Very Pink Knits on
It's not completely necessary to also have a Yarn swift to use a Yarn Winder, however it does make life easier.
As knitters we all want to get to the good part, the actual knitting!
A Yarn Swift holds your hanks or skeins of yarn in place as you wind them into balls.
Watch the video to see a Yarn Swift in action and read our Yarn Swift Reviews and Buyer's Guide.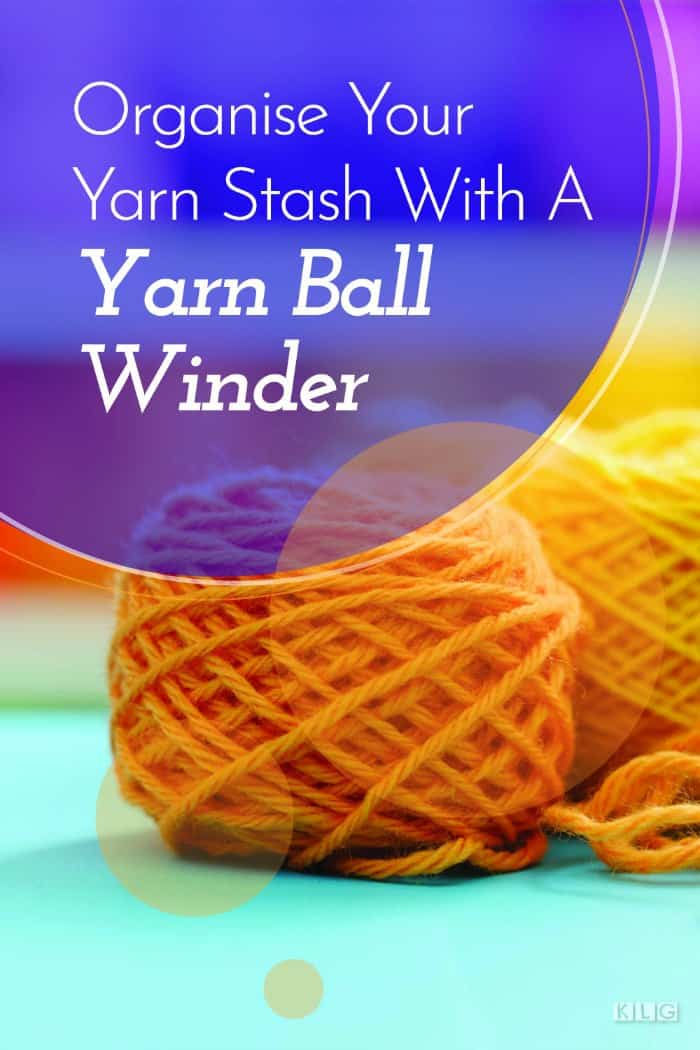 Which Yarn Winder Should I Buy?
There are many choices on the market. We've listed some of the most popular with the pros and cons for each.
Stanwood Needlecraft YBW-A Hand-Operated Yarn Ball Winder, 4-Ounce
Hand operated this winder makes 4 oz. balls with center pull. Say goodbye to a tangled mess of yarn. Clamps to a variety of furniture. It is made of strong materials and is easy to crank.
If winding from swifts, it's recommended to purchase the swift that goes with this winder. This is the product here, I talk about this in my best Yarn Swift Review.
Pros
The Stanwood Needlecraft YBW-A Hand-Operated Yarn Ball Winder makes smaller 4.oz. balls with center pull, this ensures you will never have a tangled mess.
The table clamp has a range of about 1 3/4″ so it means you can clamp it to a variety of tables, shelves or even a chair.
Made of strong materials.
Very easy to crank, made with sturdy metal. It makes smooth, easy to wind balls.
Cons
It can only create smaller balls.
This means you may have to cut skeins into two pieces.
Click to Learn More / Buy from Amazon
Stanwood Needlecraft Large Metal Yarn/Fiber/Wool/String Ball Winder, 10-Ounce
This yarn winder makes large 10 oz. balls which means there's no need to cut large skeins in half. It is easy to use, sturdy and made of heavy duty materials. Easy to put together and and stores away nicely.
A perfect choice for those who want to create lots of Yarn cakes 🙂
Pros
With this winder, there is no need to cut 8 oz. skeins in half.
Very sturdy metal construction apart from the cogwheels, which are made from a durable nylon material that won't wear down.
Designed for heavy duty use, this 'jumbo' model has electrostatic paint so it won't chip or wear off.
Requires little assembly, straightforward to use.
With proper care, it will last many years.
Quiet and doesn't rattle or make any more noise than the smaller model, due to it's smooth and even crank.
Makes nice, easy to stack and store yarn "cakes" with a hole in the middle where the yarn pulls from the center.
Overall, an excellent choice for those who want something with a bit more strength and are going to be doing a lot of winding.
Cons
Takes some time to master but after a winding a few skeins, it becomes easier
Click to Learn More / Buy from Amazon
Steps To Setting Up Your Yarn Ball Winder
Some of you may choose to use a Yarn Swift to hold your skein or hank, with your yarn ball winder. Some people are quite happy to use the back of a dining room chair to hold yarn or a very loving and patient member of the family!!
Find a sturdy bench or table to set up your yarn winder and yarn swift. If the table is going to be marked with the clamps, add a cloth over the top for protection.
Experts report that the best distance to place between your yarn winder and yarn swift is 12 to 18 inches. Use the clamps at the base of each piece of equipment to secure them to the table. Make sure the bolts are tightened.
How To Not Get In A Tangle When Placing the Yarn on the Swift
Gently unwind the hank or skein and remove the ties that kept the yarn together. If you are using scissors to do this, be very careful. You need to watch you are not cutting into the yarn.- Check for twists and make sure the yarn is in a nice big loop.
Find the two ends and make sure they are free from the skein.
Most swifts look like an umbrella, hence the common name for these knitting devices (umbrella swift).
You push up the knob at the bottom of the pole on the swift and as you do so the arms will spread out.
The spread of the arms of the swift needs to ensure that your yarn loop fits snuggly around the outside of them. Some adjustment will be required here, depending on the size of the loop.
Next steps… Connecting the Yarn to the Ball Winder
Find the end of the skein of yarn that's on the outside. This will be the end that you attach to your winder.
Slip the end of the yarn through the metal yarn guide and into the slit at the top of the winder. This end will be where you access center pull from your cake.
Creating Your Center Pull Yarn Cake – Happy Days!
Slowly crank the handle, and the yarn ball winder will start to spin the yarn into a cake.
Use your other hand to gently guide the yarn between the yarn swift and the ball winder.
Increase your speed a little more making sure that both winder and swift are moving freely.
You'll have a yarn cake in no time!!
Removing the Yarn Cake from the Winder
The Yarn Swift will have no more yarn attached.
Use your pincher fingers on one hand to hold the thread that's in the slit at the top of the winder.
Use your other hand to slide the yarn cake off the yarn winder gently.
The end that you have in your pincher fingers will be the center pull end.
Unwind a couple of feet of yarn from the outside and then wrap around the middle a few times and tuck in that end. This won't bother you until you get to the end of the yarn cake.
Ta da!! A beautiful easy to use yarn cake is now ready.
Happy Knitting 🙂
KnitPicks Yarn Ball Winder
Many people love this yarn ball winder for its ease of use. Makes 3.5 oz balls, perfect for lightweight yarn.
This winder pivots so if you suffer from pain in your hands and wrists, this will be more comfortable to use.
Pros
The Yarn Ball Winder by KnitPicks is a cheap and cheerful model. It makes small 3.5 oz balls, so it's great for small projects or lightweight yarn.
Clamps easily to the table without scratching the surface.
Although it has mostly plastic components, it can stand up to many "winds."
It has directional arrows on the crank to show you which direction to go in and a three-step setup, so it's perfect for beginners.
Its small size means it stores away easily in its box, and the directions are written on the carton so it's very user-friendly.
It pivots too so that you can position it for maximum comfort and ease of use.
If you suffer from Arthritis and tendonitis, this will be appreciated.
Cons
While it might not be able to go as fast as some of the other bigger models, it still has the smooth, even crank system.
Click to Learn More / Buy from Amazon
Nancy's Knit Knacks Heavy Duty Ball Winder
This winder is Heavy Duty and can wind up to one pound of yarn (16 oz) at a time. Simple to use and does not require much assembly. Made of strong and lasting materials with an ergonomic design.
The wood is maple and it looks beautiful set up on a table. Manufactured in the USA with Swiss made gears. (The Swiss really know their stuff when it comes to gears.)
This is a considerable investment but well worth it.
Pros
The Heavy Duty Ball Winder by Nancy's Knit-Knacks can wind up to 1 lb. at a time.
Comes fully assembled with you only having to put the handle and yarn guide on it.
Has a sleek ergonomic design and focuses more on using your arm for winding.
Can be adjusted in several ways so you can change the yarn ball at five different angles relative to the positioning of the machine. Guaranteed to be easy to use and comfortable.
It also has flexible options for tension and yarn ball size.
Requires little assembly, so it's straightforward to use.
It's made of maple hardwood in the USA and has Swiss gears.
It has a one-year warranty and an option of adding an electric motor.
Cons
There is a very small chance of experiencing yarn becoming tangled and overspun.
Click to Learn More / Buy from Amazon
Darice Yarn Winder
Hand operated Yarn Winder with a Table clamp. Simple to use and creates center pull cakes. Small and portable and comes already assembled. The only thing to do is secure it to a table with the clamp.
It can hold up to 4 oz of yarn. It will not wind larger skeins of yarn into one cake. Larger skeins will need to be spilt up. A good tip is after the initial few winds, go faster rather than slower and be sure to be adding tension with your fingers.
Pros
Handle is easy to turn.
Creates center pull yarn balls.
Great for smaller amounts of yarn
Comes already assembled, just need to use the included clamp to place on a table
Cons
The Yarn can sometimes get wrapped around the spool if you go too slow.
Click to Learn More / Buy from Amazon
U-nitt Metal Jumbo Hand Operated 10 oz
The U-nitt Jumbo Ball Winder is easy to assemble and clamps easily to a table.
The gears are all metal and built to last. Winds up to 10 oz of different types of yarn.
It does make noise as you wind but the joy of having tight and neat cakes is worth putting up with a little noise.
Pros
Cast iron construction and all metal gears
Wind a ball of up to 10 oz in no time!
The winder can be clamped onto a table up to 2 1/8″ thick.
Easy tool-less assembly.
One year manufacturer warranty.
Cons
If you go too fast, you aren't able to control the tension well and this can mean the yarn will wrap around the spool above the ball you're winding.
Click to Learn More / Buy from Amazon
Dr Kelly from Ewe University Knitting Podcast reviews 6 different styles of yarn winders. Her reviews are very helpful in seeing each of the yarn winders in action.
Dr Kelly's recommendations are frank and honest.
If you'd like to skip right to the Yarn Winder review section, head to 11.08 in the video feed. In her video she reviews the following:
Handmade Wooden Nostepinne
Stanwood Needlecraft Hand-Operated 4 oz
Stanwood Needlecraft Large 10 oz
Knitters's Pride Wool Winder
Strauch Jumbo Ball Winder
Nancy's Knit Knacks Heavy Duty

EUBeisaqi Swift Yarn Fiber String Ball Wool Winder Holder Hand Operated
Easy to install, portable and light weight. Good for smaller balls of yarn.
A tip to ensure that yarn doesn't get tangled, is that you keep tension on the yarn with your fingers and guide it as winds.
Pros
Light weight, easy to install on working desk or bench.
Low noise when working, convenient and portable.
Cons
Instructions could be improved to be easier to understand.
Click to Learn More / Buy from Amazon
"Properly practiced, knitting soothes the troubled spirit, and it doesn't hurt the untroubled spirit either." ~ Elizabeth Zimmermann
Lacis Yarn Ball Winder II Weaving Yarn
Can wind up to 4oz of yarn. Great for winding leftover yarn into neat and tidy yarn cakes. Instructions are clear to understand. Light and portable.

Pros
Great for winding large hanks and leftover skeins into perfect cakes of yarn.
Winds up to 4 ounces of yarn without requiring any cones or tubes.
The set-up is simple and the instructions are easy to follow.
Cons
The arm does slip once in a while.
Not able to wind large amounts of yarn.
Click to Learn More / Buy from Amazon
Simplicity Boye Electric
This is an Electric Yarn Winder that uses 120v a/c power and it does the winding all by itself. No need to get involved physically. Just follow the easy to understand manual and watch your yarn get wound into neat and tidy cakes.
Pros
Wind skeins or hanks of yarn into neat balls in seconds using Boye's electric yarn ball winder; saves your wrists and time.
No set-up required; easy to use; instructional video available.
Uses 120v a/c power, batteries not necessary.
The Boye Electric Yarn ball winder manual is easy to understand.
Cons
Not a very powerful motor.
Click to Learn More / Buy from Amazon
Lacis Jumbo Yarn Winder
Able to wind up to 7 oz of yarn. Winds the Yarn at a diagonal and creates yarn cakes with a center pull. Great for different types and weights of yarn.
You will need to experiment with your tension when using different types of yarn.
Some people will need a tighter tension and others a looser tension.
The parts are easily put together and a screwdriver with a magnetic tip is included. Handy for putting in the screws.
Pros
Easy to set up
Great for winding regular yarn
Can wind larger amounts of yarn
Cons
Need to go slowly when using it in the beginning
Click to Learn More / Buy from Amazon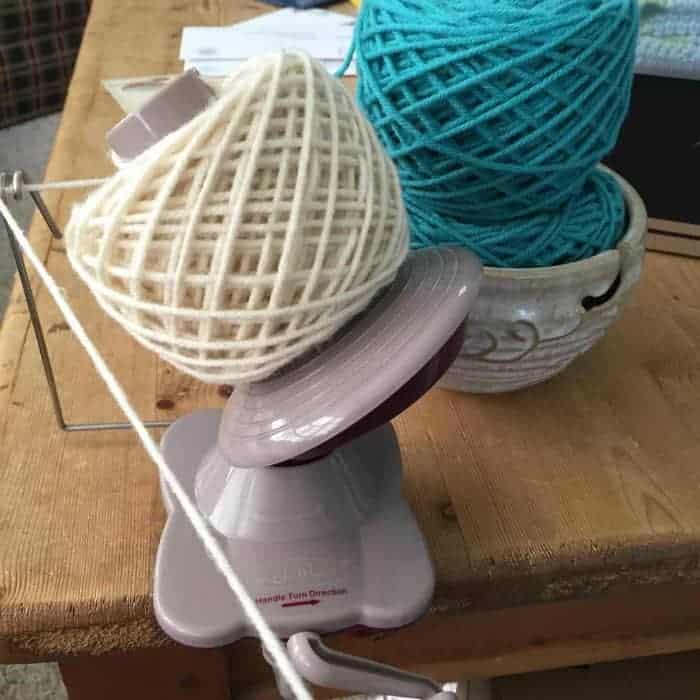 Jumbo Yarn Ball Winder Design by Neat Knit
Simply easy turn handle allows you to wind large 10 oz skeins of yarn.
Can be mounted to any table or flat surface. Designed for durability.
Pros
The Easy turn handle design allows for winding of large yarn balls and less strain on your wrists.
All metal construction and metal gears means it is designed for durability and years of use.
10oz of yarn can be wound with ease.
The Jumbo Yarn Ball Winder Design by Neat Knit Mounts to any table or flat surface with a hand turn screw.
Creates center pull yarn balls.
Cons
Yarn can sometimes get wrapped around the spool if you go to fast.
Click to Learn More / Buy from Amazon
This beautifully crafted and designed knitting tool is a quiet achiever.
It spins effortlessly and quietly when in use. Easy to assemble and it can be used on the top of your workspace or clamped to a table.
It's portable and simple to use.
Approximately 1 pound of fingering weight yarn and around ten ounces of worsted weight yarn can be wound. (Note: those two measurements can't be winded at the same time.)
For thicker yarns, the amount will be less. The parts are replaceable and the manufacturer has a one year guarantee.
Pros
The Easy turn handle design allows for winding of large yarn balls and less strain on your wrists.
Designed for durability and years of use.
Made in the USA.
Parts are replaceable and include a one year guarantee.
Creates center pull yarn balls.
Can be either placed on top of a surface or clamped.
Simple to follow instructions.
Cons
If you're not keen on things that need constant maintenance, this machine might start to loose some of it's appeal.
It needs to be cleaned regularly if you use it often.
However, it is very easy to disassemble and put back together.
Click To Learn More / Buy From Etsy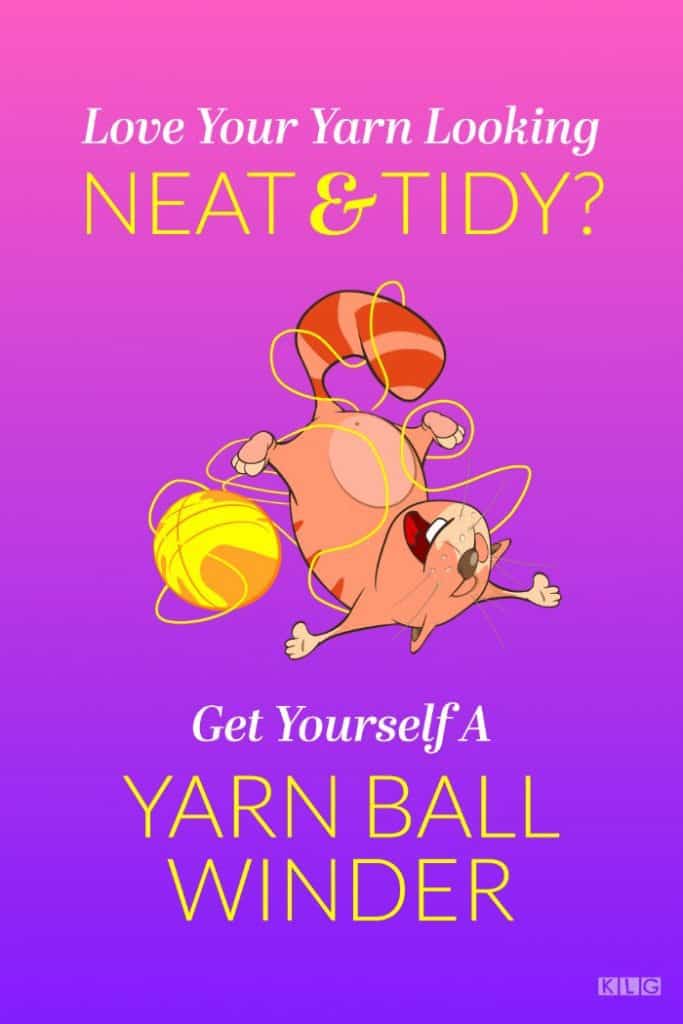 Checklist for Buying a Yarn Winder
So there you go. Are you ready to make things easier for yourself with a yarn winder?
Here is a quick checklist to consider when buying a yarn winder:
Sturdy Construction YES/NO
Easy Crank System YES/NO
Ease of Set Up YES/NO
Winds up to 4 0z of yarn YES/NO
Winds up to 8 oz of yarn or above YES/NO
Do you have a favorite yarn winder we haven't mentioned? Let us know.
Key Takeaways and Top Recommendations
So there you go, plenty of great yarn winders to help make your life easier.
We know you will find something to add to your collection of super helpful knitting tools.
Something we forgot? Leave a question or comment at the end.
Now It's Your Turn…
I'd like to hear what you have to say. What did you think about today's guide?
Or maybe you have a question. Either way let me know by leaving a comment below right now or send me a message on twitter.
You can also contact me here.
Related Posts: Here Are Some Other Knitting Tool Posts For You
Yarn Swift Buyer's Guide | Top 10 Yarn Swifts Reviewed
The Best Knitting Machines in Review
Image credits: © Amazon.com