It's impressive how knitting needles have evolved.
The Best Interchangeables are game-changers!
Each product review features the number of available cord lengths and the material the tips are made from.
My Picks: Top 7 Interchangeable Knitting Needles
Note: Clicking the above links takes you to further information, current prices, and customer reviews on Amazon.
Table Of Contents
What Are Interchangeable Knitting Needles?
Interchangeable Knitting Needles are made up of a pair of needle tips joined in the middle by a flexible cable. The difference between these knitting needles and circular needles is the cable isn't fixed.
You can attach and reattach them from the cable.
Function: Like fixed circular needles, they are fabulous for knitting in the round. Think sweaters, hats, socks, and knitting large flat panels.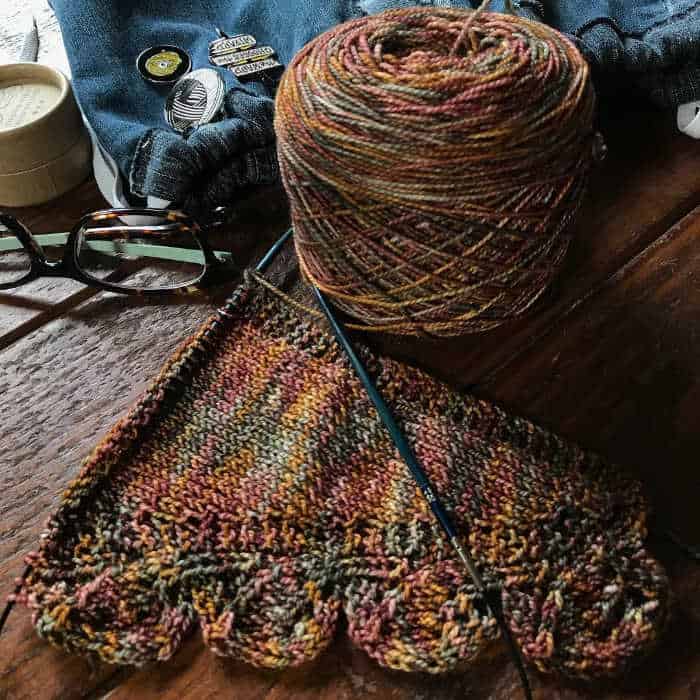 How Do They Differ From Fixed Circulars?
They differ from a fixed circular knitting needle. They don't have a cord fused to the knitting needles at each end.
Interchangeables, as they're fondly known, have removable needle parts. The knitting needles and cable are separate pieces that connect with a screw link or twist and click.
Typically the ends have a screw-type fitting. The cables have a hollow end the tip screws into.
How to attach the ends to the cable varies by different brands of knitting needles.
Some have a click-connection, some screw on, and some need a little key for locking the tips to the cables.
What's To Love
Knitting patterns call for a specific needle size and cable length. The advantage of having a quality interchangeable needle set is you have many different options.
This saves knitters the awkward realization their craft basket contains knitting needles they never use! (1) Sometimes they find they have multiples of the same needle size! They'd forgotten what ones they already had.
Quality Interchangeable Needles solve all these problems.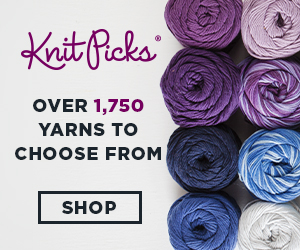 The best interchangeable needles consist of various diameters of knitting needles with different cables, all in a neat and tidy case.
The knitting needles and cables can be mixed and matched. They can construct as many circular knitting needles as the number of parts allows.
The stitches are distributed across the cord of the interchangeable needles. When the project grows, the weight rests on your lap.
Cables replace the need for stitch holders when trying on your knitted garment.
Ability to change needle sizes while knitting, to trial which ones get the right gauge for your chosen project.
Thread thin embroidery yarn through the pin hole (the pinhole is usually just before the very tip) on the needle or connector to use as a life line while you knit. A great feature for lace knitting.
Work on many projects with the same tip. Remove the needles from the cable add two end caps to secure your stitches. Then use the ends on another project.
Make extra-long cables by using a connector to join different interchangeable needles cables together.
Less clutter and save money because you don't have to purchase multiple fixed circulars. You can just have one set of interchangeable needles!
How Are They Measured?
From tip to tip. Meaning the length of both the interchangeable needles and the wire connecting them are combined. Giving you the total measurement of the needle.
It varies. Typically standard ones range from 16 to 40 inches.
What Makes The Best Interchangeable Needle Set?
The best interchangeable needle set should have these features:
Smooth joins where the needle tips join to the cable
Both parts remain connected (there's nothing more annoying than connections coming loose when you are knitting)
The best interchangeable needles have flexible cables, not stiff, and don't kink
At least 6 different diameters of tips
At least 4 different lengths of cables
Smart looking case
The best interchangeable needles include end caps
Things To Consider Before Buying an Interchangeable Knitting Needle Set
Most sets on the market are an investment. You need to ask yourself these questions before making a purchase.
What Needle Material Do You Like To Knit With?
Interchangeable needles are made from aluminum, carbon fiber, stainless steel, wood, bamboo, or plastic.
The best interchangeables are made with quality items. Choose the material you enjoy working with and what best suits the majority of your projects and yarns.
What Type Of Knitting Projects Do You Mostly Do?
If you create a range of projects from hats to blankets having larger-sized ones is a good idea. If you are a lace knitter or sock knitter, then opt for smaller needle sizes.
Short Or Long Tips?
Some knitters swear by interchangeable needles with long ones, typically 5 to 5.5″. They're easier to hang on to and don't cause cramping in hands.
The short ones typically, 3.5 to 4″, have an advantage as they make a smaller circle. Great for knitting socks or sleeves.
These measurements are from the end of the needle to the cable connection.
The best interchangeable needles concerning tip length are what suits you best.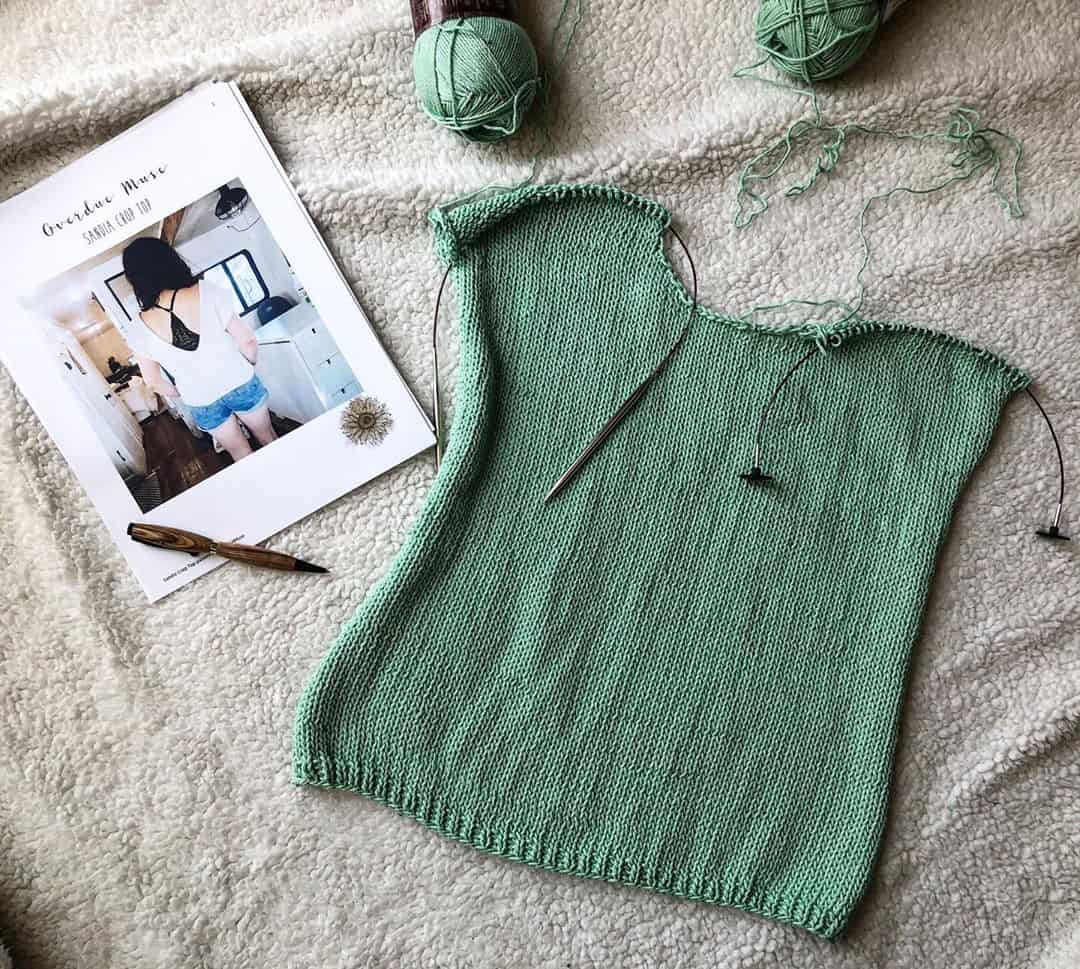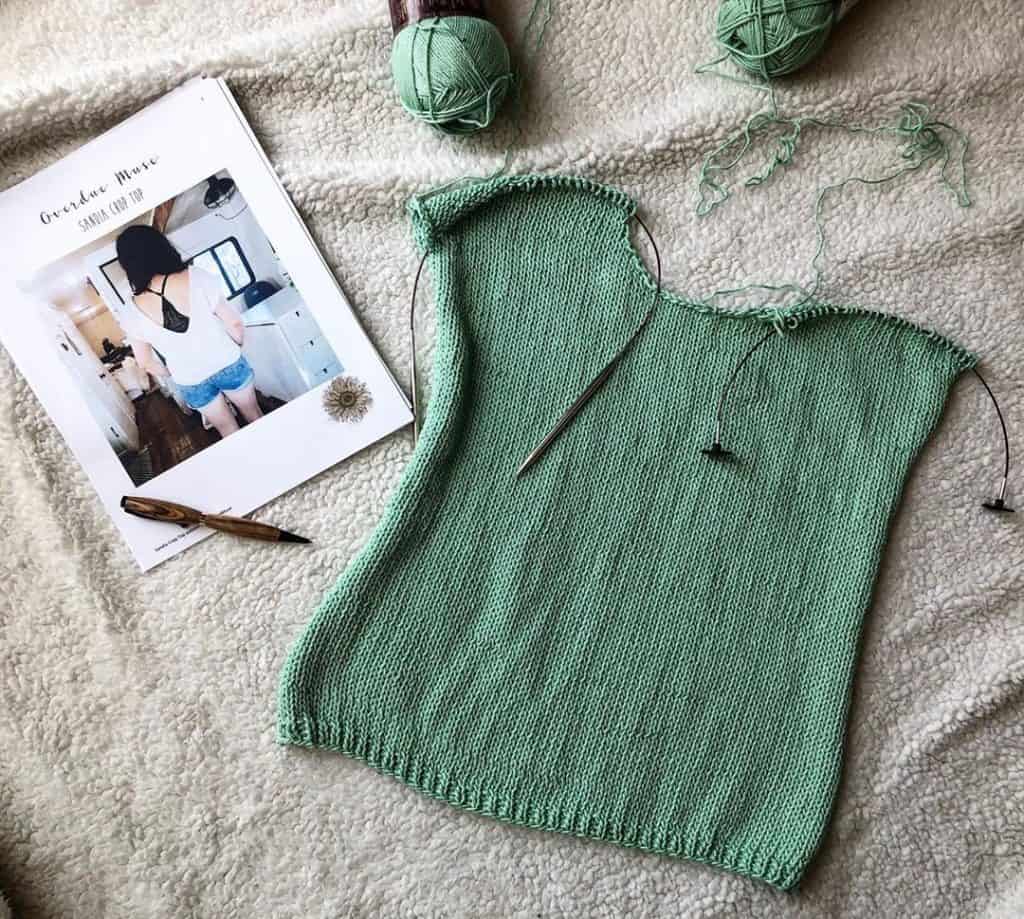 What Are Lace Tips?
Some knitting needles tips are described as 'Lace Tip needles". They're sharp and pointy to help with the intricate stitches when knitting lace patterns.
Often these interchangeable needles are made of metal to help the fine yarn glide smoothly.
Not So Kinky
Choose flexible and smooth cables. Some sets come with swivel ones that rotate 360 degrees as you knit.
Sweet Connections
Connectors are clever gadgets to create extra-long cables. Perfect for bigger projects, afghans, and blankets. Most of the best interchangeable knitting needles come with these.
Let's Put A Stop To It
End caps are versatile tools. They stop stitches coming off the cables when the interchangeable needles are removed. Perfect for when you want to change tips or try on a garment to check it.
Other Nifty Tools
Some sets come with a pin. This helps give leverage to make sure the connection is strong.
Grippers are also helpful in connecting the tip and cable. Place one over a needle and another over the wire. Twist the parts in the opposite direction.
Stitch Markers come in very handy to mark the start of a round, pattern repeats in lace, where to increase and decrease.
Best Interchangeable Needles Set Roundup and Reviews
Here are reviews of seven different Interchangeable Knitting Needle Sets currently on the market. Read the reviews to find out more.
1. Hiya Hiya Interchangeable Sharp Steel Knitting Needle Set
Premium stainless steel knitting needle set includes 13 pairs of a tip length of 4" (10cm).
Sharp tips US sizes 2-15
Needle Tip Sizes – 2.75mm, 3.25mm, 3.5mm, 3.75mm, 4mm, 4.5mm, 5mm, 5,5mm, 6mm, 6.5mm, 8mm, 9mm, 10mm
Includes 4 cables in 16″, 24″,32″ and 42″
Includes tightening grip, small cable connectors, tip adaptor, small and large panda stoppers, small and large single point adapters, snips, darning needles, and safety pins.
Comes with a brocade case to hold everything.
Pros
Made of stainless steel
Stitches slide smoothly over the needle
Smooth connections, yarn doesn't snag at the joins
Flexible Swivel Cables
Tip adapter for using the larger size needles
Nifty tools – tightening grip and cute panda stoppers, snips and darning needles
Includes lifeline hole
Good for fingering weight yarns and lace weight yarns
Easy to travel with
Excellent for lace knitting
The case is stronger than the vinyl case some other models come with.
Cons
May need to use waxed paper on first use to stop yarns sticking
If you are a knitter who moves the points with your finger, you may have to consider protection
You can't use the small size tip cables with the large size tip cables
Click to Learn More / Buy from Amazon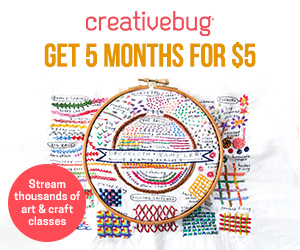 2. ChiaoGoo Twist Tip Interchangeable Complete Set, 4-Inch
ChiaoGoo sells three types of chiaogoo twist red lace sets of interchangeable knitting needles –
Small, containing 7 sizes – US 2 (2.75mm), US 3 (3.25mm), US 4 (3.55mm) , US 5 (3.75mm), US 6 (4mm), US 7 (4.5mm), US 8 (5mm)
Large, containing 6 sizes – US 9 (5.5mm), US 10 (6mm), US 10.5 (6.5mm), US 11 (8mm), US 13 (9mm), and US 15 (10mm)
The Complete set – 13 sizes overall.
Sets include: 4″ (10 cm), surgical-grade, stainless steel metal, lace tips and three cables: 8″ (20 cm), 14″ (35 cm), and 22″ (55 cm) cables to make 16″ (40 cm), 22″ (56 cm), and 30″ (76 cm) circulars
Twist red cables consist of a multi-strand, steel cord coated with red nylon and memory-free, so no kinks!
Included are easy-to-read, coded cable connectors, end stoppers, T-shaped tightening keys, stitch markers, a needle gauge, and a compact, zipper-enclosed, fabric case.
Twist & Spin items are all switchable!
Pros
Tip are smooth and fast
They have a longer taper than the HiyaHiya tips and are slightly sharper
The cables are memory free, so they don't kink
Variety of nifty tools
Tips have a lifeline hole
A popular choice for lace knitters.
These sets are made in China.
Memory free cables
Great for the magic loop
The cable connector is easy to use
Great for lace knitting
Cons
Some knitters don't like the 'zing' sound when knitting with the needles
Like the Hiya Hiyas, you can't use the small size tip cables with the large size tip cables
Click to Learn More / Buy from Amazon
3. Knit Picks Options Wood Interchangeable Knitting Needle Set
The Rainbow Interchangeable Knitting Needle Set features gorgeous rainbow-colored laminated birchwood.
The smooth joins, flexible cables, and the right amount of grip to make slick yarns manageable ensure an enjoyable knitting experience.
Set Includes
Rainbow Interchangeable Needle Tips – (Tip length is 4-3/4″)
US Sizes: 4,5,6,7,8,9,10,10.5 and 11 (3.50mm, 3.75mm, 4.00mm, 4.50mm, 5.00mm, 5.50mm, 6.00mm, 6.50mm, and 8mm)
Cables – 2 each of 24″ and 32″ lengths
Accessories – 9″ x 5″ snapped clear vinyl needle case, 8 end caps, and 2 cable keys
(The cables' sizing refers to the total length achieved when the needle tips are attached to the cables.)
4. addi Click Standard Rocket Lace Long Tip Interchangeable Circular Needle System
The addi interchangeable brass metal long tips (just over 5″ long) are coated with white bronze. 24 different needle combinations.
8 different sizes US 4, 5, 6, 7, 8, 9, 10 and 11
3 blue addi SOS Lifeline insertion Cords which create 24″, 32″, and 40″ needles
1 Click connector
All the contents fit into a pink case
Designed and made in Germany
Lifetime Guarantee
Addi prides itself on its patented design of a 'click-in tip.' There aren't screw components, only click connections in the addi interchangeable system, unlike other versions.
Simply insert the screw-type cord end into the addi interchangeable tip end, twist, and release. Users love these interchangeable knitting needles as they don't come apart while they're knitting.
A great interchangeable circular knitting needle system alternative for value to their highly recommended circular knitting needles.
Pros
The lace tips are sharp enough to grab the yarn
Yarn glides effortlessly over the joint between the needle and the cable
Easy to put the tip and cable together, fast click connections
The tip and cable don't come apart when knitting
Lifeline insertion point at each end of the cables.
The addi click connector can join 2 cables together to make a longer one.
Cons
Some users reported when first putting the tips and cables together, the connection was a little stiff
The plating can become tarnished with use
Click to Learn More / Buy from Amazon
5. Lykke Interchangeable Gift Knitting Needles Set in Grey Denim Pouch
Lykke is a Norwegian word for happiness, and they aim to, you guessed it – Make knitters happy.
The 5" sets come in 3 different styles. The one I'm featuring here is the Driftwood Interchangeable Needles in the Grey Denim pouch.
This is one of the best interchangeable knitting needle collections.
The Indigo set of interchangeable knitting needles, has blue ends with a blue denim pouch. The Umber Set has golden brown ends and a mustard-colored pouch.
The tips in this set are a soft, weathered grey. They aren't made from driftwood, rather from birch. Users have commented on how they love the feel of the warming wood in their hands.
The 5" sets of the interchangeable circular knitting needle come in the following size tips (in both US sizing and Millimeters (mm)
US4/3.5mm, US5/3.75mm, US6/4mm, US7/4.5mm, US8/5mm, US9/5.5mm, US10/6mm, US10/6.5mm US11/8mm, US13/9mm, US15/10mm, US17/12m
2 cords for 24″ length, 2 for 32″ length, 1 for 40″ length
It comes with 2 connectors, 4 keys, 8 stoppers enclosed in a Grey Denim Carrying Case.
The tips are not as pointy as other brands, but they are not blunt or dull either. A good in-between tip.
The needles are handcrafted in Kathmandu, Nepal. The company says there is no mechanized automation in creating quality needle tips, only human craft skills.
When first using these needles, tighten the join between cable and tip with the kit's key. The cable key looks like a piece of wire with a loop at the end.
This makes sure both are securely fastened together before you start knitting. No-one wants to be merrily knitting away and have the tip and cable separate.
Be careful when you order your set you're getting the right one. The set I have featured here is the Driftwood Interchangeable Set in the grey denim pouch.
Pros
Wooden tips have a smooth needle finish and lightweight
The weathered grey look is appealing
The joins between the tip and cable don't snag the yarn
Connecting the cable with the tip uses a screw join, be sure to use the cable key for a secure connection
Twelve different needles sizes and the labels for each size is etched into the end of the tip.
Cables are flexible
Great for magic loop method
Great for arthritic hands
Cons
Some users felt the cable connectors are too long and snagged the yarn.
6. Knitters Pride Dreamz Deluxe Interchangeable Needle Set
The set includes 9 US Sizes: US 4, 5, 6, 7, 8, 9, 10, 10.5 & 11 )
4 Cords to make 24″, 40″ & 2 of 32″;
1 Set of size markers; 8 End caps; 4 Cord keys & 1 Cord case
Each size is a different color, which helps with easy identification. Laminated birch wood needles with a slick finish.
The interchangeable knitting needles tips aren't too pointy with a tapered finish.
The knitter's pride needles tip screws onto the cord joint and uses the cord key to tighten the join.
Pros
Good all-purpose needles to suit a variety of projects.
The birch wood needles have a smooth finish
The join between the cable and the tip is smooth, so it won't snag your stitches.
Great for those with hand strain or pain.
Tips are not too pointy
The needle sizes are color-coded, so you won't ever make the mistake of knitting with two different needle size tips.
32 cable and needle combinations
Cons
Darker color tips may be difficult to see with a dark-colored yarn
Cables are a little stiff, probably not suitable for magic loop
Click to Learn More / Buy from Amazon
7. Clover "Takumi Combo" Interchangeable Needles Set
Takumi refers to the type of Japanese bamboo the tips are made from.
I have knitted with a range of fixed circular Clover needles and Double Pointed Needles. The bamboo needles are very smooth, lightweight, and easy to work with.
The set comes with twelve sizes – 3, 4, 5, 6, 7, 8, 9, 10, 10.5, 11, 13, 15. Each tip has the size and mm version etched onto it.
Tip length to join is 9.5 cm (3.75 inches) for the needles sized US 3 to 10 1/2 (3.25mm to 6.5 mm), but 10.5 cm (4.13 inches) for US sizes 8, 13 & 15 (8 mm, 9mm, & 10mm).
Five lengths – 16″, 24″, 29″, 36″, and 48″.
A screw join connects the two parts. You easily screw the tip into the cord. The bamboo needles are all neatly enclosed in a leather-like zippered case. This set is made in Japan.
Pros
The bamboo needle tips are smooth and don't snag the yarn
The joins are very smooth, and stitches don't catch.
Cables are very flexible and easy to work with.
The points of the bamboo needles are tapered
Good for the magic loop
Cons
Some users have said the joins of the bamboo needles can sometimes separate. I think it is a matter of making sure they are securely fastened before you begin knitting.
Click to Learn More / Buy from Amazon
8. Denise Interchangeable Blue Kit Brights
The kit contains ten pairs. US 5 / 3.75mm and US 15 / 10mm. Six cords (5″, 9″, 12″, 14″, 16″, and 19″.) A connector piece for easily joining them together and four end buttons. All items come in one blue case.
Pros
Tips are made from specially formulated plastic resin
Plastic tips come in fun colors
A simple twist and turn to attach the tip to cable
Made in the USA.
Family owned and operated business
Cons
Smallest pair of needles may bend if you're knitting very tightly
Learn more in my full review of Denise Interchangeable Needles.
Click to Learn More / Buy from Amazon
Of these 7 products reviewed, the knitting needles set by Clover is my top choice. The bamboo tips are smooth and lightweight, and they are very comfortable to use. The cables are flexible and don't kink.
Again it is important to ask yourself what suits you best. A set is a worthwhile investment.
If you already have an interchangeable knitting needles set, I'd love to hear about your experience.
References
(1) Keith Harper, Knitting-needle ladder used by Blake to escape. Retrieved from https://www.theguardian.com/world/1966/oct/24/russia.keithharper, Jan 2020