Potholders are excellent quick and easy knitting projects. They're functional and fun to knit.
The best yarn for potholders doesn't transfer heat. Cotton is the best choice for potholders. Wool yarn is great for potholders.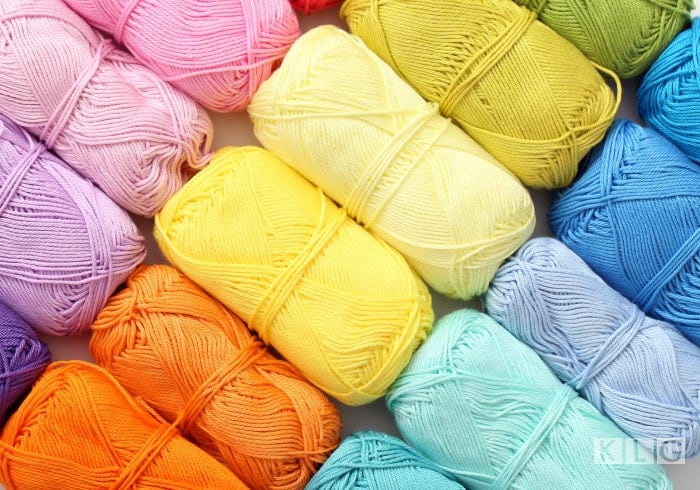 Not all yarn types are suitable for potholders. Looking at you, acrylic yarn.
Read on to find the best quality yarn for knitting potholders.
Table Of Contents
Best Yarn For Potholders
What Is The Best Yarn For Potholders?
The main reason for using a potholder is to avoid burnt fingers or marks on kitchen surfaces. A potholder protects skin and kitchen surfaces.
You want your potholder to be thick, so it insulates from the heat. A pot holder mustn't melt or transfer too much heat.
When considering the best yarn to use in a potholder, you'd want something absorbent but without losing its shape.
Now you're sorted for potholders, why not see my best arm knitting yarns post for your next project?
Suitable yarn is easy to clean. Potholders can get dirty quickly!
You want a potholder that can be used, washed easily (preferably in the machine washer), and used again. A bonus is if it can be put in the dryer.
A good idea is a yarn with a decent amount of yardage. As if you're trying to hold a pot with both hands, you'll need two potholders.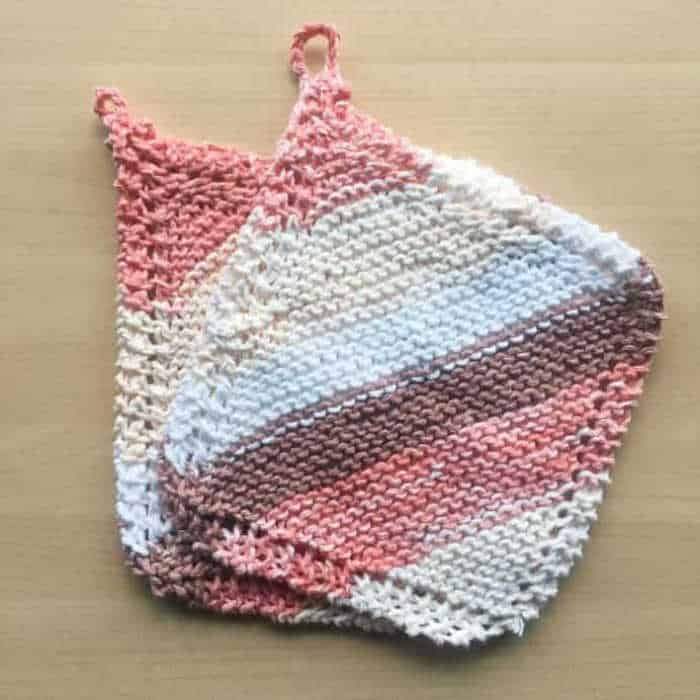 Where is the best place to buy wholesale yarn? Here's a suggestion.
What To Consider When Choosing Best Yarn For Potholders?
When you're making potholders, you a need yarn that
won't melt
is heat resistant
is easy to clean
is machine washable
is absorbent
holds its shape after washing
knits/crochets up thickly
is any color you fancy!
(The above qualities make great yarn for scarves. So there's a project to make with the leftover scraps!)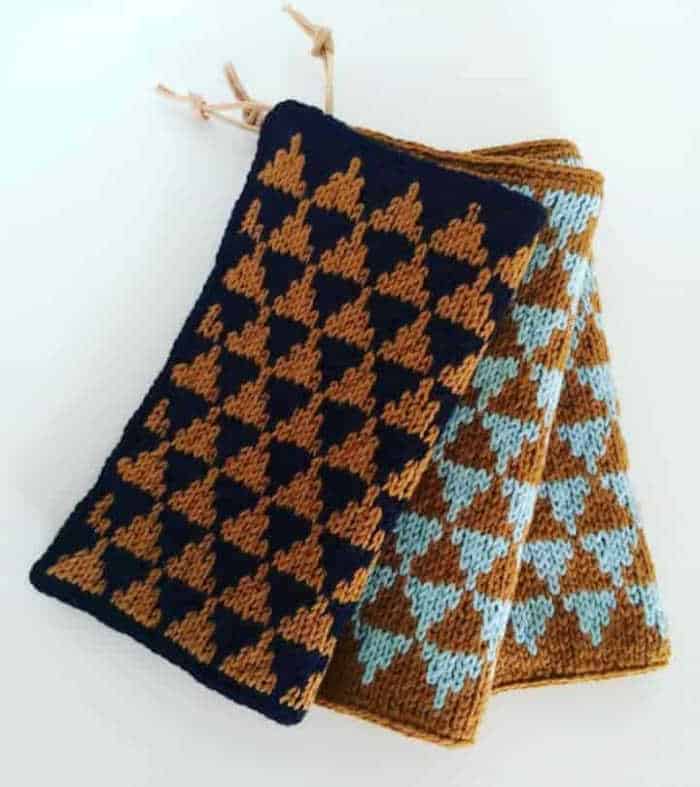 What Kind Of Yarn Do You Use For Potholders?
The best yarn to use for making potholders is cotton yarn or wool.
Found some helpful information? Now have a look at some funny gifts for knitters.
Why Is Cotton Yarn The Best Yarn For Potholders?
Cotton yarn has qualities that make it very suitable for making potholders.
It won't melt even when the hottest pots and pans are placed on top. It's easy to clean and absorbent without losing its shape because it's inelastic.
The number one recommendation is 24/7® Cotton Yarn from Lion Brand. The qualities of this yarn mean it's exceptionally functional in a kitchen.
This type of yarn has many things going for it.
24/7® Cotton Yarn is known for being sturdy, absorbent, inelastic, matte (not shiny), and machine washable. Organic cotton yarn is a good choice, as is mercerized cotton thread.
Cotton yarn potholders are fabulous, preferably 100% cotton over blends with cotton. They're sturdy, usually machine washable, and incredible at blocking out the heat from even the hottest of pots and pans.
Cotton is also one of the best choices for dishcloths, facecloths, normal cloths, and scrubbies.
Ball winders for yarn are excellent tools to keep your stash neat.
Choose a pattern for making potholders with a good thickness of the knitted fabric. Using the garter stitch is an excellent choice, as it's stretchy, and the stitches are close together when you maintain proper tension.
When knitting a potholder, keep your tension firm. This helps to create a better overall fabric.
Another suggestion for the best cotton yarn – Re-Up Yarn from Lion Brand.
What Yarn Weight Is Best For Potholders?
One thing to consider in the yarn's weight or thickness is to choose something thick in size that will insulate from the heat.
Look for a DK, worsted weight, or heavier thread. (Look for "worsted weight" and/or the number 4 symbol of the yarn label.)
Using these weights of yarns means the knitted fabric is thick and protective.
A yarn ball holder bowl keeps your fibers from getting tangled as you knit.
Wool Yarn For Potholders
Although cotton yarn has been seen as the number one choice for best yarn for potholders, wool is highly recommended.
Wool yarn doesn't melt if it comes in contact with heat. If it happens to catch fire, it should extinguish itself once it's no longer in contact with the flame.
Wool yarn prevents heat from traveling through to underneath. It can be felted to provide a thicker "fabric" and is water-resistant as well.
The problem with using wool is it's not as washable as cotton or as easy to clean. Machine washing a wool potholder in a washing machine could result in felting and possibly ruining the potholder.
After all your work of making one, you don't want it to be ruined after the first wash! To combat this, you could hand wash your woolen potholders.
By all means, if you want to felt your potholder, machine washing is a breeze!
Here's a suggestion for some great wool yarn for a potholder – Garnstudio Drops Merino.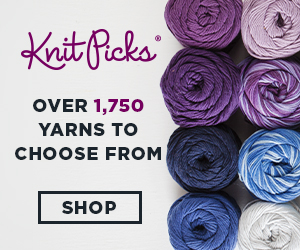 Alternatives To Cotton Yarn
A good alternative to cotton yarns is silk yarn, which is also a self-extinguishing fiber, is good in a potholder.
But let's face it, silk yarn isn't cheap!
Here are some excellent choices for silk and silk blends for a potholder.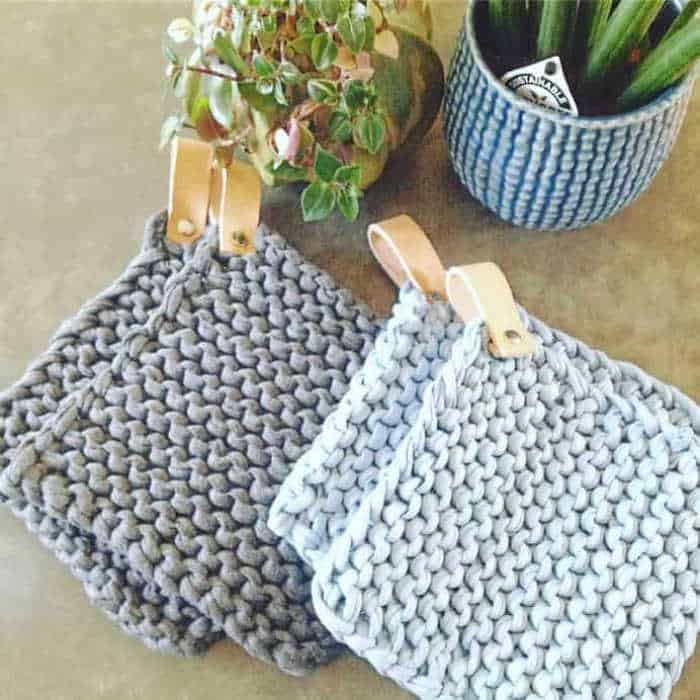 Yarns To Not Use In A Potholder
Even though Wool is the number two choice for most crafters, make sure you are using 100% wool. One way you can determine when you shouldn't use a yarn is whether they're susceptible to heat.
Superwash wool may seem good to use, as it solves washability, making it machine washable.
However, the treatments used to make wool 'superwash' may cause flammability, and you don't want that!
Don't use acrylic yarn to make potholders; acrylic is a definite no-no.
Yarns such as acrylic, polyester, plarn (made from plastic bags), orlon, rayon, Tencel, or nylon aren't recommended as good choices because of their lack of heat resistance and are flammable.
The synthetic nature of these yarns means they can melt.
So there you go, 24/7® Cotton Yarn is The Best Yarn for Potholders.
I hope this post answered your questions. I know you'll find some gorgeous yarn to make your potholders to hang in your kitchen. They'll be admired.