Knitting with cashmere yarn is delightfully tactile. Soft and warm during colder weather, most find it doesn't itch like other types of yarn. (Sheep wool.) Discover the best, what it is, where it's from and how to knit it.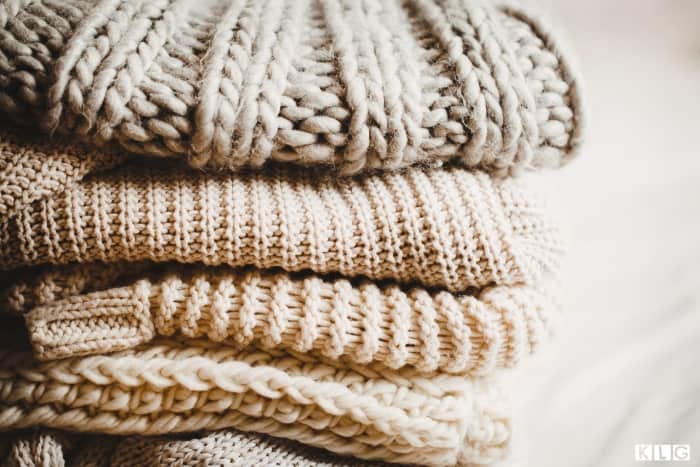 My Quick Recommendations
Cashmere wool is a luxury fiber from an older variety goat. A fine undercoat fiber produced by goats from India and Pakistan.
Table Of Contents
TEHETE 100 Percent Cashmere Yarn
While it's too expensive for some, this one gives you the best quality without breaking your bank.
How Does It Compare?
Care Instructions – Hand wash
Made Of – 100% Mongolian Cashmere Yarn
Yardage – 273 yd / 250 m
Yarn Weight – Fingering /Laceweight/3 ply
Skein Weight – 1.75 oz/50 g
Suggested Needle – US 1.5 – US4 (2.5mm -3.5mm)
Product Design: Intended for knitters who love luxurious fabrics. It's spun without a twist.
Pros
Beautifully warm and soft
Excellent insulation
Lightweight
Reasonable price for a 50g ball
Suitable for scarves, cowls, hats
Cons
Click to Learn More / Buy from Amazon
Lotus Yarns Lace Weight
High-quality blend from China. Soft, smooth, and delicate texture, it's popular with knitters. The fabric offers warmth, breathability, and an attractive appearance. Lace yarn is typically used for shawls and wraps, but it also makes lightweight clothing and accessories.
How Does It Compare?
Care Instructions – Hand wash or dry clean
Made Of – 50% cashmere, 40% wool and 10% angora
Yardage – 399 yd/365 m
Yarn Weight – Lace/2 ply/Fingering weight
Skein Weight – 1.80 oz/50 g
Gauge – 4 inches = 43 stitches in stockinette, 2.25mm needle, after blocking.
Suggested Needle – 2.25mm – 3.25mm
Pros
The perfect for delicate lace patterns
Excellent stitch definition of open lacework
Cons
If looking for 100% cashmere, this isn't suitable
Click to Learn More / Buy from Amazon
Capretta Superwash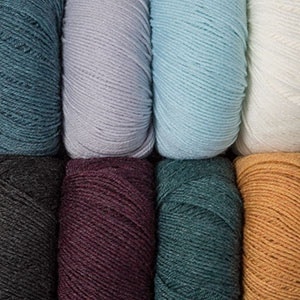 Merino and Cashmere blended with nylon in this cushiony soft fingering weight yarn. Capretta is the perfect fabric for unique socks, luxurious mitts, soft scarves, and lightweight cardigans with the convenience of machine washing.
How Does It Compare?
Care Instructions – Machine Wash Gentle / Tumble Dry Low
Made Of – 80% Fine Superwash Merino Wool, 10% Cashmere, 10% Nylon
Yardage – 230
Yarn Weight – Fingering
Skein Weight – 1.76 oz/50g
Gauge – 7-8 sts = 1 inch on #1-3 needles (2.25mm – 3.25mm)
Suggested Needle – #1-3 needles (2.25mm – 3.25mm)
Pros
Pretty color range
Machine washable and tumble dry
Excellent for luxury sock projects
Cons
Only has a small percentage of Cashmere
Lion Brand Superwash Merino Cashmere
Combine merino wool, nylon, and Cashmere for a durable and luxurious yarn. Baby sweaters and blankets are ideal. Despite Lion Brand discontinuing this product, it's still online.
How Does It Compare?
Care Instructions – Machine washable on low temperature. Dry clean.
Made Of – 72% Superwash Merino, 15% Nylon, 13% Cashmere
Yarn Weight – 4 Medium
Skein Weight – 1.4 oz (40g)
Gauge – 4×4 Inches = 17 sts x 25 r on #8 (5mm)
Suggested Needle – US8 (5mm)
Pros
Warm and cozy
The nylon adds strength
Cons
Rowan Pure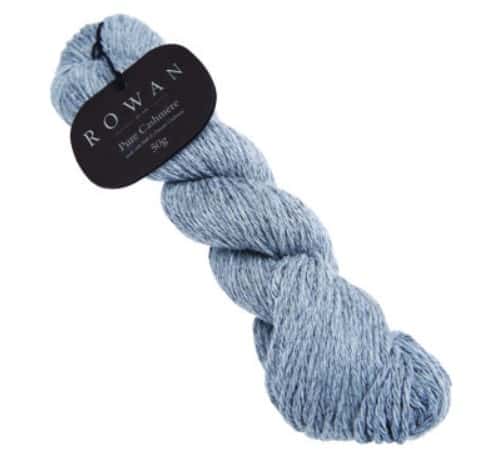 Luxury yarn with a boucle effect. Perfect for a sweater project. High quality and finer than merino wool.
How Does It Compare?
Care Instructions – Machine wash in cold water
Made Of – 100% cashmere
Yardage – 150 yds (137m)
Yarn Weight – DK
Skein Weight – 1.8oz (50g)
Gauge – 4×4 inches (10cm) = 22 stitches, 30 rows
Suggested Needle/Hook – US 5 (3.75mm)
Pros
Cons
Pricey but so worth it
Not available in bright tones
Lang Yarns Premium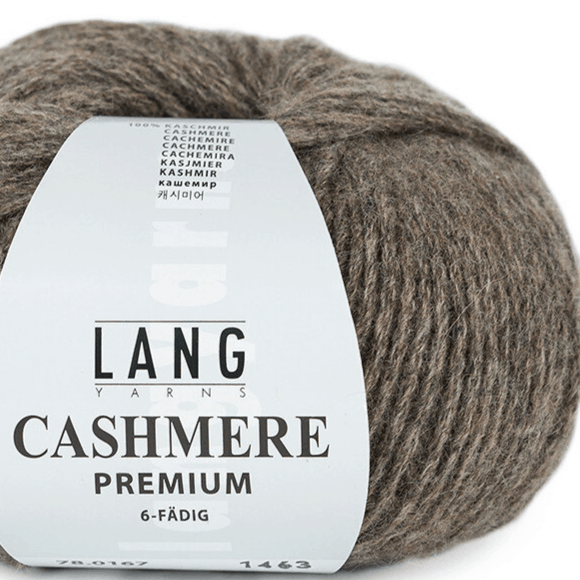 Wonderfully soft and spun using the finest Cashmere. Beautifully colored with natural dyes derived from weld, cochineal, logwood, rhubarb, and walnut.
How Does It Compare?
Care Instructions – Handwash, dry flat.
Made Of – 100% Cashmere
Yardage – 126yds (115m)
Yarn Weight – DK
Skein Weight – 0.9oz (25g)
Gauge – 4×4 Inches = 22 stitches, 34 rows
Suggested Needle/Hook – US 4 (3.5mm) – US 7 (4.5mm)
Pros
This yarn feels lovely when crocheting
Lofty and airy
Excellent range of colors
Cons
Autumn Wind Blend
A wonderfully soft yarn. The 10% cashmere adds extra softness and elegance. Perfect for baby accessories, like cardigans, sweaters, hats, and blankets. Knitting with this yarn is a dream due to its excellent stitch definition.
How Does It Compare?
Care Instructions – Handwash
Made Of – 90% cotton 10% cashmere, 100% natural fiber yarn.
Yardage – Total of 5 balls, 875yards(800m)
Yarn Weight – Sport
Skein Weight – Total of 5 balls 8.8oz(250g)
Suggested Needle – US 3 – 5 or 3.25 – 3.75mm
Pros
Excellent for people sensitive to wool using natural fibers instead of acrylic
Gorgeous range of colors
Creates a lovely drape
Cons
Might be knots in some of the skeins
Click to Learn More / Buy from Amazon
Lang Yarns Big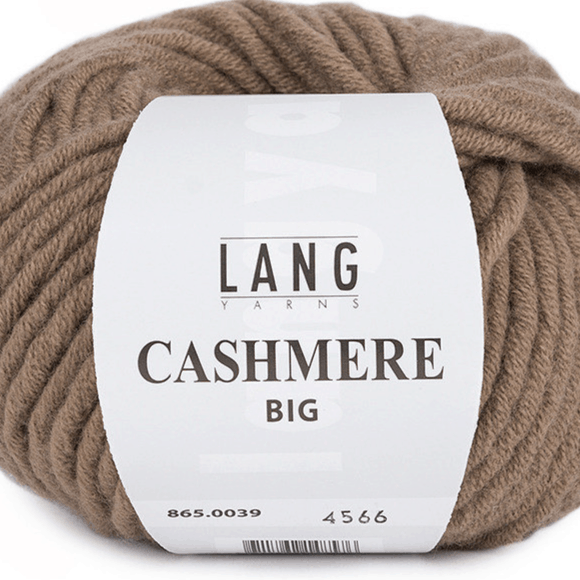 Do you need a super bulky yarn made from pure Cashmere? This yarn exudes luxury. Scarves, beanies, and snoods are quick to make.
How Does It Compare?
Care Instructions – Handwash, dry flat
Made Of – 100% Cashmere
Yardage – 48yds (44m)
Yarn Weight – Super Bulky
Skein Weight – 1.8oz (50g)
Gauge – 4 x4 inches (10cmx10cm) = 11 stitches, 16 rows
Suggested Needle – US 13 (9mm) – US 15 (10mm)
Pros
Quick to knit up projects with super bulky yarn
Cozy and warm
Lightweight
Ships to the United Kingdom
Cons
Costly to make bigger projects such as a shawl
Which One Is Best For You?
TEHETE 100% – Good for a general pure cashmere yarn
Lotus Yarns Lace Weight – Best for delicate lace patterns
Capretta Superwash – Excellent for items you want to put in the washing machine
Rowan Pure – Suitable for luxury knitted garments
Lang Yarns Premium – A good choice if you want
Autumn Wind Blend – Consider if you knit lots of baby items
Lang Yarns Big – Knit with this if you want a bulky yarn
What To Look For In Yarn Cashmere
Here are some key decision-making factors to look for when choosing the best cashmere yarns.
What Kind Of Care Does It Need?
It's crucial to enjoy wearing your garments and take care of them. While many people turn towards dry cleaning, this is expensive. Luckily handwashing done correctly is excellent.
Caring for it:
Use a small amount of wool detergent (I recommend SOAK)
Fill your bucket with lukewarm water
Add the detergent and create foam
Place your item in the water and squish it so it's thoroughly wet
Gently squeeze the garment, so it has soapy all through it.
Squeeze out but don't wring.
Refill the tub with cold water and slowly and carefully rinse so there's no detergent left in the garment
Gently squeeze out as much water without wringing. Lie it on a towel and roll it up.
Press the towel firmly, so it absorbs the extra water.
Place flat on another clean towel in an area where you don't have to move it.
Let it dry.
What's It Made Out Of?
It's a type of white cashmere wool from Angora goats or blends. The name of the fiber comes from a region in India called Kashmir, historically famous for the handmade shawls created with the wool. It's shorn from the undercoat and beard of the goat, the softest and finest hair it has.[1]
Use it to make clothing, hats, socks, and sweaters.
How Much Yardage?
Looking to make a sweater? It's pricey. Hundreds of dollars. A scarf or cowl costs less. Still beautifully soft and warm around your neck.
What Yarn Weight Is Best?
Most are lace or fingering weight. This creates a lightweight but warm and beautiful fabric.
What's Your Budget?
For the price, cashmere yarn is expensive. If you want to make a cashmere sweater, you need at least 800 yards to complete the project. Expect to spend a good deal of money.
Pin Now to Save for Later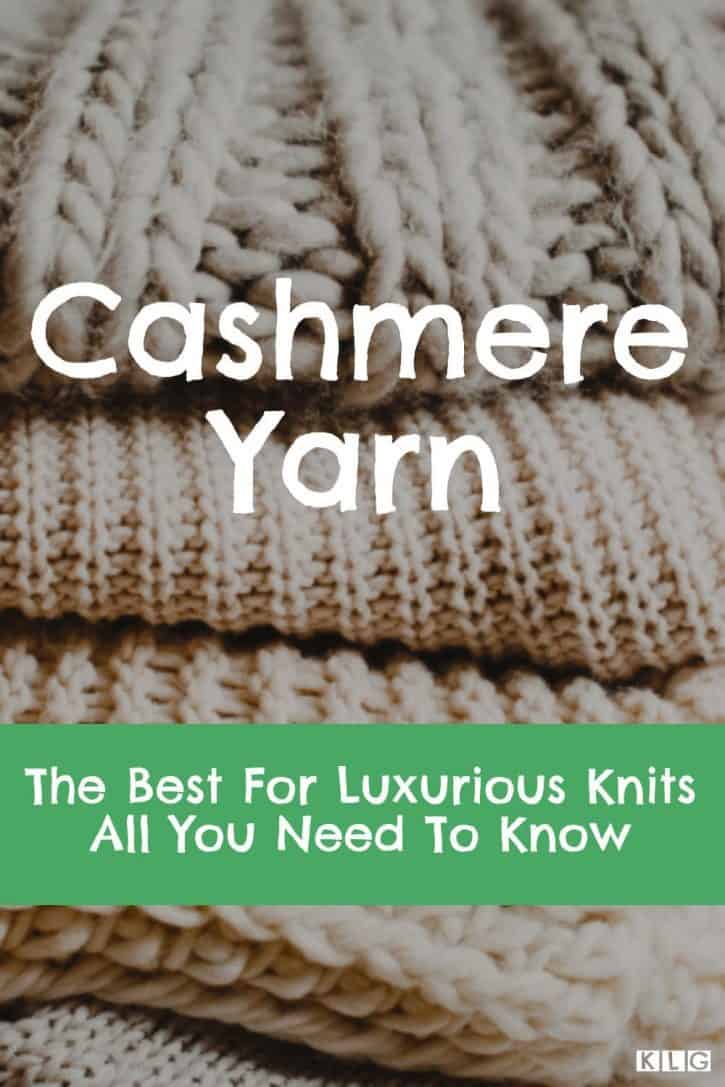 FAQS About Cashmere Yarn
Where To Buy Cashmere Yarn
Buy cashmere yarn at local yarn stores and online stores like those mentioned above.
What Is Recycled Cashmere Yarn?
It's produced from scraps or fabric scraps used in previously made items. These are sorted, shredded, and respun.
Cashmere Yarn Where Does It Come From?
Cashmere yarn is from a specific breed of goats.
What Yarn Weight Is Cashmere?
The yarn weight varies, but it is mostly fingering/lace weight.
What Yarn Is Similar To Cashmere?
Very fine merino wool is similar.
What Can I Knit With Cashmere Yarn?
Knit sweaters, hats, scarves, cowls, wraps, shawls, and socks.
Why Is Cashmere So Expensive?
Processing it is time-consuming. The fibers are only collected once a year.
Why Is Cashmere Itchy?
Most people don't find it itchy because it's so soft. However, people who have very sensitive skin may find it itchy.
What Is So Special About Cashmere?
It's the most luxurious animal fiber prized for its softness.
Is Cashmere A Natural Fiber?
It's a natural fiber as it comes from goats.
Why Choose Cashmere For Your Knitting Projects?
Choose Cashmere for your knitting projects when you want total luxury.
Is Cashmere Yarn Soft?
It's super soft!
Can You Felt Cashmere Yarn?
Yes you can felt cashmere but not sure why you'd want to!
How Is Cashmere Yarn Made?
It's spun like any other yarn at mills.
How To Block Cashmere Yarn
Please follow my post on wet blocking for the steps to use to block cashmere yarn.
Cashmere Wool Vs Cotton
Cotton has less insulating properties than Cashmere.
Cotton is a plant fiber, Cashmere is an animal fiber.
Cotton is much cheaper than Cashmere.
Garments made from Cashmere are more durable than cotton.
Is It Difficult To Knit With Cashmere?
It's divine to knit with, and isn't difficult.
Cashmere Vs Wool
Wool is not as soft
Wool is three times less insulating
Conclusion
A super soft type of fiber, so remember that when choosing which projects to do. I hope you have found my guide helpful. I'd love to hear your thoughts.
References
Knitting. 1984. Octopus Books.