Love knitting, yarn, and laughing? Here's some fun knitting humor. I asked my lovely readers for funny knitting memes, knitting puns & funny yarn memes.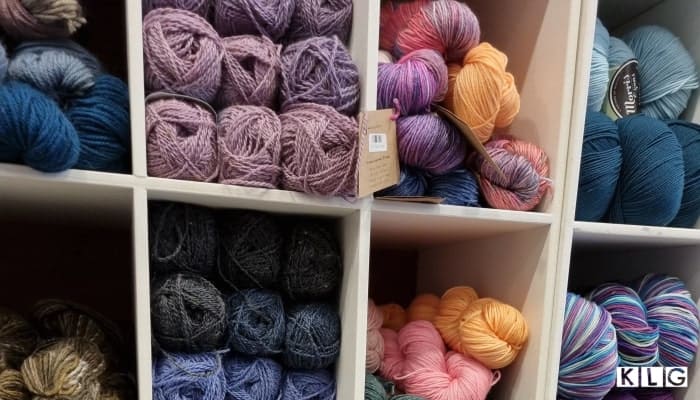 I'm saving them here for when you're having a bad day. Laughter is good! Knitting relieves stress and helps with mindfulness. Knitting and laughter are fabulous! When we laugh, our brains release endorphins, 'feel good' chemicals.
I reviewed and updated this post on Feb 12, 2023.
Thanks to everyone who contacted me with their funnies. I'll continue adding your suggestions. Have favorite knitting and yarn jokes or memes? Get in touch!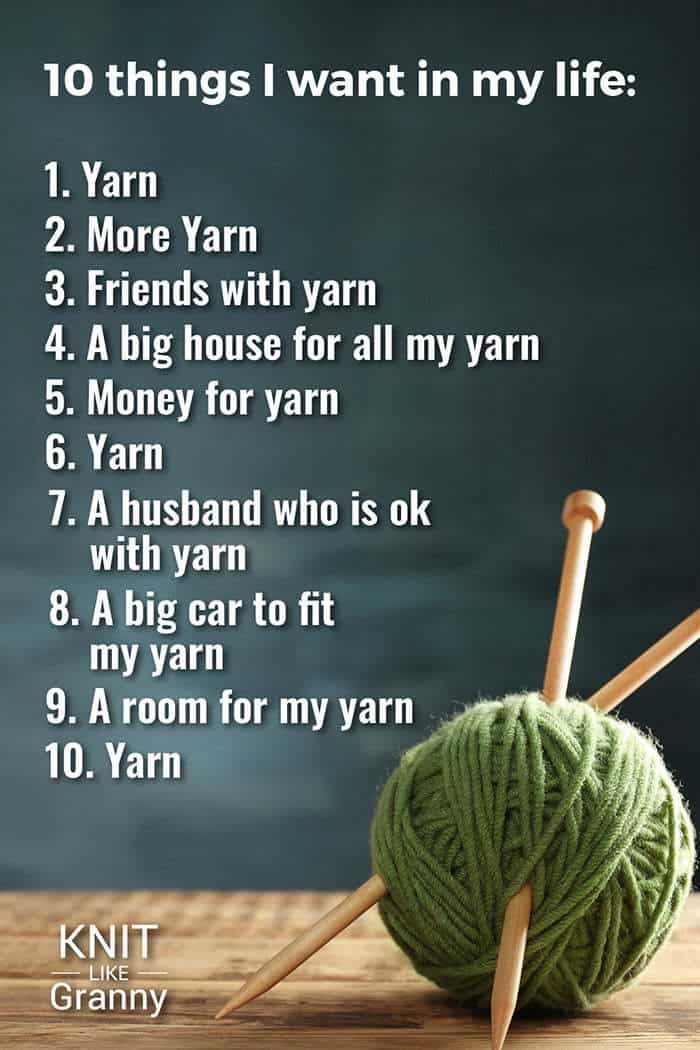 I'd be happy to pick you up at the airport, but the back of my car is full of yarn my family doesn't know about.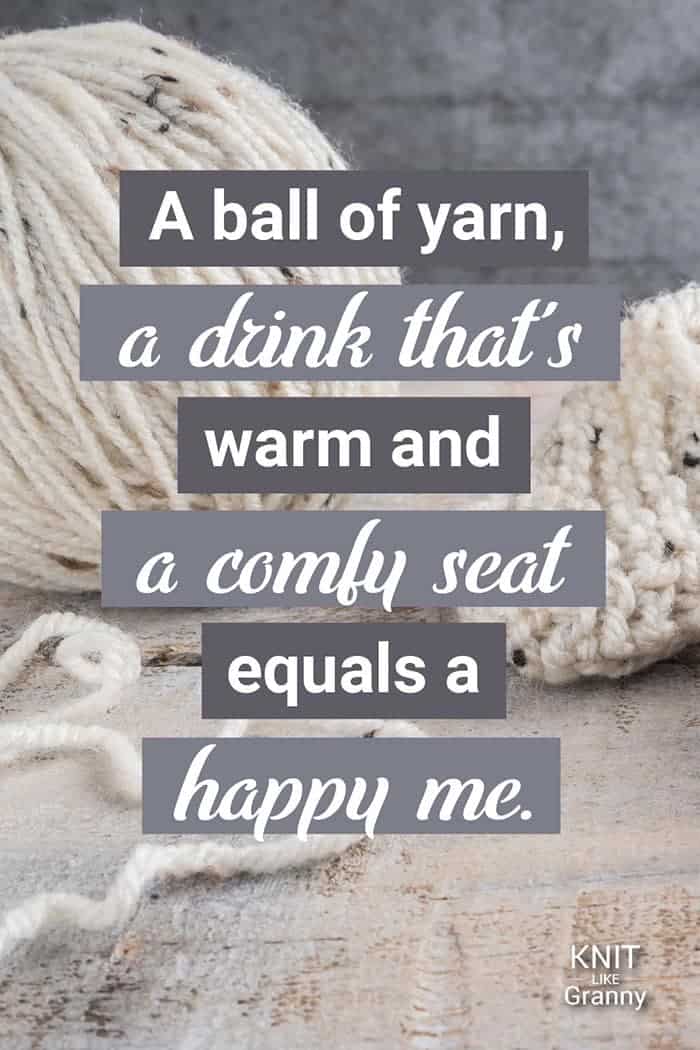 A ball of yarn, a warm drink and a comfy seat equals a happy me.
Wool you just let me knit in peace?
I'm one of those people you have to watch, or I'll wander off into the Yarn aisle and forget to come back!
This witch can be bribed with yarn and chocolate.
Money can't buy happiness, but it can purchase yarn, which is the same thing right?
I knit. What's your superpower?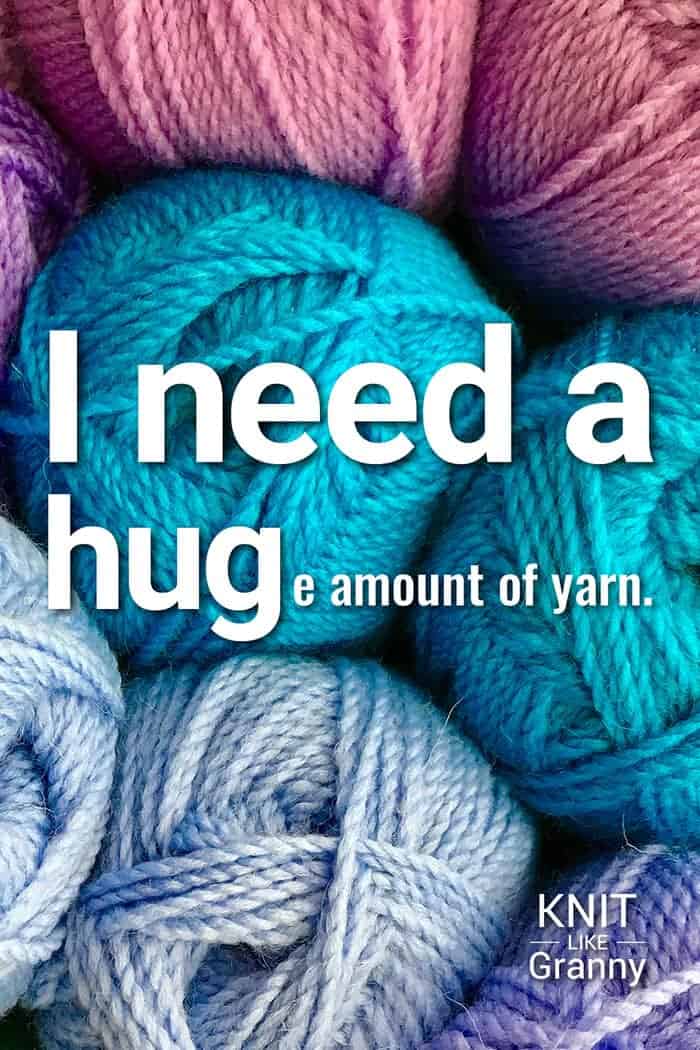 I NEED A HUGe amount of yarn.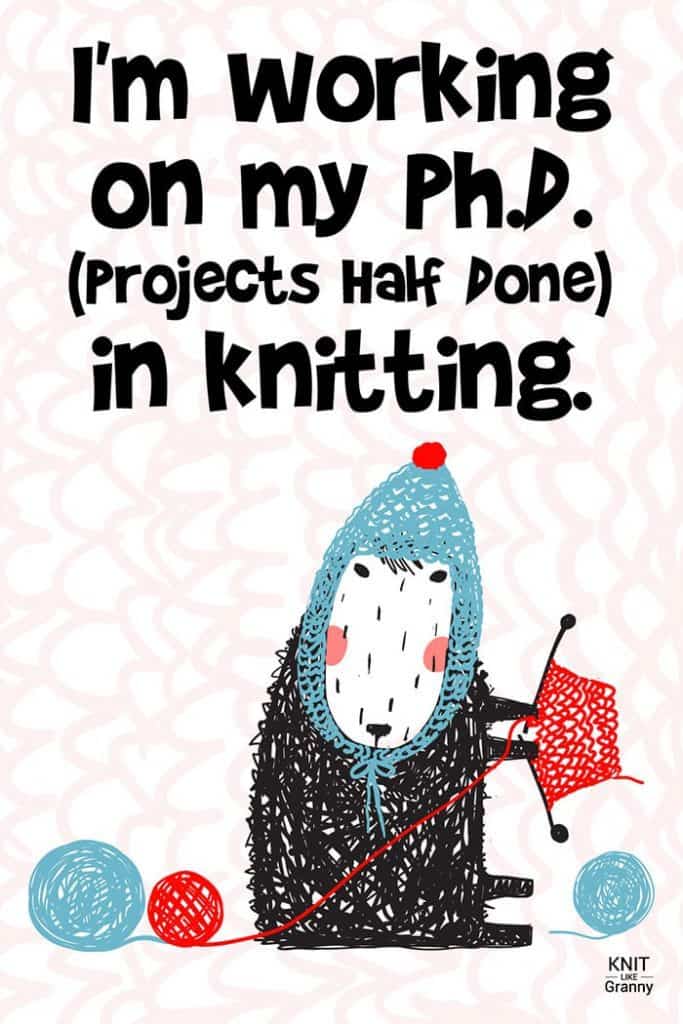 I'm working on my Ph.D (Projects Half Done) in Knitting.
Housework is for those who don't know how to knit.
Yarn Is the answer! Who cares what the question is?
Oh, the weather outside is frightful but… This yarn is so delightful. And since we have no place to go… Another row, another row, another row.
Yarn is like chocolate. You can never have too much!
That moment you're supposed to be cleaning, you pick up your needles and yarn and tidy them and accidentally make a hat.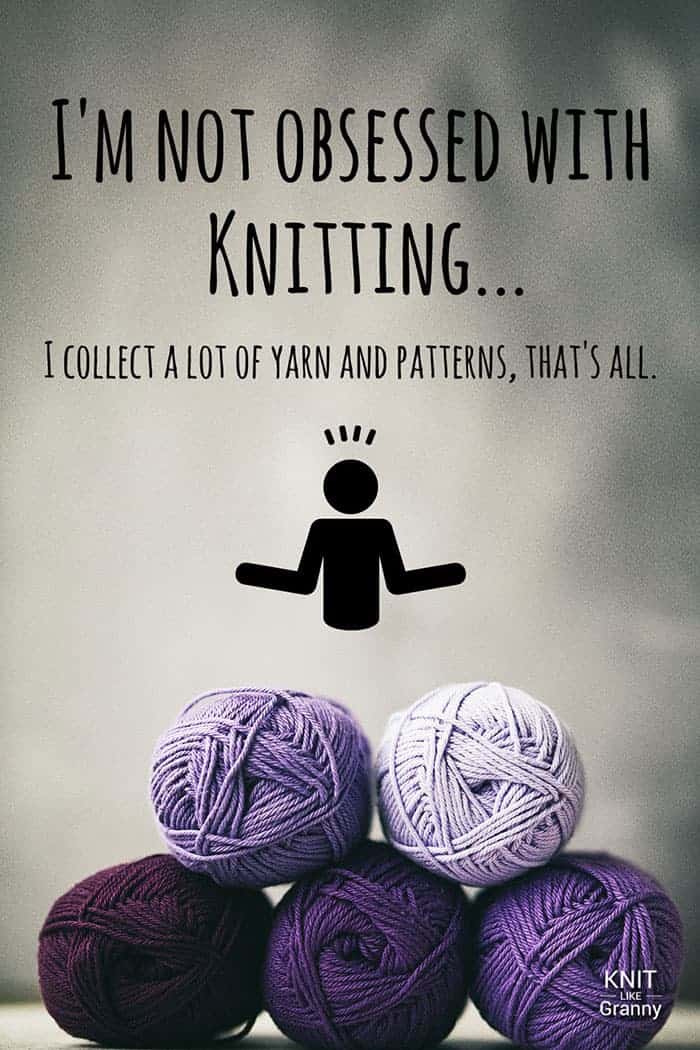 I'm not obsessed with knitting. I collect a lot of yarn and patterns, that's all.
If you have anything to say to me, say it now. I'm about to knit, and I won't be listening to anyone for the next few hours.
Walk-in closet? I think you mean yarn vault.
What do you mean? I don't have a problem with yarn; I have a problem without it!
I'm a knitter! Of course, I'm crazy. Do you think a sane person hoards yarn?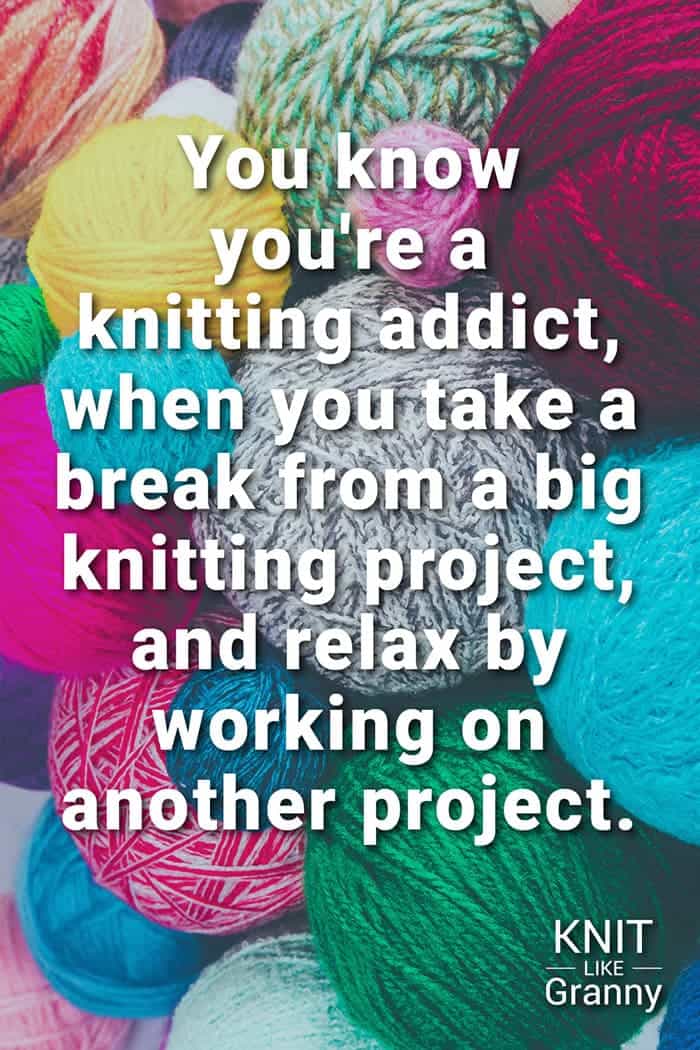 You know you're a knitting addict when you take a break from a big knitting project and relax by working on another project.
Some people will never understand how much I love my yarn. But that's okay. My yarn knows!
I make yarn disappear. What's your magic?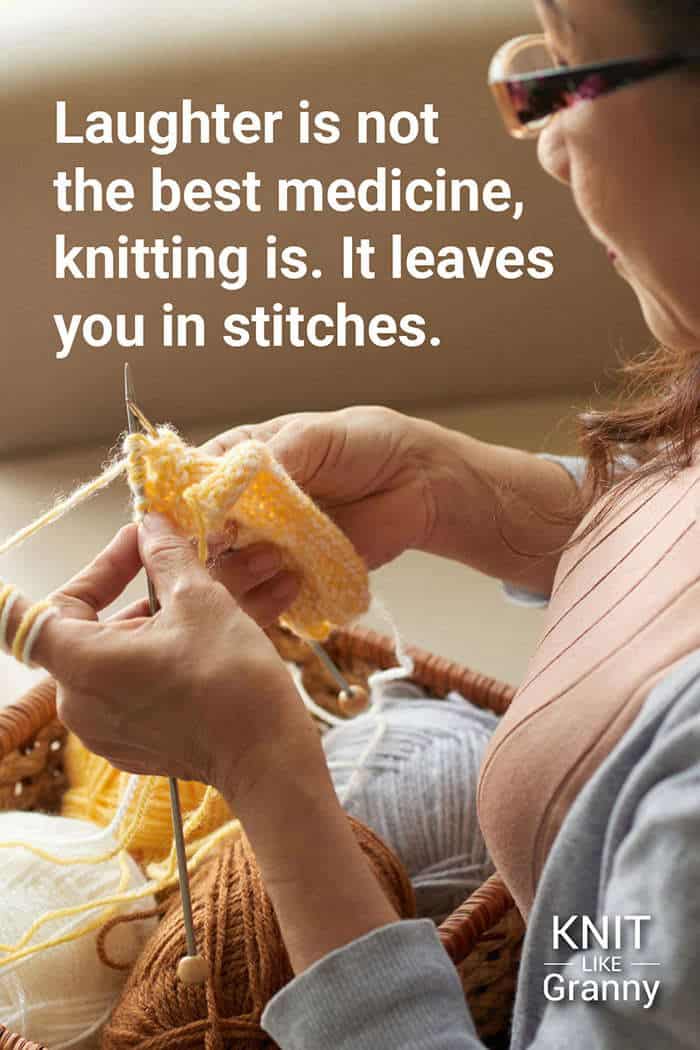 Laughter isn't the best medicine, knitting is. It leaves you in stitches.
Oops, did I buy yarn again instead of milk?
In my next life, I'm coming back with money and yarn instead of all this sparkling personality mumbo-jumbo.
Laugh, knit, eat, knit, sleep, knit, repeat.
I don't like being told what to do unless I'm following a knitting pattern.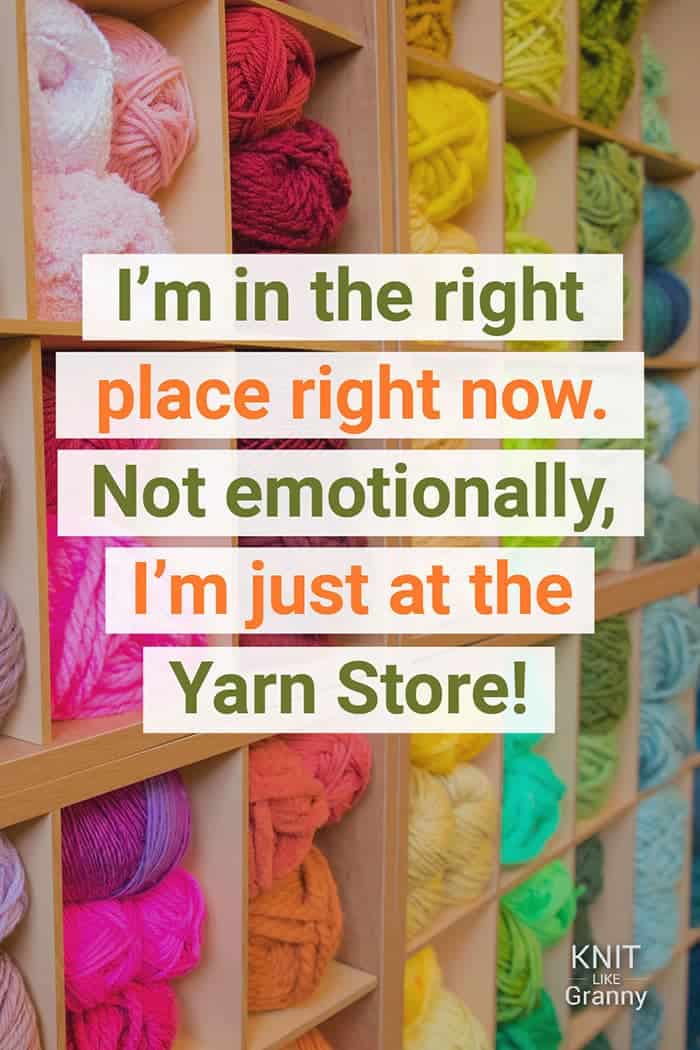 I'm in the right place right now. Not emotionally, I'm just at the yarn store!
If you can't remember my name, say 'Knitting!' and I'll turn around.
I don't need to practice magic on Halloween, that's what my knitting needle is for.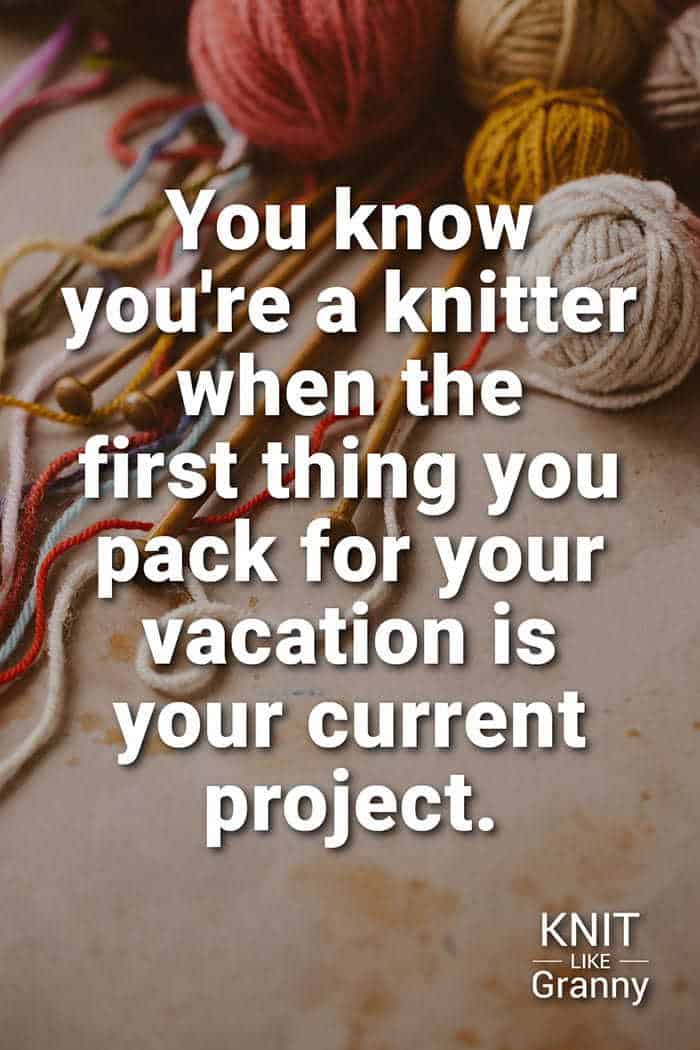 You know you're a knitter when the first thing you pack for your vacation is your current project.
Ideal Date: Take me to the Yarn store. Leave me with your credit card. Pick me up in two hours.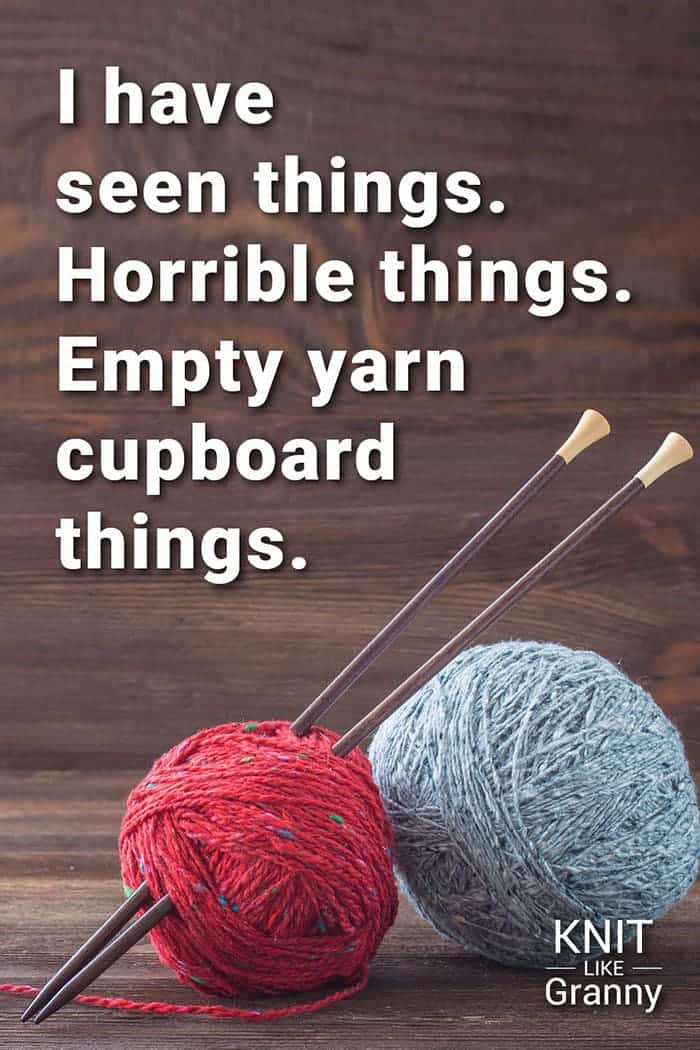 I have seen things. Horrible things. Empty yarn cupboard things.
Dear diamonds, we know who is really a girl's best friend. Yours sincerely, yarn.
Yarn and chocolate. Two things I can't live without.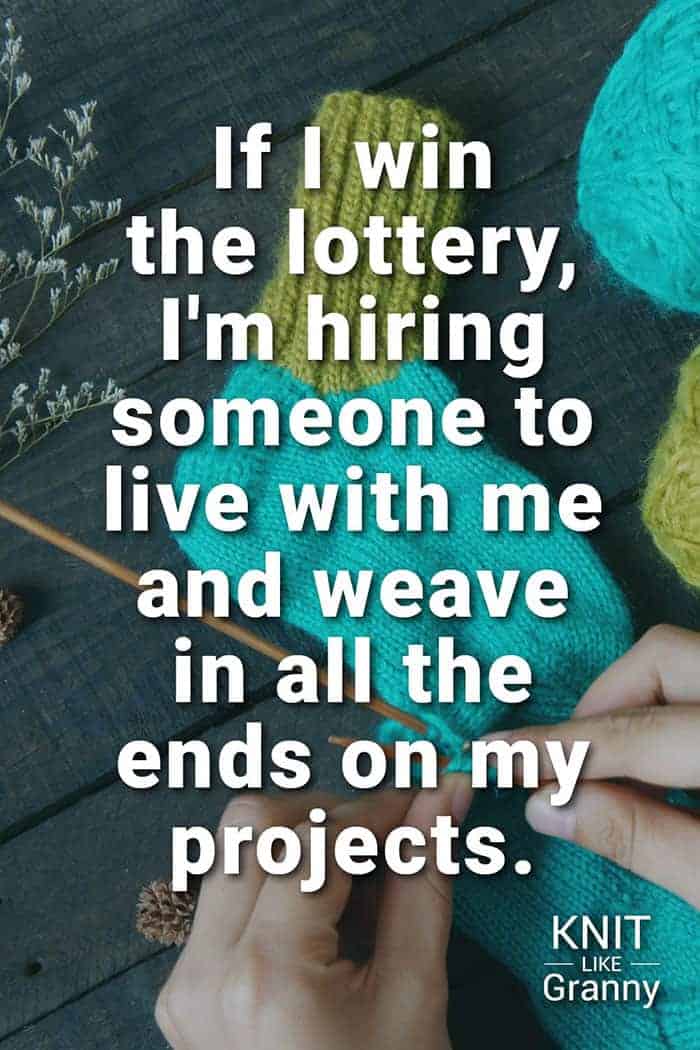 If I win the lottery, I'm hiring someone to live with me and weave in all the ends on my projects.
I practice stitch craft!
My doctor suggested a high-fiber diet. I went yarn shopping.
When I learned to knit, I forgot how to cook.
Yes, I'm bilingual. I speak fluent knit.
Can I go trick or treating and ask for yarn?
True Friendship: Helping Someone Untangle Their Yarn
If someone says you don't need anymore yarn, stop talking to them.
Three things I'm good at:
Knitting
Eating chocolate
Knitting while eating chocolate!
How can I say no to knitting when my yarn wants to cuddle my hands?
Does anybody else here have a voice in their head that repeats, "One more row! One more row! One more row!" Just me? Odd.
Here's one from Kate Dudding who shared her joke –
Do you know why the knitter visited her guru?
To get purls of wisdom.
Here's one from Elle –
I am bilingual; I speak tbl and ch1.
Have a favorite knitting or yarn joke or meme? Let me know.
I'd love to hear which ones made you laugh the most.