Want to learn garter stitch? You've come to the right place. I've curated the easiest knitting tutorials to follow. The excellent teachers I've included helped me with my journey.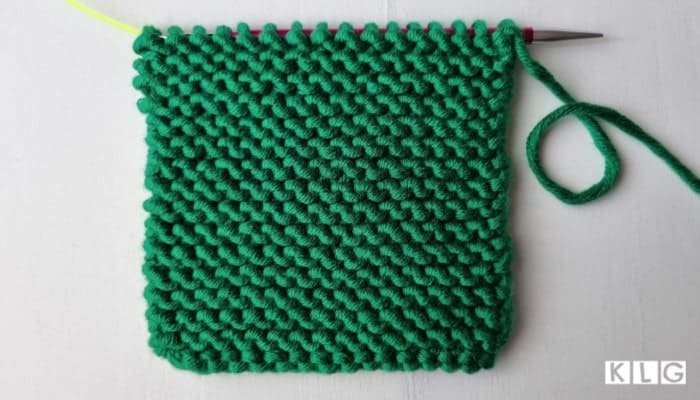 Garter stitch is the first of many knitting stitches to learn. It's one of the most common stitch patterns in projects designed for the new knitter.
I reviewed, fact checked and updated this post on May 17, 2023.
Table Of Contents
What Is Garter Stitch In Knitting?
It's an easy knitting stitch with a lovely bumpy textured fabric and features a one row repeat pattern.
Key Facts – Things to Know
AKA – Plain stitch
Difficulty Category – Beginner
Appearance – Repeating curly bumps in rows
Does It Stretch? – Yes
Is It Reversible? – Yes, it looks the same on either side
Does Garter Stitch Curl? – No, garter stitch lies flat so it doesn't curl or roll. This makes it perfect for edges
Is It Good For Borders? – Yes
How Difficult Are Increases/Decreases In This Pattern? -Shaping is easy to do
How Many Rows? – There are two rows in garter stitch
Variations – Reverse Garter Stitch (all purl stitches), Garter Stitch Rib/Ribbing, Herringbone Garter Stitch, Garter Eyelet Stitch (using repeats of YO, k2tog – yarn over, knit-2-together in one row after four knitted rows)
The garter stitch is one of the few knitting patterns with a square gauge
You can use garter stitches in a vertical or horizontal position in your knitted fabrics to create a different effect.
Related Knitting Terms & Abbreviations
Work in garter stitch – this means knit all rows
g-stitch/g st- this is the abbreviation for garter stitch
Why Is It Called Garter Stitch?
The name "garter" comes from a little strap called a garter that was attached to the leg, to hold stockings up. The garter band was knit in all knit stitches as the resulting fabric stretched more than stockinette.
Why Use It In Projects?
You don't have to change stitches
Or remember complicated pattern changes
It's relaxing to knit once you've memorized it
Can be used on straight knitting needles or circular knitting needles
The Anatomy of a Knit Stitch
A knit stitch has two parts, a front and a back. The front looks like a v shape, and the back is a bump. There's a stitch called stockinette, and on the front, it looks like all knit (these are k1 stitches). On the back, there are bumps (p1 stitches).
Stockinette stitch is one row knit, one row purl. So you're purling on the wrong side of the knit stitch every second row.
Right side knit stitch = v shape
Wrong side knit stitch = bump
There's also reverse stockinette, which I cover in another post.
How To Do Garter Stitch: Garter Stitch Knitting For Beginners
It's done by knitting every row (referred to as work in garter stitch). This is knitting garter stitch back and forth. Here's my quick video tutorial!
Please give my channel a like and subscribe! Hope you find it helpful.
Knitting Techniques You Need To Know
Making a slip knot
Casting on
The knit stitch
Casting off (AKA bind off)
Knitting Tools & Materials
These are the supplies you need to knit garter stitch.
A skein/ball of yarn (if you're a beginner, use a wool or acrylic worsted weight yarn. You can order them cheaply online.)
Straight knitting needles (ensure the sizes match the type of yarn you've chosen)
Scissors
A yarn needle (AKA a tapestry needle)
Garter Stitch Knitting Pattern
Hands down this is the easiest stitch to begin with. It's the first stitch of the basic stitches you need to learn. This basic knitting pattern can be worked on any number of stitches. Here's how to knit garter stitch in flat knitting.
Do you use your left hand or right hand for making a knitted fabric? These garter stitch instructions are for right-handed knitters. If you're left-handed, it's with the opposite hand.
Total Time: 5 – 15 minutes.
First Row
Cast on an even/odd number of stitches – 15 – 20 on one knitting needle.
Put your right-hand knitting needle into the loop of the first stitch of your cast on stitches on the left needle/back needle
Wrap the yarn around the right needle
Slide the right knitting needle under the left
Pull the working yarn through the loop
Slide the stitch off the left needle, and put the new stitch on the right-hand needle
You've made one knit stitch
Continue working the next stitches as above
Finish the row
Next Steps
Turn the work by flipping it around
Repeat row 1 – the second row is the same as the first
Repeat these two rows (knit every row) by until you reach your desired length
Cast off your stitches, trim the yarn tail, and weave in the ends.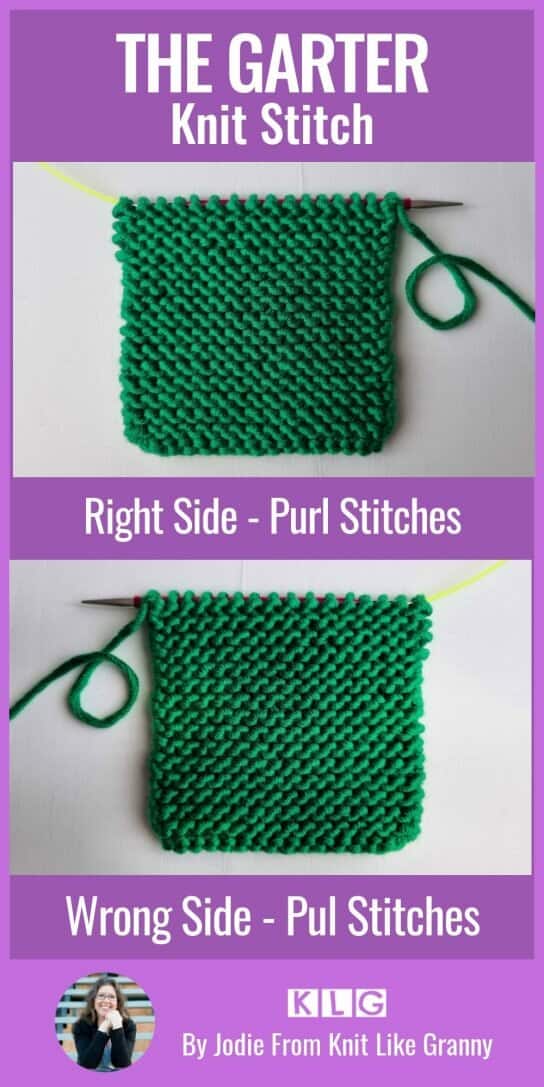 Congrats! You've created your knitted piece. You may find some people work with a chart, but if you're a beginner, I wouldn't recommend learning it yet.
Pin For Later
How To Do Garter Stitch In The Round
Knitting Techniques You Need To Know
Making a slip knot
Casting on (my favorite method is the long-tail cast on)
Joining in the round
The knit and purl stitch
Casting off
Knitting Tools & Materials
These are the supplies you need to knit garter stitch.
A skein/ball of yarn (if you're a beginner, use a wool or acrylic worsted weight yarn. Cotton is more difficult to use. The price varies depending on the yarn brand you choose. Occasionally, brands have a collection of products on sale. Try to shop then, and look for some deals on shipping, or get someone to gift it to you!)
Circular needles are two needles joined by a flexible cable (ensure the US Size/diameter matches the yarn and the number of stitches required)
Scissors
A yarn needle (aka tapestry needle)
You can use other types of needles like DPNs, but they're more difficult to use.
Done that? Now get ready to knit.
Garter Stitch Pattern In The Round
Here's how to knit the garter stitch in the round with step by step instructions.
First, cast on enough stitches to fit around the circular needle circumference. The number of stitches will vary depending on your circular needle. Ensure your gauge (how many stitches per inch) isn't too tight or loose.
Wrap the yarn around the needle, and join in the round.
Row 1 – Knit all stitches.
Row 2 – Purl all stitches.
Repeat until you reach your desired height.
Cast off your number of stitches, leaving the last stitch knit.
Pull the yarn through the last stitch.
Trim the yarn tail and thread it through a yarn needle.
Weave in the ends.
(Purl rows look like knit rows on the other side, and vice versa.) To keep track of whether you are on a knit stitch or purl stitch row you need to look at the stitch you're about to work.
If it is a loop/knit stitch then you need to purl all stitches. If it is a purl bump you need to knit all stitches. This all makes sense when you remember garter stitch in the round is alternating knit and purl rows. When knitting a pattern that requires a certain amount of rows, I keep notes on my phone to record the number.
Video Tutorials
Here's a tutorial by Iuliia CRAFT on YouTube on how to do the garter stitch patterns in the round. If you're confused, hopefully it'll make it a lot easier to grasp.
Common Problems & Fixes Of Garter Stitch
When you're learning stitch patterns, things are bound to go wrong! You may notice the following problems in your knitting, but don't worry. Here are my knitting tips on how to solve them.
A Large Loose Stitch On The End
This often occurs in the beginning as your tension is loose. Learning to wrap the stitches firmly but not too tightly takes a bit of practice. Tightening the first stitch of the next row fixes this.
A slipped stitch purlwise (AKA a slip stitch) at the beginning of the row creates neater edges. Everyone has to find their best practice to tension their yarn between their fingers.
More Stitches Than You Cast On
You may notice a greater number of stitches than you started with! This is because you've worked stitches below the current row. Or an accidental yarn over without completing the stitch. This is noticeable as there's a hole where the yarn over is.
A good tip is to count the number of stitches after each row of garter stitch. Then you can easily pick up your mistake.
Stitches Are Too Tight/Loose
This is all about tension and the more practice you have, the better your tension becomes. Too tight stitches are created by
Pulling the yarn too tightly after every stitch
Wrapping the yarn around the tapered end of the needle, not the straight section
Too loose is often caused by not holding the yarn around your fingers correctly for tensioning the yarn. Garter stitch is a wonderful way to practice tension as it's not complicated.
Project Ideas For Garter Stitch
Here is a list of suggested uses for this knitting technique. They'd make a variety of great gifts for friends or family, or your next knitting project design! Designers use this stitch in their designs to add texture and to keep the pattern simple.
The dense fabric created is an excellent choice for cold weather knitted items. Garter stitch is textural and squishy.
Accessories like a shawl
Garments like a cardigan or sweater
Home décor
Knitted squares for a quilt or multiple quilts if you're feeling ambitious! 😊
Baby blankets
Baby clothes like cardigans
Garter Stitch Scarf/Scarves
A useful thing for your home like dishcloths
Gloves
Bags
Chunky knits
A knit hat (hats are usually knitted on DPNs)
A striped scarf
A plain background for embroidery motifs
A jacket
Sweaters
Selvedge edging for things like dishcloths and quilting
It's sometimes used as a background for a fair isle design, cables, colorwork, intarsia, or mosaic knitting.
FAQS About Garter Stitch
How Do You Weave In The Ends Of Garter Knit Stitch?
Go up through the first purl bump
Down into the next purl bump
Repeat this for the length of the tapestry needle
Here's an excellent tutorial by JenAC Knitwear.
The second method is going through the Vs (the legs) of the knit stitches in between the purl ridges. Watch Norman from Nimble Needles demonstrate this clever technique for garter stitch knitting. Jump to time stamp 13.51.
How Do You Count Garter Stitch Rows?
One way is pull the purl bump (purl ridge) down with the pointy end of a knitting needle, and count the knit stitches you see in between (they are the loops).
The other way is counting the purl ridges (sometimes refer to as garter ridges) on both sides. I prefer counting the bumps (horizontal ridges) on both sides to get the correct amount of rows.
Here's a great tutorial by Cheryl Brunette showing two ways of counting garter stitch rows. Cheryl's tip about not including the cast on row is a good one. Most patterns don't include the cast on row when counting rows. Recording every row is a handy tip and you can double check by following these instructions.
(Note: Grafting is joining two pieces together invisibly.) When you become more confident try his other techniques.
How Do You Knit Buttonholes In Garter Stitch?
Here is a tutorial by Suzanne from Knitting with Suzanne Bryan on YouTube.
Can Garter Stitch Be Created In Crochet?
Yes, you can create a mock version using a hook. The outcome is similar to the knitted one.
How Do You Knit Stripes In Garter Stitch?
Knitting stripes is involved as you use over one color. Knitting two rows in the same color, means you don't have to cut the yarn at each end and swap to the other color. The good news is you don't have to weave in multiple ends. Anne Berk teaches you how to carry up the yarn to create a neat edge.
Garter Stitch Vs Stockinette
The difference is garter stitch uses only knit stitches. Stocking stitch uses purls AND knit stitches. One row is knit and the other row is purl.
Garter – 1 knit row
Stockinette – 1 knit row, 1 purl row
A garter stitch edge can be added to the sides, top and bottom of a flat piece of stockinette to stop it from curling.
Garter Stitch Vs Moss Stitch
Moss stitch uses purls and knit stitches in a repeating pattern.
Garter Stitch Vs Seed Stitch
Garter stitch only uses the knit stitch. Seed stitch uses knits and purls.
Row 1 – Knit 1, Purl 1, until the end of the row
Row 2 – Purl 1, Knit 1, until the end of the row
Is Garter Stitch Wider Than Stockinette?
Garter stitch is wider than stockinette.
Is Garter Stitch The Same As Purl?
Reverse garter stitch is the same as purl. This is when you use purls for every row.
What Is The Wrong Side In Garter Stitch?
There isn't a noticeable wrong side of the work in garter stitch since they both look the same. It's a reversible pattern. That said, I follow the example of other experts, which is the right side is where I can see knit stitches (Vs) above the cast on row.
The right side of the work is the first row, and from there you turn your work and knit every stitch on every row. A good idea is to place a stitch marker on the right side to identify it easily. It won't matter which side you have facing outward.
Is Garter Stitch The Same As Plain?
Garter stitch is the same as plain!
Is Garter Stitch Just Plain Knitting?
Yes, it is! Each row is a knit row.
What's The Difference Between Garter And Knit Stitch?
Garter is a stitch pattern using knit stitches.
Conclusion
Time to start knitting (and eventually master) garter stitch! Want to learn something else? Try the stockinette knit stitch.