Let's dive into picking the perfect hat yarn! My advice in this article is perfect for newbies ready to knit their first hat and seasoned knitters making a masterpiece.
Hat Yarn: My Top Picks For Hat Yarns
I'll show you what to consider when picking the perfect yarn. Next, I'll discuss what it's like knitting a hat with different fibers and my top choices. Ready? Let's go!
I reviewed, fact checked and updated this post on 2 May 2023.
Table Of Contents
How To Choose Hat Yarns
Here is what to consider when choosing hat yarns.
Seasonal Hat Yarn: Winter Hats & Summer Hats
When making hats, it's important to choose the right yarn for the season. Here's a quick rundown of popular fibers and their best uses:
Acrylic Yarn: Budget-friendly and warm, acrylic is great for mild weather hats. Plus, it's durable and easy to care for!
Wool Yarn: Perfect for winter hats, wool is cozy and insulating. Just be aware that some people might find it itchy, so consider softer wool or blends.
Cotton Yarn: Lightweight and breathable, cotton is the go-to for summer hats. It's not as warm as wool or acrylic, but it's perfect for keeping cool in the heat.
Remember, natural fibers like wool offer warmth, while synthetic ones like acrylic provide durability. Blends can give you the best of both worlds!
What Care Does It Need?
Hand-washing in cool water with a mild detergent is the safest way to clean it. Avoid scrubbing or wringing the hat, as this can cause damage to the fibers. Gently squeeze out excess water and reshape the hat before laying it flat to dry.
But doing your laundry in the washing machine and dryer is much easier!
What Weight Of Yarn?
This is something that's super important to consider! Worsted weight is best. For a thicker, warmer hat, choose a bulky weight yarn like a chunky yarn. For a lighter, more breathable hat, choose a fingering or sport weight yarn.
What Are The Options For Hat Yarn Colors?
When I'm making a hat, I like to use neutral colors because they compliment an outfit without being overpowering. When I'm in the mood for something fun, a rich, deep shade is just the thing.
The color you choose affects the overall look of your finished hat. Some yarns come in a wide range of colors, while others are more limited. Different dye options create unique effects in your yarn, like variegated or tonal colors.
How Much Yardage?
The amount of yarn depends on the size of the hat, the stitch pattern, and the weight of the yarn. Most hat patterns provide an estimate of the required yardage, but it's always a good idea to have a little extra. As a general rule, you need approximately 200-250 yards of worsted weight yarn to make an adult-sized hat.
What's Your Choice Of Budget?
Acrylic yarns are a budget-friendly choice, as they're durable and easy to care for. However, natural fibers like wool and alpaca can be affordable if you look for good deals or shop during sales.
Patterns To Choose From: What Finished Look Are You Aiming For?
There's nothing I like more than scrolling through Pinterest and Ravelry looking for hat knitting patterns! There's no shortage of great hat designs to choose from, and your next dream hat pattern project is only a google search away.
Important things to consider are the yarn's durability, absorbency, breathability, and warmth. The stitch pattern also dictates how much structure your yarn needs.
The texture of the yarn affects the look and feel of the finished hat, while the ply determines the yarn's strength and durability. Single-ply yarns are softer and more delicate, while multi-ply yarns are stronger and more durable.
If you also love to crochet hats, free crochet patterns for all sorts of different styles are available online. A crochet hat follows the same considerations I've mentioned here.
What Style Of Hat Are You Making?
Different hat styles require different yarns to achieve the desired look and feel. If you're making a hat with a brim, you want a yarn with structure to hold the shape of the brim. Slouchy hats require a yarn with good drape.
Sizing Tips
When you're making hats, don't be like me and forget to double check the head circumference measurements before you choose how much yarn to get!
Pin For Later
Wool
I've come to cherish the timeless appeal of sheep's wool yarn. The various breeds offer unique qualities, and I've always found merino wool to be the perfect choice for cozy, comfortable hats due to its softness, warmth, and breathability. On the other hand, I've turned to Shetland and Icelandic wools for their durability.
I adore the natural elasticity of wool fibers, which allows for beautiful stitch definition and a snug, cozy fit. The warmth and moisture-wicking properties of sheep's wool make it my go-to for cold-weather knitting.
One thing I've learned is to be gentle when washing woolen creations, as wool is prone to felting. Here are my top picks for this fiber.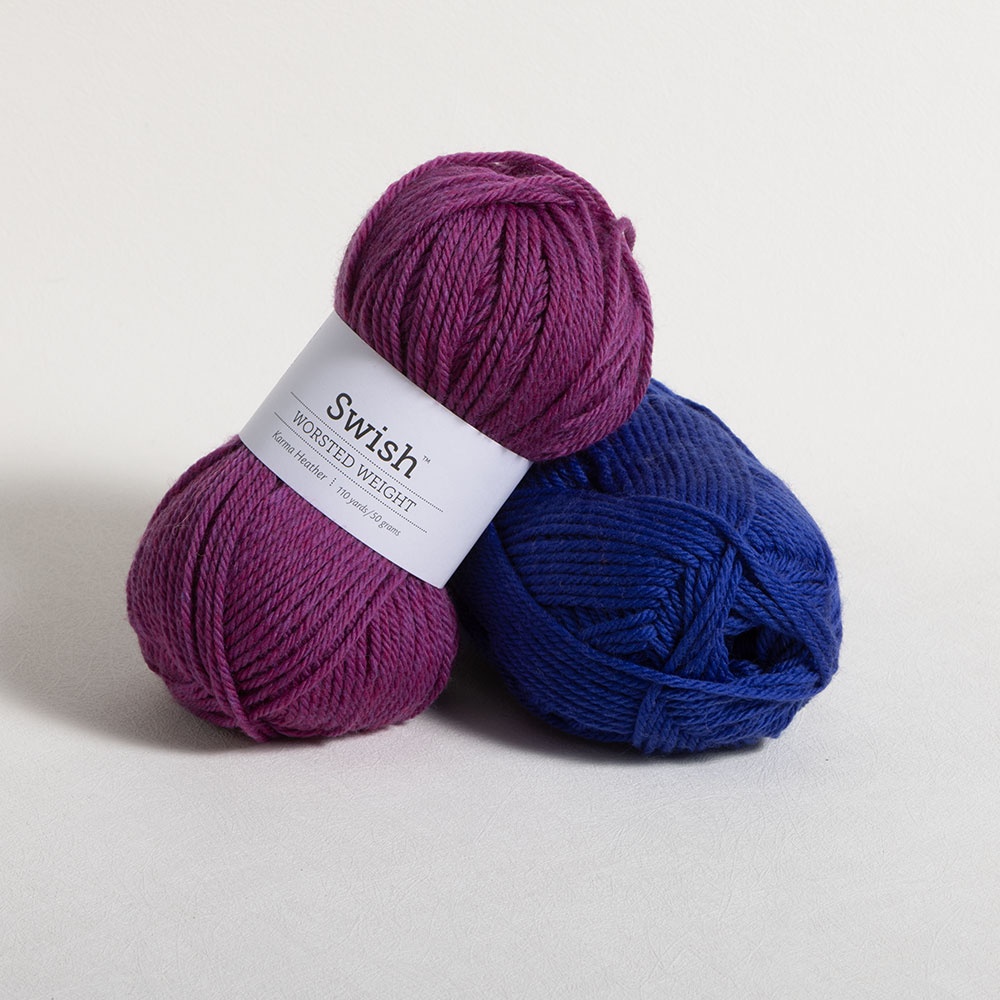 Item Specifications
Care: Gentle Cold Machine Wash
Fiber Content: 100% Superwash Merino
Needle Size: US 6-9
Skein Weight: 1.76 oz
Weight: Worsted
Yardage: 110 yards
Product Design: Swish is a versatile superwash Merino wool yarn suitable for various knitting projects, including children's clothing, afghans, and gifts.
Unique Factors: It provides other yarn weights and is gentle on sensitive skin.
Pros
Soft and squishy texture.
Affordable price point.
Consistent yarn strands and vivid color palette.
Easy to work with and yarn doesn't split.
Makes warm and cozy finished products.
Cons
Prone to growing and losing shape after washing and blocking.
Not a suitable yarn for hard-wearing items.
May not hold up well as a garment due to excessive abrasion.
The yarn may produce a "well-worn fuzzy" look after blocking.
Some yarn colors may differ from online photos.
Item Specifications
Care: Gentle machine wash
Fiber Content: 100% merino wool
Needle Size: US 7-9
Skein Weight: 3.5 oz
Weight: Worsted
Yardage: 210 yards
Product Design: Malabrigo Rios is a popular choice among knitters due to its super soft and washable qualities and excellent stitch definition.
Unique Factors: There's a range of unique hand-dyed colorways. However, as each skein is hand-dyed, there may be slight variations in color.
Pros
Super soft and comfortable to wear next to the skin.
Machine washable, making it easy to care for.
Resists pilling, making it a durable choice for frequently-worn garments.
Comes in a wide range of beautiful colors.
Great for projects requiring extra stitch definition.
Cons
Dye lots often don't match.
Acrylic
With acrylic yarn, maintaining even tension is essential. To keep my stitches consistent, I developed a rhythm – a delicate dance between my fingers and the yarn. Practicing this helped me create a hat that was snug yet flexible.
Choosing the right needles makes a significant difference. Acrylic yarn tends to slide easily, so opting for wooden or bamboo needles helped me maintain control over my stitches, preventing them from slipping off.
Acrylic yarn possesses an unexpected quality: it stretches! Unlike some natural fibers, acrylic has the ability to give and take. I found that my hat could comfortably fit a variety of head sizes without losing its shape.
Acrylic yarn is easy to care for. Just place it in the washing machine and dryer!
Now you're equipped with these valuable tips, you might be wondering which acrylic yarns are best for knitting hats. I'll share my top recommendations below.
Item Specifications
Care: Machine wash & dry
Fiber Content: 100% acrylic
Needle Size: US 8
Skein Weight: 5 oz
Weight: Worsted
Yardage: 256 yards
Product Design: For a cozy hat, this makes a delightful choice. Resists pilling, making it a durable choice for frequently-worn garments.
Unique Factors: It's machine washable and dryable, making it easy to care for.
Pros
Affordable and widely available in craft stores and online.
It has an elegant drape.
Soft and comfortable to wear next to the skin.
Soft and subtle luster.
Comes in a wide range of colors, including variegated options.
Cons
Catches the knitting needle occasionally.
Possible inconsistencies in dye lots.
Item Specifications
Care: Machine washable/dryable on low
Fiber Content: 100% acrylic
Needle Size: US 8
Skein Weight: 6 oz
Weight: Worsted
Yardage: 315 yards
Product Design: The smooth and silky texture of Caron Simply Soft Yarn makes knitting projects feel luxurious. It has a wide range of colors available.
Unique Factors: Its super soft and lightweight texture makes it perfect for cozy and comfortable projects.
Pros
Soft and comfortable texture.
Lustrous and shiny appearance.
Machine washable and dryable.
Wide range of colors available.
Affordable pricing.
Cons
It split easily while working with it.
The yarn is prone to pilling and fuzzing.
It tends to stretch after washing.
The texture of the yarn can be too slick and slippery.
I've seen other makers recommend Yarn Bee brand as a good option for acrylic yarn. I've not used this yet but it's on my list to try out.
Blends
Combining wool with fibers such as alpaca, acrylic, or cashmere creates an ideal balance of warmth, softness, and versatility. These blends offer unique textures while maintaining the benefits of wool, including elasticity and moisture-wicking.
When knitting hats with wool blends, I pay close attention to the fiber composition. The blend's characteristics impact the final product's feel. For example, a merino-cashmere blend marries the softness and warmth of merino wool with the luxurious plushness of cashmere.
In my experience, working with wool-blend yarns has expanded my creative horizons. These yarns come in a stunning array of colors and textures!
Item Specifications
Care: Machine wash & dry
Fiber Content: 80% Acrylic, 20% Wool
Needle Size: US 8
Skein Weight: 3 oz
Weight: Worsted
Yardage: 197 yards
Product Design: Wool-Ease is a 4-ply yarn that combines the feel, warmth, and softness of wool with the convenience of machine washing and drying.
Unique Factors: With an extensive color range, it's perfect for a variety of projects, from afghans to socks.
Pros
Soft and easy to work with.
Wide color range for any project.
Wool and acrylic blend for warmth and easy care.
Ideal for a variety of knitting or crocheting projects.
Cons
Inconsistent dye lots.
Scratchy texture.
Not soft enough for being close to the skin.
Prone to splitting.
Some find it cheap-feeling.
Other Fibers
I've had the pleasure of using alpaca yarn to knit hats, and it's been delightful. It's renowned for its silky texture, superior warmth, and lightweight feel. This makes it ideal for hats that provide exceptional comfort without feeling heavy.
As I knit with it, I'm always struck by how smoothly it glides across my needles. The resulting fabric has a subtle sheen that adds sophistication to a hats design. It's also hypoallergenic, making it perfect for those with sensitive skin or wool allergies.
Keep in mind it's not as durable as wool, and requires special care.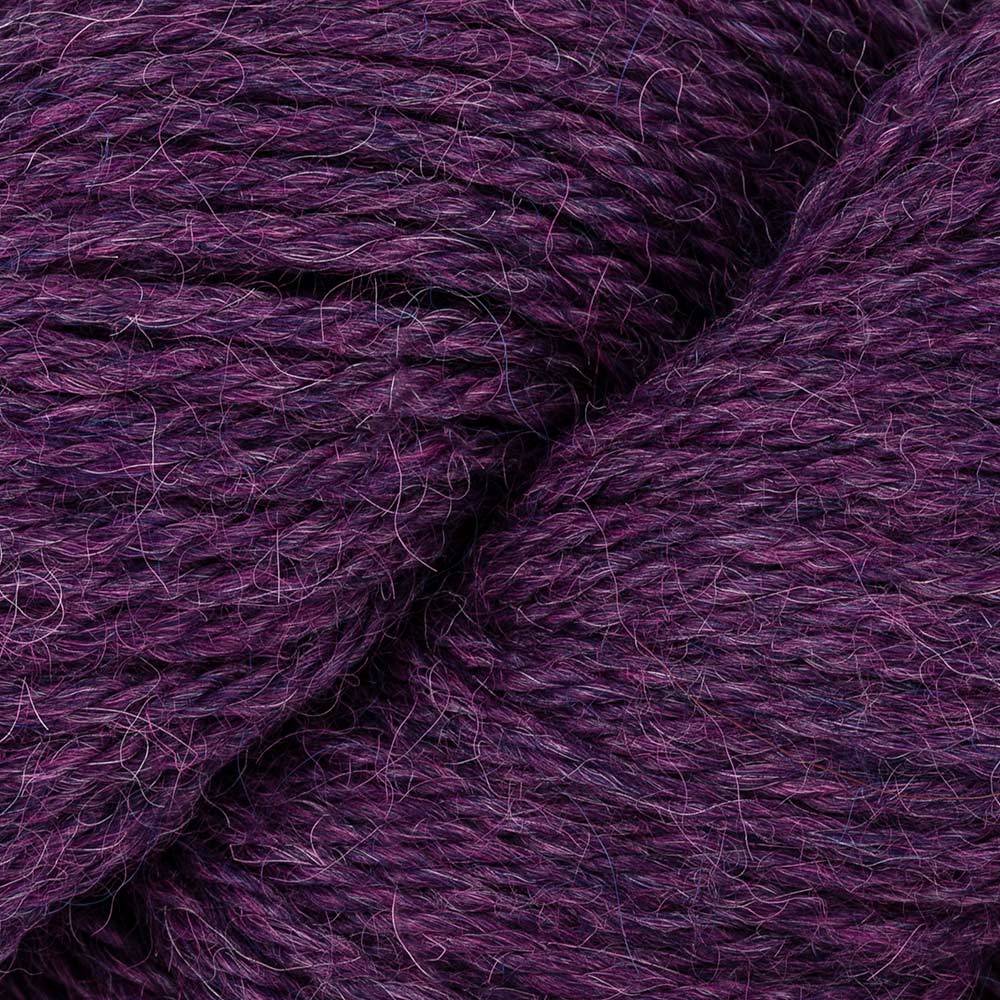 Item Specifications
Care: Hand wash, lay flat to dry
Fiber Content: 100% Baby Alpaca
Needle Size: US 6
Skein Weight: 1.75 oz
Weight: DK
Yardage: 109 yards
Product Design: Debbie Bliss's Aymara yarn is a soft and warm DK-weight yarn which is hypoallergenic and lanolin-free, making it great if you have sensitive skin.
Unique Factors: The color choices are modern and stylish.
Pros
Has a soft and luxurious texture, making it perfect for cozy accessories.
Produced by a trusted and well-respected brand.
Has a generous yardage per skein.
Cons
More expensive than other yarns.
Require special care during washing and blocking.
My Recommended Yarn For Hats: Comparison Chart
FAQs About Yarn For Hats
What's The Softest Yarn?
The softest yarn for a hat is Red Heart Soft Yarn. I find it's silky smooth without being tricky to knit with, and you get a luxurious feel without the hefty price tag.
What's The Warmest Yarn?
The warmest yarn for hats is merino wool, or alpaca. When I'm knitting, I like using this because it feels so lovely on my hands.
What's The Most Durable Yarn?
The most durable yarn for hats is wool. I've noticed it's stretchy without breaking, and it lasts many washes and wears, provided you give it the care it deserves.
Can You Use These Yarns For Other Projects?
Yes, you can use hat yarns for other projects like scarves, shawls, and blankets.
Can I Machine Wash A Hat Made With Yarn?
Yes, you can machine wash hats made with yarn if it's acrylic. If it's wool, it may need handwashing. Always check the yarn label.
What's A Good Yarn For Knitting Hats For Babies?
Yarn for knitting hats for babies is acrylic yarn. This fiber type has a soft feel so it doesn't itch, and it's good for people with sensitive skin.
What's The Best Yarn For Knitting Hats For Charity?
The best yarn for knitting hats for charity is worsted acrylic yarn.
My Top Pick For Hat Yarn
Of the products I researched, reviewed and tested, I liked Swish the most. It's not just me! So many reviews from happy knitters can't be wrong.
So there you have it! Picking the perfect pattern is the key to knitting a fabulous hat. With the suggestions I've shared, you're all set to show off your knitting talents. Do you have tips up your sleeve? I'd love to hear from you.