A knitting bag makes things much easier. Knitting bags keep your yarn, tools, notions, and knitted work in progress organized. Heading out? You have everything for some sneaky knitting!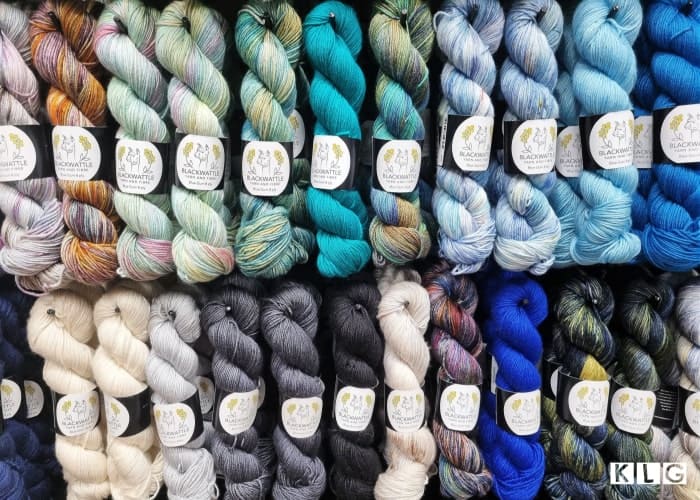 There are various knitting bags, knitting storage bags with space for yarn, knitting needles, notions, and your knitted projects.
Also knitting tote bags are fabulous for individual projects, drawstring bags for smaller knitted items like socks or hats. Here's a guide to the best knitting bag ever for knitting on the go.
I reviewed and updated this post on January 8, 2022.
Table Of Contents
What Is The Best Knitting Bag?
Personalized Knitting Bag
Long-handled 100% cotton bag, available in various colors, is perfect for holding your current knitting project. You can choose the text written on the bag. Dimensions: height 41cm, width 38cm, strap drop 67cm. Has a 10 litre capacity.
Pros
Available in white, black, blue, green, pink, and red
Washable
Quality cotton fabric
Cons
The colored bags made fade over time
Knitting Travel Case
This fits under most airplane seats and is a convenient way to travel with your projects. When the lid is closed you can feed your yarn through the side metal openings. It measures 12 inches wide x 6 inches Height x 5 inches Depth.
Pros
Tray insert for holding your notions
Roomy enough for many balls of yarn
The bottom of the case is protected as it has metal feet
A strap that can be used across your body or on your shoulder
Handles can be removed
The metal lid is lightweight. Use the included strong magnets to hold your pattern.
Available in 5 lovely colors
Sturdy and durable
Cons
Knitting Storage Bag
Keep all your wool, needles, hooks, and knitting accessories organized neatly in this yarn tote bag. Lots of compartments for knitting needles, crochet hooks, yarn, with plenty of compartments for notions.
Made of highly durable 600D Oxford Cloth, the top zippered section is made of clear plastic. Dimensions: Approx 15″Lx10″Wx10.2″H (38x 25x 26 cm)
Pros
Strong and lightweight, easy to carry.
Available in Purple or Blue
A side pocket that unzips to store knitting needles and hooks
There are reinforced holes at the top to feed your yarn through
Cons
The velcro fastenings inside the main body may catch on your yarn if not using the dividers
Homest XL Knitting and Yarn Storage Bag
This bag is big enough to store many yarn skeins and all your tools and notions. Carry individually with a handle or use it as a shoulder strap for hands-free carrying. The large interior capacity has plenty of space with six inner pockets. There are eight side pockets for knitting needles, hooks, scissors, a tape measure, and your patterns.
The grommets of this bag are oversize to ensure the yarn glides as you knit. Dimensions: Diameter of 11.75 inches and 16.5 inches tall.
Pros
Lightweight design
Drawstring closure at the top
Comes with a mini bag to hold one or two skeins of yarn
Keeps yarn separated
Excellent customer service
Cons
Some customers complained of not receiving the mini bag
Click to Learn More / Buy from Amazon
Knitting Accessories Bag
This knitting accessories bag is large enough to store your straight knitting needles (up to 11" long), circular knitting needles, various crochet hooks, and knitting accessories.
It has a heavy-duty, durable nylon exterior. Well-cushioned semi-flexible covers offer excellent protection for your items. Built-in top flaps design stops needles and hooks from sliding out when opening the case.
Dimensions: 12.2″ x 6″ x 1.6″
Pros
Compact and lightweight
Ideal size for placing in your larger knitting bag
Sturdy zipper closure
When fully opened, it lies flat
Cons
Not suitable for long needles
Click to Learn More / Buy from Amazon
Personalized Knitting Needles Bag
This monogrammed knitting needle bag is large enough to hold several knitting needles and accessories. Personalized with a stitched upper case letter and detailed with paint and floral detail.
You can choose the fabric for the long side panel.
Approximately 15″ long, 5″ tall, and long enough to store and carry your knitting needles. The exterior is made of premium linen and designer print cotton fabric.
Interfacing gives it a soft yet firm structure, and it's fully lined with coordinating cotton fabric. Zipper closure with a material pull attached.
Pros
Gorgeous fabrics and monogram makes it extra special
Professional finishes
Great way to keep knitting needles together
Store scissors and stitch markers
Cons
Not suitable for storing knitting projects
Knitting Travel Bag
The Everything Mary Deluxe Yarn Carry Organizer Storage Tote is a great over the shoulder option. This bag features 12 storage spaces for yarn, different supplies, tools, stitch markers.
It features substantially reinforced sidings for durability & strength, along with two reinforced strong shoulder strap carrying handles for travel. Made from premium high-quality polyester.
There are different slots, zippers, and pouches providing multiple options for your skeins of yarn to stay tangle and snag free.
The dimensions are 17" by 12″ by 15″. There are 12 total storage spaces, including zippers, sleeves and open pockets.
Pros
Pretty floral design
Lots of storage
Space for knitting patterns
Cons
The top of the bag is open
Bag For Knitting Supplies
This knitting supplies bag features slits on the lid to allow for multiple yarn/wool skeins to be used simultaneously. There are pockets on the outside to store knitting needles, hooks, scissors, stitch markers, and a tape measure.
Made of superior quality linen and lined with cotton and double stitched.
Pros
Durable and robust
Large enough to store up to 10 skeins of yarn
Carry handle and shoulder strap
Lightweight
Keeps it's shaping without collapsing
Cons
If you choose to thread the yarn through the top, you would not be able to take the project in or out without cutting.
Click to Learn More / Buy from Amazon
Knitting Carry Bag
This Knitting Carry Bag comes in two sizes, small and large. They are made of quality canvas and come in different patterns.
The handle goes on your forearm, so your hands are free to knit. There are grommets/reinforced holes on either side of the bag to feed your yarn through.
The small size is suitable for a sock project, and the large size for a baby blanket in progress. Yarns and knitting needles are stored in the interior. There is an exterior zipper pocket to place knitting tools and notions.
Pros
Pretty design
Comfortable to carry
Good quality fabric
Affordable
Cons
The depth is a bit shallow to be able to store large skeins
Click to Learn More / Buy from Amazon
Handmade Knitting Bag
This tote by maker ZinnsMillCrafting on Etsy will hold your project, yarn, and all the knitting/crocheting accessories you need. An excellent gift for anyone who loves needlework!
The bag measures 15″ x 15″ and the pockets measure 8″ x 8″. Straps are 22″ long, 1- 1/2″ wide. It's created with cotton reinforced with sturdy canvas interfacing.
Pros
Squared-off bottom
Machine wash cool/line dry
The knitting needles and yarn material is lovely
Cons
FAQ
What happened To The Namaste Bag?
The Namaste Bag brand was phased out at the end of 2020. This was due to the company recognizing using Namaste has hurt and offended people. They apologized – specifically to the South Asian and BIPOC communities.
The makers' bags are still available on the Jimmy Bean's website but will be relaunched under another name later in 2021.
Lots of lovely knitting bags to suit a range of purposes. I hope my post has helped with making your decision on which is best for your knitting needs.
I'd love to hear about a knitting bag that you'd recommend. Please leave a comment below or write to me here.
Pin Now to Save for Later