Does knitting stand as the victor as the superior yarn craft? Or does crochet reign supreme? But what if they're just two equally fabulous yet unique crafts?
Here's a comparison of crochet vs knitting.
Table Of Contents
The Similarities
Both are fiber arts, so they use yarn to create beautiful things.
You use patterns to create projects, written using different abbreviations and terms. Some are the same across both knitting and crocheting.
Learning how to crochet and learning to read a pattern are two different skills.
An excellent chance to practice and learn skill sets like hand-eye coordination, memory elasticity, logic, color theory, and mathematical skills! When you learn to knit or crochet, it challenges your brain and keeps it flexible.
All sorts of health benefits, mental, physical, and emotional.
You learn or practice your patience! The time needed means you're in for the long haul.
Both are a very rewarding hobby.
You can create all sorts of projects, and project size and complexity can vary widely.
Despite have different tools, there are varients on both where you just use your hands, called finger knitting or arm knitting and finger crochet.
They don't require too much space or expensive tools to get started.
Here are some great ideas for gifts for a knitter.
What Is The Difference Between Knitting And Crochet?
The differences are numerous, as are the similarities. Here is a breakdown of all of them.
How You Do The Craft
This is the main difference between knitting and crocheting
Knitting is done with two knitting needles, and you make a series of loops or stitches always held on one of the knitting needles. It looks somewhat like rings holding up a shower curtain.
You knit each, moving it to the next knitting needle to make a row. Repeat.
There are two basic stitches, the purl stitch and the knit stitch/stockinette stitch. The latter looks similar to small Vs. Purl stitches are a bit more challenging to learn than knit stitches, so attempt knit stitch first.
To cast on, you create a slip knot and hook it on one needle, half-knitting it to create another and hooking it to the needle. Repeat for as many as you need. Make sure you keep your tension even.
Crochet is done with a crochet hook and is worked around in a circle or a rectangular fashion. You work with 1 crochet stitch at a time, and they're more like knots than stitches.
There are five basic stitches in crochet, the chain stitch, which is the first crochet stitch you practice when you learn to crochet. The other four are single crochet, half-double crochet, double crochet, and the slip stitch.
You can start with chain stitches or the slip stitch to create different methods. There are generally two types of crochet, single crochet and double crochet. You learn the former first, then work up to the latter.
There are over 500 crochet stitches you can learn but start from the ground up first.
Did you know you can take crochet hooks out of the project to work on something else then come back to it?
Slip the crochet hook out, and put a locking stitch marker around the loop, and leave the project until you're ready to come back to it.
The Look And Feel Of Finished Items
Crochet produces heavier, bulkier, and generally lasts longer. Knitting creates drape, flexible, and stretchy knitted fabric, soft, and smooth textures.
Regardless of whether you choose to make knitted or crocheted items, they're sure to be something to be proud of.
A yarn ball maker keeps your stash tidy.
The Stitches
Nearly all yarn crafts involve stitches. Knitting and crocheting are no exception.
Most knitting can be done with the knit and purl, as other stitches are combining and slightly expanding upon techniques you've already learned.
Crochet has far more stitches than the other, and it's not just building on what you already know. It's often learning something completely new.
Materials And Tools Used
For knitting, you'll need two needles; for crochet, you'll need a crochet hook. Not your conventional hook, though. This single hook isn't sharp and is only slightly curved.
Knitting needles range from blunt to quite pointy.
Knitting and crocheting require yarn! You can use all sorts of yarn weights, from bulky to lace yarn and sock yarn, but the most popular is a medium weight yarn.
Knitters can use crochet hooks to fix mistakes in their knitting. They're handy for that. Also, while machines can knit, no machine can crochet.
Crochet can only be done by human hands.
Here is a list of standard supplies used in knitting and crocheting.
Knitting Supplies
Knitting Needles (There are three main types, straight needles, double pointed needles and circular needles. They also have interchangeable circular knitting needles.)
Yarn
Stitch Counters
Measuring tape
Stitch Markers
Yarn Needles
Needle Stoppers
Crochet
Crochet hooks (If you're a beginner, it's best to start with a size H crochet hook.)
Yarn or crochet thread
Scissors
Gauge Swatches
Row/Stitch Counters
A Yarn Needle
Stitch Holders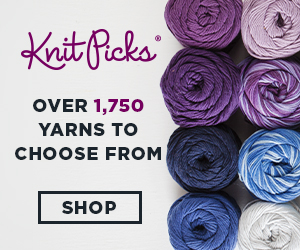 What Projects They Suit
Knitting – You can make almost anything, but here are some popular knitting projects ideas. Not all of these are suitable for those at a beginner level.
Baby Garments and Baby Blankets
Beanies
Cardigans
Clothing
Dishcloths
Hand Towels
Hats
Potholders
Shawls/Wraps
Scarves
Scrubbies
Shrugs
Socks
Sweaters
Tote Bags
Toys
Crochet Uses – There are many types of crochet projects, but particularly good for projects where thicker, heavier fabric is needed –
Afghans
Amigurumi
A Baby Blanket
Bags/Purses
Cowls
Cozies
Dishcloths/Scrubbies
Dog Sweaters
Flowers/Motifs
Gloves/Mittens
Hats
Home Decor
Pouches
Ponchos
Scarves
Socks/Slippers
Rugs
Toys
Common Techniques/Motifs
There are many different techniques, but here are some of the most instantly recognizable.
Knitting
Cables – In sweaters and cardigans
Fair Isle Knitting – A style of knitting from Scotland, characterized by intricate, colorful stitchwork.
Ribbing – A method to make the knitting stretchy, but still hold its shape.
Crochet
Circular Creations – Cloths, potholders, rugs, and others.
Granny Squares – Very versatile, can be used to create so many different things!
Crochet Lace, Lace Work Or Patterns With Holes In Them
Which Would Suit You Best?
Knitting Is Best For You If –
You're patient. Knitting takes time, dedication, and a lot of patience! The stitches are often more complicated, taking a lot longer than you might expect.
Want to be swamped in inspiration and ideas? There are so many knitting patterns and places to be inspired!
You want to save money because you don't usually have to buy as much yarn as for a crochet project. Plus, yarn advertised as knitting yarn is generally more affordable.
You're logical. Reading and creating knitting patterns requires a bit of math.
Crochet Is Best For You If –
If you like projects that are quick to do, bulkier items can be done in no time at all
You like working through many projects quickly
You're creative – the limited crochet patterns mean you often have to modify to suit your preference.
You make mistakes frequently or constantly have to redo your work, much easier to fix them in this craft
You don't mind working in irregular or random ways
Knitting Vs Crocheting – Pros & Cons
Knitting
Pros
A heavier, thicker fabric is produced when you knit, hence why knitting is popular in winter and colder climates.
Very stretchy, flexible, and creates a better drape.
Knitting is trendy and is mostly more well known than crochet. You're in good company if you're a knitter!
Excellent for intricate, sophisticated, or designs with tiny details in them.
Great for colorwork. There's a reason why Fair Isle patterns are knitted.
It's the most well-known of all crafts, so you're not going to be subjected to constant questioning by confused strangers.
You don't have to learn as many techniques and stitches to master knitting.
Cons
Fixing mistakes is quite an operation. The later you notice the mistakes, the more stitches you have to undo to fix it! It can be frustrating, but keep an eye out when you're knitting so you can fix it as soon as possible.
Not as fast as crochet, as it takes more stitches to create the same amount of bulk generally.
More supplies to keep track of and learn how to use.
Slightly frustrating as there could be any number of stitches you need to keep an eye on at the same time.
It's harder to make home accessories and decor as it isn't as hard-wearing.
Once knitting needles are being used for your project, you can't take them out and use them for anything else until the project is completed.
Not as easy to create toys as they're not going to be strong, and you don't get the same effect.
Knitting Needles are more likely to get confiscated at airports if they're in your carry on.

Crocheting
Pros
Light, thinner fabric.
Very easy to fix mistakes. You just pull the yarn, undoing the knots until you reach the place to fix the crocheting.
Generally, crochet is faster because more bulk comes with each stitch. But the actual speed depends on a variety of factors.
Since you're only using 1 instrument, rather than two, it's easier.
You can create all sorts of fun, geometrical shapes and sew them together to create unique patterns.
No need to keep track of 20, 30, 50, or more stitches at once. You work 1 at a time!
Cons
Unfortunately, there are far less dedicated companies for crochet than knitting. However, KnitPicks recently launched a fabulous site called WeCrochet. Expect the same quality, range, and excellence in their products, only just for crochet!
Not as much information or visibility, which NickyKnacks talks about here. I agree with her, which is why I created the Top 100 Crochet Bloggers to help others find wonderful, talented crocheters.
Not as suited to super intricate patterns as it's easier to create that effect with the other craft.
Not as easy to create complicated variety in colors.
Crocheted clothing doesn't look as good as knitting when it's figure-hugging.
Myths Of Knitting – Busted
Knitting Uses Less Yarn Than Crochet
Not true universally, though in general, yes. But the nature of the project, yarn, stitches influence it greatly.
Verdict – Mostly? It Depends On Many Different Factors.
Knitting Is Harder Than Crochet
Or perhaps you've heard the other version of the statement, that crochet is harder than knitting. There's no hard or fast answer for this! They both have a learning curve. It all boils down to opinion and personal experience.
Usually, the one you find easiest is the craft you learned first!
Verdict – Not True
Don't Knit Blankets, Whatever You Do!
This 'rule' comes from well-meaning advice, due to the nature of stitches needed in a blanket, it takes far longer and far more stitches to create a blanket in knitting than crochet.
But who says you can't? There are gorgeous knitted blanket patterns available, but make sure you're ready to commit to the time it will take.
Verdict – Not True
Hand- Dyed Yarns Should Only Be Used For Knitting
This is only recommended, not enforced because hand-dyed yarns vary greatly in speckles of color, where the color will change or get lighter or darker.
It usually turns out better in knitting but has lovely results in crochet. Though keep in mind the color changes or variations are highly irregular.
Verdict – Not True
Can You Put The Two Together?
Very difficult to discern between knitting and crochet when it's in a finished project with no knowledge of how it was created. Even experts and crafts enthusiasts alike struggle!
Techniques such as Tunisian crochet and "knooking" produce crochet that looks like knitting stitches or cables. You still crochet, but it looks like knitting.
Slip stitch crochet looks quite similar to knitting too.
A common way to combine them in knitting is to complete a project with a crocheted edge and vice versa.
Regardless of where you stand on the knitting vs crochet debate, melding the two together can be satisfying, rewarding.
The possibilities are only limited by your imagination.
Knitting Vs Crochet – Your Questions Answered
Is It Easier To Knit Or Crochet?
It depends. It's best to experiment with both and see which comes best to you. If you learn the two of them, the possibilities in creating become endless!
Is Knitting Harder Than Crocheting?
No! No craft is harder than the other. It's up to you to decide which works best for you. Whether you learn knitting or learn to crochet, it's sure to be rewarding.
Is It Easier To Teach A Child To Knit Or Crochet?
The easiest to teach a child is the one you have the most experience in! If you prefer, teach the child both and see which they excel at and help them develop their craft technique.
Which Is Older Knitting Or Crochet?
Knitting is older than crochet. The oldest evidence of knitting comes from the 11th century BCE, with the first instance of crochet coming from the 19th century.
A much older technique, which crochet comes from and is commonly mistaken for crochet, is called Nalebinding. But it's a completely different fiber art.
All in all, trying to say one is better than the other is like trying to determine whether blue is better than green. Yes, one could be faster, one could be easier to learn, but attempting to make a final answer is impossible.
It's not something that can be solved with facts, specifications, or information. It's up to you which one you choose, or you can do both!
Because at the end of the day, they're just wonderful crafts for unwinding and creating something wonderful with yarn.
Which one do you prefer, or if you like both, which one did you learn first? Do you combine the two when doing projects?
I'd love to hear your thoughts, comment below right now, or send me a twitter message.
Pin Now to Save for Later