Is knitting the superior yarn craft? Or crochet? What if they're two fabulous yet unique crafts? Here's a comparison of crochet vs knitting.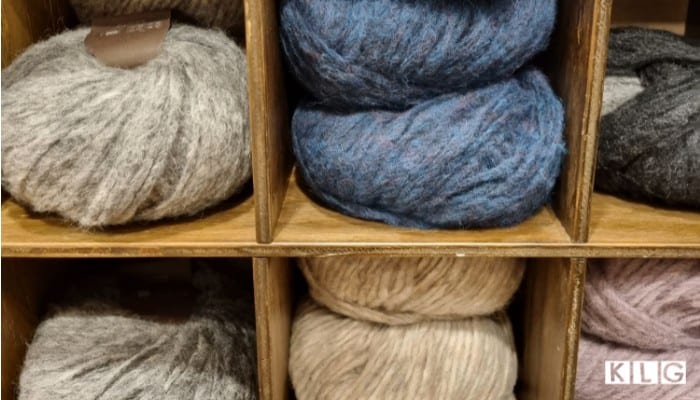 I reviewed and updated this post on August 30, 2022.
Table Of Contents
What Is The Difference Between Knitting And Crochet?
How You Do The Craft
The main difference between knitting and crocheting.
Knitting is done with two knitting needles
Make a series of loops held on one of the knitting needles
Like rings holding up a shower curtain
Knit each, moving to the next knitting needle to make a row.
There are two basic stitches.
Purl stitch
Knit stitch/stockinette stitch.
The latter looks like small Vs.
Purl stitches are more challenging to learn than knit stitches, so attempt the knit stitch first.
To cast on, create a slip knot
Hook it on one needle
Half-knitting it to create another
Hooking it to the needle
Repeat
Keep your tension even
Crochet is done with a crochet hook and is worked around in a circle or a rectangular fashion.
Work with one crochet stitch at a time, and they're like knots.
The five basic stitches.
Chain stitch
Single crochet
Half-double crochet
Double crochet
Slip stitch
Start with chain stitches or slip stitches to create different methods. There are two types of crochet.
Single crochet
Double crochet
Learn the former first. There are 500 crochet stitches to try!
Take crochet hooks out of the project and come back to it.
Slip the crochet hook out, put a locking stitch marker around the loop, and leave the project until you're ready to return.
The Look And Feel Of Finished Items
Crochet produces heavier, bulkier, and lasts longer.
Knitting creates drape, flexible, and stretchy knitted fabric, soft, and smooth textures.
Whether you make knitted or crocheted items, they're something to cherish.
The Stitches
Most knitting is done with the knit and purl, as other stitches combine and expand upon techniques you already learned.
Crochet has far more stitches than the other, and it's often learning something new.
Materials And Tools Used
For knitting, you'll need two needles; for crochet, you'll need a crochet hook. Not your conventional hook, though.
This single hook isn't sharp and is slightly curved.
Knitting needles range from blunt to pointy.
Knitting and crocheting require yarn! Uses yarn weights, from bulky to lace yarn and sock yarn.
The most popular is a medium-weight yarn.
Knitters use crochet hooks to fix mistakes in their knitting. Also, while machines knit, no machine crochets.
Here is a list of standard supplies used in knitting and crocheting.
Knitting Supplies
Knitting Needles (Straight needles, double pointed needles, circular needles, and interchangeable needles.)
Yarn
Stitch Counters
Measuring tape
Stitch Markers
Yarn Needles
Needle Stoppers
Crochet
Crochet hooks (A beginner? Use a size H crochet hook.)
Yarn or crochet thread
Scissors
Gauge Swatches
Row/Stitch Counters
A Yarn Needle
Stitch Holders
What Projects They Suit
Knitting – Here are popular knitting projects ideas.
Baby Garments
Baby Blankets
Beanies
Cardigans
Clothing
Dishcloths
Hand Towels
Hats
Potholders
Shawls
Wraps
Scarves
Scrubbies
Shrugs
Socks
Sweaters
Tote Bags
Toys
Crochet Uses – There are many crochet projects. Good for projects needing thicker, heavier fabric.
Afghans
Amigurumi
Baby Blanket
Bags
Purses
Cowls
Cozies
Dishcloths
Scrubbies
Dog Sweaters
Flowers
Motifs
Gloves
Mittens
Hats
Home Décor
Pouches
Ponchos
Scarves
Socks
Slippers
Rugs
Toys
Common Techniques
Here are the most recognizable.
Knitting
Cables – Sweaters and cardigans
Fair Isle Knitting – A style of knitting from Scotland, characterized by intricate, colorful stitchwork.
Ribbing – Makes knitting stretchy, but holds its shape.
Crochet
Circular – Cloths, potholders, rugs, and others.
Granny Squares – Versatile
Crochet Lace
The Similarities Between Knitting & Crochet
They're fiber arts
They use yarn to create beautiful things
Use patterns to create projects
Written with abbreviations and terms
Learning the skill and reading a pattern are two skills
Practice skill sets like hand-eye coordination, memory elasticity, logic, color theory, and mathematical skills!
Knit or crochet challenge your brain and keep it flexible
Health benefits – mental, physical, and emotional
Practice your patience! It takes time
A rewarding hobby
Create many projects
Project size and complexity vary
There are variants where you use your hands. (Finger knitting, arm knitting and finger crochet)
Don't require expensive tools to start
Which Would Suit You Best?
Knitting Is Best If
You're patient. Knitting takes time, dedication, and patience! The stitches are complicated, taking longer than you might expect.
Want to be swamped in inspiration and ideas? There are so many knitting patterns and places to be inspired!
You want to save money because you rarely buy as much yarn as for a crochet project. Plus, yarn advertised as knitting yarn is more affordable.
You're logical. Reading and creating knitting patterns requires math.
Crochet Is Best If
You like quick projects
You like working through many projects quickly
You're creative – often you have to change the limited crochet patterns to suit your preference
You make mistakes lots. It's much easier to fix them in this craft
You don't mind working in irregular or random ways
Knitting Vs Crocheting – Pros & Cons
Knitting
Pros
You produce a heavier, thicker fabric. (Knitting is popular in winter and colder climates.)
Stretchy
Creates a better drape.
Knitting is trendy and more well known than crochet
Excellent for intricate or sophisticated design
Great for colorwork. That's why Fair Isle patterns are knitted.
Confused strangers won't question you!
You don't have to learn as many techniques and stitches to master knitting.
Cons
Fixing mistakes is hard. The later you notice the mistakes, the more stitches you must undo to fix it!
Not as fast as crochet, as it takes more stitches to create the same amount of bulk.
More supplies to keep track of and learn how to use.
Frustrating as there are many stitches to track
It's harder to make home accessories and decor as it isn't as hard-wearing.
Once knitting needles are used for your project, you can't take them out until the project is completed.
Not as easy to create toys
Knitting needles more often get confiscated at airports if they're in your carry on.
Crocheting
Pros
Light, thinner fabric.
Easy to fix mistakes. Pull the yarn, undoing the knots until you reach the place to fix the crocheting.
Crochet is faster because more bulk comes with each stitch. But the actual speed depends on a variety of factors.
You only use 1 instrument
Create fun, geometrical shapes and sew them together to create unique patterns.
No need to keep track of 20, 30, 50, or more stitches at once. You work 1 at a time!
Cons
There are far less dedicated companies for crochet than knitting (WeCrochet is one great example!)
Not suited to super intricate patterns
Not easy to create complicated variety in colors.
Crocheted clothing doesn't look as good as knitting when it's figure-hugging.
Pin Now to Save for Later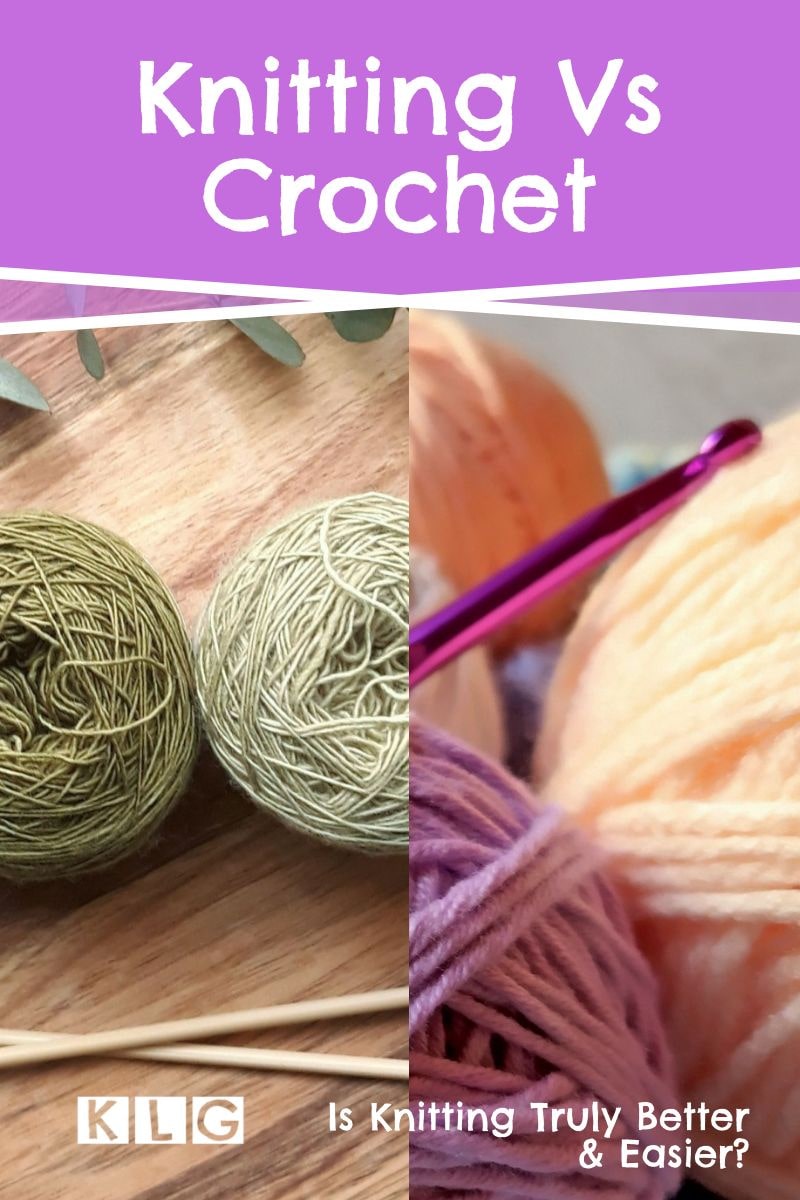 Myths Of Knitting – Busted
Knitting Uses Less Yarn Than Crochet
Not true. The project, yarn, stitches influence it.
Knitting Is Harder Than Crochet
Or the other version of the statement, crochet is harder than knitting. They both have a learning curve
The one you find easiest is the craft you learned first!
Don't Knit Blankets!
This 'rule' comes from well-meaning advice.
Due to the stitches in a blanket, it takes far longer and more stitches to create a blanket in knitting than crochet.
There are gorgeous knitted blanket patterns available, but ensure you're ready to commit the time.
Hand-Dyed Yarns Should Only Be For Knitting
Hand-dyed yarns vary in speckles of color, where the color changes or gets lighter or darker.
It turns out better in knitting but has stunning results in crochet. The color changes or variations are irregular.
Can You Put The Two Together?
It's tough to discern between knitting and crochet when it's in a finished project with no knowledge of how it was created.
Even experts and crafts enthusiasts alike struggle!
Techniques like Tunisian crochet and "knooking" produce crochet like knitting stitches or cables.
You still crochet, but it looks like knitting. Slip stitch crochet looks like knitting too.
A common way to combine them in knitting is to complete a project with a crocheted edge and vice versa.
Wherever you stand on the knitting vs crochet debate, melding the two is satisfying.
Your imagination only limits the possibilities.
FAQS About Knitting Vs Crochet
Is It Easier To Knit Or Crochet?
It depends. Experiment with both. If you learn the two, the possibilities become endless!
Is Knitting Harder Than Crocheting?
No! No craft is harder than the other. It's up to you to decide which works best for you.
Whether you learn knitting or crochet, it's rewarding.
Is It Easier To Teach A Child To Knit Or Crochet?
The easiest to teach a child is what you have the most experience in!
If you prefer, teach the child both and see which they excel at.
Which Is Older Knitting Or Crochet?
Knitting is older than crochet.
The oldest evidence of knitting comes from the 11th century BCE, with crochet coming from the 19th century.
A much older technique, often mistaken for crochet, is Nalebinding. It's a different fiber art.
Yes, one could be faster, one could be easier to learn, but attempting to make a final answer is impossible.
Which do you prefer? If you like both, which did you learn first? Do you combine the two when doing projects?