Lace weight yarn is delicate, but what do you use it for? The possibilities are endless! Read this post to find out more.
This post is part of my series of articles explaining everything about the topic of yarn weights.
Table Of Contents
What Is Lace Weight Yarn?
Lace weight yarn is the lightest weight of yarn in the Craft Yarn Council standards system. The number for this yarn weight is 0. (Products are commonly misspelled as lace weight yan.)
To be considered lace, a yarn must have a gauge of 33-40 stitches over 4 inches on US size 000-1 needles. This is the lightest and most delicate yarn weight, and it's difficult to find in chain craft stores. The ply varies depending on the manufacturer.
AKA – Light Fingering
Weight Category – Lace
Weight Number – 0
Wraps Per Inch (WPI) – 30-40+(4)
Ply – 1, 2 or 3
Knitting Gauge – 33-40 stitches over 4 inches
It's thicker than some crochet threads
It's thinner than all other yarns
It's important to note lace weight yarns are often knit on larger needles than US000-1 to create a more open lace pattern. Always swatch to test your gauge matches the pattern.
Lace Weight Key Facts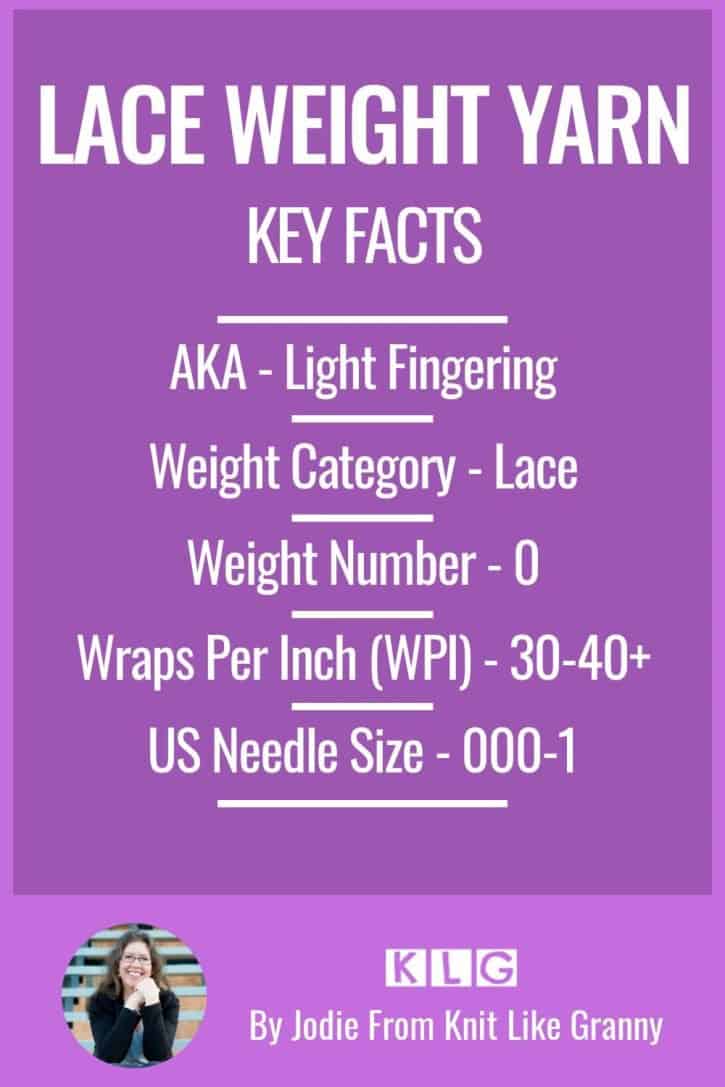 What Number is Lace Weight Yarn?
According to the Craft Yarn Council, Lace Weight Yarn is Number 0.(1) It's for delicate projects! It's the finest yarn category and the Number scale starts at 0.
Yarns In This Category
Here are the different types of lace yarn.
Cobweb – It's for delicate cobweb lace and is only 1-ply
Size 10 Crochet Thread – Super thin thread for crocheting on steel hooks
What's It Made From?
Any fiber content (fibre), but primarily a base of wool or fine merino wool or mulberry silk. Blends of the two are most common. Common ones include 100% Merino, 70% Wool, 30% Silk, and 70% Baby Alpaca, 30% Merino.
Rarer, but sometimes you'll find kid mohair yarn, cashmere or baby alpaca fibers, or a blend of those. The selection of the more expensive fibers are beautiful to knit with if they are within your budget.
It's often quite pricey so it is a good idea to purchase when on sale. Buying larger quantities may receive a discount. One tip is to sign up to your favorite yarn store's newsletter to keep in the loop of upcoming offers. That way you don't miss out!
Why Use It?
It's great for lacy summer projects because it's airy. It's also an ideal choice for lace projects with the lovely characteristics of softness and sheen. Remember some people find it impossible to use as its so delicate and fiddly. You need to be patient!
When you are winding your skein into a ball, take particular care to go slowly. There's a tendency for these yarns to get tangled when you create a ball. An idea I tried was to hold together fine mohair yarn with other bases to add texture and softness. This makes a bit thicker yarn and easier to knit.
Once you learn to create with fine yarn, it's a treat to use!
What If It's Held Double?
If you double it (knitting with two strands at once) it will become like fingering weight yarn. If you do this, swatch first because the gauge will be different.
‌Pin For Later
Uses For This Yarn
There are endless possibilities for this soft, loftily spun and plied yarn. Here are ideas for lace weight yarns to start with. Items like shawls, table runners, lace projects, hats, delicate and lightweight garments, doilies, tops, mandalas, and summer projects like summer tops and cardigans.
Large projects like wraps often feature designs of geometric shapes. It's one of the ways of showing off color and form! When you experience the finest merino wool, the high quality texture makes for a luxurious knitwear item.
Some yarns have a silk core with a halo of mohair. Anyone who has received gifts of this type of yarn can attest to the sheer luxury.
Lace Weight Yarn Patterns To Try
Here are lace weight yarn patterns. They feature wraps, scarves, shawls and sweaters. All these patterns have clear directions.
Looking for another shawl pattern? See the below video by Chandi from Expression Fiber Arts for inspiration. Chandi showcases her lace patterns.
Her Shunki Wrap has a lace design worked on the right side only, which is a plus. A lovely lightweight garment.
What Knitting Needles To Use
Here are the best tools to use with this.
US Needle Size – 000-1
For those of you in Canada, UK, Australia and New Zealand use Metric Needle Size – 1.5-2.25mm
Note: The above are guidelines only. Always swatch before starting a project.
Substitutions
If you've run out of this yarn or can't find it, use fingering weight instead. (It'll be slightly thicker, so test your gauge.)
Next up in this series is What Is Super Fine Weight Yarn?
FAQS About Lace Weight Yarn
How Do You Spot Lace Weight At Craft Stores?
It's tough to find it in stores. Few big brand craft shops have them in stock, and availability depends on the country the shop is based in. Dedicated local yarn shops will have a much better range, particularly of hand dyed yarns.
Here's what to look for.
It will be with the other fine weight yarns
The skeins are small
There isn't many yards per skein/balls (called yardage)
It's thinner than other yarns
The colors are sometimes in pastel or light shades
Keep in mind to buy everything you need for one project in one go, as lace yarns are done in dye lots.
How Popular Is Lace Weight Yarn?
It isn't as popular as other yarn weights because it's difficult to find and it's the lightest weight. It's also best suited to experienced knitters because it is often used for complicated lace knitting patterns.
It is often difficult to "frog" as in undo your work as the fine fiber can get easily tangled. Popular luxurious yarns for making beautiful projects and accessories come from companies like Knit Picks (also sells supplies like pattern books).
Here are brands I recommend. SweetGeorgia Yarns, Malabrigo, Hedgehog Fibres, and Lana Grossa, and Manos del Uruguay.
They have shipping options to several countries all over the world, including the United Kingdom, for a reasonable price. Sometimes they offer free shipping to the United States. See the website for more information.
A great sort of yarn for crocheters too! A small diameter hook is used with super fine yarns. Fine cotton thread is used to make delicate crocheted items.
Another option for somewhere to buy, are small businesses on Etsy selling handmade dyed yarn. Creating an account there in your own currency, gets you the best deals. There are Etsy sellers from all over the world including Belgium, Japan and Italy.
How Thick Is Lace Yarn?
It's the thinnest weight of yarn out of all the categories and produces a lightweight fabric. Yarn is measured in wraps per inch. A lace weight yarn has approximately 30-40+ wraps per inch.
Is Lace Yarn The Same As Sport Yarn?
No, lace yarn is much thinner than sport yarn. Lace yarn is 30-40+ wraps per inch and Sport yarn is 15-30 wraps per inch. Sport yarn/Number 2 is the third-lightest weight in the Craft Yarn Council standards system.
How Much Lace Weight For A Blanket?
Around 1500-1625 yards, (1372-1486m)
How Much Lace Fiber For A Sweater?
Around 2000-2500 yards, (1829-2286m)
How Much Lace Yarn For A Scarf?
Around 725-965 yards, (663-883m)
Are Lace Yarns The Same As 2 Ply?
Yes, in the United Kingdom, Australia and New Zealand, lace weight is called 2-ply.
Is Lace Weight Yarn The Same As Crochet Thread?
Yes Lace weight yarn is often the same thickness as crochet thread, though some threads are thinner than lace weight. Crochet thread and linen is often used in embroidery. Lace weight yarn has a measurement of 30-40+wraps per inch
Some crochet threads can be as thin as up to 60 wraps per inch.
It's light and a joy to knit with. Make shawls, table runners, socks, tops, and cardigans with beautiful results! The variety of lace patterns are incredible. Some knitters have even designed their own wedding dress.
Hope you found this guide on my blog helpful. If you have questions, ask in the comments below!
References
"Standard Yarn Weight System | Welcome to the Craft Yarn Council." 2018. Craftyarncouncil.com. 2018. https://www.craftyarncouncil.com/standards/yarn-weight-system.
How to Measure Wraps Per Inch (WPI) | Welcome to the Craft Yarn Council. "How to Measure Wraps Per Inch (WPI) | Welcome to the Craft Yarn Council." Accessed October 1, 2022. https://www.craftyarncouncil.com/standards/how-measure-wraps-inch-wpi.