I was looking for inspiration to knit a shawl and found the Slip Knit Love design by Lisa Hannes of Malihadesigns. I loved the design. I was keen to try a new technique and it seemed like mosaic knitting wouldn't be too difficult.
I reviewed, fact checked and updated this post on May 14, 2023.
The design used the method of Mosaic knitting. A colorwork method using slip stitches to create geometric shapes. Mosaic knitting creates beautiful graphic two-color patterns that look stunning and complex. I've also knitted an Ambah O'Brien designed shawl using this technique.
They're created with one color at a time and slipping stitches.
The yarns I chose were from Yarn Trader. I'd visited their delightful store on a trip to Adelaide in South Australia. I couldn't return to their store physically. But I hoped they'd be able to send photos of different yarns in the colors I'd decided upon, so I could order them online.
Want to see the best knitting tools to further your creativity? See my guide.
Blues and orange were the colors I wanted and I thought an electric blue, sky blue, and orange would work. Tanya, the owner of Yarn Trader sent me pictures of a selection of yarns in the blues and orange.
She sent 6 images, all with the Yarn Trader Studio Skinny Sock yarn in Electric City (darker blue) and Caladan Water (light blue) with a different accent color.
(See the pictures below.)
My eyes were drawn to the first image which included their Yarn Trader Skinny Sock yarn in Coral (orange color) for the accent color. I ordered the Yarn Trader Skinny Sock Yarns in the colorways Electric City, Caladan Waters and Coral and Chiaogoo circular needles in 3.5mm and 3.75mm. For more information about this brands other knitting tools see here.
I also requested the yarn skeins were wound into cakes which the team at Yarn Trader offer as part of their service.
It took a few weeks for the yarn and needles to arrive due to Covid-19 but when they did I was super excited! The Yarn Trader Studio Skinny Sock Yarn is a blend of 75% Superwash Merino and 25% Nylon. The 100g skein is 425m (460 yards) in length.
Yarn Trader offer international shipping but if you're looking for a beautiful yarn alternative try Knit Picks Stroll Tonal. The pattern was originally published as a Mystery Knit A Long. I used the written instructions but there's also a chart.
As it was a shawl the getting the gauge exact was not so much of an issue. This is what Lisa Hannes said about gauge:
Gauge isn't critical for this project, but differences will affect yardage requirements and the finished size. Be sure to use a larger needle size than may be recommended for your yarn to allow a good drape of the finished item.
Gauge on sample: 22 sts x 40 rows = 10 x 10 cm / 4 x 4" in garter stitch on smaller needle size after light blocking.
As with all patterns it's important to thoroughly read through the instructions.
It said this – On all RS rows the stitches are slipped with yarn in back. On all WS rows they are slipped with yarn in front.
With the first mosaic section I realised I hadn't followed these instructions. My version looked completely different to the image included in the pattern. I'd completed all the slipped stitches with the yarn in front.
Did I mention reading the pattern instructions thoroughly is IMPORTANT!
I ripped back to the garter stitch section and completed the first mosaic section again with all RS rows slipped with the yarn in back and the WS rows slipped with the yarn in front.
Knitting each of the five mosaic sections was such fun. The I-cord bind off was a technique I had not done before. It gave a lovely finish to the edge of the cast off.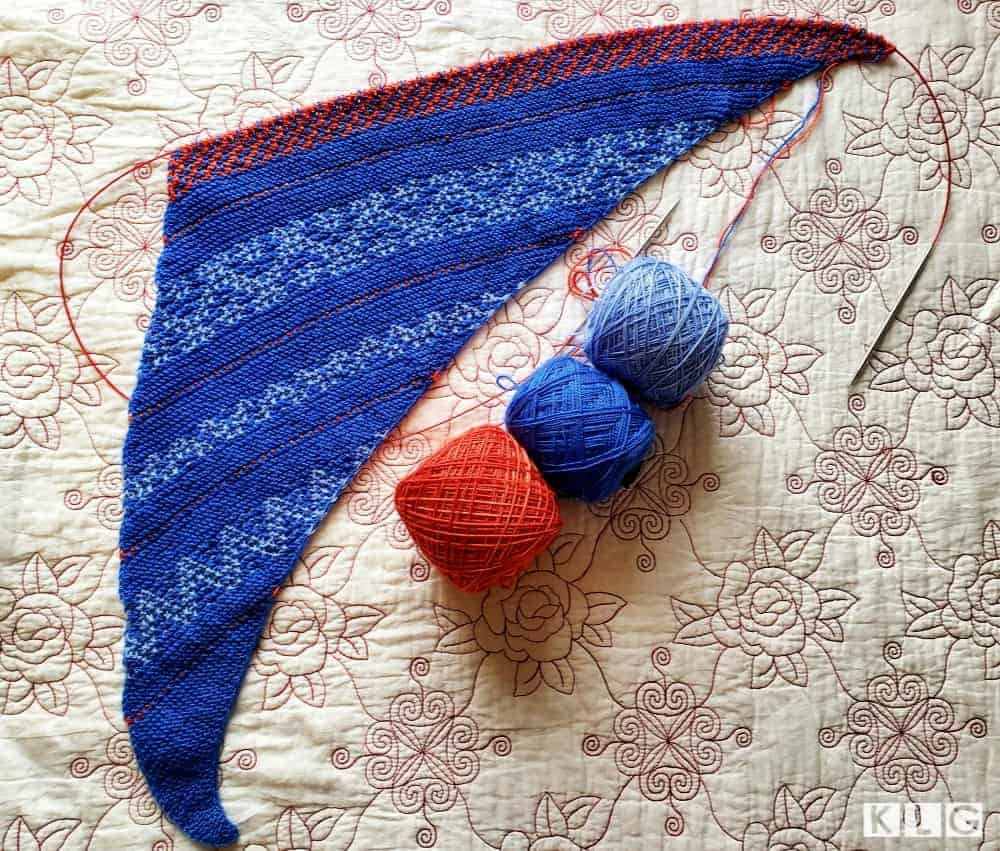 My finished shawl was significantly smaller than the schematic in the pattern which was – Length along top edge approx. 221 cm / 87" and depth approx. 54 cm / 21.25". My dimensions after wet blocking were smaller.
It didn't matter too much as I would be wearing it around my neck rather than my shoulders. The finished shawl felt so soft and warm. The color combination worked really well. Mosaic knitting was such fun and I was determined to find another project using that technique.
There was a fair amount of yarn left over in each of the colors. The coral accent color had the most left and I figured I had enough to make a pair of socks for my beloved Mum. The fiery orange leant itself well to a sock pattern I wanted to knit – The Smaug Socks by Claire Ellen.
Smaug is the name of the dragon in Lord Of The Rings. My darling Mum is fighting breast cancer and I wanted her to have the strength and fire to fully recover. I figured wearing dragon socks when receiving chemotherapy would symbolize her fire and strength.
There was also enough of the two blue yarns to finish a pair of socks. I was thinking at the time, I'd do stripes of different thicknesses.
Pin Now to Save for Later