Let's dive into picking the perfect sweater yarn! My advice in this article is perfect for newbies knitting their first sweater and to help you choose yarn you'll love.
Sweater Yarn: My Top Picks For Sweater Yarns
I'll show you what to consider when picking the perfect yarn. Next, I'll discuss what it's like knitting a sweater with different fibers and my top choices. Ready? Let's go!
I reviewed, fact checked and updated this post on May 17, 2023.
Table Of Contents
How To Choose Sweater Yarns
Here is what to consider when choosing sweater yarns.
Seasonal Sweater Yarn
If you're making your garment for winter, my favorite fiber to use is merino wool. It's soft, durable, and isn't scratchy on my skin, unlike some other sheep's wool.
Plant fibers are cooler to wear but stretch easier, so options like cotton, silk, or linen are perfect for the summer months.
Natural fibers are often better for sustainability. Synthetic fibers like acrylic and polyester are cheaper but may not breathe as well or hold up as well over time.
What Care Does It Need?
While winter sweaters don't need constant washing, they still need a good clean every so often, and you don't want to make the process painful! I don't mind handwashing my knits as I want to ensure they last as long as possible.
Still, doing your laundry in the washing machine and dryer is much easier, especially for a clothing item as large and heavy as this! Acrylic yarns are great for easy care, natural fibers need more attention.
What Weight Of Yarn?
This is the most important factor to consider! I'd recommend using fingering/fine weight yarn as it's just the right thickness for this project. However, if you're a beginner, you might find it fiddly to knit with, so try a sport or DK yarn instead.
A heavier weight is good if you like garments with structure, however the drape isn't often as good, so it's crucial to strike a balance.
Yes, bulky sweaters look fabulous but keep in mind they're difficult to knit and they're heavy to wear! They're only good if you live in a cold climate. For colder months, use thicker yarns like worsted, while for warmer months, use sport or DK.
If you're using a pattern, follow the recommended yarn weight for the best results.
What Are The Options For Sweater Yarn Colors?
When I'm making a sweater, I like to use bold colors because I love how the combination of bright shades and feeling cozy is an instant boost of happiness in the colder months. Neutral tones look lovely too though.
Consider who the sweater is for: yourself, a friend, a child? When choosing yarn for children's sweaters, it's best to go for durable and machine-washable acrylic yarn in the kid's favorite color.
If you're buying a yarn that's dye lotted, remember, colors vary between different dye lots, even if they're labeled as the same shade. Buy all you need at once.
How Much Yardage?
Be prepared to buy many balls as you'd be surprised by how much yarn these clothing items need. It was a bit of a shock the first time I knitted one! If you're a beginner, have a couple of extras on hand too in case you make mistakes.
Once you've selected your pattern and calculated the required yardage, ensure you purchase all the yarn you need in one go.
Don't be like me and forget to double-check how much yardage you need before buying. I ran out of yarn close to my project's completion! Having to wait an additional two weeks for the yarn to arrive was frustrating, especially when I was eager to wear the new sweater.
What's Your Choice Of Budget?
With the amount of yarn required to knit one of these, the price adds up!
I've noticed yarns specifically advertised as "budget" or "value" yarns aren't great quality, and they don't last as long or feel as nice as other choices. Sweaters are such an investment of time and skill, so I recommend choosing a yarn to last.
Acrylic is more affordable than wool, and a blend of both is usually economical.
Patterns To Choose From: What Finished Look Are You Aiming For?
There's nothing I like more than scrolling through Pinterest and Ravelry looking for sweater knitting patterns! There's no shortage of great sweater designs to choose from, and your next dream sweater pattern project is only a google search away.
You need soft but durable yarn, as I find sweaters made with super soft yarn feel great but they don't last as long! On the other hand, durable yarns last forever, but they don't feel as nice.
Single-ply yarns are softer but less hard-wearing than plied yarns, so in my opinion, they're not the best choice. Sweaters also need structure, so something to keep in mind is animal fibers tend to hold their shape better than plant fibers.
What Style Of Sweater Are You Making?
Before you can pick the perfect yarn, take a moment to consider the style of your sweater. For example, a chunky cabled sweater may require a sturdy, warm yarn, while a lightweight lace design might call for a delicate, airy fiber.
Intricate cables or textured stitches might call for a smooth, plied yarn to showcase the stitchwork, while a simple stockinette pullover might benefit from a more luxurious, haloed yarn such as mohair or alpaca.
A layering piece may require a more drapey yarn that allows for easy movement. For those drawn to the modern yoke sweater, colorwork is a factor, so selecting yarns with a wide range of hues and good stitch definition is essential.
Oversized or slouchy, relaxed-fit sweaters call for a more lightweight yarn, allowing the garment to maintain its shape without becoming too heavy or bulky.
Sizing Tips
When you're making a sweater, don't be like me and forget to double check the bust/chest, arm, and torso measurements before you choose how much yarn to get!
To achieve the desired fit, I've found it's crucial to knit a gauge swatch before beginning your project. This square of knitting will help you determine if you're on track to achieve the pattern's specified stitch and row counts.
Another helpful sizing tip is to consult the pattern's schematic, which provides detailed measurements for each size. Take the time to measure yourself or the intended wearer, and compare these measurements to the schematic.
Consider any desired modifications, like adding extra length to the sleeves or body, or adjusting the fit for a more tailored or relaxed look. Keep in mind different yarns and fibers behave differently when it comes to drape and stretch.
Pin For Later
Wool
Knitting sweaters with wool is a timeless tradition! Wool is warm, resilient, and offers excellent stitch definition, making it ideal for many sweater styles.
Different breeds of sheep produce wool with varying characteristics. For instance, Merino wool is known for its exceptional softness and warmth, making it an excellent choice for cozy, luxurious garments. A more rustic breed like Shetland wool may be better suited for textured stitch patterns and colorwork.
Wool is prone to felting, so handle your yarn gently and avoid excessive agitation, particularly when washing your finished sweater. Also consider how the natural elasticity of wool may affect your sweater's fit and drape. This characteristic can make wool garments comfortable and forgiving, but it's essential to keep in mind.
Here are my top recommendations for wool yarns.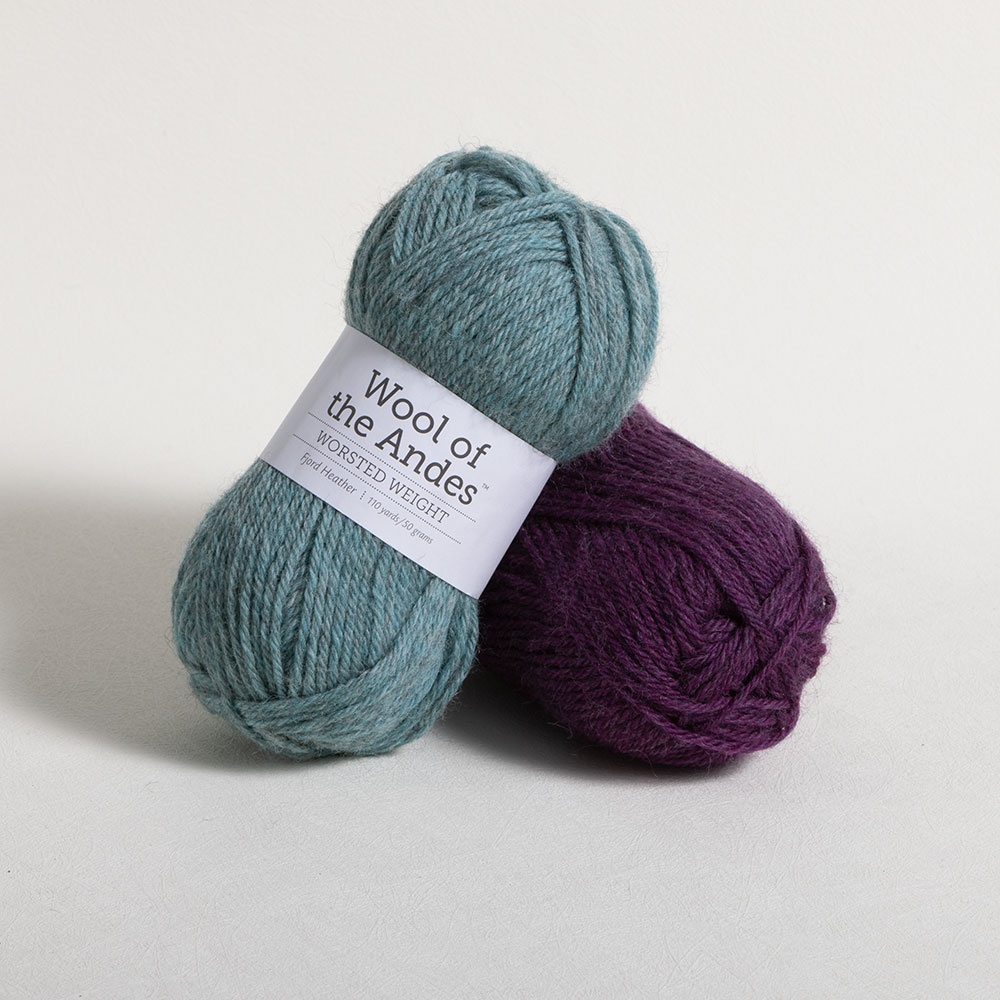 Item Specifications
Care: Hand wash, dry flat
Fiber Content: 100% Peruvian wool
Needle Size: US 6-9 (4mm-5.5mm)
Skein Weight: 1.76 oz (100g)
Weight: Worsted
Yardage: 110 yards (101g)
Product Design: Made from 100% Peruvian Highland Wool, this yarn is strong and soft, with an excellent balance of structure, loft, and drape. Its stitch definition is fantastic, and it's ideal for projects that require intricate stitches. The worsted weight is perfect for everyday sweaters.
Unique Factors: What sets it apart is its ethical sourcing. It's a versatile and reliable yarn for your knitting projects and wool sweater.
Pros
Good color selection.
Affordable price.
Holds shape well.
No pilling.
Cons
Splits easily.
Inconsistent weight (some say it's more like a DK weight).
Colors may not match the online photos.
Sweater may stretch out after wearing.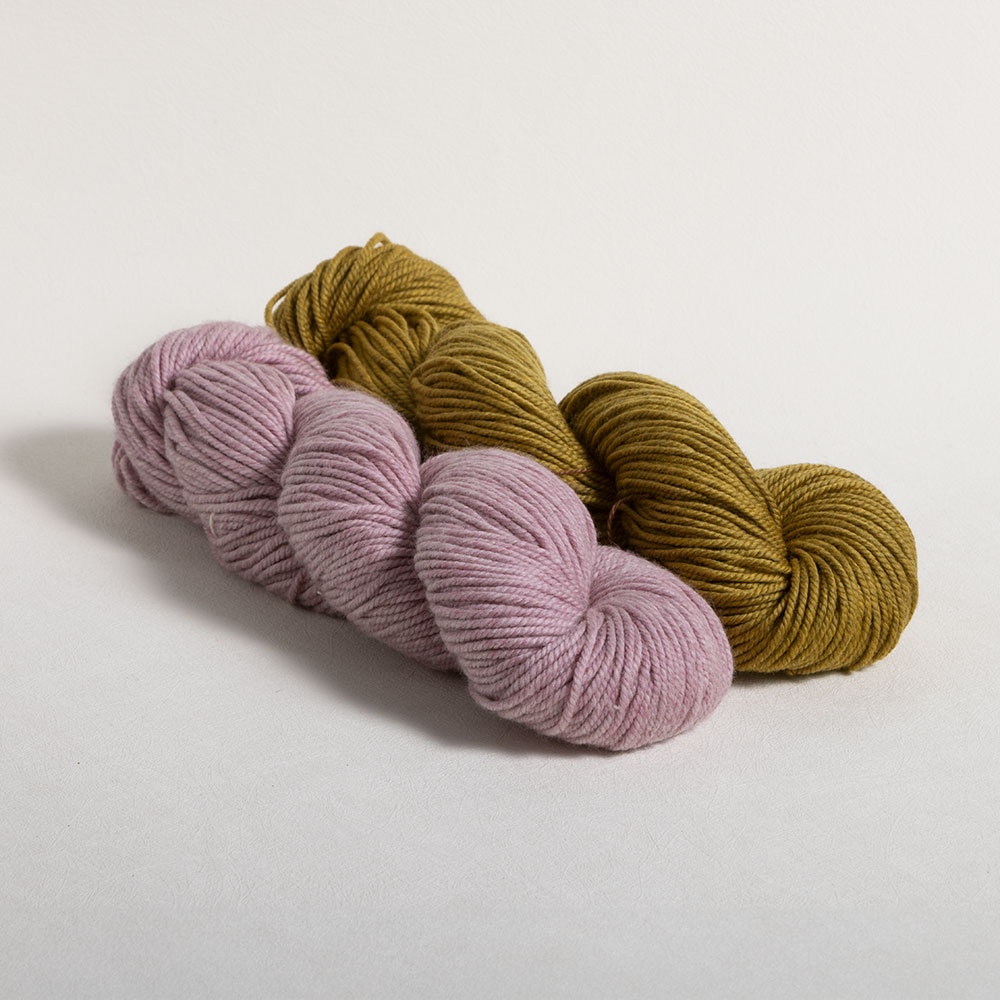 Item Specifications
Care: Machine wash and dry
Fiber Content: 100% Superwash Merino
Needle Size: US 6-9 (4mm-5.5mm)
Skein Weight: 3.5 oz
Weight: Worsted
Yardage: 149 yards (136m)
Product Design: The 3-ply twist and the dense texture of this 100% Merino wool yarn provides an excellent stitch definition, whether it be intricate cables or straightforward stockinette.
The yarn's structure allows for a satisfying bounce, making knitting with it a joy. Also the luxurious softness of Twill yarn combined with its lovely sheen and machine-washable convenience make it an excellent addition to any knitter's stash.
Unique Factors: One of the standout features of Twill yarn is its unique ability to block beautifully, ensuring finished projects maintain their structure. The yarn's substantial weight and bouncy texture lend themselves to projects that require a bit more structure and support, such as fitted garments and a jumper.
The next-to-skin softness of Twill yarn makes it perfect for projects worn close to the skin, providing a comfortable and cozy experience.
Pros
Soft and squishy texture.
Excellent stitch definition.
Vibrant and true-to-color options.
Works up into dense and durable finished products.
Machine washable and long-lasting.
Good for a crochet sweater too.
Cons
Some colors may appear lighter than in online images.
Some skeins have multiple poorly joined sections.
May split while working with it, which could be challenging for beginners.
Slightly on the smaller side of worsted weight.
Limited color options available.
Acrylic
Knitting sweaters with acrylic yarn is popular among knitters, as it's budget-friendly, lightweight, and easy to care for. Choose high-quality acrylic yarn with a soft feel and good drape, as this impacts the comfort of your finished garment.
Pay attention to your tension, as acrylic yarn has less elasticity than natural fibers like wool. This means that tightly knit stitches may not "bounce back" as easily. Be mindful of stitch patterns, as acrylic yarn may not showcase intricate details as effectively as natural fibers. Simple stitch patterns often work best.
Also, acrylic yarn doesn't block the same way as natural fibers. "Killing" helps even out stitches and improve the drape of your garment, but the change is permanent.
With these tips in mind, here are my favorite acrylic yarns.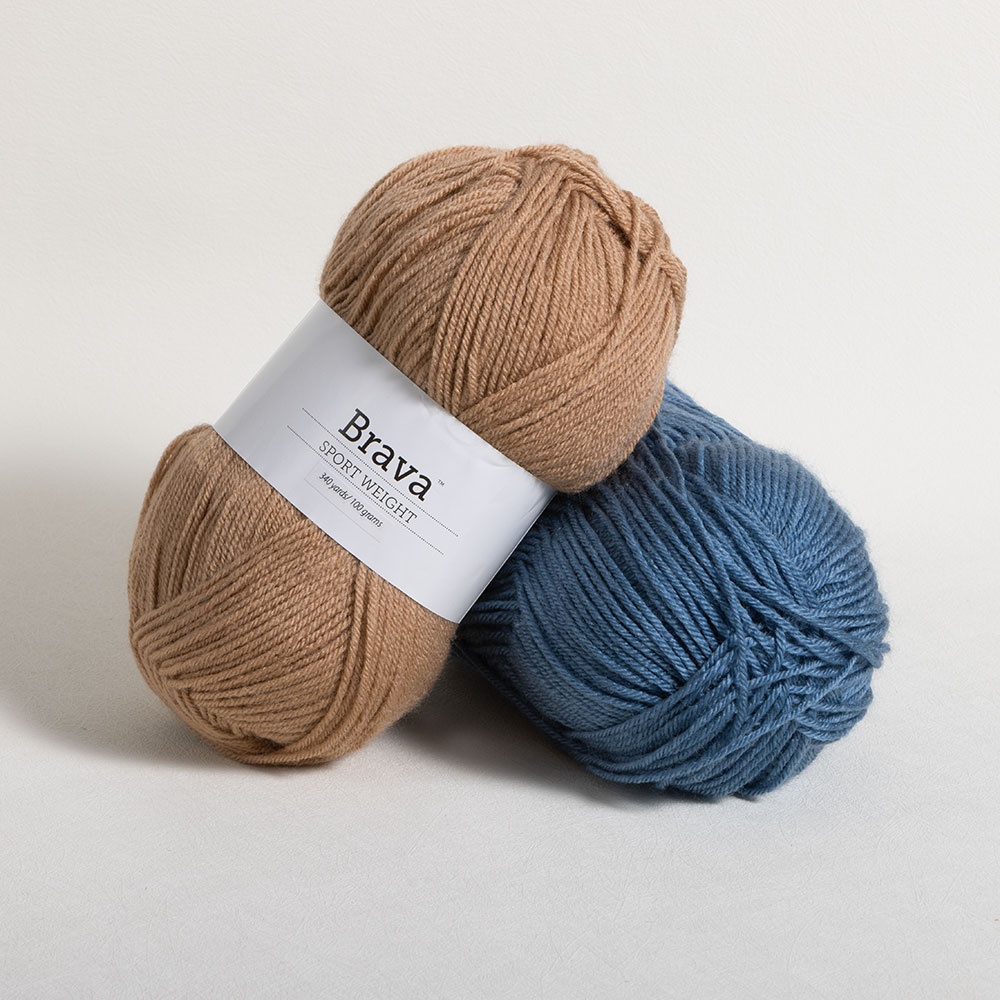 Item Specifications
Care: Machine wash and dry
Fiber Content: 100% premium acrylic
Needle Size: US 3-5 (3.25mm-3.75mm)
Skein Weight: 3.5 oz (100g)
Weight: Sport
Yardage: 340 yards (311m)
Product Design: Brava yarn is versatile, durable, and affordable. Its composition makes it have a gentle feel, hypoallergenic, and easy to care for. With a range of shades and generous yardage, Brava is perfect for colorful, affordable sweaters whether you knit or crochet.
Unique Factors: It's machine washable and dryable so it's easy to care for, and the price point makes it suitable for new knitters.
Pros
Soft texture.
Generous color selection.
Good for making large projects.
Suitable for sensitive skin.
Hypoallergenic.
Cons
Inconsistent thickness and weight.
Color can differ from online photos.
Not true to the sport weight label.
Some colors have a neon hue.
Knots in some skeins can be frustrating.
Item Specifications
Care: Machine wash and dry
Fiber Content: 100% Acrylic
Needle Size: US 8
Skein Weight: 6 oz
Weight: Worsted
Yardage: 315 yards
Product Design: This 100% acrylic yarn is soft and lightweight, making it easy to work with while also providing a comfortable feel when worn. This yarn is machine washable and dryable, providing easy care for finished items. Great for crochet projects too.
Unique Factors: There's no dye lots, so you can always count on their color consistency! The range of trendy colors offers options for various projects.
Pros
Super soft yarn.
Comes in a variety of vibrant colors.
Good for making garments.
Works up quickly.
Price low
Cons
Yarn can separate into separate strands.
Inconsistent skein weights sometimes.
Yarn may unravel easily.
Blends
Choosing yarn blends for knitting sweaters is an excellent way to enjoy the best qualities of various fibers. When selecting a blend, consider the properties you desire in your finished sweater.
Are you seeking warmth, breathability, or a luxurious feel? Blends often include wool for warmth and elasticity, cotton for breathability and softness, or silk for a touch of elegance and sheen. Keep in mind each blend behaves differently.
Here are some tips for knitting sweaters with yarn blends:
Mind your stitch pattern: Yarn blends showcase stitch patterns differently, depending on the fiber combination. Choose stitch patterns that complement the blend's qualities, such as cables for wool blends or lace for cotton blends.
Consider ease of care: Some blends require hand washing, while others are machine washable. Think about your lifestyle and the intended recipient when selecting a blend, as proper care extends the life of your sweater.
Be prepared for yarn substitutions: If your pattern calls for a specific yarn, you might need to substitute with a similar blend.
With that in mind, here are my favorite blends for knitting sweaters.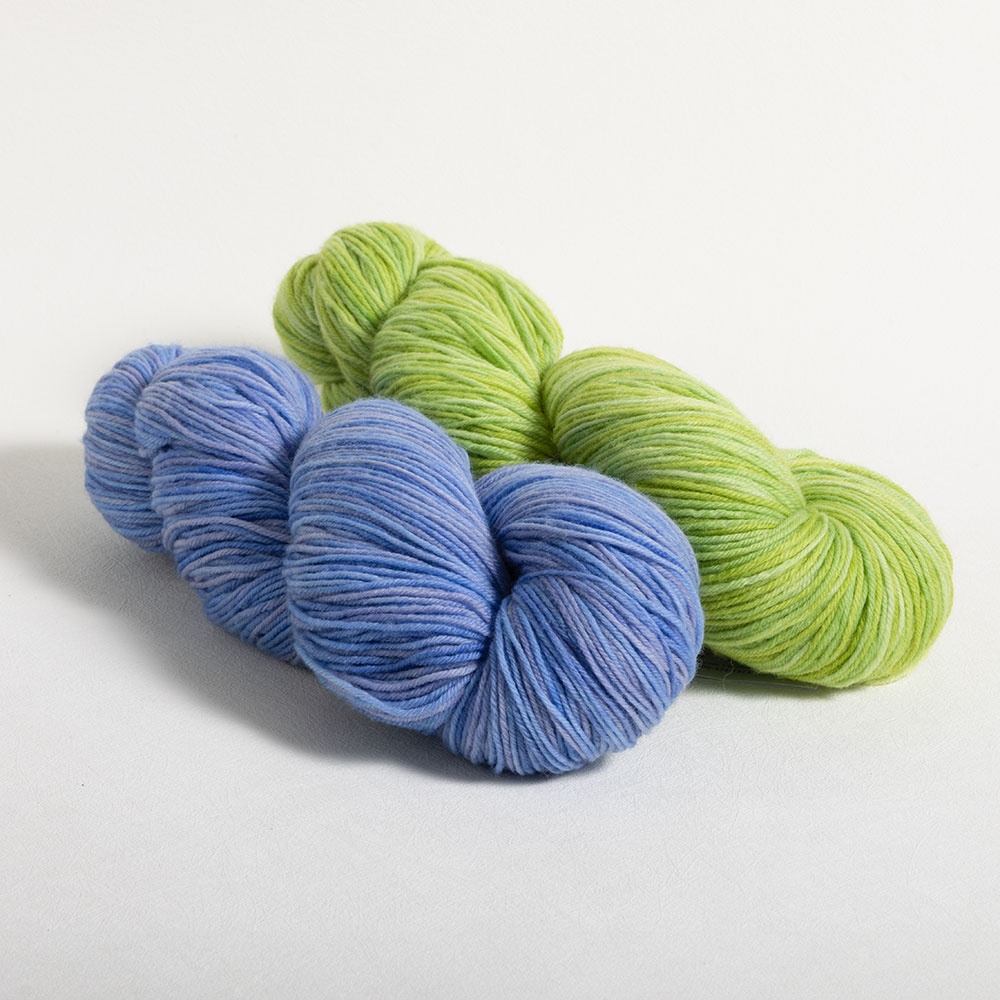 Item Specifications
Care: Machine wash and dry
75% superwash merino/25% nylon
Needle Size: US 1-3 (2.25mm – 3.25mm)
Skein Weight: 3.5 oz (100g)
Weight: Fingering
Yardage: 462 yards (422m)
Product Design: The blend creates a durable and long-lasting knit, making it perfect for projects that require easy care. The tonal spectrum creates a subtle variegation that adds interest to stitch patterns without overpowering them.
Unique Factors: It's not only soft to the touch, but also a delight to work with, making it ideal for any knitter. Another standout feature is its versatility.
Pros
Beautiful colors.
Soft texture.
Excellent for crochet sweaters too.
Economical to purchase.
Good stitch definition.
Holds up well in the washer and dryer.
Cons
Some weird color distribution.
Yarn may be fuzzy and split.
Some colors may not match the online image.
May pill.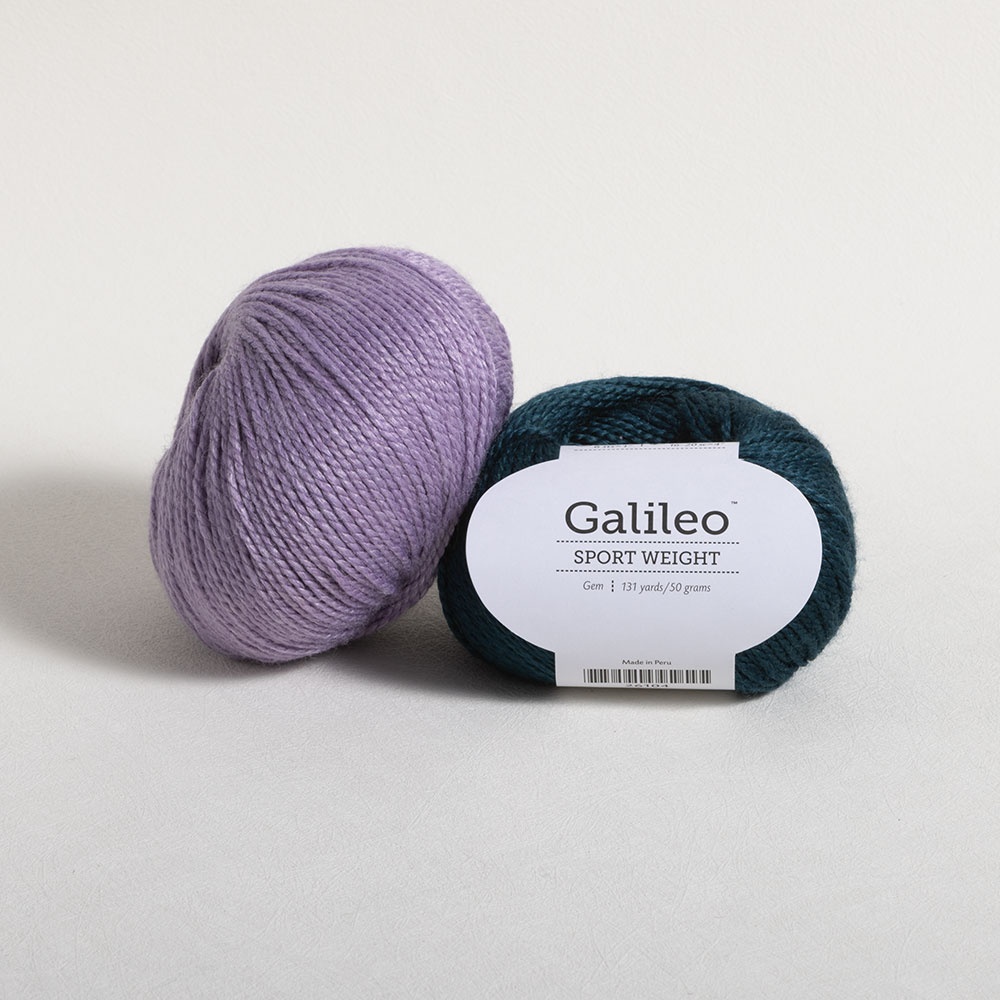 Item Specifications
Care: Hand wash, dry flat
Fibers: 50% Merino/50% bamboo
Needle Size: US 3-5 (3.25mm-3.75mm)
Skein Weight: 1.76 oz (50g)
Weight: Sport
Yardage: 131 yards (120m)
Product Design: The combination of Merino wool and bamboo produces a luxurious sport weight yarn with excellent elasticity and drape. Its brilliant luster reflects light, making it ideal for textured stitches and sophisticated details.
Unique Factors: Its softness and hypoallergenic properties make it suitable for sensitive skin.
Pros
Soft and easy to work with.
Lovely sheen and stitch definition.
Beautiful colors to choose from.
Good for making clothing.
Holds up well and has bounce and memory.
Free shipping for orders over $65 USD
Cons
Dye may run when washed.
Limited color selection.
May stretch too much for some projects.
Can slip off the needles easily.
Other Fibers
When knitting sweaters, consider alpaca, bamboo, or cotton yarns for a touch of uniqueness. Each fiber has special qualities to make your sweater exceptional. Let's dive into some tips for knitting sweaters with these yarns.
Alpaca yarn, with its luxurious softness, is perfect for cozy sweaters. Lightweight and warm, its luster adds elegance to your piece. Choose stitch patterns like lace or ribbing that highlight its drape, but blend it with another fiber for added stability.
Bamboo and cotton yarns offer lightweight, breathable options. Silky and moisture-wicking, bamboo is great for warm weather garments. Versatile cotton comes in various textures, suited for all styles. Opt for stitch patterns like stockinette or openwork to showcase their drape, and use ribbing for added stretch and shape.
With that in mind, here's a great bamboo yarn I recommend for summer sweaters, and an excellent alpaca yarn for cool weather.
Item Specifications
Care: Machine wash, dry flat
Fiber Content: 100% Bamboo
Needle Size: US 6 (4mm)
Skein Weight: 3.5 oz (100g)
Weight: DK
Yardage: 241 yards (220m)
Product Design: Truboo offers a soft and subtle sheen with excellent drape. It's perfect for creating lightweight garments for spring and summer.
Unique Factors: It's easy to work with and offers a smooth and even texture that creates a beautiful fabric. Plus, bamboo is eco-friendly, naturally antimicrobial, and moisture-wicking.
Pros
Soft and silky feel.
Beautiful sheen.
Drapes well.
Great for summer.
Lovely stitch definition.
Cons
Can be slippery and prone to splitting.
May require extra attention while working with certain stitches.
May require a little extra effort to work with.
Can snag easily.
Item Specifications
Care: Hand wash, dry flat
Fiber Content: 50% Alpaca 50% Wool
Needle Size: US 5 (3.75mm)
Skein Weight: 1.8 oz (50g)
Weight: DK
Yardage: 145yds (133m)
Product Design: Berroco Ultra Alpaca Light offers a super soft and lofty feel with excellent drape. It's perfect for creating lightweight garments that keep you warm in the cooler months.
Unique Factors: It's easy to work with and the yarn glides over your needles. Alpaca fiber has fine hairs that are noticeable but this doesn't detract from the overall superior feel. In fact it offers texture and interest.
Pros
Super soft.
Beautifully warm
Drapes well.
Great for the cooler months.
Lovely stitch definition.
Cons
Can be slippery and can shed a little.
May require extra attention while working with certain stitches.
High price
My Recommended Yarn For Sweaters: Comparison Chart
FAQs About Yarn For Sweaters
What's The Softest Yarn?
The softest yarn for a sweater is Caron Simply Soft. I find it's lovely and smooth without being difficult to knit with, and the premium acrylic has a luxury feel.
What's The Warmest Types Of Yarn?
The warmest yarn for sweaters is Twill. When I'm knitting, I like using this because it's super soft while still gripping the needles well.
What's The Most Durable Yarn?
The most durable yarn for sweaters is Wool Of The Andes. I've noticed it's strong and elastic without stretching too much or loosing shape, and the wool is still soft.
Can You Use Some Of These Yarns For Other Projects?
Yes, you can use sweater yarns for other projects types like garments, winter accessories, shawls, and wraps.
Can I Machine Wash A Sweater Made With Yarn?
Yes, you can usually machine wash a sweater made with yarn if it's superwash wool or synthetic. Always check the yarn label.
What's A Good Yarn For Knitting Sweaters For Babies?
A good yarn for knitting sweaters for babies is Brava Sport. This fiber type has a soft feel so it doesn't itch, and it's good for people with sensitive skin.
What's A Good Yarn For Knitting Sweaters For Charity?
A good yarn for knitting sweaters for charity is Brava Sport.
What Is Sweater Weight Yarn?
Sweater weight yarn is another name for fine weight yarn, number 2 on the chart of yarn weights as outlined by the Craft Yarn Council. It's perfect for sweaters!
What's The Best Yarn For A Beginner Sweater Knitter?
The best yarn for a beginner sweater knitter is Caron Simply Soft. In my experience, it's affordable while having the desirable qualities of a high-end yarn.
Is Wool Or Acrylic Yarn Better For A Sweater?
It depends! If you want a warm, breathable sweater, wool is good because I find it's dirt-resistant and pleasant to knit with. However, wool requires handwashing and is more expensive than acrylic. Acrylic yarn is easier to care for, but it can pill.
Is 100% Cotton Yarn Good For A Sweater?
Though cotton yarn is strong, durable, and machine-washable, and it gets softer after you wash it, I wouldn't recommend it for a sweater. It doesn't have elasticity, which makes it a poor choice for a sweater that needs to hold its shape. However, it's great for a loose summer garment!
My Top Pick For Sweater Yarn
Of the products I researched, reviewed and tested, I liked Wool Of The Andes the most. Based on my experience, the exceptional range of colors and the luxurious softness makes a delightful sweater. It's not just me! So many reviews from happy knitters can't be wrong.
So there you have it! Picking the perfect pattern is the key to knitting a fabulous sweater. With the suggestions I've shared, you're all set to show off your knitting talents. Do you have tips up your sleeve? I'd love to hear from you.