Looking for a sustainable, smooth yarn? Bamboo fibers might be the perfect choice. I explore what bamboo yarn is, and ways to use it for knitting.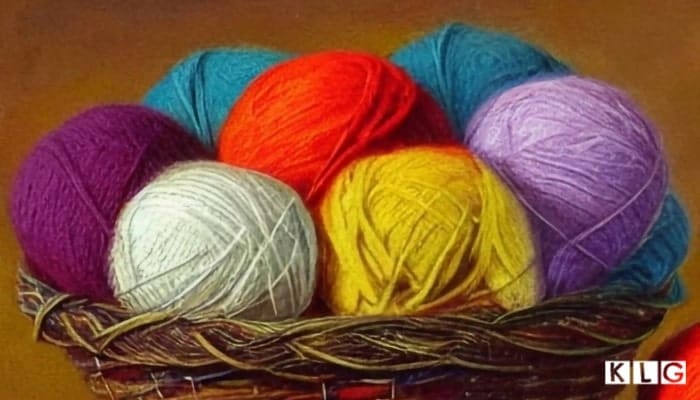 Table Of Contents
What Is Bamboo Yarn?
Bamboo yarn is a natural fiber sold at moderate prices. This fiber is popular because it's eco-friendly, sustainable, cool, and soft. They're smooth and great for warmer climates. Just like cotton, it's available in all colors of the rainbow. Great for summer garments and accessories. For more information about popular yarns for summer see here.
It's a relatively new knitting yarn, but it's been embraced for a good reason! It will suit almost any project. Here is a video tutorial by Jayda from Jayda In Stitches on what this yarn is and its properties.
This helpful guide will walk you through using it to make knitted creations.
Where It Comes From
Bamboo yarn is made from the pulp (cellulose) of the bamboo plant (AKA bamboo grass.)
How It's Made Into Yarn
The pulp is processed to create a fiber that's spun into yarn.
What's The Difference Between Modal, Rayon, Tencel Or Viscose Yarn?
Bamboo yarn is often compared to other plant-based fibers like modal, rayon, tencel, and viscose. They're all processed fibers made from cellulose but the manufacturing process is different.
Tencel is made by a closed-loop system where the chemicals used are recycled. It's more expensive than bamboo yarn.
Modal is made in an open-loop system and the chemicals are released into the environment.
Rayon is also made in an open-loop system, but it's harsher on the environment than modal because of the chemicals used. It's less expensive than bamboo yarn.
Viscose is made in an open-loop system and the chemicals are released into the environment. It's less expensive than bamboo yarn.
Making bamboo yarn is like viscose, but the chemicals less harmful.
How To Wash Bamboo Yarn
Here are the care instructions for bamboo fibers. Bamboo yarn is best washed by hand in cool water, using a mild detergent. Avoid agitating the fabric, as this damages the fibers. Lay your garment flat to dry, out of direct sunlight.
Blocking isn't necessary, but if you do so, use low heat. Test a swatch before using the ball/s for the main project. Always check the yarn label for instructions specific to the yarn you're using.
Does It Shrink When Washed?
Bamboo yarn may shrink when washed for the first time. Follow the care instructions above to avoid any issues.
How To Soften Bamboo Yarn
Here is a quick and easy method to soften bamboo yarn.
Fill the sink with cool water
Add a small amount of baby shampoo
Submerge the knitting project in the soapy water
Let it soak for 15 minutes
Drain the water
Rinse the yarn thoroughly in cool water
Gently squeeze the yarn to remove excess water
Lay the yarn flat to dry, out of direct sunlight.
Washing it after you've finished knitting always helps!
Pin For Later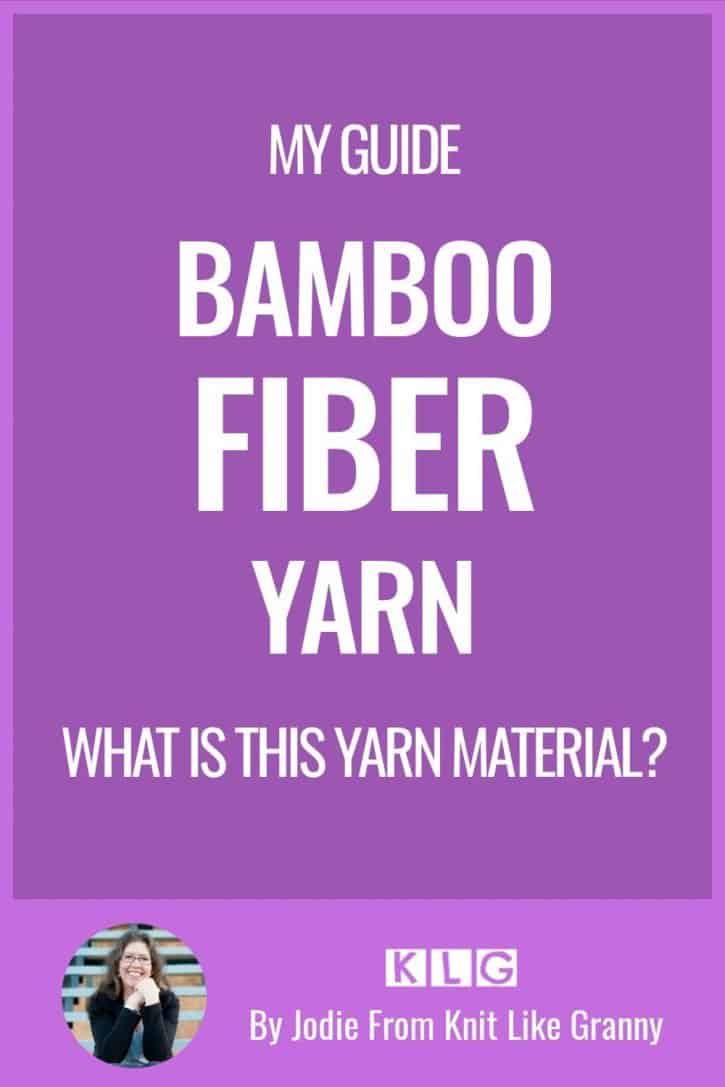 What Do You Use It For?
Wondering whether you should use it to make a project? Here's why this fiber is used to make yarn. It's often used for projects and things like summer garments, shawls with beautiful drape, summer tops, baby clothes, other types of crafts like crochet, and accessories.
I wouldn't recommend it for sweaters, though because over time it can stretch and loose shape. Here is a video tutorial by Carla from Servant Crafts on the advantages and disadvantages of using this fiber.
It's a must-watch for anyone who wants to know about what this yarn is good for and what it isn't. When woven with other yarns, some fashion brands are incorporating it into their clothing for sustainability.(3)
Common Blends Using This Fiber
Here is a list of common blends using this yarn, and why they're created.
Linen – for a summery feel
Cotton – for an airy feel
Silk – to add softness, drape, and shine
Wool – for extra warmth
Sometimes it's blended with materials like wool and nylon, making it a good choice to knit socks with.
Where To Find It
Here's where to find this yarn: at a yarn store or craft stores in your area, at big box stores like Michaels, Walmart and Joann, and online brand shops sometimes sell it. Here are brands or manufacturers of bamboo yarns to try: Lion Brand Truboo Yarn.
What's The Price Like?
Bamboo yarn is priced at a moderate level, making it a purchase affordable for most people.
Interesting Facts
Want to know some fascinating tidbits about this material? Impress your friends with these.
Bamboo is one of the fastest-growing plants on Earth, and can grow up to four feet in a single day!
It has a natural sheen and feels like silk, so it's an excellent, more affordable alternative to silk(1)
The plant is used in construction and furniture for its strength
This fiber is biodegradable
These fibers are slippery, so many knitters recommend using plastic needles when knitting with bamboo
It evaporates moisture, but loses some of its durability when it's wet or soaked. To protect it, I wouldn't recommend using it for things needing frequent washing
Some lower quality bamboo yarn tends to split
Many makers cut the top off sections of big bamboo stalks to make cups and bowls(4)
FAQS About Bamboo Yarn
Is Bamboo Yarn Safe For Babies?
Yes, it's safe for babies because it's a natural fiber. The fabrics bamboo yarn creates is soft.
Is Bamboo Yarn Ethical & Eco-Friendly?
It's a renewable resource, and unlike trees, there's no killing the plant when it's harvested. It uses little water and clumping varieties are great for farming on small patches of land.(2) When it's an adult plant, it only takes a few months before it's ready for harvesting again.
It also produces more oxygen than most trees and prevents soil erosion – an issue when producing other fibers. Unfortunately, turning it into yarn requires the use of some chemicals. Check the brand, the sellers or the shop you buy from confirms its sustainability.
What Can I Make With Leftover Bamboo Yarn?
You can make anything you want! Here are ideas: a summer scarf, a light shawl, a baby blanket, or a set of coasters.
Is Bamboo Yarn Itchy?
No, it's not itchy because they aren't made with animal fibers.
Is Bamboo Yarn Good For Clothes?
Yes, it's good for clothes because it's breathable, soft and lightweight.
Is Bamboo Yarn Good For Winter?
No, it's not good for winter because it's cool, but if it's blended with animal fibers like wool, it makes a warm fabric.
Is Bamboo Yarn Good For Summer?
Yes, it's good for summer because it's airy.
Do Bamboo Yarns Pill?
Bamboo yarn doesn't pill as much as other fibers. If you find your garment pills, gently remove them with a fabric shaver.
Can You Dye Bamboo Yarns?
Yes, you can.
What Is Bamboo Yarn Good For?
Summer wraps, lightweight cardigans, shawls, baby items, and tops are great for bamboo yarn (and bamboo blends).
Is Bamboo Yarn Softer Than Cotton?
It's softer than cotton. Its sheen and drape is a great feature for any garment, and also feels pleasant against your skin.
Is Bamboo Better Than Cotton?
Bamboo is more sustainable than cotton. Bamboo also doesn't require pesticides, fertilizer, or as much water as cotton, and insects and pathogens hardly affect it.
Does Bamboo Fabric Keep You Warm?
Bamboo keeps you warm thanks to its great thermoregulatory properties. Bamboo is also a lot warmer than cotton.
Is Bamboo Yarn Good For Socks?
Yes, bamboo yarn is good for socks because it's a soft, natural fiber with antibacterial properties.
How Soft Is Bamboo Yarn?
Its softness is often compared to cashmere.
Can I Use Bamboo Yarn For Dishcloths?
Yes, bamboo yarn can be used for dishcloths. It's absorbent and doesn't mildew as easily as other fibers.
Conclusion
Happy crocheting or knitting! Hope you enjoyed this article. Do you have questions? Please leave them below!
References
Utah State University. n.d. "Bamboo You Can Wear." Usu.edu. Accessed October 14, 2022. https://extension.usu.edu/archive/bamboo-you-can-wear.
Waite, Marilyn. 2009. "Sustainable Textiles: The Role of Bamboo and a Comparison of Bamboo Textile Properties-Part 1." Journal of Textile and Apparel Technology and Management 6 (2). https://ojs.cnr.ncsu.edu/index.php/JTATM/article/view/651.
Nivedita. 2022. "World Bamboo Day: A Look at How Fashion Designers Are Using Bamboo in Their Collections." Free Press Journal. September 18, 2022. https://www.freepressjournal.in/weekend/world-bamboo-day-a-look-at-how-fashion-designers-are-using-bamboo-in-their-collections.
Shende, Shruti. 2022. "Bamboo and Its Benefits." The Hindustan Times, September 18, 2022. https://www.hindustantimes.com/lifestyle/art-culture/bamboo-and-its-benefits-101663493958054.html.