Great to have you here 🙂
In this post, we share all the wonderful Summer Yarn to use for knitting in the warmer months.
Looking for something specific? See our table of contents below.
Something we forgot? Leave a question or comment at the end.
Table of Content
Best Summer Yarns
When you think of summer, one doesn't immediately think of knitting.
Most of us relate more to knitting in the fall and winter seasons.
Wearing cozy, warm knits made of wool, alpaca, mohair, and angora.
We tuck ourselves under snugly blankets and wear warm shawls around our shoulders.
Yet, the colder months are not just for knitting, spring and summer inspires and unleashes all sorts of knitting creativity!
In summer the yarns that you'll be wanting to experiment with and use are plant fibers.
In this post, we share all the considerations for using Summer Yarn.

A Knitted Summer Sweater
Summer Yarns
Think of summer yarns being light, soft, rich, and in beautiful colors.
When knitted up, they offer cool breathability and lovely drape.
People often comment that knitting with animal fibers during the warmer months makes them feel heavy and sticky.
The yarns mentioned below will be able to be worn right away in Spring and Summer.
The best thing is they are comfortable to work with even when it is warm. 🙂
Gorgeous Summer Yarns made from cotton, linen, bamboo, silk, hemp, and blends of these yarns.
Expert knitters swear by bamboo/silk or bamboo/cotton mix due to its breathability.
Other blended yarns are cotton and merino.
Another excellent yarn mix is cotton and linen. Choose any type of summer knitting pattern with these yarns; cool sweaters and loose vests for these yarns.
"Properly practiced, knitting soothes the troubled spirit, and it doesn't hurt the untroubled spirit either."
― Elizabeth Zimmermann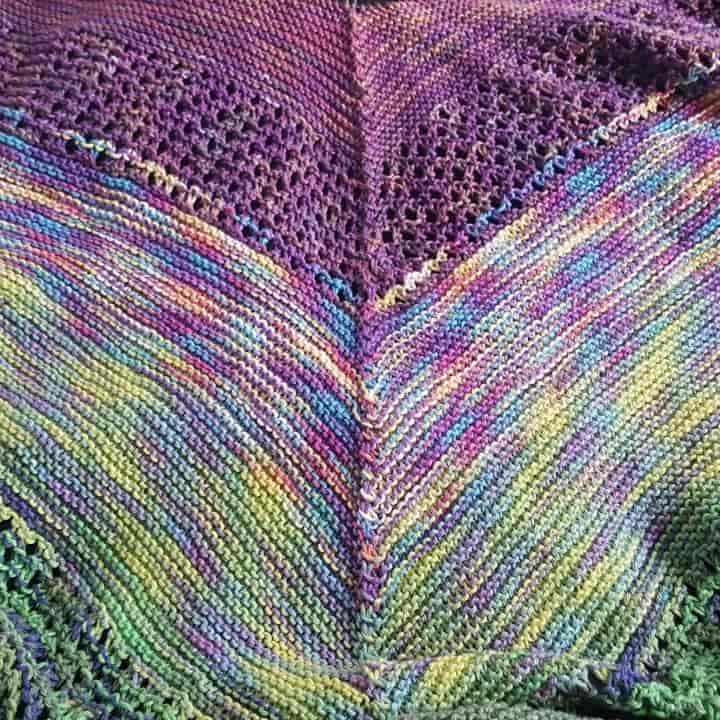 A Closer Look at Summer Yarn

Cotton
When wearing summer knits, we want to feel cool, light fabrics against our skin.
Cotton is an easy yarn to knit with, comes in an array of colors and there are many to choose from. Think of simple open-air shawls or shrugs as great summer knitted items in cotton yarn.
Cotton is a breathable yarn, more so than synthetic yarn like acrylic.
If you are anything like me, then sweating is something I am definitely experiencing on warmer days.
Cotton Yarn is a perfect choice, as knitted items made with this yarn will be absorbent and dry quickly, a winning combination in my book.
Other yarns when knitted tend to trap sweat against your body, this can lead to your skin feeling irritated.
No-one enjoys being hot, sweaty and irritated!!
You might like to consider organic cotton yarn.
There are many who support the fact that organic cotton is better for the environment.
The cotton when growing is not treated with harsh chemicals. There is some lovely organic cotton available.
Cotton yarns that knitters have sworn by are Berroco Modern Cotton Yarn

Silk
Silk yarn is a luxurious yarn and has amazing properties by keeping you cool in warmer weather and warm in the colder weather.
Silk is also often blended with cotton and makes a gorgeous summer weight yarn.
The downsides to silk is a yarn that when knitted has the tendency to stretch over time.
You can combat this by choosing to knit garments with a drape rather than a figure hugging top.
Silk yarn is also more expensive. If the garment you are going to knit, is something you'll get a lot of wear out of, then it would be worth it.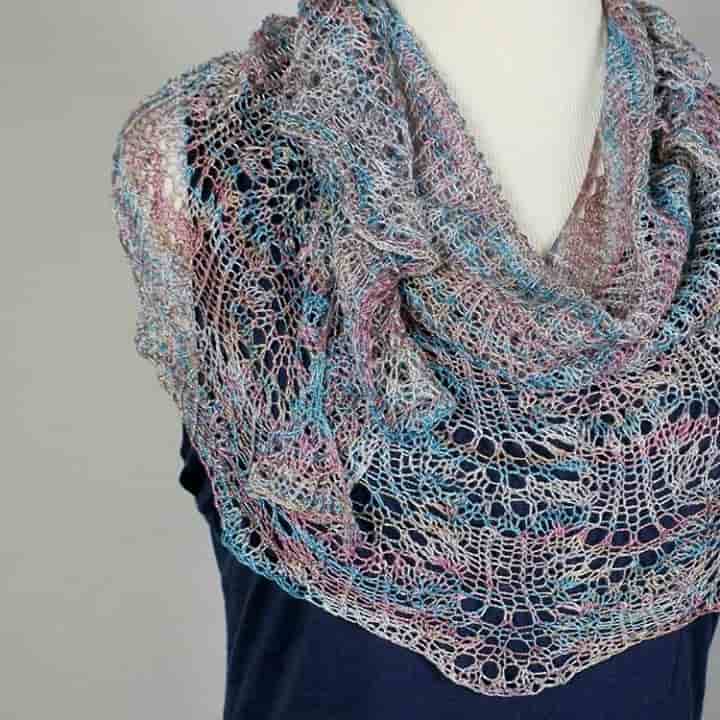 Bamboo/Cotton Blend
Checking for how comfortable a yarn will feel in the warmer months, is to place it against your cheek or throat.
After a few washes, some yarns will become softer.
This is where testing a knitted swatch comes in super handy.
Bamboo/cotton blends are a popular choice for spring and summer as they feel soft and light against the skin.

What is the Best Weight of Summer Yarn?
Many knitters highly recommend worsted weight yarn for Summer Yarn, due to its extreme popularity.
Given how so many people knit with this yarn, there are so many colors to choose from.
It is a very versatile weight and is great for knitting; shawls, sweaters, summer afghans and many other accessories.
Another great choice for summer projects is DK weight yarn.
Lovely for summer shawls and vests.
Often described as a light worsted-weight yarn, somewhere between worsted and sport yarn.
The beauty of this type of yarn is it knits up quickly and many possibilities of knitted items.

Spring/Summer Patterns
There are many spring/summer patterns available online. You will want to look for lighter patterns and more open-weave designs.
Clearly, hats, mittens, and sweaters are what you'd consider knitting for the winter.
In the warmer months, find inspiration to make lacy shawls, knit tank tops, halter neck tops, cute skirts and soft, lightweight hats.

Final thoughts…
So there you go, plenty of fabulous Summer Yarn to consider.
Yarns made from plant fiber are the best to use for Summer Yarn.
We know you will find something to inspire you to knit a gorgeous knitted summery item or more 🙂
Something we forgot? Leave a question or comment at the end.

Now It's Your Turn…
I'd like to hear what you have to say. What did you think about today's guide?
Or maybe you have a question. Either way let me know by leaving a comment below right now or send me a message on twitter.
You can also contact me here