Looking for a fuzzy, cuddly yarn? Chenille fibers might be the perfect choice. I explore what chenille yarn is, and ways to use it for knitting.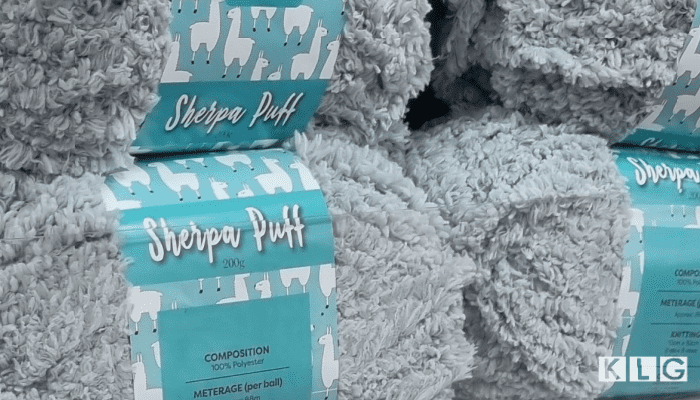 I reviewed, fact checked and updated this post on May 14, 2023.
Table Of Contents
What Is Chenille Yarn?
It's a synthetic fiber sold at affordable prices. This fiber isn't super popular, but it's soft, has a lovely texture, cuddly, and warm. They're bulky and great for quick knit projects. It's available in all colors of the rainbow.
Where Does Chenille Comes From?
It's made of rayon, cotton or synthetic: most commonly polyester yarn, but not usually acrylic fibers.
How It's Made Into Yarn
First, they spin the fiber into long continuous threads. These threads are put through an 'abrasive' process, which fuzzes the fibers and makes them shorter. They're put through a process called 'heat setting.' This make it durable and less likely to shrink or stretch when wet.
How To Wash Chenille Yarn
Here are the care instructions for chenille fibers.
Wash in cool water on the delicate cycle.
Use a mild detergent or wool wash.
Don't use bleach or fabric softener
Lay flat to dry
Does It Shrink When Washed?
They don't usually shrink, but check the care instructions on the label before washing.
How To Soften Chenille Yarn
Here is a quick and easy method to soften this yarn. Washing it after you've finished knitting always helps!
Pin For Later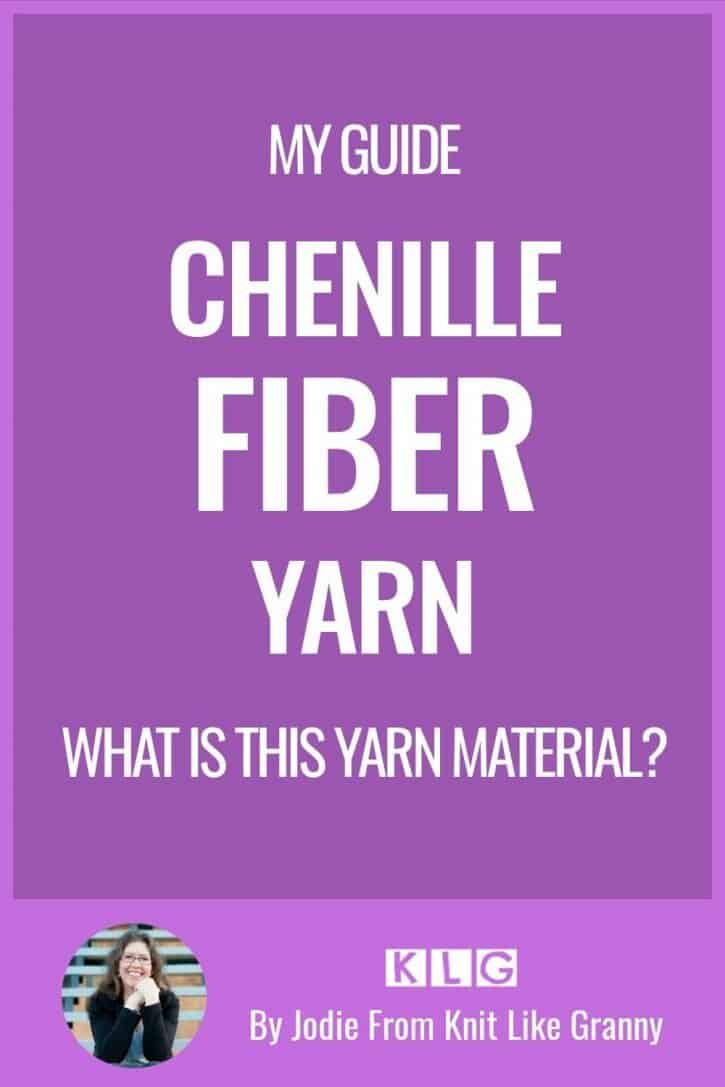 What Do You Use Chenille Yarn For?
Wondering whether you should use it to make a project? Here's why this fiber is used to make yarn. It's often used for projects and things like blankets, throws, pillows, scarves, hats, rugs, and carpets. Use it for anything soft, cuddly, and warm, so it's perfect for baby blankets. To see what yarn to use, see my post here.
I wouldn't recommend it for clothing like sweaters and shawls.
Here is a video tutorial by Lir from Ribblr on working with this yarn.
This in-depth video is a must if you want to learn about how to knit with this textured fiber.
Here is a video tutorial by BeCozi on joining one skein of this yarn to another.
The information in this video on joining these yarns will be a great help!
Where To Find Chenille Yarn
Here's where to find this yarn: at a yarn store or craft stores in your area, at big box stores like Michaels, Walmart and Joann, or online brand shops. Here are brands or manufacturers of chenille yarns to try.
Bernat Yarn
Lion Brand Yarn
Red Heart Yarn
What's The Price Like?
It's usually an affordable yarn, though slightly more expensive than acrylic yarn.
Interesting Facts About Chenille
Want to know some fascinating tidbits about this material? Impress your friends with these.
The word 'chenille' means 'caterpillar' in French
Chenille work was popular from the mid 19th century into the 20th. (1)
The same word is used for a fabric, that was created before the yarn was.
A yarn often donated to Thrift Shops (2)
A chenille textile is often used for upholstery
They have a luxury feel without being expensive – so you can buy a pile of it for big projects
At certain angles, the yarn has a tendency to look an iridescent color
It's used in textile art(3)
FAQS About Chenille Yarn
Is Chenille Yarn Safe For Babies?
Yes, I recommend this yarn for a baby blanket or clothes.
Is Chenille Yarn Ethical & Eco-Friendly?
This yarn is made of natural fibers like cotton and rayon, but there's a huge amount of water required for cotton production.
What Can I Make With Leftover Chenille Yarn?
You can make a small blanket, hat, scarf, or rug.
Is Chenille Yarn Itchy?
No, this yarn isn't itchy, it's very soft.
Is Chenille Yarn Good For Clothes?
I don't recommend it for clothes, but it's great for blankets and other household items.
Is Chenille Yarn Good For Winter?
Yes, this yarn is great for winter home décor items like throws, blankets and pillows.
Is Chenille Yarn Good For Summer?
I don't recommend it for summer, as it's too warm.
Do Chenille Yarns Pill?
No, they don't pill.
Can You Dye Chenille Yarns?
No, you can't.
How Do You Keep Chenille Yarn From Worming?
Chenille yarns can "worm" their way out of stitches. If this happens, try knitting at a tight gauge. Sometimes it helps if you knit from the other end of the skein instead.
Can You Crochet With Chenille?
Yes, you can crochet with Chenille!
What's The Difference Between Cotton And Chenille?
Chenille is a yarn, while cotton is a fabric. Chenille can be made from different materials, while cotton is only made from the plant of the same name.
Conclusion
Happy crocheting or knitting! Hope you enjoyed this article. Do you have questions? Please leave them below!
References
"Skeins of Chenille Embroidery Yarns." n.d. National Museum of American History. Accessed October 14, 2022. https://americanhistory.si.edu/collections/search/object/nmah_629913.
Miller, Betty. 2022. "Assistance League's Thrift Shop Spins a Yarn of Beauty and Support." Patch. September 25, 2022. https://patch.com/california/martinez/assistance-league-s-thrift-shop-spins-yarn-beauty-support.
Global Design News. 2022. "American Artist Nick Cave Creates New Adventurous Textiles with Bravado, a Vibrancy of Aesthetic Value, and Designs That Advance Social Justice for KnollTextiles." Global Design News. October 7, 2022. https://globaldesignnews.com/american-artist-nick-cave-creates-new-adventurous-textiles-with-bravado-a-vibrancy-of-aesthetic-value-and-designs-that-advance-social-justice/.