It's hard to find good quality colorful knitting needles. The best colorful knitting needles are sturdy tools with colors that won't rub off. Here are the best colorful knitting needles.
Note: You can get colorful hooks for crocheting, too!
Read on for more information.
My Quick Recommendations
Table Of Contents
Knit Picks Mosaic Needles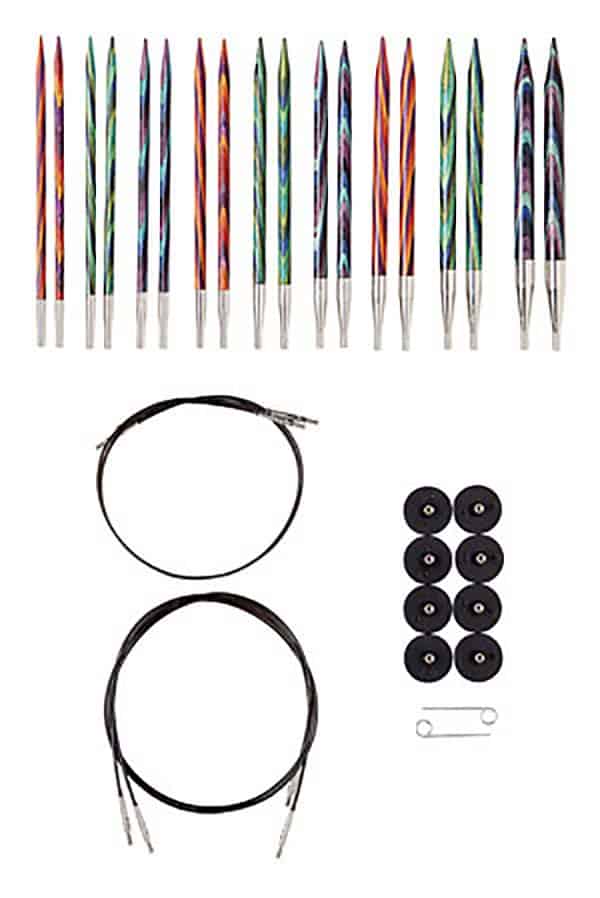 Knit Picks Mosaic Needles combines three of their beautiful colorways into one product. They are available in –
Interchangeable Options set
Interchangeable Short Set
Interchangeable Chunky Set
Double Pointed Needles Set
Straight Needle Set
Visit my full review of Knit Picks Mosaic Needles. The DPNs come in a range of lengths and are excellent for knitting socks.
The set I'm reviewing is the Mosaic Options Interchangeable Needle Set. The set includes 9 sizes and 4 cables – 2 each of 24″ and 32″ lengths.
Accessories include a 9″ x 5″ snapped clear vinyl needle case, 8 black end caps, and 2 cable keys.
How Does It Compare?
Layers of laminated birch
Length – Varies on the type of needle you choose
Available Sizes – US 4 – US 11

Radiant Tips (Orange and Purple) – US Sizes 4, 7, 10
Caspian Tips (Greens and blues) – US Sizes 5, 8, 10.5
Majestic Tips (Blues and Purples) – US Sizes 6, 9, 11

Are They Comfortable? – Lightweight, so they won't fatigue your hands.
Do The Stitches Stay On The Needle? – The surface has a slight grab, so keeping your stitches on the needle won't be a problem.
Durability – The layers provide extra strength, and the birch is sturdy wood.
Product Design – These mean you have a selection of Radiant, Caspian, and Majestic Needles.
Product Evolution – Knit Picks had the brilliant idea to offer their customers a collection of their Radiant, Caspian, and Majestic colorways.
Pros
The surface is smooth, so they're excellent for making anything from a scarf/shawl/mittens to a cardigan/jumper.
It's easy to make an order, and their customer service is happy to answer any questions you have.
The tips are pointed, making getting into stitches a breeze
Different colors add extra appeal to your knitting session
The design is lovely, and they're many people's favorites
Cons
In some reviews, users experienced breakages with the smaller diameter needles.
You need an account to make orders with this store. But if you sign up, you might discounts on the sale price.
Vancens Bamboo Knitting Needles Pack
Check Price On Amazon
These knitting needles are a cheap option for a range of circular bamboo needles in different sizes and lengths. The cables are brightly colored plastic.
How Does It Compare?
Tips are Bamboo, and cords are flexible plastic tubing.
Length – From tip to tip, they measure 16″
Sizes – 2mm-10mm
Comfortable? – Bamboo is lightweight and easy on the hands.
Do The Stitches Stay On The Needle? – Bamboo has more grab, which helps keep stitches on the needles.
Durability – Quality Bamboo is strong. (Be careful with the tiny needles. They could easily break)
Pros
Affordable bamboo needles are an excellent option for beginners with their good range of needle sizes.
Affordable shipping
Cons
Not the best quality bamboo or cables
Users found the cable came away from the needle tips
Stitches don't glide smoothly over the cable, so sometimes it catches the wool.
Smaller needle sizes have a tendency to snap
The plastic cable end isn't smooth
Knitter's Pride Dreamz Interchangeable Needles Set
Check Price On Amazon
One of the more popular interchangeable knitting needle sets is the Dreamz set. This interchangeable knitting needle set with colorful tips comes in different sets.
The one I'm featuring is the 16″ version. This length is terrific for knitting smaller items like hats in the round. All tips are 4″ from tip to join. When you add the cord, it's 16″ from tip to tip.
How Does It Compare?
Densified laminated birchwood
Length – 16″ with cords attached to needle tips
Sizes – US 4 (3.5mm) – Aquamarine, 5 (3.75mm) – Orange Lily, 6 (4mm) – Fuchsia Fan, 7 (4.5mm) – Grey Onyx, 8 (5mm) – Cherry Blossom, 9 (5.5mm) – Misty Green, 10 (6mm) – Candy Pink
Cable lengths – 2 cords to make up to 16″
Are They Comfortable? – Providing hours of knitting without tiring your hands
Do The Stitches Stay On The Needle? – The wooden surface has a grab, so the stitches stay on.
Durability – Birch is almost twice as dense as Bamboo and almost as dense as teak. They're strong and sturdy.
Product Design – The color-coded sizes make it simple to find the size you need for your project. In addition, the range of radiant colors is a pleasure to look at.
Product Evolution – The short tips are excellent for smaller-sized projects knitted in the round. The taper leads to a pointy tip.
Pros
Useful range of sizes from US4 – US 10
Easy identification of sizes
The surface feels smooth and substantial
No kink nylon cords
Easy to connect cable with a smooth join
Reasonably priced
Cons
The cord is fixed, so it doesn't swivel.
Some users found the holes were a little rough on the edges
Some customers reported the case is a little flimsy, and the thin elastic bands are too loose to hold the needles.
The other set is the Knitter's Pride Deluxe Set and includes 9 needle sizes with 4 Cords (to make 24″, 40″ & 2 of 32″ lengths).
Check Price On Amazon
The whole length of the needle from tip to join is 4 1/2″. These are slightly longer than the set above.
US 4 (3.5mm) – Aquamarine, 5 (3.75mm) – Orange Lily, 6 (4.0mm) – Fuchsia Fan, 7 (4.5mm) – Grey Onyx, 8 (5.0mm) – Cherry Blossom, 9 (5.5mm) – Misty Green, 10 (6.0mm) – Candy Pink, 10.5 (6.5mm) – Purple Passion, 11 (8.0mm) – (Royale Blue)
Also, 1 Set of size markers, 8 End caps, 4 cord keys, and 1 Cord case. Having cords for longer lengths is great! Be sure to check if your local yarn store carries these needles.
Symfonie Straight Knitting Needles
The most beautifully designed knitting needles are lightweight yet strong enough to last for a lifetime. These handmade solid wood needles provide hours of comfortable, pleasurable knitting with no hand fatigue!
How Does It Compare?
Laminated Birchwood
Length – 10″/25cm
Sizes – 3, 3.25, 3.5, 3.75, 4, 4.5, 5, 5.5, 6, 6.5, 7, 8, 9, 10, 12mm
Are They Comfortable? – Lightweight
Durability – Super strong
Product Design – The beautiful swirl is so pleasing. The tapered points are ideal for all yarns.
Product Evolution – The Symfonie range of needles includes straights, interchangeable knitting needles, double pointed needles, and circular needles.
Pros
Gentle in the hands and warm to touch
Quality wood
Color doesn't rub on lighter colored yarns
Cons
Which One Is Best For You?
Knit Picks Mosaic Needles – Will suit if you love multiple color options
Vancens Bamboo Knitting Needles Pack – Good for beginners
Knitter's Pride Interchangeable Knitting Needles Set – An excellent choice for the magic loop method.
Symfonie Straight Knitting Needles – Consider it for knitting blankets and scarves.
Comparable Products To Consider – Looking for a great set? Read my best interchangeable knitting needles post.
What Makes The Best Colored Knitting Needles
Here are key decision-making factors to look for when choosing the best color needles. There are cheaply made colorful knitting needles that don't last long. Don't purchase something like that!
Knitting with colored tools is so much fun. Adding them to your needle collection makes for happy knitting.
What's It Made Of? – A range of materials. Aluminum, laminated birch wood, and bamboo wood.
What Type Of Needles Are They? – Circular needles, double pointed needles, straights, and interchangeable knitting needles.
How Long Are They? – Varies depending on the style you choose. See more details below.
What Sizes Are Available? – Ranges from small to larger diameter needles. There aren't many options for jumbo-sized needles.
Are They Comfortable To Use? – Material choice for your knitting tools is a personal preference. Some knitters find wooden needles more comfortable.
Others enjoy working with metal needles due to their speed and slickness. Particularly those knitting lace patterns.
Do The Stitches Stay On The Needle? – Wood or bamboo is less slick than metal like surgical grade stainless steel. Some yarns are more slippery than others.
Are They Durable? – The tools are sturdy, and built to last.
Conclusion
I hope I've helped in your search for colorful knitting needles. These colorful knitting needles are designed with your comfort in mind. They'll make your experience super enjoyable!
Have a favorite that's not listed here? Tell me about it in the comments.
Pin For Later