Choosing knitting needles is challenging. Understand the size, many materials, and types of knitting needles with my guide.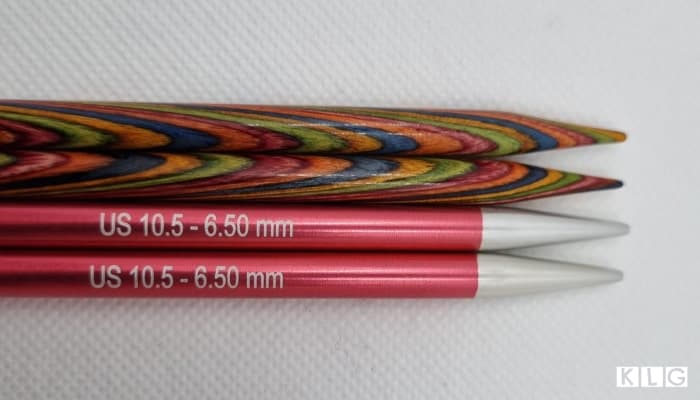 I reviewed, fact checked and updated this post on March 17, 2023.
Table of Contents
Best Knitting Needles
Clover Takumi Straights
Check Price on Amazon
Made from Bamboo these single point needles have a slight grab. These are great needles for beginners, because the stitches don't slip off easily.
Pros
Lightweight
Smooth to touch
Won't catch your yarn
Comfortable to hold
Renewable resource
Cons
Some customers found the surface splinters
Chiaogoo Red Lace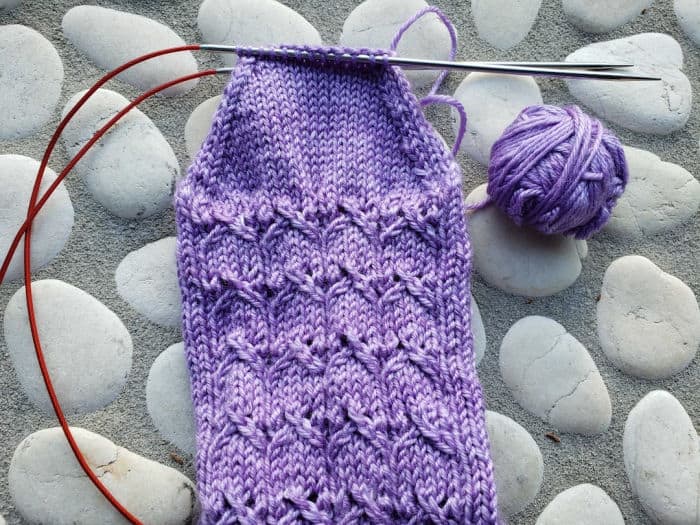 I love these needles. They're the best knitting needle for socks using the magic loop method. The red nylon cables have stainless steel wire inside, don't have memory and are sturdy.
The join is smooth and doesn't snag the yarn. Stitches glide over the stainless steel surface of the tapered, sharp tips. Used for both flat knitting and knitting in the round, circular needles give flexibility.
Pros
Lightweight
Cable doesn't kink
Excellent range of needle sizes
Cons
Don't like the feel of metal? These aren't for you
Hiya Hiya – Best Circular Needles – Sharp Tips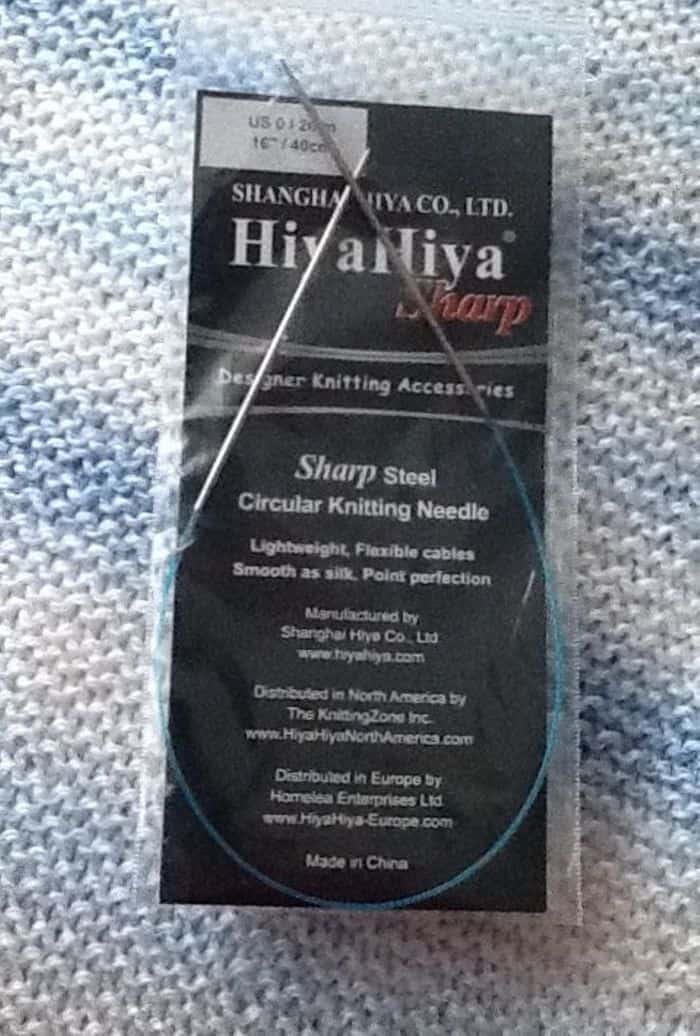 Like Chiaogoos, these stainless steel circulars are excellent for knitting projects in the round like sweaters, hats, cowls, and blankets/afghans.
Pros
Flexible plastic cords
Smooth join between tip and the cable
Available in many sizes
Lightweight
Cons
A few people found the plastic cable had memory
Knitter's Pride Karbonz Double-Pointed Needles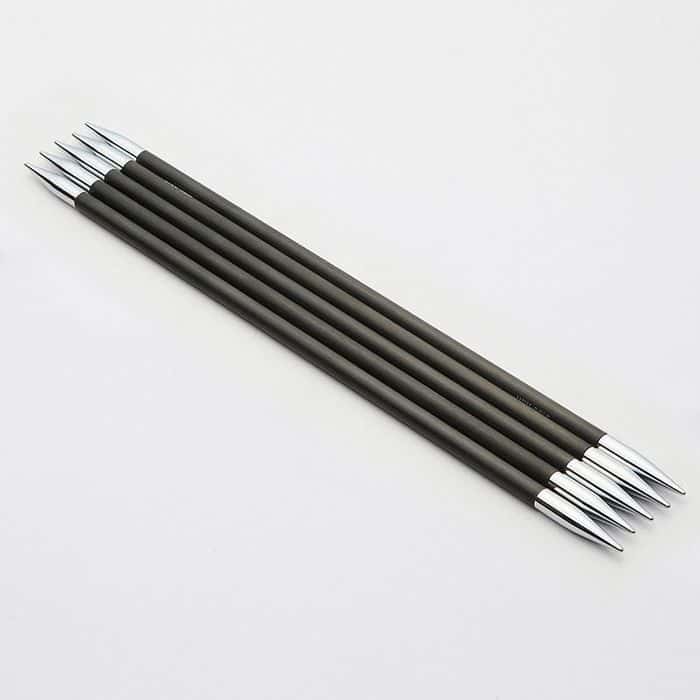 These pointy carbon fiber needles from Knitter's Pride are lightweight and have more grip than a stainless steel version.
Pros
Durable
Works with all yarn
Cons
The tips are nickel plated bronze
Smaller diameters may bend and break if not used gently
Addi Lace Sharps – Excellent For Lace Knitters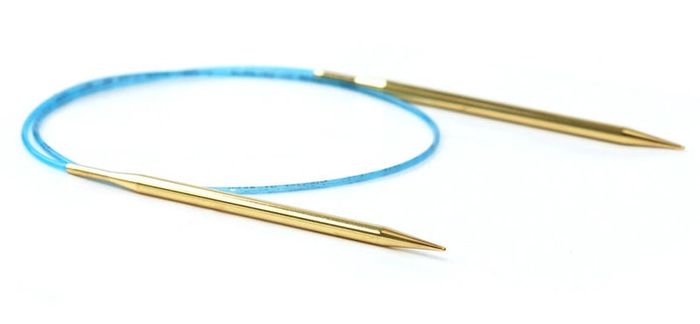 These have pointy tips and a slick surface. Their popularity is well known in knitting circles. Use tip protectors when taking these in a bag.
Pros
Yarn glides easily over the surface
Intricate stitches in a lace design are a breeze
Excellent for speed knitters
Comes in a range of sizes and cable lengths
Cons
Pricier than other metal needles
Lykke Deluxe – For Any Project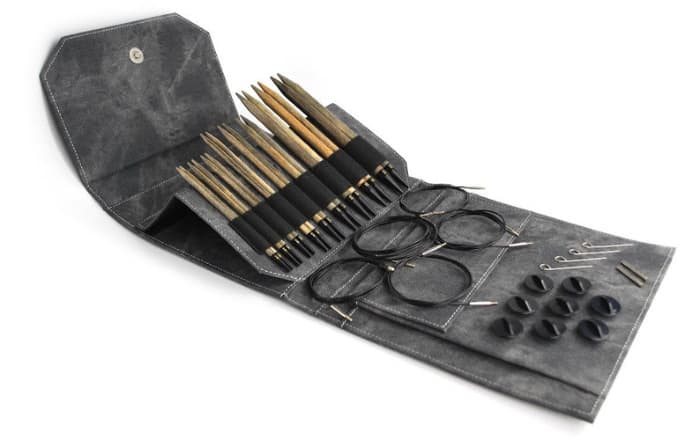 A luxury wooden interchangeable needles set have a lovely look and feel. Their products are handmade in Nepal by local craftspeople using local materials. They support their employees and their families and take care of the environment.
Pros
A hardwood like maple in terms of density and bending strength
The wood quickly adapts to your body temperature
There is little friction or sticking when the yarn slides
Cable connectors, keys & stoppers are included
All parts are stored in a stylish case
The convenience of having different combinations
Cons
The cable color is dark and makes counting stitches difficult
Fast knitters may not like it
Not as pointy as a lace tip
Diameter & Length
Sizes used in a knitting project depend on the thickness of yarn, the stitch used, and the project design. They come in varying diameters and lengths. The needle diameter determines the stitch sizes.
Thicker needle – larger stitches, looser fabric. Smaller one – tiny stitches, tighter material. For example, a 5.5mm knitting needle produces a looser knit fabric than a 2mm one.
The project determines the length. Large project – longer needle or cord. Small, flat – any needle length. Socks – short circular needle or double-pointed needles.
Straight needles – 10-16″ (25-40 cm)
Circular needles – 12″ to 60″
If you have lots of stitches, you'll need extra-long needles.
Different countries have different numbers/measures.
Australia – metric sizes (millimeters) mm
Canada – same as the UK
Everything you need to know about knitting needle size is shared in my article. Plus, a handy international conversion chart. Metric sizing, US sizes, UK sizes, and Japan sizing.
The knitting needle isn't labeled with the size? Get a Knitting Needle Gauge.
Materials
Knitting needles are made from various substances. Read my list for more.
Bamboo is lightweight, but doesn't slow you down much. Most of the knitting I do is on quality bamboo circular needles. I love the warm natural touch and feel. They're the best knitting needles for knitting cotton dishcloths and hats.
Benefits
Excellent for starting
Slight grip
Knitted stitches don't slide
Great for slippery yarns
Sustainable materials
Good for anyone who loves wooden options
Low cost
Downsides
Catches the yarn

Gets warm and sticky
An ancient material like bamboo. Benefits: smooth, warm to the touch, a bit of grip, and slightly flexible. Downsides: expensive and hard to find.
Made from milk protein. They're like plastic needles. They're gorgeous and have tortoiseshell or pearly colors.
Benefits
Nice colors
Smooth & lightweight
Warm in the hands
Flexible
Quiet
Downsides: They're short and blunt, expensive, and hard to find.
This high-tech material is light and non-slip. Popular with knitters using lace weight yarn, fine and silky yarns.
Benefits
Some don't like brass, and others are sensitive. These are a great alternative
Lightweight
Downsides: these items are expensive and hard to find.
Yes, they exist! Usually Pyrex to make them durable.
Benefits
Beautiful
Array of lovely colors and patterns
Smooth
Stitches don't slide off accidentally
They make unique, cool gifts for knitters
Downsides
Thes accessories are breakable
Expensive prices
A bit of grip
Many knitters prefer the slippery coating on metal needles. They're smooth and fast. Makes a real difference for your fast knitting needs! Here's a selection of what they're made from. Aluminum, Stainless steel, Brass, and Nickel plated.
A pair of metal needles has the pointiest tips. Excellent for certain yarn weights and knitting socks. The best knitting needles for lace and fingering yarns.
The pointy tips are great for intricate stitch work like lace or cable knitting. Most gold knitting needles are metal, coated in a gold finish.
Benefits
Durable
Inexpensive
Minimal friction
Suit hairy and fibrous yarns
Great for speed
Excellent for the magic loop
Downsides
Cold
Not suitable for learning to knit
Hard
Inflexible
They click when knitting
Avoid this knitting needle material if you have tendonitis, Carpal Tunnel Syndrome, or Arthritis.
Surface gets scratched over time
Lightweight, smooth, and flexible. They're warm in the hands after knitting. There are two variations. Normal grey and acrylic.
They're subject to warping, but they're great on a budget. They're also excellent for flying. There are light-up needles of plastic with an LED light. Dozens of brands produce these types of needles.
Benefits
Plan on knitting with bulky yarn or using huge knitting needles? Choose these
Works with different weight yarns
Many colors, good for encouraging young beginner knitters
Affordable price
Downsides
They're subject to warping
Not too durable
Don't last as long as some other materials
Quiet and not slippery. They're sometimes exotic woods and have carved ends or painted decorations. Colorful knitting needles are almost always made of wood.
Types Of Wood – Birch, Rosewood, and Ebony. Sometimes, wood is combined with metal, like in the Chiaogoo forte needles. It combines the best of both!
Benefits
Warmer in your hand and lighter than metal needles
Smooth
Comfortable to use
Downsides: They catch and slow you down, and they've got blunt tips.
Types
On knitting forums, experienced knitters recommend bulky yarn for beginning knitters. This type of yarn uses thicker needles. Decide on the type of yarn and read the label. It tells you the best size needle.
Beginner knitting projects like a scarf have a suggested needle size. Gauge won't matter so much. With complex patterns, start swatching.
Fixed Circular needles are approx 5″ long connected by a flexible cord – nylon cords or plastic ones. Circular knitting Cord lengths vary: 16″-50″
The circulars come in plastic, metal, wood, or bamboo. Your choice depends on your material style preference in straight needles.
You rest the weight of the project in your lap. As a result, the knitting is lighter on your wrists. Hurrah for fewer pain problems!
Great for a variety of garments like a sweater. Sometimes they have lifeline holes for knitting things like lace projects. Circulars are essential for shawls.
Small circular 9-inch sock knitting needles are popular with knitters.
Double point needles (DPNs) are short needles with points at both ends. A double-pointed needle is commonly sold in sets of 4 or 5. Designed for knitting in the round.
Newbies may have a problem with using Double Pointed versions, so practice some easier projects before attempting anything complicated. Best for socks, gloves, baby hats, adult hat crowns, or seamless sleeves.
Size 50 Knitting needles come in straights and circulars. Light and versatile – for scarves, big throws, blankets, or rugs. Knitting with these takes practice. Not for people with wrist strain.
Designed for comfort and easier knitting. Great for any technique.
These are excellent if you have hand pain, hand strain, arthritis, carpal tunnel syndrome, or want something to keep knitting for longer.
Some lovely handcrafted needles are often made of wood or bamboo. They're heirloom quality and last many years.
Hexagonal Needles
These look like a pencil. Indian Lake Artisans create beautiful wooden hexagonal-shaped needles.
Benefits
Multiple resting points for your fingers
Relax your grip and still maintain control
Stitch gauge remains the same
Yarn rests on the outer ends of the hex shape
Needle wood tip is sharp
Interchangeable needle sets have short needle tips. These knitting tools combine to create circular needles of different lengths. Interchangeables are assembled by
Screwing pieces together.
Snapping in place
Using a small key
A set of interchangeable knitting needles seems expensive and high-end. Considered luxury needles, interchangeables make life much easier. However, they're cheaper than buying each separately.
They're made from metal, wood, or durable plastic (Denise Interchangeables.)
Usually shorter in length than an average-sized needle and with blunter tips. These are specifically designed for small hands. They're plastic but can be bamboo or wood too.
The square design of the needle shafts stops the needles from twisting as you knit. Knitters experience less tiredness in their hands and wrists.
Many are wooden, but Knitter's Pride uses metal. Most have to go up a size to get their standard gauge. Test it before taking on a new project with a differently shaped version.
Straight Needles
The most common type of knitting needle. (Aka single pointed needles.) These needles come in a needle set of two. Great for your first project! Common lengths are 7″ (good for children), 10″, 12″, and 14″.
Best for smaller projects like scarves, baby blankets, and wraps. Use end caps (point protectors) over each needle tip when taking a rest from your knitting. This stops the stitches from falling off the needles.
From the 1980s to as far back as the 1920s. A favorite of collectors and knitters who like lightweight needles.
Pin For Later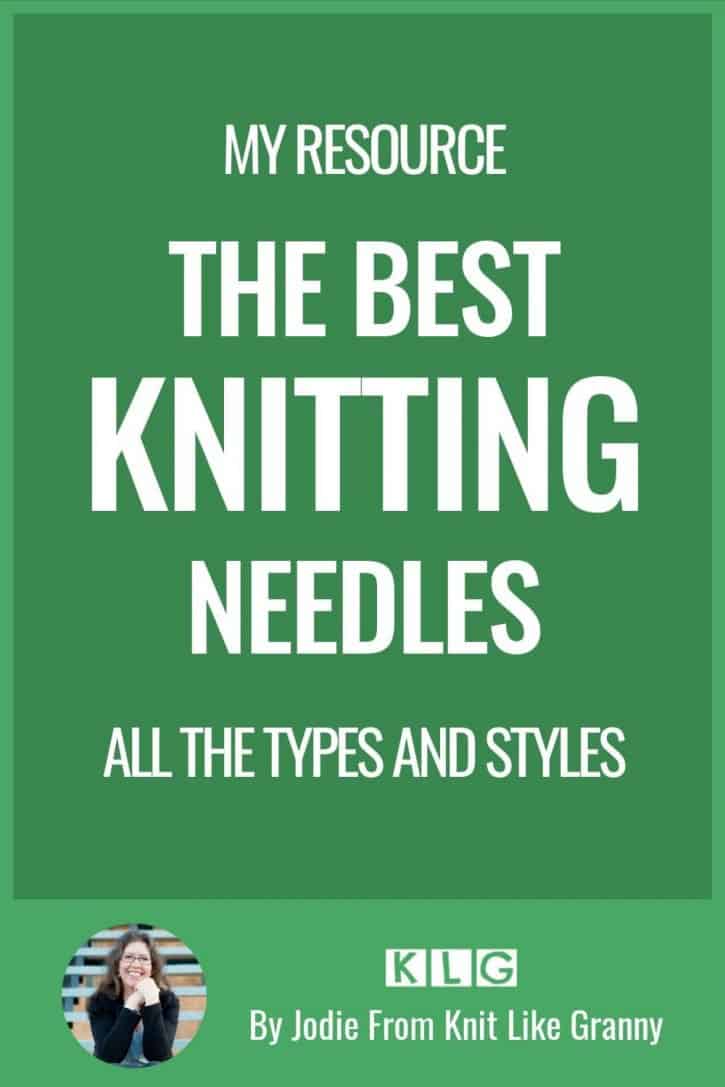 Best Knitting Needles Brand
Here are some choices of knitting needle manufacturers.
Let me help you decide with my top recommendations.
Storage Solutions
Find solutions in my post knitting needle storage, or try specific products like a knitting needle case, or knitting needle organizer, for your knitting supplies.
How Do You Make Knitting Needles?
Here is an excellent tutorial on making knitting needles by Pepper And Pine on Youtube.
This should be a fun crafting activity, too!
Conclusion
Plenty of helpful knowledge about the best knitting needles. I hope my buying guide helped you out. Have any questions? Have a product purchase you love and want to let me know? Leave a comment.
Your email address is never made public.