For yarn weights, DK weight yarn, is often considered the happy medium. It is not an official yarn weight but I get lots of questions about it. It's not as thin as lace/sport, but it's as thick as worsted. That makes it great for many creations. Read my complete guide.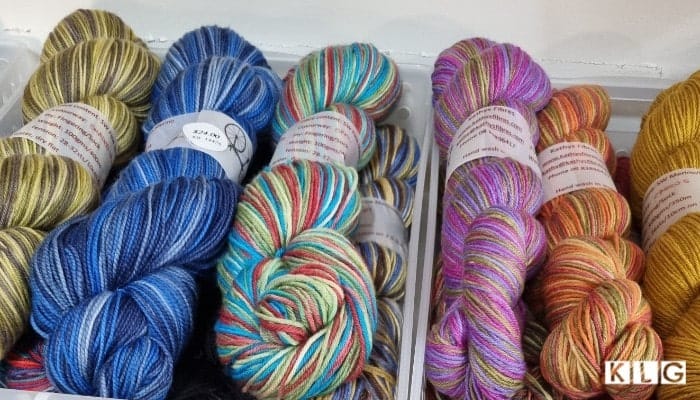 This post is part of my series of articles explaining everything about the topic of yarn weights and wool weights.
Table Of Contents
What Is DK Weight Yarn?
DK weight yarn (also known as 8-ply yarn) has strands twisted tighter than worsted yarn. "DK" comes from the term Double Knitting or Double Knit. Not to be confused with the technique of Double Knitting.
According to the Craft Yarn Council Standard Yarn Weight System, DK weight yarn falls between Fine (sport) and Medium (worsted). The weight of the yarn is not too light and not too heavy, making it versatile and good for a variety of projects.
AKA – Double Knitting Yarn, Light Yarn, Light Worsted Yarn
Weight Category – Light
Weight Number – 3
Wraps Per Inch (WPI) – 11 – 15(3)
Knitting Gauge Range – 21 – 24 stitches over 4 inches
It's thicker than these different yarn weights – lightweight yarns like sport weight yarn, light worsted yarns, baby yarn, fingering weight (sock yarn), and lace weight yarn
It's thinner than worsted weight yarn, bulky yarn, super bulky and jumbo weight yarn
Here is a video tutorial by Hannah from Knit With Hannah explaining what DK yarns are.
This excellent breakdown of this subject is sure to help you!
DK Weight Key Facts
What Weight Number Is DK?
It's weight number 3.(1)
What's It Made From?
Most DK weight yarns are wool (superwash merino wool/normal merino wool yarn), acrylic, cotton yarn, or a blend of these fibers. Sometimes you'll find this lighter yarn in a cake of bamboo, Pima cotton, mulberry silk, or baby alpaca.
Why Use It?
DK weight yarn is a versatile weight yarn for many projects, from light sweaters, afghans to accessories and baby garments. It's great for those new to knitting, as it's easy to work with.
It also knits up quickly due to it being a thicker yarn and you use larger diameter needles, and good stitch definition.
What If It's Held Double?
Looking for a heavier DK weight yarn, try holding two strands together as you knit. This gives you a thicker fabric with more drape.
Pin For Later
Uses For This DK Weight Yarns
Here's what to make with a skein (or several) of DK weight yarn.
It's the perfect choice for items like light sweater, afghans, accessories, hats, spring cardigans, scarves, gloves, cowls, a pattern for fingerless gloves, shawls, a wrap, baby garments, or a baby blanket (especially summer baby blankets).
DK Weight Yarn Patterns To Try
Here are great free patterns for knitters using DK yarn. They're divided by skill level to make it easier for you. Hope you find a wonderful project to do next!
Intermediate
Advanced
Looking for more paid or free patterns for DK yarns? See this video
What Knitting Needles To Use
US Knitting Needle Size – 5 – 7
For those of you in Canada, UK, Australia and New Zealand – 3.75 – 4.5mm
Note: The above are guidelines only. Always swatch before starting a project.
Substitutions
If you've run out of this yarn or can't find it, here's what to use instead.
Aran weight yarn
Worsted weight yarn
Always do a gauge swatch before making the final project to ensure the yarn strand has the correct thickness.
My previous article is light weight yarn and next up in the series is what is medium weight yarn.
FAQS About DK Weight Yarn
How Do You Spot DK Weight At Craft Stores?
Here's how to find that special DK yarn you're looking for at your local store.
Look for the 3 symbol on the ball band
See if it's called light worsted
Usually it's sold in 1.8oz (50g) or 3.5oz (100g) skeins
It's affordable
How Popular Is DK Yarn?
It's not as popular as worsted weight, but it's available widely. Lion Brand Yarn and Knit Picks are two companies in the craft world with extremely soft light worsted yarn in gorgeous shades.
They both sometimes have free shipping to the United States. Also they have shipping to the United Kingdom. Knit Picks' Swish DK yarn is one of many excellent brands to choose from for knitting and crochet.
Small businesses and indie dyers also sell fabulous hand-dyed fibers in beautiful colors. Try using Hedgehog Fibres Merino DK, Lana Grossa Yarns, or Valley Yarns.
How Much DK Weight Yarn For A Blanket?
A DK weight blanket needs approximately 1150 yards.
How Much DK Weight For A Sweater?
A DK weight sweater needs approximately 1000 yards.
How Much DK Yarn For A Scarf?
A DK weight scarf needs approximately 200 yards.
What Is DK Weight Yarn In Ply?
DK weight yarn is 8-ply yarn in Australia and New Zealand. However, not all DK yarns are 8-ply yarn, some strands of DK weight yarn much less.
DK Weight Yarn Vs Worsted Weight
DK weight yarn is thinner than worsted weight yarn, but can be used interchangeably for most projects. The main difference is DK is worked on smaller needles.
What Does DK Stand For In Yarn?
DK stands for double knitting. Don't confuse it with the double knitting technique, though. However, DK yarn can be used for double knitting!
You'll love the drape and feel of this yarn as you knit your next project. Perfect for your stash. Happy knitting or crocheting! Have questions or comments? Let me know below. (Your email address is never published.)
References
"Standard Yarn Weight System | Welcome to the Craft Yarn Council." 2018. Craftyarncouncil.com. 2018. https://www.craftyarncouncil.com/standards/yarn-weight-system.
How to Measure Wraps Per Inch (WPI) | Welcome to the Craft Yarn Council. "How to Measure Wraps Per Inch (WPI) | Welcome to the Craft Yarn Council." Accessed October 1, 2022. https://www.craftyarncouncil.com/standards/how-measure-wraps-inch-wpi.