You've probably heard about this widely popular yarn.
In this post, I share all the answers for the question – What is Worsted Weight Yarn? I also cover why and when to use it, how it's made, and recommended needle sizes to this thicker weight yarn.
Table of Contents
What Is It?
Worsted Weight yarn is described as a best friend for knitters and crocheters. It's popular because it's a medium weight yarn/thickness, easy to work with, and knits up quickly without much bulk.
Major yarn manufacturers Lion Brand and Bernat claim this weight of yarn is their most popular yarn for knitting and crochet.
A versatile yarn weight for almost any knitted project and commonly used for beginner projects, as it's an excellent choice when you're first starting.
According to The Craft Yarn Council of America's Standard Yarn Weight System, this yarn weight is in the medium category and defined by the symbol number 4 on the packaging.
This yarn weight system is almost universally used by yarn companies, regardless of location in the world.
Also known by the names Afghan weight yarns, Aran weight yarns, and Aran chunky yarn.
The Craft Yarn Council has information available on all sorts of helpful tips, including more on the standard yarn weight system and the different yarn categories.
Often when shopping for this kind of yarn, you'll find the number 4 symbol on the ball label. (Also known as the yarn label.)
It's thicker than lace weight, fingering (super fine), DK Weight Yarn, Double Knitting, Baby, Sport yarn or 8ply yarn and thinner than Bulky weight yarn, Super Chunky or 12ply yarn weights.
Light worsted is another name for weight no. 3, more commonly known as DK or 8ply.
It comes in many amazing colors, and the knitted fabric it creates isn't too bulky. The stitch definition is clear and prominent using this weight of yarn.
Perfect for when you want your beautiful knitting skill to be showcased. Designers love using this yarn weight.
Why Use This Versatile Yarn?
People use this yarn weight to test new techniques or stitches, as the beauty of this yarn is how it shows stitch definition.
If you're a beginner knitter, using a light shaded yarn is a good idea. It's easier to see mistakes.
Use this weight of yarn to create any number of knitted projects and garments. One of the best things about this yarn weight is it's easily substituted.
Due to its popularity, you'll have plenty of substitution options to choose from! Yarn Manufacturers make it easy with an incredibly large range.
Uses of This Popular Yarn
An unlimited number of knitting projects use this weight of yarn.
These items include afghans, sweaters, cardigans, scarves, cowls, hats, gloves, mittens, dishcloths, sock patterns, baby blankets and baby items, home decors such as throws, cushion covers, and toys.
There are no limitations to what type of worsted weight yarn you can knit with. With an economical price point and variety on offer, using this yarn for gifts is a great choice.

Here's one easy accessories project to do with one skein.
Learn To Knit A Headband pattern and tutorial by the talented Knitwear Designer Chandi of Expression Fiber Arts. Chandi's video tutorial is very easy to follow.
What Is It Made From?
They are often made from:
Cotton / synthetic blends
Wool (like Malabrigo's Merino Worsted)
Alpaca (like Rowan Lima)
Acrylic (like Red Heart Super Saver, Cascade Cherub yarn, Caron's Simply Soft)
Or wool / synthetic combinations.
The History
The yarn is named for the village of Worstead in Norfolk, England. As far back as the 12th century, this town produced smooth, even yarn and was a hub for spinning fiber.
The term 'worsted' comes from a particular spinning method.
Wool Processing and Spinning: Worsted vs Woolen:
The word "worsted" doesn't always refer to yarn weight. It can also refer to a wool processing technique — the worsted method, instead of the woolen method.
The worsted process involves combing all the short hairs out of the fiber. The same length fibers are spun parallel to each other, making a dense yarn.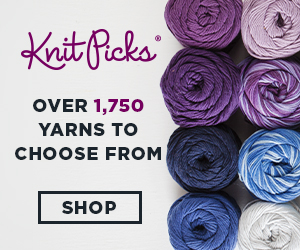 What Needles To Use
Recommended Needle in Metric Needle Size Range = 4.5— 5.5 mm
Recommended Needle U.S. Needle Size Range = 7 to 9
Knit Gauge Range in Stockinette Stitch to 4″ – 16–20 sts
Lace knitting with this yarn requires going up several sizes. Use size 6.0mm to 8.0mm to create lacy openwork patterns. If knitting socks, potholders, or dish towels, go down several sizes to a 3.25 to 4.0 mm needle.
Of course, knitting needle size or hook can vary based on your knitting/crochet gauge. When size matters, it's important to make a gauge swatch first before beginning a project.
You can see what tension and sized fabric you create, and you can scale the knitting needle size up or down as necessary.
For more about knitting needles and checking your knitting gauge read our knitting needles guide.
If you also crochet, the Craft Yarn Council guidelines recommend using crochet hooks in the 5.5–6.5 mm size range (I–9 to K–10 1/2.
The Benefits
It's a go-to yarn for many knitters because worsted yarn has great stitch definition. It isn't too light or heavy; being a medium weight, it keeps you warm and snug without bulk.
Being so widely available, worsted yarn is easier to use different brands in one project. The thickness doesn't vary too much between brands.
Great if on a budget. The amount of knitted fabric you get is more than if you choose bulky yarns. You don't have to purchase as many balls.
Worsted weight is a fabulous choice for colorwork knitting.
One of the quick to knit up yarn weights
The durability and strength of the threads with this type of yarn means it lasts the distance.
Plenty of knitting patterns and kits are available using this yarn.
A versatile and durable medium weight yarn. Worsted weight yarn is perfect for knitting beginners.
Something I forgot? Or have a question? Leave a comment at the end.