Looking for a fun, novel yarn? Eyelash fibers might be the perfect choice for you. I explore what eyelash yarn is, and ways to use it for knitting.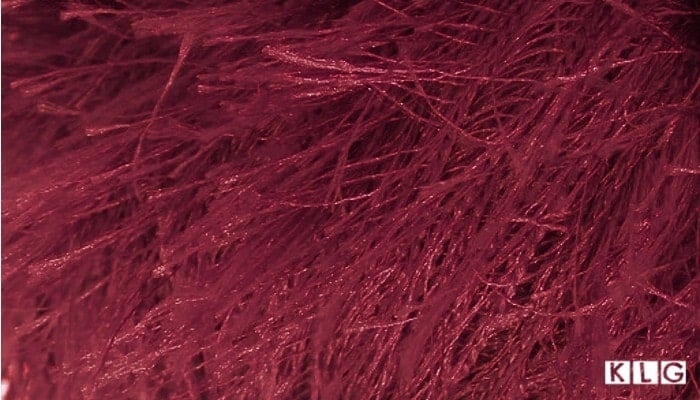 I reviewed, fact checked and updated this post on May 14, 2023.
Table Of Contents
What Is Eyelash Yarn?
It's a synthetic fiber sold at moderate prices. This fiber isn't popular because it's a little tricky to knit with, but it's fuzzy, textured, soft, and comfortable to wear. They're fun to knit with and great for adding visual interest to the finished fabric. It's available in all colors of the rainbow.
Where It Comes From
It's made from nylon, polyester, rayon, or a blend. The composition has one central thread with little hairs coming off it. The length of the fiber and the amount of twist in the yarn determine how hairy it looks.
Some brands have longer fibers which for a more striking effect, while others have shorter fibers for a softer feel. They're often confused with faux fur yarns, but they have a different feeling and texture.
How It's Made Into Yarn
These fibers are extruded from a narrow slit in a spinneret, which is a device used to melt and draw out synthetic fibers. The fiber is drawn out and then cooled before it hits the air. This process creates long, thin fibers that look like eyelashes.
How To Wash Eyelash Yarn
Here are the care instructions for eyelash fibers.
Hand wash in cool water with gentle soap
Don't agitate or twist
Don't iron or bleach the item
Lay flat to dry
Always check the yarn label for instructions specific to the yarn you're using.
Does It Shrink When Washed?
No, it doesn't, and avoid exposing it to heat.
How To Soften Eyelash Yarn
Washing it after you've finished knitting always helps!
Pin For Later
What Do You Use It For?
Wondering whether you should use it to make a project? Here's why this fiber is used to make yarn. It's often used for making projects and things like home decoration items, hats, cardigans, scarves, wraps, shawls, shrugs, knitted accessories, an accent for garments, bags, purses, and totes.
It's a good choice for knitted Christmas decorations, too. Place it in a yarn bowl as it's known for being slippery, as are other fluffy yarns. For further information on these, check out my guide for yarn holders.
Where To Find It
Here's where to find this yarn: at a yarn store or craft stores in your area, at big box stores like Michaels, Walmart and Joann, online brand shops, or small businesses on Etsy. Here are brands or manufacturers of eyelash yarns to try: Premier Yarns, Ice Yarn, or Loren Luna.
What's The Price Like?
Prices vary depending on the brand, but it's usually moderate or affordable.
FAQS About Eyelash Yarn
Is Eyelash Yarn Safe For Babies?
No, it's not safe for babies because it's too hairy.
Is Eyelash Yarn Ethical & Eco-Friendly?
It's made from synthetic fibers which use harsh chemicals in the manufacturing process. Rayon is usually less intensive than acrylic or polyester, as it needs fewer chemicals and uses discarded wood pulp/chips.
What Can I Make With Leftover Eyelash Yarn?
You can make a bunch of things: hats, purses, cushions.
Is Eyelash Yarn Itchy?
No, it's not itchy because the fibers are synthetic.
Is Eyelash Yarn Good For Clothes?
No, it's not good for clothes because it's too hairy. However, it might make a funky outerwear piece!
Is Eyelash Yarn Good For Winter?
Yes, it's good for winter because it's warm and cozy.
Is Eyelash Yarn Good For Summer?
No, it's not good for summer because it's too hot.
Do Eyelash Yarns Pill?
No, they don't pill.
Can You Dye Eyelash Yarns?
No, you can't.
Who Makes Eyelash Yarn?
There are many brands that make eyelash yarn, but some of the most popular are Premier Yarns and Ice Yarn.
What Size Needles For Eyelash Yarn?
It depends on the yarn weight of the fiber you're using. Check the yarn label for which size to use.
What Type Of Yarn Is Eyelash?
It's a synthetic novelty yarn.
Conclusion
Happy crocheting or knitting! Hope you enjoyed this article. Do you have questions? Please leave them below!