Tame yarn's tendency to roll everywhere and end frustration with balls of yarn. Keep it in place with a yarn bowl. I review the best yarn bowls.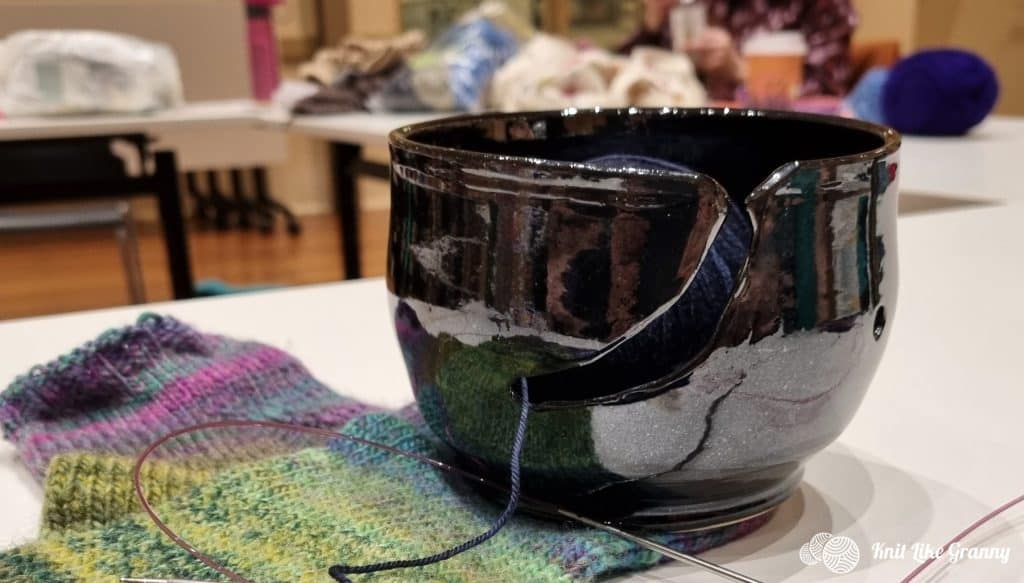 Knitters relax and knit away when their yarn ball stays in place. Plus, they are super stylish!
My Quick Recommendations
Here are some functional, beautiful (sometimes outrageous) Yarn Bowls. They're ordered by material for your preferences.
I reviewed, fact checked and updated this post on May 14, 2023.
Table Of Contents
Wood
Two-Tone Rosewood MangoWood Yarn Bowls – Knitters Favorite
A two-toned tapered rosewood bowl natural finish. The mango wood texture is a pleasing contrast with the other tone. Store other things in it, too, not only yarn balls! Great for textured novelty yarns. A gorgeous addition to any yarn bowl collection.
(If you're buying them as gifts and unsure, get them gift cards.) They offer reasonable shipping to your delivery address.
Dimensions: 5″ wide, 3.5″ high
Knit Picks Black Mango Wood: Suits Any Project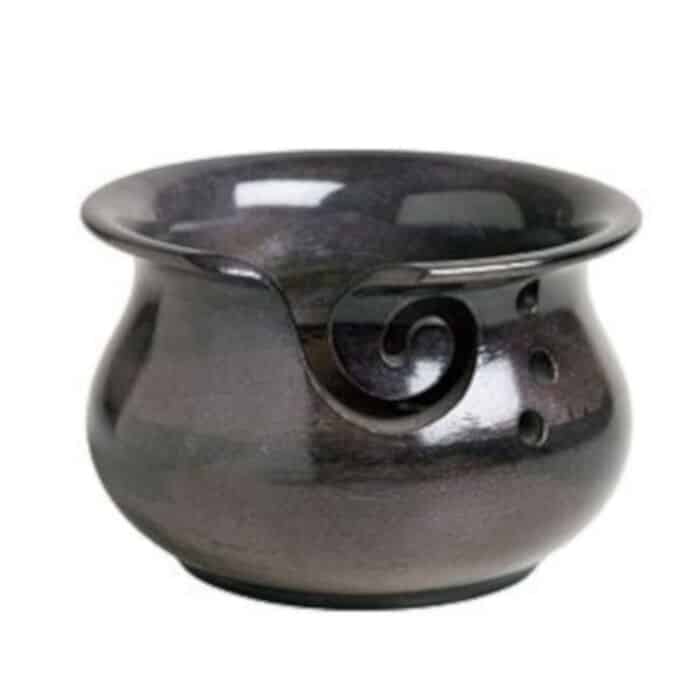 This unique version has a spiral cutout with three holes. Stores your needles or crochet hooks. Made of mango wood, it has a striking appearance. Perfect for your chosen craft hobby and the kinds of projects you do. It would make a splash in your knitting community!
Dimensions: 6″ wide, 4″ high
Furls Yarn Bowls – 2 Different Sizes
Fits a 5oz/100g ball of yarn. Lifetime warranty. A knitter or crocheter would love this wood design work of art! There are two options for this good-sized yarn bowl, medium and large sizes.
Dimensions: 6″ wide, 6″ high
Classic Rosewood Hagestad
Check Price on Amazon
The surface is smooth with a high-gloss wood finish. A curled slot captures the yarn as you knit, allowing it to feed through, preventing tangles. Has a velvet travel pouch. It has high customer ratings, and it's a better alternative to Nagina International. It's current price is affordable.
Dimensions: 7″ wide, 4″ high
Craftamma Indian Wood Knitting Bowl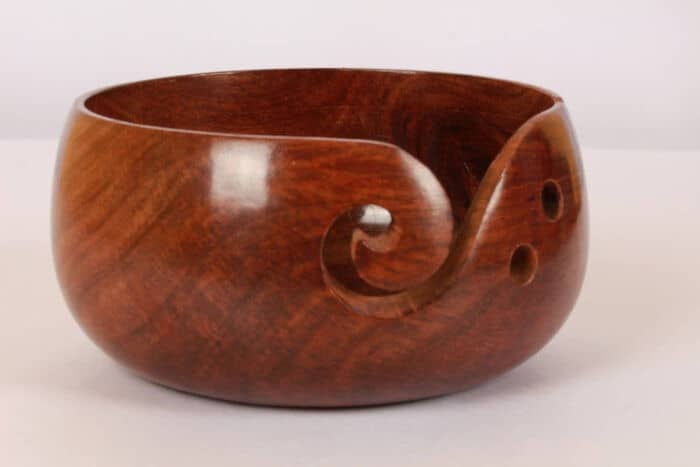 This is made from handcrafted Indian Wood and has a glossy finish. It's sturdy and durable. Nothing to do but pop your yarn in this beauty, let it keep the yarn in place, and start knitting.
Dimensions: 6″ wide, 3.5″ high
Carbonized Bamboo Yarn Bowls
Check Price on Amazon
A beautiful bowl with a lid for added prevention of yarn slipping out. This thing is made of a sustainable resource with a smooth finish, and affordable pricing.
Dimensions: 5.5″ diameter x 3.5" inches tall
Ceramic Yarn Bowl
The Art of Lucky Stradley Sculpted Face – A Wool Bowl With A Difference!

Need a laugh? Choose scuplted faces! A wheel-thrown, hand-altered and sculpted bowl. Perfect for holding a ball of yarn. The large range handles big bulky balls. Such unique designs. An interesting part of the face for the yarn to come from! 🙂
Of course, I had to include these. They're lots of fun. They'd be sure to bring a smile to your face. Check out all the options and explore the collection.
Dimensions: 6″ diameter, 3.5″ high
Cat Knitting Bowl by Misunrie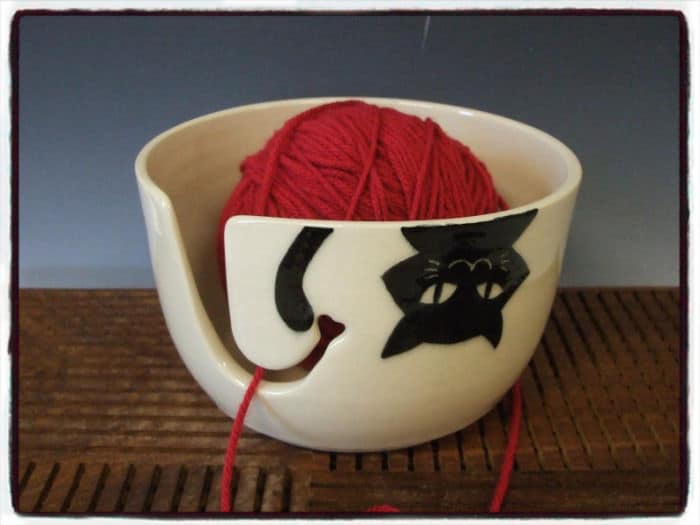 A gorgeous cat stoneware clay wool bowl. Kids would love this. Lead-free, food-safe-glaze used. Knit your socks, mittens, and other projects with ease!
Dimensions: 6″ wide, 3 3/4″ tall without ear, 4″ tall with ear
Leslie Nieto The Mudplace Personalised Yarn Bowl
A custom ceramic yarn bowl, perfect for those who enjoy knitting. Available in several colors and text for personalization. A great gift idea!
Dimensions: 6.25″ wide, 3.5″ high
Emerald Green Ceramic
Featuring a beautiful leaves design. Odorless and clean. Product availability varies as it's made to order. An alternative to your knitting bag or yarn bag organizer to store yarn.
Dimensions: 5.5″ wide, 3.75″ high
Metal
Furls Metal – Crochet Bowl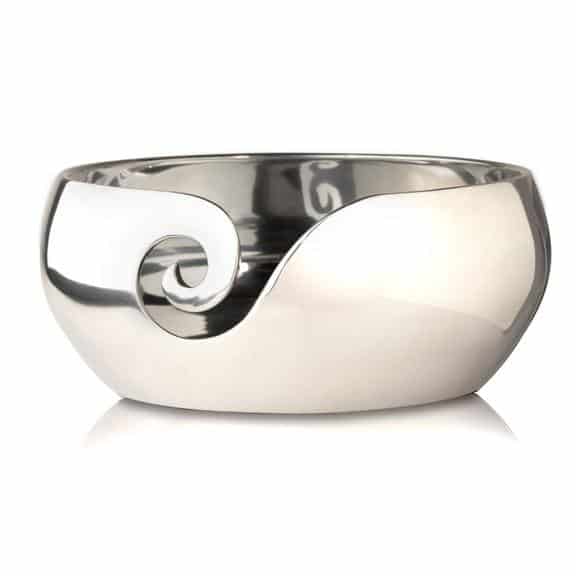 Handcast and hand-polished with beautiful anodized metal crochet bowl. These smooth aluminum bowls have three choices.
Polished Aluminum
Rainbow Anodized
Hammered Gold
Dimensions: 6″ in diameter and 3″ tall.
Pin Now to Save for Later
What Is A Yarn Bowl?
The design of most yarn bowls is similar. They're sometimes referred to as a yarn holder bowl. Most have a bowl shape with a swirled section cut out on one side. You thread the string of yarn through there. When you pull the yarn ball, it acts as a guide and feeds the length of the yarn without snagging.
The weight of at the bottom allows the ball of yarn to roll around inside without getting tangled. The high sides keep it in place. A perfect yarn holder. No need to keep the yarn ball in your lap. They often have circular cutouts for storing straight needles, or using more than one yarn in your colorwork project.
A yarn bowl is also known as a crafter bowl.
How Big Should It Be?
Take measurements of your wound ball's width and height. You need a bowl fitting those specifications. If you use bulky yarn, go bigger.
Why Do Your Need One?
To keep your sanity! Your knitting experience is meant to be pleasurable. Chasing yarn under tables, chairs, and your sofa isn't fun. Nor is knotted, tangled yarn. Strings form knots almost instantly. (1) Prevent tangling with one of these.
They keep your yarn clean, preventing it from collecting fluff or dust. (Knitting is more important than housework!)
They're not easy for a cat, dog or other pets to move around. There are cute pictures of cats playing with yarn. Sure they're adorable, as long as it's NOT YOUR YARN!
Keeps the yarn out of reach from curious children
Move it to wherever you feel like knitting. Glorious sunny day outside? Take it outdoors and know the yarn isn't going to get dirty.
The whole purpose is to be a yarn holder and look beautiful on your coffee table. More attractive than a yarn bag.
They're good for other crafts like crocheting
Makes an excellent decor piece in your house (Something to show off when you have company over 🙂)
Are Yarn Bowls Any Good?
Sure! Yes Yarn Bowls are good. Their high quality, durability, and beauty make them a great choice. They make a real difference to your knitting life. Any fiber arts lover would appreciate them.
What Can I Use Instead Of A Yarn Bowl?
There are other ways to keep skeins tangle-free! Listed are a few options to choose from: a tote bag, a teapot, a colander, a plant pot (with drainage holes), ziplock bags, a woven basket, or a water jug.
Here are some DIY yarn bowl ideas.
Or, watch this great tutorial on how to make one from wood by Crafts With Ellen.
You could even try making a felted yarn bowl with leftover scraps of yarn and this excellent pattern by Shannon Dunbabin.
Why Are There Holes?
There are holes in yarn bowls for the following reasons:
Rest your knitting needles when not in use.
If working with multiple yarns, thread each yarn through a hole. Great for stranded knitting, Intarsia, or Fair Isle patterns. (Remember, you'll need to cut the working yarn threaded through a hole so you remove it from the top.)
The holes prevent you from yanking the yarn out when it gets smaller.
How To Choose – Factors To Consider
The pottery (wood, plastic, or metal) needs to be smooth where the yarn comes out. Even the smallest rough edge catches and frays the yarn. You don't want your knitting project falling apart!
They need a wide, flat base, so it won't tip over when a dense ball of yarn is rolling around.
A wooden knitting bowl of lightweight wood is great when traveling.
It needs an opening where the yarn slips through from the top. Otherwise, it's more challenging to take the yarn out.
High walls are best, or the ball spins right out!
You'll benefit with two slots if you are an avid color-work knitter. Two colored yarns remain untangled
If you knit with a large unwound skein, an oblong shape is good.
Where To Buy Yarn Bowls?
You can buy them online. Shop at handmade Etsy stores for unique products. Shop at Knit Picks, Crochet.com. Check each shop for the costs for shipping add this to the total amount in your cart.
Conclusion
Such incredible inventions. They make knitting much easier and enjoyable, with less mess! Worth the investment. That's a fact. 🙂 Do you use a yarn bowl? Any recommendations? Tell me in the comments!
References
Jawed, M. K., P. Dieleman, B. Audoly, and P. M. Reis. "Untangling the Mechanics and Topology in the Frictional Response of Long Overhand Elastic Knots." Physical Review Letters 115, no. 11 (2015). https://doi.org/10.1103/physrevlett.115.118302.