The blogosphere and social media is awash with colorful images of incredible knitting designs. Which knitting bloggers are worth following?
So, I bring you wonderful knitting bloggers who are experts at their craft.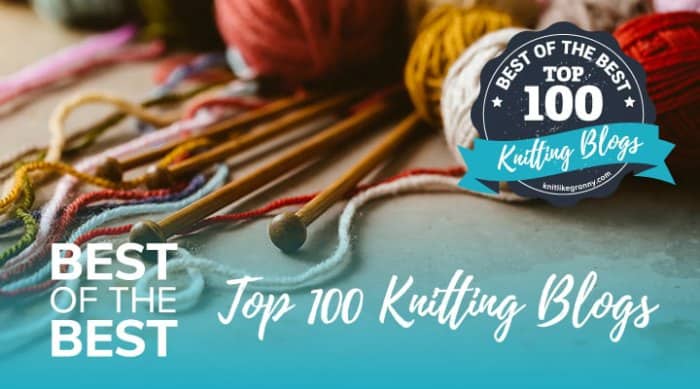 A favorite knitting blogger I haven't listed? Leave a comment.
Show your support for all these wonderful hardworking Knitting Bloggers!! Please give them a share!

Click to Tweet
Share on Facebook
Pin To Pinterest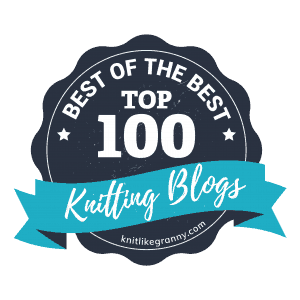 Featured? Display the Top 100 Badge on your site to share the great news with your readers 🙂 Right-click and save the image.
Table of Contents
Found lots of inspiration? Now take a look at the best yarn.
Independent Bloggers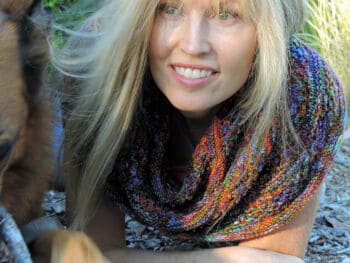 About: The Knitting Blog by Mr Puffy the Dog
Claudia is a passionate knitter and baker and she's been blogging since 2007. All of her posts features either something she has knitted or a favorite recipe. Often her posts include both!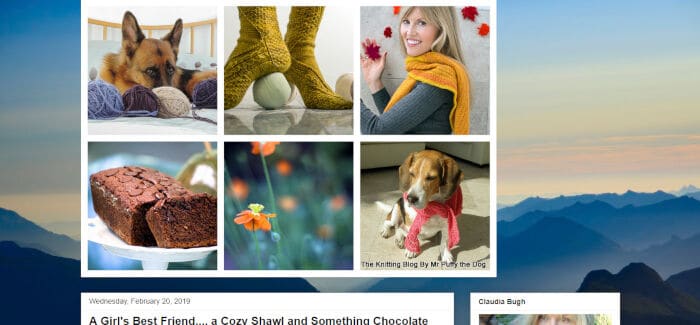 What We Love: Claudia features not just knitting projects but also her love for photography and cooking. The knitting projects she undertakes are simply gorgeous. She is an avid sock knitter and there are such a variety.
---
Yarn Harlot by Stephanie Pearl-McPhee
About: Yarn Harlot
Steph loves to spend time on knitting anything she can possibly think of. Knitting for her is a way of showing others, that knitting will never be a waste of time, especially if you're knitting with love.
What We Love: Steph's stories about her knitting projects and life are heartfelt and engaging. She is also a published author of several titles. Her most popular book is Knitting Rules!: The Yarn Harlot's Bag of Knitting Tricks.
You might meet some of these wonderful people at knitting events.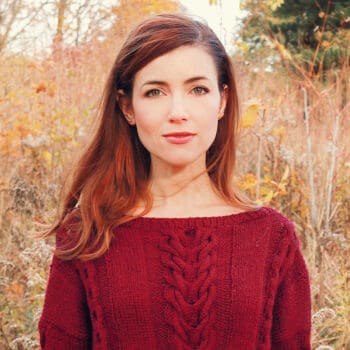 About: Knitted Bliss
Julie loves cozy knits, international travel and cooking. She helps knitters and crafters get inspired by sharing modified knitting projects, round-ups of craft ideas and recipes, and reflections on the crafting life.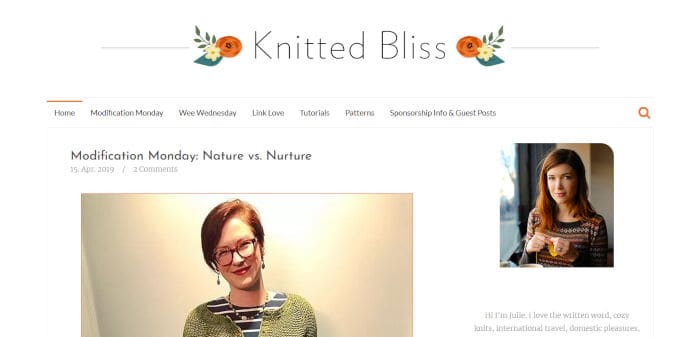 What We Love: Julie has something for everyone, whether it be fabulous knitting patterns or craft inspiration. Her photography of her knitting projects is lovely. Any of her beautiful patterns would make a fabulous gift for knitters.
Find Knitted Bliss on Facebook | Twitter | Instagram
---
Have a look at these great gifts for knitters.
If Loom Knitting interests you stay tuned as I'm writing a post about bloggers who share this passion.
About: Yards of Happiness
Dana learnt to knit to help with the stresses of her life. With each knitted project her skills improved as did her love of the craft and all things yarn.
What We Love: Dana shares her beautiful knitted projects along with stories of her life. Her current sweater adventures include sweaters for dogs that are simply adorable.
Find Yards of Happiness on Twitter | Instagram | Pinterest
---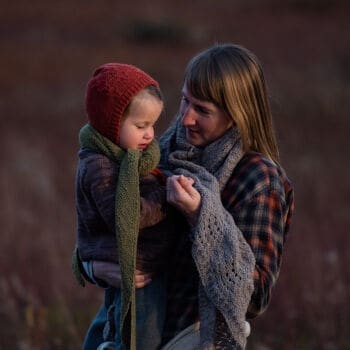 About: Small Things
Ginny loves to knit late at night when she probably should be sleeping. Ginny does a little work from home, dyeing eco-friendly U.S. sourced yarn using natural dyes. Her family of 10 provides much joy as does caring for their many animals and vegetable garden on her 6 acre property.
What We Love: Small Things has a Yarn Along where every Wednesday Ginny shares her current knitting project alongside whatever she happens to be reading. Ginny's photography is stunning and her posts are delightfully engaging.
Find Small Things on Instagram
---
About: Mad Man Knitting
Gregory loves to write and knit at the same time. He writes about his knitting and yarn adventures on his blog.
What We Love: Mad Man Knitting specializes in Knitting teddy bears and has created gorgeous patterns for knitted animals and bears. Amigurumi yarn is often used in his designs.
Which are the best knitting needles for a beginner? Discover more in my post.
Knit Om by Becky Stewart
About: Becky is passionate about knitting, personal development, and conscious living. Knit Om was born from a desire to share what she has learned about the therapeutic benefits of knitting and meditation.
What We Love: The e-newsletters that Becky creates are full of fascinating articles that focus of all sorts of knitting goodness and mindful. Her focus on knitting as a form of meditation and healing is very interesting. I always look forward to receiving them.
Find KnitOm on Instagram
About: Knitgrammer
Ida, an engineer living in Lapland, Finland spends her days knitting and programming. With these skills, she's become known as Knitgrammer. Her blog features calculators and interactive knitting patterns that'll save you trouble by doing the math for you!
What We Love: Knitgrammer is a fabulous resource for sock knitters. Ida's calculators and interactive patterns make sock knitting so much easier. Her patterns are not all about socks.
There are also patterns for hats and mittens.
Find Knitgrammer on Instagram | Pinterest
About: A Really Good Yarn
Julie learned to knit at the age of four. At that very young age, her dream was to own a knitting store, which she has fulfilled. She loves to share her passion of knitting. A Really Good Yarn is the blog she writes for her store The Needle Emporium.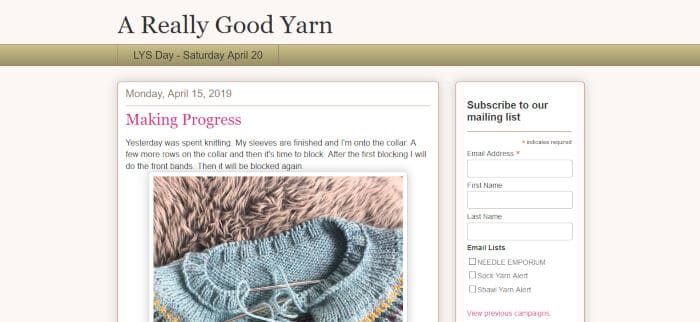 What We Love: A Really Good Yarn is a fun and interesting blog to read. It features new patterns and yarn supplies plus what Julie currently has on her needles.
Find A Really Good Yarn on Twitter | Instagram | Pinterest
---
A ball winder for yarn is just what you need to make knitting easier
About: Jeanette Sloan
Jeanette has been knitting since the age of seven. Colour is a significant feature of her design process. She has published several knitting resources. Jeanette is passionate about diversity in knitting, which led to a list of talented POC designers and makers being featured on her site.
What We Love: Jeanette's blog tagline says it all – Make. Something. Gorgeous. Her knitting patterns and designs are full of color and exciting techniques.
Find Jeanette Sloan on Twitter
---
About: The Knitting Doctor
Lorette loves to share all her beautiful knitting projects with her readers. The title The Knitting Doctor comes from the fact that she is a physician specializing in internal medicine.
What We Love: The Knitting Doctor shares her life stories and wonderful knitting projects. Each post is fun to read and I am sure knitters would resonate with some of the more frustrating aspects of knitting.
---
About: Knitting Nuances
They love sharing new ideas in knitting. Some of their ideas include tweaks to knitting techniques people already use and some of them are new concepts.
What We Love: Knitting Nuances provide helpful tutorials to newcomers who are wishing to learn more about knitting.
Find Knitting Nuances on Facebook
---
About: Kiwiyarns Knits
An addicted knitter who also loves to share her ideas and thoughts about knitting. Wei Siew sets out her own thoughts about New Zealand yarns purely for the love of sharing information about them.
What We Love: Kiwiyarns Knits has a passion for yarn and knitting. Wei Siew's projects are gorgeous and what she shares about the different yarns Wei is very helpful and informative.
---
About: Dayana Knits
Dayana's blog will tell you how to fit it, modify it, colorr it, texturize it, chop it, save it and most importantly, wear it.
What We Love: Dayana Knits does a tons of projects. They've been creating different designs, that will inspire other people to look forward for a new design.
Find Dayana Knits on Facebook | Twitter | Instagram
---
About: Craftsmumship
Lorelei started as a mainly sewing until her blog has grown into a wider variety of crafts. She love sharing inspirational knitting and crafty ideas.
What We Love: Craftsmumship is a site for fresh new ideas, achievable crafts and projects to challenge and hone your crafty skills and at the same time, meet crafty friends along the way.
Find Craftsmumship on Facebook | Twitter | Instagram
---
About: littlebobbins
Dani loves knitting because of the person who taught her how to do it, which is her Mum. Dani loves to share her projects via her podcasts.
What We Love: Littlebobbins has made a lot of crafty inspiration, home made goodness and spends a lot of time studying arts and textiles. Recently Dani has been more active on her Instagram account. Be sure to follow her knitting goodness there.
Find littlebobbins on Instagram
---
About: Cozy Made Things
Kristen lives, works and blogs from a farmhouse in an apple orchard. She loves to sew, knit, crochet, and make things all day long.
What We Love: Kristen shares her magical knitting projects and stories from the journey of her life.
Find Cozy Made Things on Instagram
---
About: The Craft Sessions
The Craft Sessions aims to bring together people who craft for joy. Through her writing and creating, Felicia aims to foster a love of hand making and discuss the ways traditional domestic handcrafts have meaning and context in our everyday lives.
What We Love: The photography and writing is wonderful and heartfelt. The sharing of the retreats they organise, makes you want to go!
Find The Craft Sessions on Facebook | Twitter | Instagram | Pinterest
---
About: Vickie Howell Blog
Vickie Howell is making creativity accessible through encouragement, education, cool projects and inspirational interviews via online media.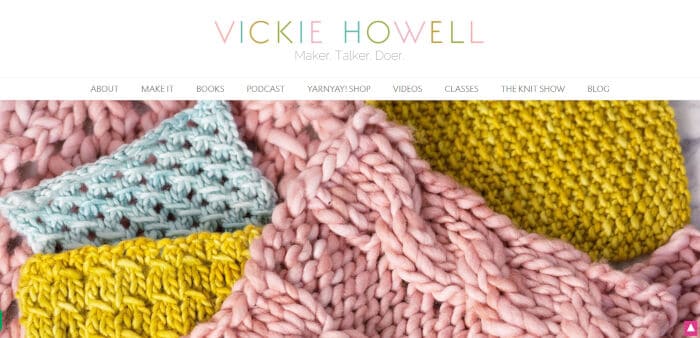 What We Love: Vickie Howell Blog is determined to motivate people to live creatively and live by being creative. Vickie is also known as a personality in the knitting, crocheting and craft world with her shows. She has wonderful tutorials including reviews on tools like the best yarn winder and the best yarn swift.
Find Vickie Howell Blog on Facebook | Instagram | Pinterest | Youtube
---
Zeneedle by Margene Smith
About: Zeneedle
Margene is known as the obsessive knitter. Loves mountain hiking, spinning, blogging, reading and most especially knitting.
What We Love: Zeneedle shares stories on her life, knitting and the beautiful area in which she lives.
Find Zeneedle on Instagram
---
About: Sweet Purls
Monica documents her love for wool, knitting and spinning. It's has been her passion for quite a while and she enjoys sharing her knowledge and spreading it around to the world.
What We Love: Monica shares her journey of spinning yarn and knitting. Although Monica is not currently updating her blog there is plenty of lovely projects and posts to browse.
Find Sweet Purls on Twitter | Instagram
---
About: Knitting in France
Bogga is originally from Iceland and lives in France. She has been blogging about her interests, ideas, and thoughts to spread her knowledge and help people be inspired in the world of handicrafts.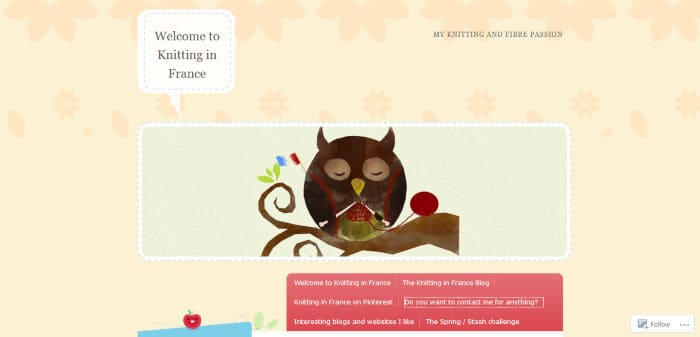 What We Love: Knitting in France shares their beautiful knitting projects. She gives a glimpse into the normal and the everyday of a fiber artist, and all that goes with that.
Find Knitting in France on Facebook | Twitter | Instagram | Pinterest | Youtube
---
About: Soule Mama
Amanda Blake is a mother of five, author of three books on family creativity, and Taproot Magazine's Editor in Chief. Her blog documented her life and creative pursuits.
What We Love: Amanda's posts are a wonderful insight into a life of making and being a Mom. Over the years she has been an integral part of promoting indie producers and makers. She is the Editor in Chief of Taproot Magazine and an author of three books. Amanda just recently announced to her readers that she wasn't going to blog for now. Be sure to look through the archives, there is so much inspiration to be found there.
Find Soule Mama on Twitter | Instagram | Pinterest
---
Stitches & Spoonfuls by Kylie
About: Stitches & Spoonfuls
Kylie loves to put all of her details on her blogs. All of her creative creations on pastimes- knitting, spinning, sewing, photography, and other crafts- as well as accounts of all of her other adventures in travel, school, reading, gardening, and life in general. She also has a online shop with botanically dyed Canadian yarn called Agrestal Yarn.
What We Love: The Stitches and Spoonfuls dyes ethically sourced Canadian wool using natural dyes. Her online shop Agrestal Yarn has lovely choices of yarn.
Find Stitches & Spoonfuls on Instagram | Pinterest
---
About: Tight-Knit Syria
Dana Kandalaft runs Tight Knit Syria a social enterprise organization that provides wool to Syrian women in refugee camps, pays them for knitting and sells their creations.
What We Love: Tight Knit Syria is aiming to help Syrian women to stay resilient and productive in dire times through knitting.
Find Tight-Knit Syria on Facebook | Instagram
---
About: Knits All Folks
Monica wants to create an inclusive community for those that love fiber, knitting, crocheting and pop culture. She aims to promote the diversity of creators.
What We Love: Monica's interviews are great reads and she has helpful tutorials for beginners. Monica is passionate about promoting the diversity in the knitting community.
Find Knits All Folks on Facebook | Twitter | Instagram | Pinterest
---
About: Knitting Squirrel
Nicolette loves sharing unique knitting projects, exploring color and inspiring others creativity.
What We Love: Knitting Squirrel sells knitting wool and sock yarn in glorious colors & fibers.
Find Knitting Squirrel on Facebook | Twitter | Instagram
---
About: Travel Knitter
Larissa's blog is a record of not only her knitting, but also her traveling. Larissa has always loved traveling, but knitting is her more recently discovered passion, and she's found the two complement each other very well.
What We Love: Travel Knitter loves to share about traveling and knitting. Also yarns, knitting festivals and projects.
Find Travel Knitter on Twitter | Instagram
---
About: Knitorious
Vicki began blogging at Knitorious year 2004. She knits, sews, dyes, takes photographs, writes, gardens and cooks. She is truly amazed and inspired by the breadth of talent around her and been exposed to many different types of art and craft.
What We Love: Knitorious shares her knitting projects interwoven with her wonderful life stories. The fact that Vicki has been blogging since 2004 is a testament to her passion and perseverance.
Find Knitorious on Instagram
---
About: Fridays with Franklin
A man who used to be known as "the weirdo who knits in meetings" now dedicates his talents to knitting full-time. Designer, commentator and author of knitting books who is passionate about all making.
What We Love:
Franklin's posts are very engaging. His writing is delightful and his insights into the fiber community are honest and often humorous. His illustrations and his own designs are great.
Find Fridays with Franklin on Facebook | Twitter | Instagram
---
About: QueerJoe's Knitting Blog
Joe has a passion for knitting and writing. What he thinks, he shares with his readers and makes no apologies for his forwardness.
What We Love: QueerJoe's Knitting Blog is a very expressive and his knitting projects are vast and varied. He has built up a strong online community and is also passionate about attending events.
---
About: Better Than Yarn
Jasmin loves to share her journey of life and stories from her past. She loves to knit and spin and along with her Mom, they run Knitmore Girls Podcast. See link in our Knitting Podcasts section.
What We Love: Jasmin shares her life stories, fabulous parenting tips and the knitting projects she has on the go.
Find Better Than Yarn on Twitter
---
About: Monty Knits
Claire is a textiles designer specializing in knitting and crochet, constructing fabrics, garments, creatures and accessories which are fun, quirky and modern. She loves to keep her hands busy so she is constantly working on different projects.
What We Love: Monty Knits is no longer active on her blog. Don't let that stop you from browsing all the goodness in her archives. There are some lovely patterns to explore.
Find Monty Knits on Facebook | Twitter
---
About: Lisa loves to knit, crochet, sew, cross-stitch/embroider, and dabble in the paper crafts.
What We Love:
There are some great knitting and crochet patterns to be found on Lisa's blog. She is not currently updating it.
Find GOODKNITS // a knitting & crochet blog on Facebook | Twitter
---
About: Mimi Codd Makes
Mimi's work covers many different mediums. Her knitting techniques series and knitalongs feature interesting ideas and methods.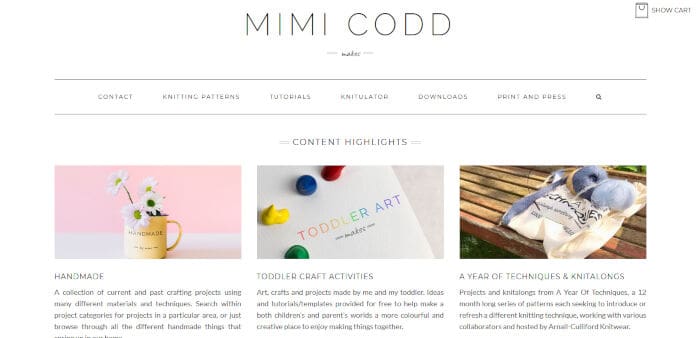 What We Love: Mimi Codd Makes has lots to offer on her blog. Her posts about her own knitting progress are interesting and educational. The tutorials are worth a look for a number of techniques such as short row shaping and cast on methods.
Find Mimi Codd Makes on Facebook | Twitter
---
About: January one
Cara loves to knit and loves blogging to share her knitting projects.
What We Love: January One is no longer being updated. There are some great patterns to browse.
Find January one on Twitter | Instagram
---
About: Knittingkonrad
Konrad loves to share his knitted designs. His passion for knitting and his designs are very adorable. He loves to knit, loves yarn and loves the people who loves both.
What We Love: Knittingkonrad does photography, crocheting, and knitting. He enjoys Knitalongs and sharing the work of his designer friends.
---
About: Stitch and Purl
Svenna is a happy Mum of a two lovable boys. She shares her thoughts and ideas on her blog and loves to inspire any beginners to try knitting.
What We Love: The Stitch and Purl is not just about knitting. They also do sewing, arts & crafts, cooking and baking. The blog is not being updated but there are some lovely ideas to check out.
---
About: The Unapologetic Knitter
Meaghan is by and large a self taught knitter who believes you should never apologise for sitting and knitting. She believes that everyone should learn to knit and due to her love of T.V and movies, many of her designs can be knitted whilst watching.
What We Love: The designs/patterns that Meghan creates are all beautifully well written and easy to follow. Her skills as a Tech Editor shine through. I particulary love her sock designs but she has a wide variety of patterns to explore.
Find The Unapologetic Knitter on Facebook | Twitter | Instagram | Pinterest | Youtube
---
Katie Writes Stuff by Katie Gatward
About: Katie Writes Stuff
This site was the original site where Katie shared about her life, knitting and sewing adventures. Since 2018 she has been vlogging/blogging on Sew Old Fashioned. A passionate sewist and knitter, her creations are inspired by Vintage.
What We Love: Katie's writing is delightfully entertaining and if you get a chance I highly recommend you head over to watch her Youtube videos. Although Katie is no longer uploading videos, there is a wealth of information on Vintage knits if that's your passion too.
Find Katie Writes Stuff on Facebook | Twitter | Instagram | Pinterest
---
About: woolythyme
Steph describes herself as not only a knitter but a gardener, antiquer, bookworm and cook. Her blog is about her knitting adventures and general day to day life.
What We Love: It is always a pleasure to read about someone's knitting journey and Steph's is no exception. She blogs about her knitting, photography and life adventures. Making one realise how much we knitters have in common.
Find woolythyme on Facebook | Pinterest
---
About: The Feisty Redhead
Ashley's self professed main passion is knitting, although she loves all crafts. She works as a Craft writer and Tech Editor. Her blog features her crafting adventures.
What We Love: There are some wonderful knitting stories on The Feisty Redhead. I am particularly interested in the stories of Tech Editing. Thanks to the wonderful Tech Editors like Ashley we all have access to well written patterns that work!
Find The Feisty Redhead on Facebook | Twitter | Instagram | Pinterest
---
Knitwear Designers
About: Knitting Up A Storm
Anna is an artistic and creative person. She decided to create a blog to write about her knitting endeavors. Until then it grew and she started sharing her patterns, tips, hand-dyed yarn and more.
What We Love: Knitting Up A Storm are more into knitting socks and ombre hats. They love putting different shades of colors in knitted items. Anna's patterns are gorgeous and worth having a look.
Find Knitting Up A Storm on Instagram
---
About: A Friend To Knit With
Leslie started to blog back in 2006. It is her way of sharing her passions and connecting with like minded people. She has knitted many sweaters and accessories and written patterns.
What We Love: A Friend to Knit shows her passion for knitting. All of her favorite moments of knitting and sometimes family life are shared on her blog. Leslie's photography is inspiring.
Find A Friend To Knit With on Facebook | Twitter | Instagram | Pinterest | Youtube
---
About JimiKnits: Jimi loves to create designs that are individual and that she herself loves to wear. The knitwear patterns are fun and super cool.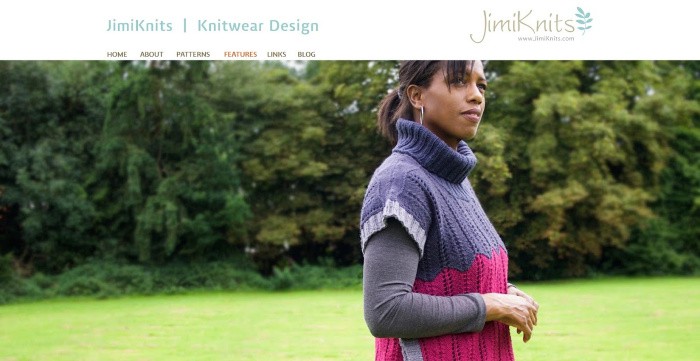 What We Love: Jimi's designs use different techniques she has explored and they are always interesting. Her blog features lots of knitting goodness and her posts about the yarn and knitting events make you want to go to them!
Find JimiKnits on Instagram | Facebook | Twitter
About West Knits: Stephen loves to designs wild and bold creations including shawls, sweaters and so much more.
What We Love: Stephen West's designs are bold and exploding with texture and color. His patterns are amazing!
Find Westknits on Facebook | Instagram
About Knitdraper: Knit Draper learnt to knit as a young child, thanks to her grandmother. In her High School years she started designing. On her site she shares her beautiful patterns and designs.
What We Love: There are some gorgeous knitting patterns to explore on Knit Draper's site. I love how she was inspired by designer; Joji Locatelli. I wonder how many others have also been inspired by Joji's work?
Find Knitdraper on Instagram | Pinterest
---
About: Kate Davies Designs
Kate loves writing, designing knitting patterns, and walking in the wonderful landscapes that surrounds her. She endeavors to productively combine them all.
What We Love: Kate Davies Designs is inspirational and the posts she shares include amazing designs, photography, stories and the Scottish outdoors.
Find Kate Davies Designs on Twitter
---
About: GG Made It
Gaye came to knitting later in life and has found it therapeutic and creative. She is a self confessed yarn addict and blogs about all things fiber.
What We Love: Gaye is passionate about knitting and shares her beautiful patterns and home made designs. Her videos are helpful and fun.
Find GG Made It on Facebook | Twitter | Instagram | Pinterest | Youtube
---
About: Mama in a Stitch
Jessica is a Mama, Colorado gal, lover of yarn and life. She likes sharing her easy & modern knit and crochet projects and patterns. You'll also find some DIYs, random thoughts and a bit of nature. She likes to keep her blog lighthearted and full of happy.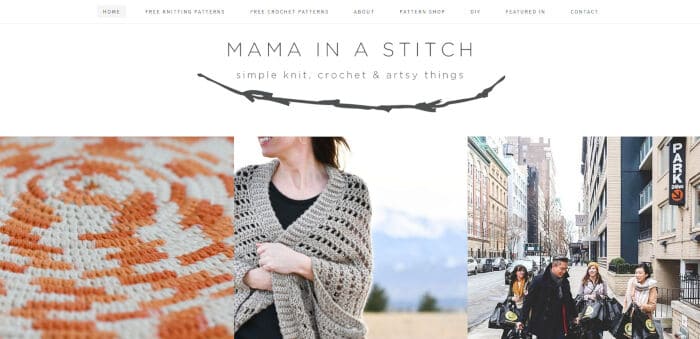 What We Love: Mama in a Stitch shares gorgeous, simple patterns, DIY ideas and tutorials. Jessica's designs are modern and very doable. Take a browse through all the knitting goodness.
Find Mama in a Stitch on Facebook | Twitter | Instagram
---
About: A Stitch to Wear
Grace Anna Farrow loves to explore more advanced techniques in knitting and design. She is also a passionate sewist.
What We Love: There are stunning patterns to look through on Anna's site. Although not actively blogging anymore, there is plenty of knitting goodness on her site. She is very active on her Instagram account.
Find A Stitch to Wear on Twitter | Instagram
---
About: KnitDesigns
Tian is a Tech Editor and designer who shares her experience about her designs and knitting adventures. She specializes in helping newbie designers to craft their big design idea so that they can publish patterns.
What We Love: Tian's posts on her blog covers a range of topics related to the Knit Crochet and Fiber community. Her designs are lovely and there is plenty of knitting goodness to enjoy.
Find KnitDesigns on Twitter | Instagram
---
About: Never Not Knitting
Alana is a knitwear designer, Knitting Boutique store owner and podcaster. She began designing knitwear since 2009 and has produced a unique line of patterns. She loves to share her ideas on knitting.
What We Love: Alana from Never not Knitting writes about her knitting projects with gorgeous photography and also her life stories.
Find Never Not Knitting on Twitter | Instagram
---
About: Vanessa Smith Designs

Vanessa has been designing since 2010. Her passion is designing modern, chic sweater patterns.
What We Love: Vanessa's designs are gorgeous and I have found her tutorials really helpful. Particularly the invisible provisional cast on.
Find Vanessa Smith Designs on Instagram | Youtube
---
About: Susan B. Anderson
Susan loves to knit every spare moment she can find. She loves to talk about all of the good things that she encounters and is always excited to talk about her new knitted creations.
What We Love: She has this kind of love for wool and shares wonderful ideas for knitting projects. Her designs for handknit toys are sensational and she now has her own yarn company that she runs with her son.
Find Susan B. Anderson on Facebook | Twitter | Instagram
---
About: Hazel Tindall
Hazel is from Shetland. She loves Fair Isle knitting. Her designs involve numerous colors and patterns. She enjoys knitting and through her teaching she aims to help knitters from all over the world. She believes Fair Isle is accesible to everyone and offers a selection of unique, easy to follow patterns.
What We Love: Hazel Tindall has a book called The Fine Art of Fair Isle Knitting which is a step by step guide through the traditional craft of Shetland. Her designs are inspirational.
Find Hazel Tindall on Facebook | Twitter | Instagram | Pinterest
---
About: Knit Collage
Amy wants to help you get inspired with your own creativity. She loves fiber and texture and is always challenging herself to come up with new colors and spinning techniques.
What We Love: Knit Collage has gorgeous patterns and yarn. The pattern designers truly bring the yarn to life and make it all wearable.
Find Knit Collage on Facebook | Twitter | Instagram | Pinterest
---
Ysolda by Ysolda Teague
About: Ysolda
Ysolda loves sharing different designs and unique ideas. Her tenacity and perseverance lead her to trying to understand how things worked in construction and techniques in knitting.
What We Love: Ysolda loves bringing out new projects and her designs are unique. They also have great tutorials for the beginner knitter, or those who need a bit of help. There is much to explore on her site as well as her shop.
Find Ysolda on Twitter | Instagram
---
About: Fringe Association
Karen is always more than happy to hear that someone has been inspired to try a new skill, or that they saw a link to the perfect pattern for their work from her blog.
What We Love: Karen shares stuff worth knowing about in the wonderful world of fiber arts. Her posts are an insight into her design process and the inspiration she finds from the world around her.
Find Fringe Association on Twitter | Instagram | Pinterest
---
About: Wendy Knits
Wendy Knits is a lifelong knitter obsessed with all sorts of knitting techniques and traditions. Her designs are inspired by a number of different methods including Fair Isle and Lace.
What We Love: Wendy Knits has some wonderful paid and free patterns and tips for new knitted creations.
Find Wendy Knits on Twitter
---