Recommendations For Those In A Hurry
The Best For Most People – This Stanwood Needlecraft Wood Umbrella Yarn Swift Medium is a solid choice, great value, reliable, and suitable for most projects.
Best For Serious Use – The Stanwood Needlecraft Wooden Umbrella Yarn Swift Large is a sheer joy to wind, super sturdy, fast, and durable.
Note: Clicking the above links will take you to further information, current prices, and customer reviews on Amazon.
Keep reading for my full reviews of all the best yarn ball winders currently available. Here is a list of the 12 Best Yarn Swifts I've found.
At A GLANCE: 12 CONTENDERS FOR THE BEST YARN SWIFT
Note: Clicking the above links will take you to further information, current prices, and reviews on Amazon.
A Yarn Swift Makes Life Easier
A Yarn Swift is a tool for taming skeins or hanks of fiber.
One of the more popular varieties is the umbrella swift. A clever device for holding skeins under tension so you can unravel them and easily wrap your yarn into balls or cakes if using a yarn ball winder.
When you have this nifty tool, winding fibers from a hank or skein is so much easier.
There are various types of yarn swifts on the market – straightforward metal and plastic ones and beautiful wooden yarn swifts.
Table of Contents
What Is A Yarn Swift?
A Yarn Swift is made of either wood or metal and plastic. It's considered an essential tool for any knitter or crocheter.
Yarns are sold as "non-balls," in hanks or skeins. What is a hank of yarn? A hank is when the yarn is loosely wound into a large ring shape and then twisted on itself.
This tool holds yarn hanks or skeins of yarn in place when winding yarn into yarn balls. Also used by spinners and hand yarn dyers as a skein winder to wind loose yarn into a big circle or ring, then tied and put into a hank form.
They allow for trouble-free balling, free from tangles and knots.
If you are using a Winder with your yarn swift, you can create yarn cakes rather than yarn balls. (I highly recommend using a Ball Winder.)
There are numerous types, and they can be handheld, tabletop design, umbrella-style, or vertical. A Squirrel Cage Yarn Swift is a vertical model. More on all those styles below.
Do I need a yarn swift? I'm a true believer in saving time. The best yarn swifts are a great tool to have. We want to get to the good stuff and be content, which is knitting!
On the other hand, winding with a combination of a yarn winder and yarn swift is fun. To use a yarn winder and see your stash of hanks and skeins, becoming neat little yarn cakes can be addictive.
Just don't let it take you away from the pure joy of knitting!
Of course, the buying decision is yours. I hope these yarn swift reviews help you make a choice on which one is right for you.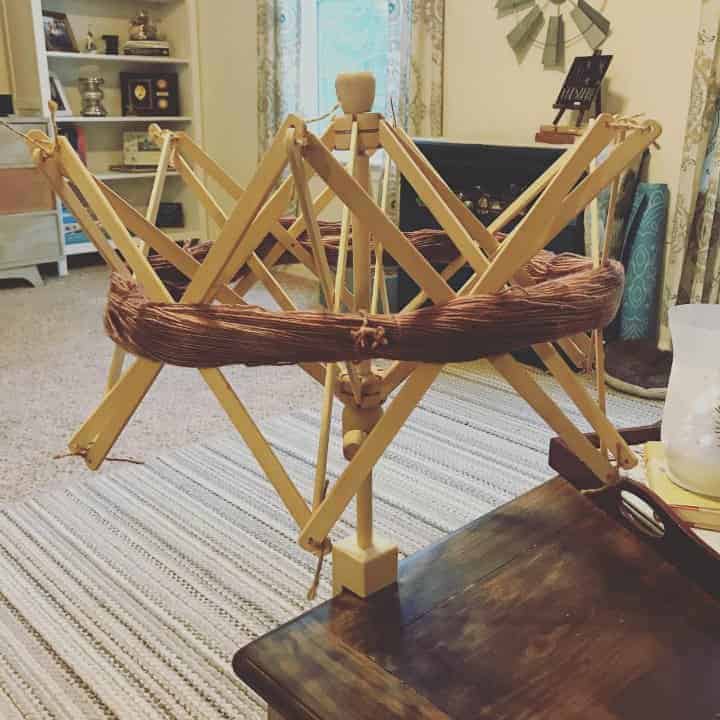 How To Use
Here is how a swift works.
Winding yarns with a yarn swift – start by clamping the swift onto a table or countertop. To protect your table surfaces, expert knitters recommend using a tablecloth or some padding.
To make the whole process of winding a ball from a skein, follow these simple instructions:
First, slide the clamp at the base of the yarn swift onto your table and tighten the bolt.
Remove the label and untwist the skein or yarn hank. You will be left with a big ring of thread.
Pop the ring of fiber goodness over the top of the yarn swift, which will be in the down position.
Pull the ring of fiber lightly, so the hank's far side is against the middle shaft. Open up the arms like an umbrella (umbrella swift is a common name for this tool) until the yarn is taut on the yarn swift.
Then secure the umbrella clamp in place.
Spin around and find all the tied sections of the yarn hank/skein. Remove these ties.
There'll be one end that seems to be on the outside and the other on the inside. Use the end on the outside to start winding yarn. This will make things easier.
The yarn swift holds the yarn in place with tension.
Then you are ready to start winding your ball.
And a smile will instantly appear on your face as you see the neat yarn cakes begin to form with little effort. Such fun!
How to Use A Yarn Swift and Ball Winder
Using an Umbrella Swift and a Ball Winder Combo will save you an enormous amount of time.
For recommendations on yarn ball winders, visit my post.
The beauty of using a winder and yarn swift will mean you have center pull cakes. (Having the end in the middle is much more convenient when it's time to knit.)
Using this combination, can you imagine how much neater your fiber stash will look?
Using a Yarn Winder and Swift
Here is a fabulous tutorial by Stacey at Very Pink Knits demonstrating this combination of ball winder and metal/plastic yarn swift and how to ball yarn for the best results. Watch how yarn in hank form becomes neat yarn cakes.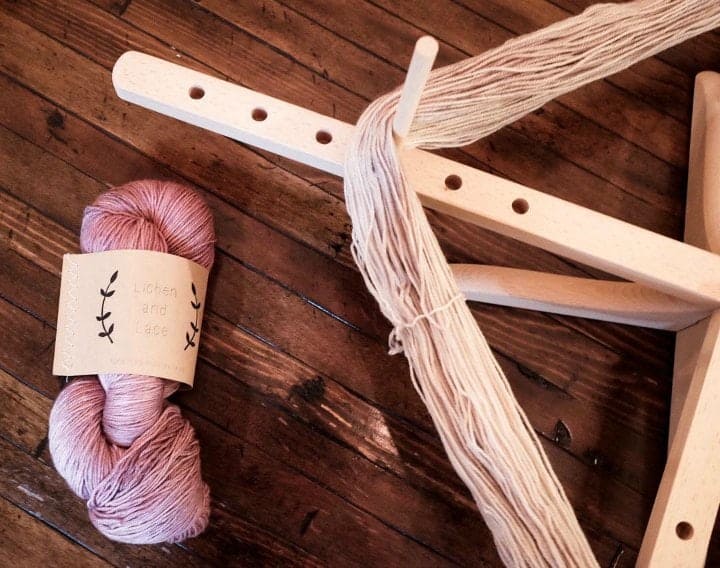 Getting To Know The Different Types
Kristine Kelly of Ewe University showcases different kinds of yarn swifts in her video. I enjoyed watching it and found it very informative and helpful. You can view the entire program in the link below.
If you don't have time to watch the whole thing, I've summarized it by giving the essential points.
Skip to the 19.59 time mark to get the great information on the best Yarn Swifts.

Yarn Swifts are adjustable devices in which a hank is placed to wind it into balls.
Often used in conjunction with yarn ball winders that create yarn hanks into center pull balls, or yarn cakes or yarn muffins, as Kristine likes to call them.
They can be used to hold the fibers while you wind balls by hand.
The swift is only needed when your chosen fiber comes in a skein or hank because it comes in a big loop.
As knitters know, winding a hank without a swift is a challenge. The beauty is, the yarn swift holds the yarn for you, like an extra pair of hands. It is easy to set up.
The other methods are using the backs of two dining room chairs or have someone hold the hank for you while you wind. The latter would be most annoying for both of you.
After all, you should be knitting, not laboriously winding.
Yarn loops range in size, some are smaller circles, and some are larger. The type of yarn swift must adjust to different hank circumferences.
Umbrella Yarn Swift
The most common swifts are umbrella swifts made of wood (known for their durability) or metal and will collapse relatively flat for storage.
Kristine demonstrates the use of an umbrella swift – see our written instructions in the section How To Use A Yarn Swift or jump to the 22.22 timestamp to watch.
Umbrella style swifts have either a flat base for a tabletop surface or a clamp to attach to a table's side. Some are tall and stand on the floor. Materials vary from wood to metal and plastic.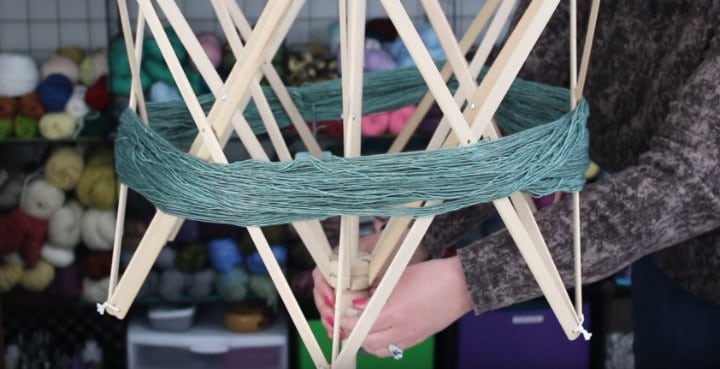 Stanwood Needlecraft Umbrella Style
Kristine owns a Stanwood Needlecraft Umbrella Swift in the large size. Made from finely sanded Birch Wood. It can handle up to 8ft of yarn in circumference.
The ribs of the swift are tied with hemp cord, similar to other umbrella swifts.
It clamps firmly to the side of a table, chair, bench, or any surface up to 1 ¾ inch thick. It needs a lot of space.
Stanwood Needlecraft also makes an umbrella Swift in a medium-size and can wind up to 6ft yarn in circumference. You need to assess what room you have to set up and use a Swift.
Another idea is to clamp the yarn swift on the back of a chair, on its side, so it turns vertically.
Umbrella Yarn Swifts vary in price from inexpensive metal/plastic ones to more exotic wooden ones. The cheaper styles only suit lighter weight yarn fibers with smaller circumferences.
They're not as sturdy as the wooden ones; people have problems with their durability and, on occasion, they break.
Kristine is happy with it for home use. If she had a yarn shop, she would need to upgrade.
Tabletop or Amish Style
The Tabletop Yarn Swift or Amish style swift seems to be gaining in popularity. Jump to 25.36 to see the Amish style Swift.
Made of wood with two pieces of wood that crisscross in the middle to create 4 arms. On each of the arms, there are a series of holes where pegs can be inserted. Pegs can be moved to accommodate different circumferences.
One good thing about the Amish Swift is if you or someone you know are handy with woodworking, these swifts are not difficult to make. The materials are straightforward to source.
The bottom can have rubber or felt pads to help protect surfaces and prevent scratches.
Consider a DIY Yarn swift if you have the skills. Kristine's husband made one for her. He found Amish yarn swift plans and homemade yarn swift instructions online. How to make a swift is outlined on websites.
Amish Swifts vary in price but are cheaper than Umbrella-Style Swifts.
The Amish Swift is placed on top of a table and spins around. No need for clamps. Jump to 27:25 to see an Amish Swift in action.
Be aware these swifts take up a lot of space, and storing one is an issue. Some come apart, but some do not. Favored by some spinners/dyers for their hand-dyed and spun yarns to form hanks.

What Is An Amish Yarn Swift?
An Amish Yarn Swift (otherwise known as a tabletop yarn swift) is a swift of simple wooden design.
An Amish style swift comprises a swivel base, with 4 arms, made of 2 pieces of wood that crisscross, giving it durability.
Each of the 4 arms has holes in them, so with 4 removable pegs. The pegs move position depending on how big the loop of an unwound skein is.
The pegs in the arms hold the yarn hank in place as the yarn swift spins.
You need to consider the amount of space you have available.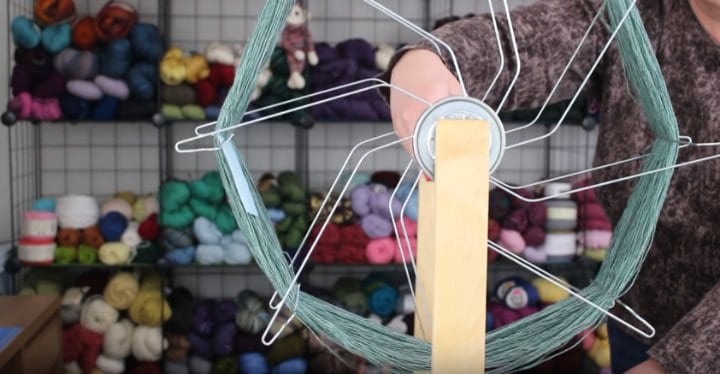 Vertical Yarn Swift
The last style of Swift Kristine mentions is a vertical swift.
Umbrella swifts can vertically spin. But Kristine researched on Google what vertical swifts are available.
These swifts for sale range in price depending on the features included. People are making these styles of umbrella swifts and then selling them online. Most users seem to be dyers who package their yarns in hank form.
The vertical swift Kristine owns is from Schacht Goko.
Kristine demonstrates the vertical yarn ball winder with a yarn hank at point 29:25 if you'd like to jump there.
The Goko Yarn Swift is a Japanese design style based on industrial swifts. Kristine finds it excellent for fine, delight fibers like lace weight yarn.
She also uses it for other yarn weights. Kristine finds it very helpful to re-skein yarns (back into hanks) she has in balls. (These are ones she's not going to use because the project didn't go ahead.)
This type of swift isn't as popular in the knitting world as the Umbrella or Amish version.
How to Use a Vertical Yarn Swift
The way you use a vertical swift is to place the swift on a table or the floor. It has a wood base with 2 arms extending upwards and an aluminum wheel where the yarn loop is set.
She notes the wheel is a bit fragile and could be bent out of shape if dropped. However, the lightness and flexibility of the thin metal wheel are what makes it work so well.
The Goko Swift model can only handle yarn loop circumferences of 57" to 64". It is not as adjustable as other types. Storage can be an issue as it does not break down in any way.
However, some people like to leave it out. It's an item of interest and adds character to their craft room.
Clamping horizontal swifts on to chair backs creates a vertical type.
Here is the video. Well worth watching! (Make sure to check out her channel, there's a wealth of information.)
Amish Yarn Swift vs Umbrella Swift
If you have space in your home for a swift on the table, then the Amish Yarn Swift would be an option. The downside is they often don't pack away easily, so not as simple to store.
The Umbrella Swift does fold down and can be easily stored away.
Which One Is Best?
There are many yarn swifts on the market with different features. I've listed some of the best yarn swifts in my reviews.

There is a handy checklist further down the page. When choosing the one right for you, think of the space you have, your budget, and the size of hanks you have in your stash.
Onyx Wooden Yarn Swift
Sturdy construction made of wood, laminated birch wood in black. The wood umbrella swift is uncomplicated to operate and very compact when it is packed away.
The black finish would look stylish in any room and is a point of difference.
Pros
The Knit Picks Yarn Swift is made of laminated birch wood.
The table clamp has a range of about 1 1/2 inches to 1 5/8 inches, so it means you can clamp it to tables, shelves, or even a chair.
Suitable for different yarn weights.
Made of strong materials.
Spins smoothly and efficiently
Golden brass hardware.
Hard-wearing screws
Very quick to set up and packs down for storage.
Simple to order online.
A great tool for a spinner and dyer.
Cons
You may need to use wood wax or polish to ensure the center sliding mechanism to go up and down easily. Not a big issue.
Click To Learn More / Buy From Knit Picks
Birch Yarn Swift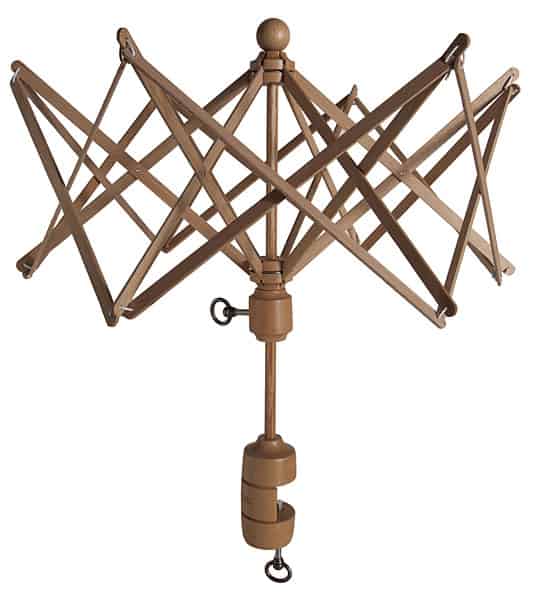 Sturdy construction made of wood, a cinch to operate, and very compact when it is closed. This is considered Knit Picks Signature swift.
One of our lovely readers, Sonia S, took the time to email her experience of using one.
Here's what she said. "I have the Knit Picks model, and my only complaint is the holding pegs are too small to get a good grip on to turn."
Pros
Made of wood.
The table clamp has a range of about 1 1/2 inches to 1 5/8 inches.
So it means you can clamp it to a variety of tables, shelves, or even a chair.
These yarn swifts are made of strong materials.
Quick to set up and packs down for storage.
Features non-slip pads
Cons
This model may need to use wood wax or polish to ensure the middle shaft sliding mechanism to go up and down easily.
Click To Learn More / Buy From Knit Picks
Stanwood Needlecraft Wooden Umbrella Style (Medium)
A medium-sized solid Umbrella Swift, made of birch wood material with a finely sanded finish.
The craftsmanship is evident, and it would look good in any craft space. Great care has been taken with the overall construction and performance to make sure it lasts for years. Truly an heirloom quality product.
Able to handle skein lengths of 6ft in circumference. When working, it's fairly quiet, and the spin is smooth. One of the more popular tool brands.
The manufacturer selects wood pieces without scars or blemishes. These yarn swifts are less vulnerable to breakage and have a lovely uniform sanded finish.
The ends of metal tying wires are hidden into holes, so no rough edges hurt your hands or snag the yarn.

Although the wood can take a lot of punishment, it can break if dropped, stepped on, or bent, so take care.
Pros
The Stanwood Needlecraft Medium size can hold up to 6ft skein in circumference.
Can clamp onto various surfaces, 1 3/4 inch thick such as tables, benches, or chairs.
Very sturdy construction made of quality wood.
Spins effortlessly
Packs down for storage.
No toxic or unusual smelling varnish fume
Cons
On rare occasions, the clamp screw part can sometimes crack, but screw replacements can be purchased.
Some people might not like the hemp ties that hold parts of the machine.
Click to Learn More / Buy from Amazon
Stanwood Needlecraft Wooden Umbrella Style (Large)
Made of solid wood and folds away. This swift can handle larger hanks with bigger circumferences.
When folded out, it takes up quite a bit of space in the room. Be sure to think about where you will have yours when in use.
This swift works well with all yarn weights, from the finest spun cashmere to super chunky merino roving.
With no metal hooks on the ribs to catch or snag yarn, even the finest strands wind off easily from start to finish. It's possible to use this yarn swift vertically by attaching it to a chair back.
Pros
Made of solid quality wood.
Can handle hank sizes and skeins with a circumference of 8.5ft.
Clamps easily to the edge of a table, bench, or chairs without scratching the surface.
Able to easily adjust the clamp screw.
Spins with ease.
Will clamp on to edge up to 1 3/4 thick.
Compact when not in use
Cons
Some customers may not like the hemp ties that hold the umbrella ribs section together.
Click to Learn More / Buy from Amazon
Stanwood Needlecraft Tabletop Amish Style Wooden Swift
Built of solid wood, this tabletop Amish Style swift has pegs to make it easily adjustable for smaller or larger rings of yarn. As the name suggests, it's used on top of a table or the floor.
Get your family involved and have a bit of fun with winding.
It can handle all number of string types.
The finish is created by fine sanding, and no varnish or polish is used.
It spins smoothly and makes yarn winding a fun job. You can even take it to a knit night because it comes apart, and assembly is fairly quick to do.
There are no screws. It's made completely of wood. The two base pieces fit together, and a short dowel is placed in the middle. On top of the dowel goes the 2 arms; when crisscrossed, create the 4 arms.
The 4 pegs are then placed where it will suit the circle of yarn size best.
When not in use, you can disassemble and store. Be aware it does take up a bit of room on a surface.
Pros
Not difficult to assemble.
Fine sanded finish, so no heavy wood varnish fumes.
Sturdy when on tables as it has 4 non-slip pads on the bottom surface. Can be easily adjusted by moving pegs to hold various hank sizes of skeins between 2 1/2 – 6 ft in circumference.
Smooth spinning.
Quality parts can easily come apart for storage.
Cons
You will need to consider the amount of space required.
Click to Learn More / Buy from Amazon
Maple Tabletop Swift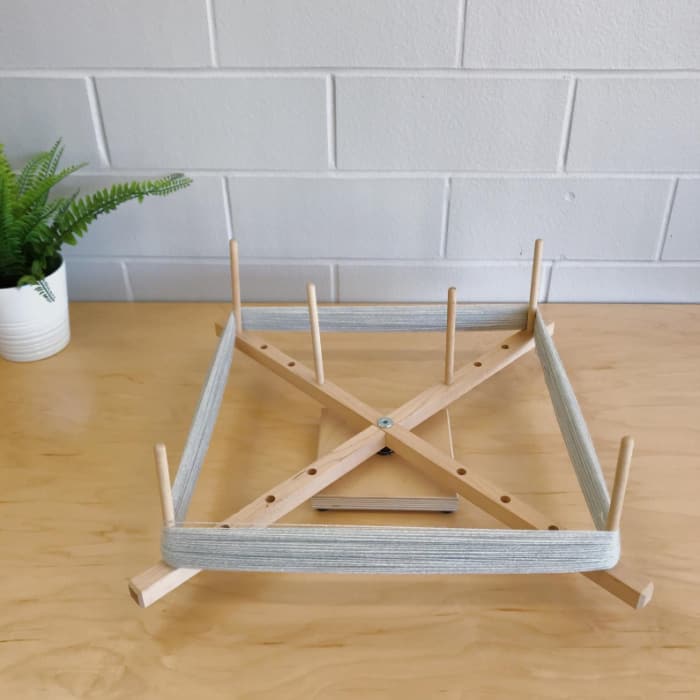 Fiber Artist Supplies Co model melds the simplicity of their popular tabletop swift arm design with a sealed metal ball bearing system's stability and durability.
They pride themselves on attention to details in this skeinwinder. This company has been sellers of top quality fiber arts products for a good while.

Made from maple and cabinet grade maple plywood in their workshop to create a yarn swift that will last for many years.
Schacht Ultra Umbrella Swift
What the expert knitters use – if you're planning to use your swift frequently, this swift is a workhorse. Rating as tough, sturdy, and reliable enough to pass onto the next generation, the only one you will ever buy.
The unique design allows this swift to be used horizontally or vertically using a quick-release pin. A swiveling knob and ball bearings create a superior smooth winding experience.
One great feature of this swift is how the ribs open for holding the hanks. The ribs open from the top down, which means you can get the ribs into place because your back muscles help you push them down.
You don't have to reach in or through the ribs to push up the ribs into position. Push down on the ribs and tighten the black knob to lock them in.
See it in action below.
Pros
The arms open from the top down
It switches from a horizontal to vertical rotation with a simple pull of a locking pin.
Clamps on most tables, even those with thick edges
Steel pins and plastic buttons hold the ribs in place
The metal rod in the middle helps with stability and noise reduction when spinning
This swift accommodates hank sizes up to 93 inches in diameter.
Handles different types of yarn weights and yarn types
No problem for storage as it collapses.
Cons
Not lightweight, which is a disadvantage
Click to Learn More / Buy from Amazon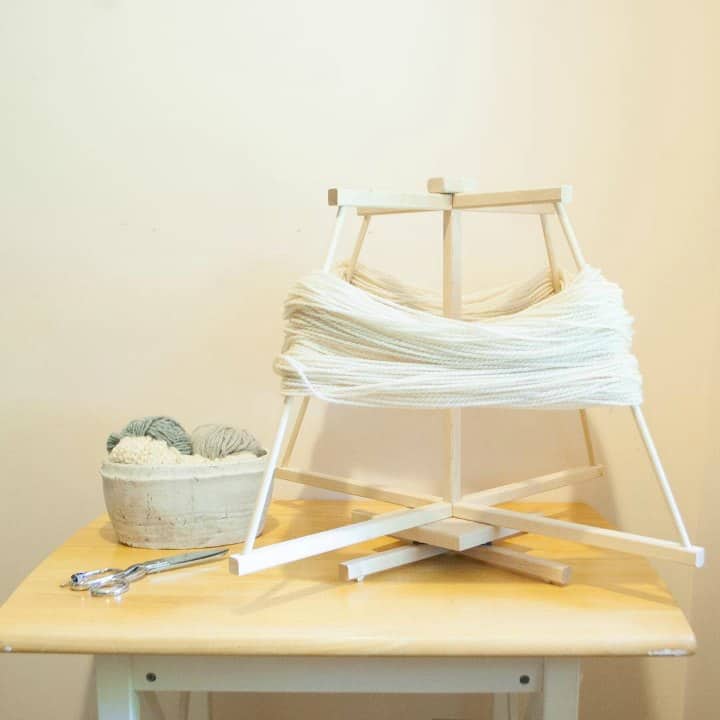 Beka Yarn Swift
The Beka brand is a tabletop swift with a heavy base. Made of hard maple wood, with metal ball bearings that make it spin smoothly.
It's made up of these pieces.
2 long bottom bars to support the dowels
2 shorter bars holding the dowels in place on the top
4 dowels
A center support beam
A base similar to a lazy susan
A top nob with a washer
4 rubber feet.
Good news is, it's not complicated to assemble. Due to the dowels' sloping, smaller yarn circles can be put towards the top, and larger ones can be put near the bottom.
Pros
Easy to assemble with clear instructions
Rotates smoothly
Quiet spinning
Great stability
Simple to place the wool loop over the top
Cons
Does not fold down for easy storage. It's possible to disassemble and pack away pieces.
These items require a fair amount of space.
Click to Learn More / Buy from Amazon
ChiaoGoo Wooden Amish Style
The Chiaogoo Amish Design Swift has a smooth wood finish. It can handle up to 62" circumference skein of yarn. It has 4 moveable pegs making it adjustable to fit different circumferences of skein loops.
Putting it together isn't difficult. It comes in 4 pieces, 2 for the base and two to make the crisscrossed arm sections.
There are 5 dowels, 4 used as pegs and a shorter one placed in the base's middle, which the arms go over.
The peg holes are labeled with the size skein in both inches and centimeters, which other users have found very helpful.
Pros
Simple and fun to use
Parts easy to assemble
This swift design can handle varying circumferences of skein loops.
No clamps – placed flat on the table or floor.
Smooth finish, so no snagging of fiber.
Cons
Doesn't fold down and pack away, but customers have found it easy enough to disassemble.
Will need space
Click to Learn More / Buy from Amazon
Knitter's Pride Signature Series Swift
An umbrella style swift. It's versatile when it comes to positioning it. It can clamp on the edge of a table, bench, or chair. Works well with smaller amounts of yarn.
Pros
Easy to assemble
Simple to use
Can fold down for storage
Cons
Not as smooth a finish as other swifts.