Knitting in the round is a great skill to have. You can use circular needles to knit in the round and make cowls, hats, socks, and much more.
Circular needles make it possible to knit a garment with a circumference, like the knitted accessories mentioned above.
This post answers the question of how to knit in the round on circular needles.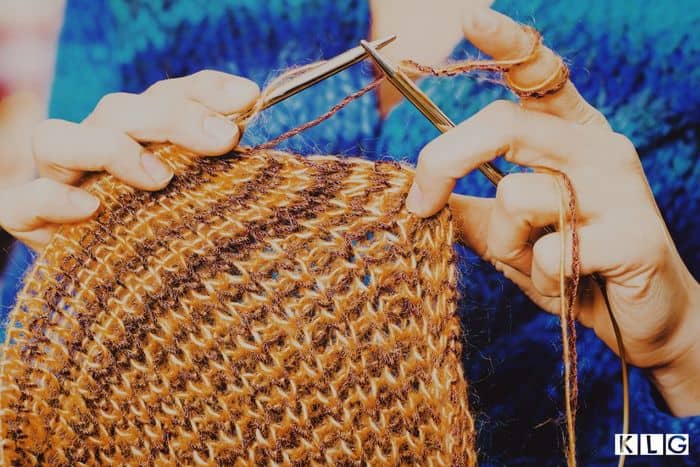 Table Of Contents
What Is Knitting In The Round?
What is Circular Knitting?
Fun fact: You can knit flat and in the round with circular needles.
Circular knitting needles are two needles made of many different materials some are bamboo, aluminum, or stainless steel. There is a cord (flexible cable) that connects to both of them. Bamboo needles are among the most popular.
That's what makes them different from straight needles.
Circular knitting and knitting in the round are the same things.
When you do this, you are creating a neat, seamless knitted tube. Rounds are like rows in flat knitting. There is no turning in circular knitting like there is in flat knitting.
Instead, when you reach the end of the round (you mark the end of the round with a stitch marker), you knit into the stitch after the marked one and keep doing that.
You continue knitting the stitches onto the right-hand needle, around and around, until you finish your project.
This also means you're knitting on the right side of the fabric. There is no working on the wrong side in circular knitting. Stitch patterns tend to look different when you use circular needles as opposed to straight needles.
For example, to create a stockinette stitch in circular knitting, you knit every row.
What Is Flat Knitting?
Flat knitting is where you use two knitting needles instead of a circular knitting needle. No cord joins the two.
Instead of rounds, you knit rows. You knit across the row until the end, then you turn the work over and continue to knit the next row.
Using this method, you can make dishcloths, seamed hats, squares for a blanket, and more.
How Do You Knit In The Round?
Right-handed instructions:
Step #1. Casting on.
The first step you need to do to get started is casting on stitches onto your needle tip. Cast on stitches like you would with straight needles. Make sure you are casting on to the right needle.
Your pattern will tell you how many stitches to cast on.
Step #2. No twisting allowed!
Now, this is an essential step, so don't skip over this! Make sure your stitches aren't twisted. What does that mean?
It means that you need to look at your stitches and ensure the little bumps under your stitches on your needle tip are all facing in the same direction, inwards.
What happens if you do twist it? You're in big trouble. If you're knitting a cowl or similar, it won't be nice and smooth, but there will be a big twist on the front! You don't want that. If you realize it's twisted, you'll have to rip it out.
So remember, no twisting is allowed!
Step #3. Joining in the round.
Next, mark the beginning and end of the round, and join.
See 'how to join knitting in the round' and 'marking the end' below for more detailed instructions.
Begin knitting, and continue with your pattern.
How to Join Knitting in the Round
Read my post on how to join in the round.
Marking The End
This step makes sure you don't lose the beginning and end on your needle tips. In circular knitting, the beginning is also the end!
You can use anything small and circular for a marker. You could use an actual stitch marker, a scrap of yarn tied into a loop, or even the colored circle attached to your electric toothbrush.
All you have to do now is place a stitch marker onto your right needle (left-hand needle if you're left-handed), and you are ready to join in the round!
Knitting In The Round Double Pointed Needles
Using dpns instead of circular needles is another way to knit in the round. The method is very similar. You cast on stitches the same. But it's a bit more difficult as you have more needles to manipulate.
A helpful, fun video tutorial for getting started with dpns by Davina from Sheep & Stitch.
Tips For Knitting in the Round
Choose The Right Length For Your Circular Needle
It will tell you which needle length and size to use if you are working from a pattern. If the pattern doesn't say, you need needles that are slightly smaller than your finished project circumference.
You can't use needles bigger than the finished circumference because that will end up stretching your project, and it will look all wrong in the end.
How To Create Neat Joins: How Do You Join Knitting In The Round Without A Gap?
When you are joining in the round, keep your tension tight throughout the process. Loose tension will result in untidy, loopy joins on your needle tips.
You can try knitting the first stitch when joining with both yarns, the tail, and the working yarn. Just remember to knit that stitch through both loops when you come to it again.
Choosing The Right Double Pointed Needles
Your pattern will tell you how many dpns you need and what size you need.
How To Avoid Laddering
Ladders are the spaces between knit stitches. They are stretched horizontal lines that go from one stitch to the next.
Tip #1. Try blocking.
After you finish your project, try blocking it. Move the stitches around the ladder and try to make the ladder go back to normal. Then let it dry.
Tip #2. Pull tight!
Pull the working yarn tight after the first and second stitch at the start of the round.
When To Change From A Circular Needle To Double Pointed Needles
Let's say you are knitting a hat. You start knitting with circular needles, but as you start decreasing towards the top of the hat, the stitches don't fit too well on the needles anymore.
That's when you change to double-pointed knitting needles. The hat's circumference gets too small for the circular needles, but it will fit just fine on DPNs. The pattern you're using will tell you when to switch to double points.
Your Questions Answered
Can You Knit In The Round With Straight Needles?
Yes. You can use multiple straight double-pointed needles to knit in the round.
How Do You Knit In The Round With Long Circular Needles?
Knitting with long circular needles is the same as knitting with any circular needles. The only difference is that there will be more stitches so the project can fit onto the needles.
What Circular Needle Should I Use?
Check the finished length of the project you're making. It would be best if you used needles that are slightly smaller than that measurement so that all of the stitches can fit around them.
What Are Circular Needles?
Circular needles are similar to straight needles, except the circular needle has a cord attached to the end of one needle, then attached to the other end of the other circular needle.
The length from tip to tip is how long the circular needles are. They come in different lengths and different needle sizes. The sizes for circular needles are the same as the sizes for straight needles.
Can You Knit A Circle?
Yes! That's the whole point of circular needles. Circular needles allow you to knit in a circle and create a tube.
How Do You Knit A Flat Round Circle?
Believe it or not, you can knit a circle. You use double-pointed knitting needles.
Here is a video and photo tutorial showing you how to knit a flat circle.
Knitting In The Round With 2 Double Pointed Needles
You can use two double-pointed needles to create a tube. You can also do this on a circular needle using the magic loop (developed by Sarah Hauschka).
You actually use three needles, but once a round is completed, the stitches sit on two dpns. The thirds needle is a replacement needle. You always end up with one empty needle.
This is an essential skill for all knitters, regardless of whether you're a beginner or an advanced knitter, because you can make so many cute things like baby hats and socks.
I hope this guide on knitting in the round for beginners helped you.
Pin Now To Save For Later