Whether you're a beginner or knitted for years, there are knitting kits to suit. I have recommendations for a knitting starter kit, and a beginners knitting kit.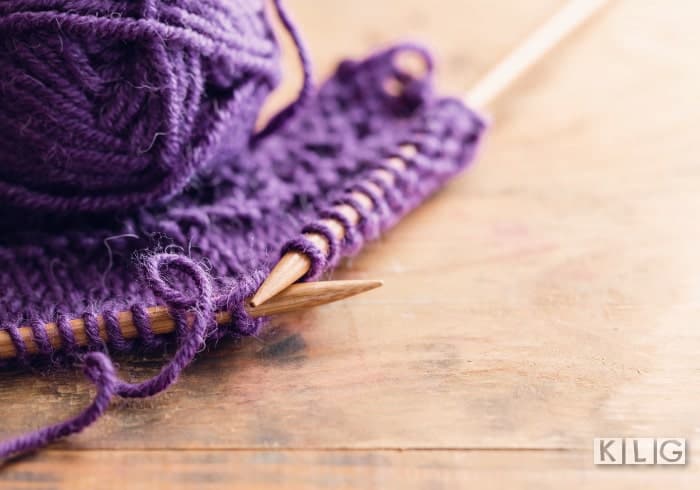 My Quick Recommendations
I reviewed and updated this post on January 8, 2022.
Table of Contents
Kits For Beginners
Ultimate Dishie Dishcloth Kit
The Dishcloth Kit by Knit Picks contains everything you need to learn basic knitting techniques while creating dishcloths.
The seller also has other great kits to suit many people, like ones for beanies.
What does the kit include?
Printed Copies of 52 Weeks of Dishcloths, 52 More Weeks of Dishcloths, and Clean & Crafty
9 balls of Dishie (1 Pomegranate, Fiesta Red, Clementine, Creme Brulee, Honeydew, Jalapeno, Azure, Blue, and Swan)
Learning the basics of knitting stitches, such as knit and purl, can create a lovely first project.
The kits below are specifically designed for beginners, so they include the materials required, including yarn, knitting needles, and patterns.
A yarn reel keeps your yarn organized. A wonderful tool for knitters.
Boye Beginners Teach Yourself Kit
Founded in 1906, Boye Needle Company was the first American manufacturer in the business of crochet hooks and needles. They know a thing or two about knitting! Perfect beginners knitting kit.
Includes:
I Taught Myself Knitting Book (Which shows fun and easy projects for beginners)
2 sets of knitting needles (sizes 6 and 8)
Cable stitch needle
Tapestry needle
Tally, stitch holder 1/4-inch cabone rings
Gauge which will come in handy for your projects
Pros
Has everything included to learn the basics of knitting.
Cons
Remember, when you are first learning, reading a pattern is not always easy. Be kind to yourself and keep persevering.
Check Price On Amazon
Want more knitting projects to try? Read my post on the best knitting book.
Knifty Knittings Beginners Scarf Kit
Knitting a scarf is a simple project perfect for beginners. The pattern uses a simple knit stitch for every row.
In your kit, you'll find:
2 skeins of Lion Brand Wool-Ease Thick and Quick yarn (80% acrylic/20% wool) in either Fisherman or Charcoal
1 pair of US 15/10 mm knitting needles
1 jumbo yarn needle
Written pattern
Video library access
Looking to learn a new skill? See my review on the Andrea Wong knitting masterclass.
Chunky Knit Headband Kit
This kit is perfect for a beginner, a friend, or somebody looking for a fast, chunky yarn project. After you start, you'll be done in no time!
In your kit, you'll find:
2 cakes of yarn, enough to make 2 headbands (80% acrylic/20% wool) (regular, not merino wool) in your color choices
1 pair of knitting needles
1 large-eyed tapestry needle
Written pattern
Link with How To Knit Video Instructions Included
Highly rated with glowing reviews. The store also has fiber packs, perfect for making an interesting basket!
Do any of these kits catch your eye? See more options in my post on the best gifts for knitters.
Kits For Kids
These are great ways to get kids into the world of knitting! Maybe it will become one of their interests.
Creativity Kids Quick Knit Loom
Easy to use knitting loom product to encourage kids' creativity and imagination.
Create
Clothing
A beanie hat
A scarf
A purse
Other fun projects like weaving projects
This kids weaving loom is perfect for ages 7 and up with a view to increasing their knitting confidence.
Also to learn fine motor skills.
What does the kit include?
3 skeins of yarn totaling 90 yards)
1 handloom
1 large circular loom
3 assorted needles
Assorted buttons and beads
Instructions
Pros
Once kids get started with a little help, it is easy to complete projects.
Suitable knit kits for kids
Cons
Getting started can be tricky, and children will require a bit of help.
Check Price On Amazon
Knitting Loom Kit
LAYOER Round Knitting Loom Set
Ever tried loom knitting? It's fun and worth a look!
What does the kit include?
Set of 4 round knitting looms – 5-1/2″, 7-1/2″, 9-1/2″, 11-1/2″

Plastic needle and looming hook

Instruction sheet
Pros
Simple and easy to use instructions.
Bright colored looms
Sturdy materials
Suitable for adults and children for a learn how to knit kit
A great technique to learn
Cons
You need to buy fiber as it's not included.
Check Price On Amazon
Boye Round Loom Set
Kits for knitting. Make things and projects like hats, booties, a pair of slippers, scarves, and much more.
What does the kit include?
Contains one 5-1/2 inch loom 24 pegs
One 7-1/2 inch loom 30 pegs
One 9-1/2 inch loom 36 pegs
One 11-1/2 inch loom 40 pegs
One hook
One needle
Pros
Able to make a range of projects
A great hobby to try
Cons
Slits on the pegs. They take your yarn under the head of the peg, making it very difficult to grab the loop with your hook.
Not suitable for lace weight yarns.
Check Price On Amazon
Round Knitting Looms Set
What does the kit include?
Full instructions included
Lightweight & durable
Made of plastic
Make scarves, hats, socks, shawls, and much more
Looms – x1 9cm (20 pegs), x1 13cm (44 pegs), x1 18cm (62 pegs), x1 23cm (72 pegs), x1 28cm (82 pegs), x1 36cm (76 pegs)
Pros
The loom is the perfect size for scarves and hats.
Easy to follow instructions
Cons
Instructions included might be confusing without the help of Youtube
Check Price On Amazon
Scarf Kits
Knit Picks Learn to Knit Club: The Scarf – Voyage
Complete a knitted scarf in four gorgeous colors in no time. Easy to do and knits up quickly perfect for beginners.
What does this kit include?
4 balls of Swish Worsted Yarn (1 each in Dove Heather, Marble Heather, Serrano, and Delft Heather)
US size 7 (4.5mm) Sunstruck straight knitting needles
A yarn needle
A handy instruction booklet with photo illustrations helping you every step of the way.
Pros
Everything you need to complete a finished scarf
Good for beginners and for crafters of all skill levels
A fun activity to do at home!
Cons
May take a beginner longer than they expected
Kits For Adults
Chunky Blanket Kit
A great beginner-level kit, make your blankets however big you wish! It looks complicated, but it's a lot easier than you think.
All kits come in a 100% natural cotton, ethically sourced LAD bag stuffed to the brim with;
Super Chunky Yarn in your choice of colour/s – choose your amount of yarn according to blanket size
How To Knit instructions
Knitting pattern
(optional) Tapestry needle
(optional) 15mm circular knitting needles
You could also use this to practice arm knitting. For more on this technique, see my guide to arm knitting for beginners.
The store sells kits for sweaters.
Muir Throw Blanket
This blanket knitting pattern is fun to knit with medium-weight yarn. It creates an interesting, cozy texture.
Another great option of kits for knitting. Perfect to make sitting on the couch at home, lovely and cozy. Find more inspiration on Lion Brand's blog and in their marketing emails.
What does the kit include?
Digital pattern
6 balls – Mandala® Ombre Yarn
Super Chunky Outlander Cowl Knitting Kit
What does the kit include?
2 skeins of Super soft Silk/Merino by Living Dreams – Color: Ivory
1 pair of US #19 (15mm) Bryspun Needles – big needles with special speed tips
1 printed Pattern with Photo Tutorial and Special Handling Tips for ELEGANCE Roving Yarn
Loop is approximately 10″ wide x 60″ (25cm x 150cm).
Pros
One Size Fits All – finished Cowl is very stretchy.
Craft Instructions are super easy
Super soft yarn
Cons
Not suitable for beginners
Check Price On Amazon
Urth Yarns Viva Shawl
Just a single skein of Monokrom makes this shawl with a finished wingspan of 60 inches! This project is knit from the top down in alternating sections of stockinette and an easy mesh pattern.
What does the kit include?
A skein of Urth Yarns Monokrom Fingering
The pattern
DMC Top This Kid's Hat
Make a cute hat with a plush animal topper. The products used in this kit are child-friendly.
What does the kit include?
80g ball of multi-colored, multi-textured yarn
Colorful plush animal topper
Soft stabilizing grommet
Instructions to make a hat for toddlers to teens
Fabric type is Polyester
Pros
Easy to make.
Clever way the animal heads attach to the hat, easily removable for laundering.
Cons
Needles are not included.
Yarn can fray or include knotted sections
Check Price On Amazon
Koigu Venation Shawl
Designed to make the most of the Koigu pencil box set featuring 10 colours, Venation Shawl has simple shaping also keeps the project interesting.
It is inspired by the venation structure of leaves, and the autumnal colors chosen for the sample reflect this.
What does the kit include?
10 demi skeins Koigu Painter's Palette Premium Merino (KPPPM)
Sock Kits
Learn to Knit Socks
Kit contains:
Knit Bits: Learn to Knit Socks – Printed Version
Sunstruck 8″ DPNs Size 5 (3.75mm)
Sunstruck 40″ Fixed Circular Needles Size 2 (2.75mm)
Sunstruck 24″ Fixed Circular Needles Size 2 (2.75mm)
Kitchener Stitch – Project Bag
Tape Measure 60″
Locking Stitch Markers
View Sizer
Zipper Pouch – Stone and Quarry
Christmas Stocking Kits
Christmas Stocking Kit – Snowflake
What does this kit include?
Yarn and instructions
Alphabet Chart included for personalization.
Pros
The directions are clear and the graphs are easy to use.
Cons
Important Note: Yarn is 100% Pure Wool and NOT intended for the machine washing.
Needles not included in this kit.
Check Price On Amazon
Googleheims Christmas Stocking Kit
What does this kit include?
A full color chart, close-up photo and illustrated diagram to follow while embellishing the stocking
100% wool yarn, a full-color chart, an alphabet and embellishments
Finished size is approximately 7″ wide x 23″ long
Pros
The instructions are very easy to follow
Gives a link for a video showing how to short row the heel which was very helpful.
Nice quality yarn
Cons
This kit does not come with needles or other tools.
Requires US Size 5 and US size 7 needles, a beading needle, and a large tapestry needle.
Check Price On Amazon
DooLallies Christmas Snowman
Kit includes instructions for the toe to point left or right
Finished size is approximately 7″ wide x 21″ long
What does this kit include?
100% wool yarn
Full-color chart
Alphabet
Embellishments
Pros
Easy to follow instructions
Cons
Needles not included – Requires size 5 straight or circular needles to create a 7″ wide & 21″ long stocking.
Check Price On Amazon
Afghan Kits
Winter Dance Afghan
What does this kit include?
9 Balls of Wool-Ease® Thick & Quick® Yarn
Digital pattern
Optional needles and accessories if they're in stock
Ships to almost any country, and makes a great gift!
Baby Blanket Knitting Kits
DMC Hug This! Lamb Double Hearts Baby Blanket Yarn Kit
Enough yarn for a baby blanket and kit includes a Lamb plush toy. You may find this item on sale occasionally. There's only one color available.
These make great gifts.
Yarn: 100% Acrylic
Weight Category: 2
Weight: 7 oz, 764 yds
Looking for more options? Try We Are Knitters and Loopy Mango.
Why Would You Use A Knitting Kit?
For Beginner Knitters
Our lives get so hectic, and we can't afford to put time aside to knit! It's very time-consuming, especially a project such as a scarf or blanket for your home. Knitting can also be very tricky! Some days you might be ready to give up.
Trying to balance your responsibilities is stressful! Knitting helps us unwind and relax.
For beginners, these are valuable pieces in a knitter's repertoire.
They save you time. Everything is ready to use
Nothing is too complicated or time-consuming.
Most projects can be created quickly
Patterns included have simple techniques and stitches.
Projects perfect for beginners are scarves. A beginners knitting kit should be fun and enjoyable. Simple and with a repetitive pattern, an easy way to start.
Often they're small projects, so you can take them out to coffee shops and other places.
For Advanced Knitters
Sometimes you want everything you need to finish a project delivered.
No need for the decisions you usually make – which pattern, yarn, color?
The decisions are made for you. So simple!
What To Look For
Quality needles, yarn and other items
Easy to follow pattern with clear instructions
These are a great way for beginners to learn how to knit. Hope you found something suitable for your creations.
You can find kits on sale sometimes.
Pin Now to Save for Later