Mosaic knitting or slip stitch knitting is a beautiful colorwork technique for colorful fabric patterns. Sound interesting? Read on.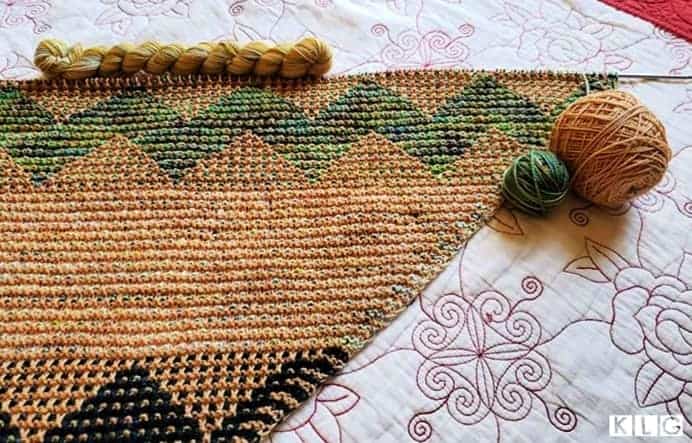 Knit sweaters, socks, hats, pillows, scarves, and blankets
Learn more about slip stitch colorwork, how to do mosaic knitting for beginners, and recommended mosaic patterns.
I reviewed and updated this post on September 5, 2022.
Table Of Contents
Things About Mosaic Knitting
What's great about this knitting technique is you only knit with one color per row.
It's easier than other colorwork methods. It doesn't have floats (the leftover yarn on the back of fair isle knitting).
I've made two mosaic knitted projects, the Kentia Wrap and the Slip Knit Love Shawl. I love how they turned out.
Want to learn something new? Try casting on arm knitting.
Mosaic Knitting Origins
Mosaic knitting has been around for around 60 years. Most people haven't heard of it.
Intarsia and Fair Isle knitting are more commonly known.
Who Invented Mosaic Knitting?
An author, Barbara. G. Walker invented it in the 1960s.
Every winter, she chose a new subject and learned all she could. When she was 35, learned to knit.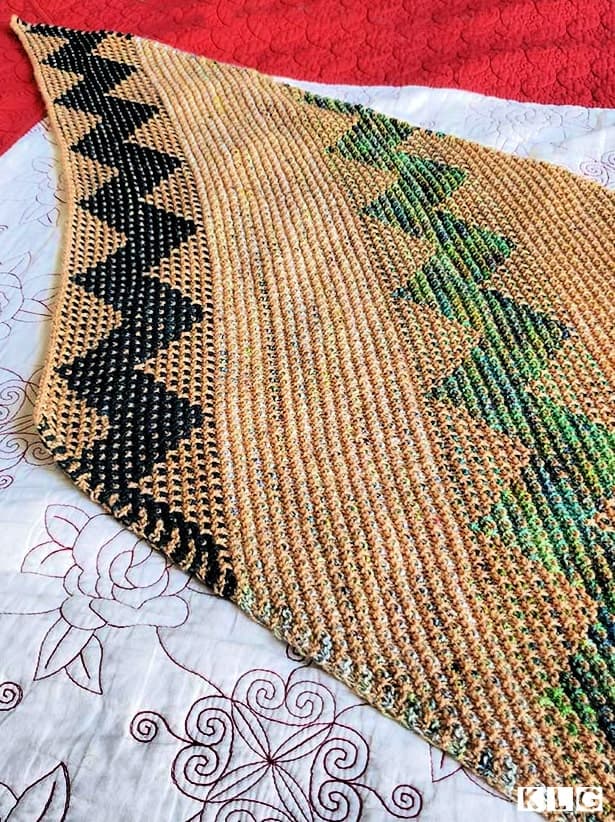 The Mosaic Knitting Technique
You work with one color yarn per row.
Let's say color 1 is yellow and color 2 is purple.
Work across a row by knitting the stitches in color 1 and slipping the stitches in color 2.
What Is Slip Stitch Knitting?
It's a color technique used in knit projects. It's unique among color methods as it's based on two-row stripes.
Two rows of one color, two rows of the other.
Slip stitch knitting used
Bright colors
Two yarn types
Slip stitches
Slip Stitch Abbreviations
wyif – with yarn in front
CC – contrast color
wyib – with yarn in back
sl (number of stitches) – slip (number of stitches)
MC – main color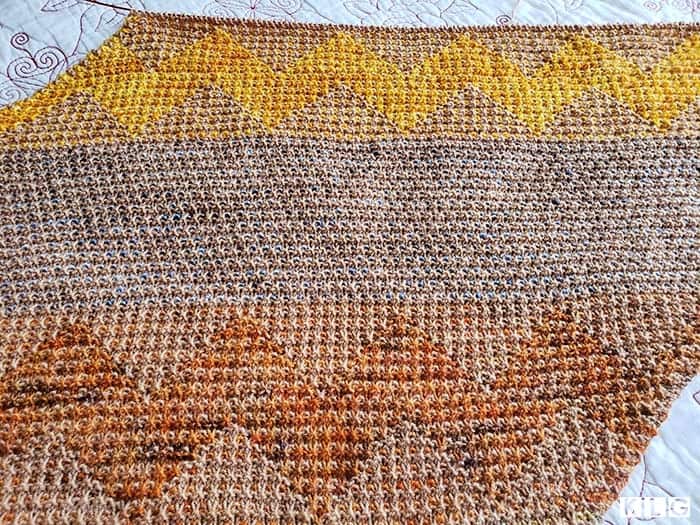 Mosaic Knitting Tutorial
Use contrasting colors so the pattern stands out.
How To Read Mosaic Knit Charts
Here's a guide by Knitting with Suzanne Bryan.
Knitting Mosaic In The Round
Work rows from right to left as you always work on the right side. Using a mosaic chart? Read that right to left.
Here's a tutorial by The Chilly Dog.
Knitting Mosaic Chart Generator
Here is an excellent chart generator for knitting slipped stitches by Laura Kogler. If you use it, thank her!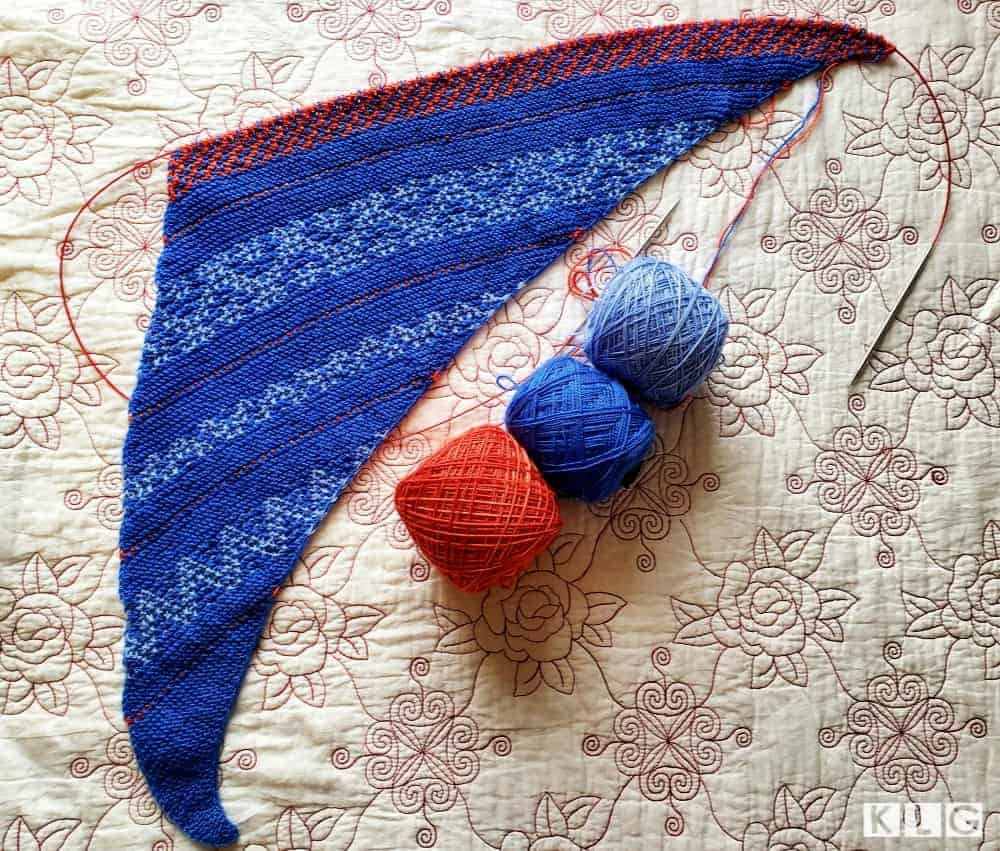 Mosaic Knitting Patterns To Knit
Here are great knitting mosaic patterns.
A beautiful cowl – The Tesserino Cowl by VeryPink Knits.
A lovely shawl – Etude NO 6 Shawl by ExpressionFiberArts
Q&A
Is Mosaic Knitting Hard?
No, mosaic knitting isn't hard. It's one of the easiest colorwork techniques to learn.
It's great for beginners, as you are only using one color (one strand of yarn) at a time.
Why Do Mosaic Colorwork?
Some people think mosaic colorwork is a substitute for stranded knitting (another type of colorwork).
It's a good alternative, but the two techniques are different. Mosaic knitting is easier and more stretchy.
Is Mosaic Knitting Reversible?
It depends on whether you like the wrong side of mosaic knitting. I think it looks better on the right side.
The pattern is more defined on the right side, it often looks strange on the wrong side.
Some mosaic knitting patterns are reversible.
How To Fix Mistakes In Mosaic Knitting?
Here is a video tutorial by WatchBarbaraKnit on Youtube.
How Do You Knit Different Colors In The Same Row?
Here's a great video tutorial by 10rowsaday on Youtube.
How Do You Slip Stitch In Knitting?
Step 1
Insert the right needle into the first stitch of the left needle
The pattern tells you to slip knitwise or purlwise.
To insert your needle knitwise, insert it as if you were going to knit
If you want to make a slip purlwise, insert your needle as if you were going to purl
Step 2
Now your right needle is inserted into the first stitch on your left needle
Without making a yarn over, transfer the stitch onto your right needle
You've completed your slipped stitches!
For a visual guide, here is a video by NobleKnits.
I hope you enjoyed this colorwork article.
If you have questions, ask them in the comments.
Pin Now to Save for Later