The inspiration for knitting the Pomatomus Socks came from an Instagram post from knit designer Louise Crowthers.
The stitch pattern of what resemble fish scales caught my eye.
The design was for Pomatomus Socks by Cookie A. The pattern is available for free on Knitty.com.
Here's Cookie A's blurb about these socks –
Step up the difficulty level of your socks a few notches by using a non-rectangular 12 stitch x 22 row repeat pattern combining yarn overs and texture on every row.
The yarn overs are fairly subtle, leaving the sock a little airy but not too lacy. The curved twisted stitch ribbing adds asymmetry and depth.
The finished socks are reminiscent of blue-green fish scales hence the name Pomatomus, the genus of the blue fish. If you're up for a challenge, this is for you.
The eponymous blue fish are somewhat vicious with sharp teeth, powerful jaws, and a cannibalistic tendency. Stay alert, and you should wade through these socks just fine.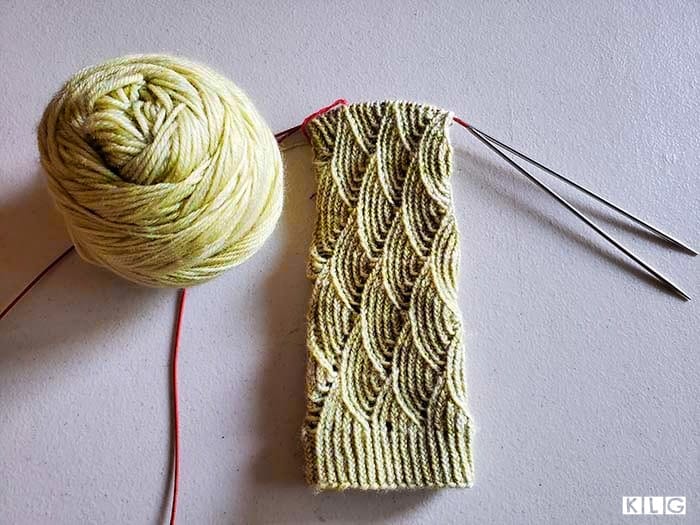 I adored the look of these socks and really wanted to knit them. I'm not an experienced sock knitter with only 4 pairs of socks which were basic patterns. I knew these would be difficult but it didn't perturb me.
The pattern is written for double pointed needles. I was determined to knit on my Chiaogoo Red Lace circular needles using the magic loop method.
So I placed 36 stitches on each needle and used stitch markers to denote the 3 sets of 24 stitches.
I had some difficulty with understanding how to do some of the instructions.
Thanks to the awesome members of Ravelry, I was able to work out the translation of the movement of stitches using circular needles/magic loop method instead of three DPNS and five DPNS for the gusset.
The yarn I chose was Fiber Lily's Melon Hand Dyed Yarn – Super Soft Sock.

Yarn dyers always alert you to the fact the color depicted online may look different to the color of the yarn in reality due to lighting and how colors look on screens. This certainly was the case for the Melon colorway I chose.
Online it looked a brighter green but when I received the yarn it was much paler. I'll admit I was disappointed in the actual pale green color but not in the feel of the fiber.
Fiber Lily's Super Soft Sock base is 4 ply, fingering weight 75% Non-Mulesed Superfine Australian Merino superwash/25% nylon. 20.5 micron Australian merino. The wool felt exquisite.
The cuff and heel flap are knit in 1×1 twisted rib and the result is visually pleasing.
The overall fish scale pattern is fabulous and although I had many challenges with this pattern, I was super happy with the finished socks.
The sock is airy but still very warm thanks to Fiber Lily's gorgeous yarn. I thoroughly enjoy wearing these socks and have had many compliments.
Pin Now to Save for Later