Circular knitting needles are versatile! Use them for many projects. I use fixed ones with bamboo or stainless steel tips. Circulars make complicated knitting much easier! In this post, I share everything about these top knitting needles.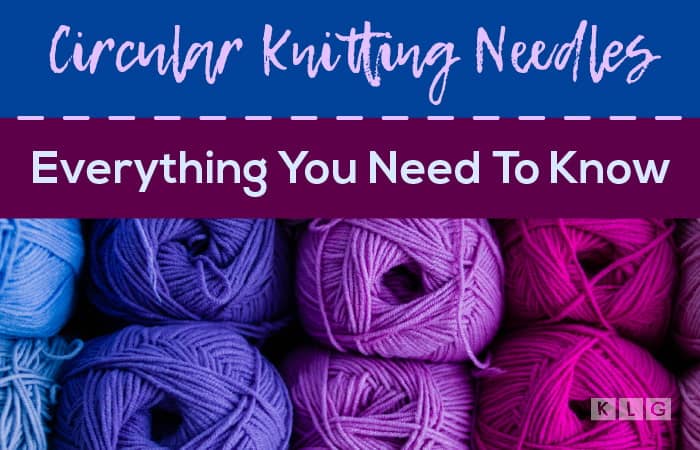 My Quick Recommendations
Note: These aren't good kids knitting needles. I reviewed and updated this post on Nov 25, 2022.
Table Of Contents
Best Circular Knitting Needles
Here are my Top 10 picks and brands for the best circular knitting needles.
1 ChiaoGoo Red Lace Circular Knitting Needles
Check Price on Amazon
I adore these circular knitting needles. I've used them for my sock projects and shawls. They work with many different knitting patterns. Cables, colorwork and lace designs suit these lovely tools.
The red nylon covered multi-strand stainless steel cable is fabulous to work with. In my experience, it's flexible and doesn't kink. They're an excellent investment.
Needles are made of stainless steel. The bright red cable is flexible, multi-strand, nylon-coated steel cable. Speed knitters love the slick surface. Circular Knitting Needle Sizes:
16″ (40 cm) in US000 (1.5mm) – US15 (10mm)
24″ (60 cm) in US000 (1.5mm) – US19 (15mm)
32″ (80 cm) in US000 (1.5mm) – US19 (15mm)
40″ (100 cm) in US000 (1.5mm) – US19 (15mm)
47″ (120 cm) in US0 (2mm) – US19 (15mm)
60″ (150 cm) in US0 (2mm) – US19 (15mm)
The inch measurement is taken from tip to tip so includes the pair of needles and the cord in between. So for example a 16 inch circular is the length of the pair of tips plus the cable between them.
Useful for medium-sized projects, baby blankets, cardigans knitted flat or in the round, the body of a sweater or a lace knitting project.
Pros
The stainless steel is smooth and lightweight
Works with many yarns including wool and cotton
Excellent durability
The join of cable to needle is quite seamless so it doesn't snag stitches.
The tips are sharp which works wonders when doing complicated multi stitches
Cons
I find the size etched on the metal surface difficult to see without a bright light.
Want something smaller for knitting patterns like socks or sleeves? See the Chiaogoo mini interchangeable needles collection. These are perfect if you love knitting with 9 inch circulars.

This company is known for superior functionality and quality. Their products are favorites with many knitters. The extra long version is excellent for afghans and blankets as the majority of the stitches are held on the cable.
The options for the best yarn shop are listed here.
Check Price on Amazon
The surface is grippy but smooth on these bamboo knitting needles, and the cable is excellent. It has no memory, so it straightens with no need for steam or boiling water.
They're the best knitting needle for beginners. Bamboo circulars have smooth joins and pliable, clear nylon cables. They have a nickel-plated copper join.

Sizes 3 (3.25 mm) and larger are crimped to guarantee no separation, and they swivel! Sizes 0 (2 mm) – 2.5 (3 mm) have the same excellent cable as RED circulars and TWIST cables.
The size is laser imprinted on each needle tip.
9″, 12″ = US0 (2mm) – US9 (5.5mm)
16″, 24″, 32″, 40″ = US0 (2mm) – 15 (10mm)
Useful for sweaters, hats, mittens, gloves, socks, baby clothes, baby hats, home décor items, and blankets.
Pros
Smooth surface with the right amount of grip
Wood needles are lightweight and warm in the hand
Price is moderate and so worth it for the quality
Want to find soft yarn for baby blankets? My post has your back.
3 addi Turbo Rocket Lace
Check Price on Amazon
The needle metal tips are coated with white bronze. Producing bronze-coated needles uses less electricity and water and is more environmentally friendly.
Lace knitters love their versatility and knitting speed. The new finish of addi knitting needles is perfect for those allergic to nickel! Flexible plastic cord. Sizes:
8″ Cord Size – 0/2 mm – 5/3.75 mm
12″ Cord Size – 0/2 mm – 9/5.5 mm
16″, 20″ Cord Size – 000/1.5 mm – 17/12 mm
24″, 32″, 40″, 47″, 60″ Cord – 000/1.5 mm – 19/15 mm
Useful for baby clothes, cardigans, and blankets.
Pros
Smooth metal surface
Stitches glide
Great points
Suitable for fine yarn weights
These are a little higher in price when compared to Chiaogoo.
4 Clover Takumi Bamboo Circulars
Check Price on Amazon
I've used these knitting needles. They're easy to use! They have a smooth surface. The plastic cord is flexible, and the join doesn't snag on the yarn. There's a little memory retention.
Beginners enjoy the sticking ability of these knitting needles. The stitches don't slide off. The Clover points are blunter, with less precision than a metal needle in lace knitting.
These work with heavier yarn weights and novelty yarns. A good budget option. Needles made from smooth Japanese Bamboo. The cord is flexible plastic.
Clover needles are made in Japan, so they have metric sizing for the length and diameter of the needle. Cable length and sizes:
40cm, 60cm, 80cm, 100cm, 120cm – (2mm – 10mm)
Useful for children's sweaters, smaller sized women's pullovers, and baby blankets.
Pros
Smooth surface
Warm to the touch
Bamboo is cheaper in price compared with metal versions
5 Hiya Hiya Circulars
Check Price on Amazon
Needles are hollow, high-quality stainless steel. The cables are flexible plastic. (Like Chiaogoo.) Useful for children's and smaller sized women's sweaters, and baby blankets.
Steel Circulars
9″, 12′ – US 000 – 9
11″ – US 000 – 0
16″, 20″, 24″, 32″, 40″, 47″, 60″ – US 000 – 15
Sharps Circulars
9″ – US 0 – 9
16″ – US 0 – 19
24″ – US 0 – 19
32″ – US 0 – 19
40″ – US 0 – 19
Pros
Yarn doesn't snag on the join
Sharp points
Smooth surface
This brand is a often a higher price than Chiaogoo.
7 Knitter's Pride Dreamz Fixed Circular Needles
Check Price on Amazon
Needles are of dense laminated birch and black plastic cords. Dreamz Circular Needles lengths
10″ – US 0 – 8
16″ – US 0 – 17
24″ – US 0 – 19
32″ – US 0 – 19
40″ – US 0 – 19
47″ – US 0 – 19
Useful For Cowls, hats, the body of baby garments knitted in the round, mittens, and sweaters.
Pros
Gorgeous colors in the wood
Light in the hand
8 Knitter's Pride Karbonz
Check Price on Amazon
Needles are high-tech carbon fiber with tips in nickel and electroplated brass. Ideal for all yarns and for every project. The needles have high tensile strength, are lightweight with flexibility.
Unlike other metal needles, they're warm to touch & gentle in hand. A smooth join ensures stitch glide and no snagging.
Love knitting with metal? These are good. In the United Kingdom, these are KnitPro.
Sizes
16″ – US 0 (2mm) – US 10 (6mm)
24″ – US 0 (2mm) – US 11 (8mm)
32″ – US 0 (2mm) – US 11 (8mm)
40″ – US 1.5 (2.5mm) – US 11 (8mm)
Useful for lace knitting projects, garments, hats, and socks.
Pros
Lightweight and speedy
Metal tips make getting into stitches easier
(Note: these aren't for people with Nickel sensitivities.)
9 Knit Picks Nickel Plated Circulars
The smallest needle sizes and shortest circular needle lengths don't accommodate the interchangeable screw. (A feature of the Knit Picks Options needles.)
They offer durable fixed circular needles in the sizes and lengths not available as interchangeable circular needles.
Materials: These nickel-plated needles have a slick, glass-like surface so your stitches move freely. The hollow brass tube is lightweight for hours of comfortable knitting.
Sizes
16″ needles – US sizes 0 – 11
16″ needles are 3-3/8″ long
24″, 32″, 40″, 47″ – US sizes 0 – 3
Needles are 5-1/8″ long
Useful for mittens, hats, socks, shawls, sweaters, and larger knitted pieces.
Pros
Small needle sizes
Durable, flexible cable
10 Knit Picks Caspian Circulars
Caspian fixed circulars have strong, smooth layers of laminated birch and sharp tapered tips. The burnished surface of Caspian delivers the right amount of grip to manage slippery yarns.
It warms in your hands for hours of comfortable knitting.
16″ needles are in US sizes 0 – 11
Needles are 3-3/8″ long
24″, 32″, 40″, and 47″ needles are in US sizes 0 – 3
Needles are 5-1/8″ long
Useful for hats, socks, mittens, toys, sweaters, and larger knitted pieces. Want an interchangeable set of these needles? See my Knit Picks interchangeable knitting needles review.
Pros
The surface has a good amount of grip
Works well with slippery yarns
Comfortable to use
Great selection of sizes
Knit Picks Customer Service is excellent
FAQ
What Are Circular Needles? How are they different from straight or double pointed needles?
The two needle points are attached by plastic or nylon cord. The tips are often shorter than straights or double pointed needles. Materials used in these needles
Bamboo
Wood
Metal
Carbon fiber
Acrylic
Bamboo circular needles are great because they're easy to knit with. Bamboo needles are a great choice for beginner knitters. Wood and Bamboo have more grip. Metal and carbon fiber have slippery surfaces. Here are a few reasons they're good to use.
Two kinds of tips
Pointed for lace knitting
Rounded for bulky projects
Do challenging knits, like socks and hats. Also make clothing and bags without seams!
Another great thing is the cable holds the project's weight, letting it rest in your knitting project in your lap.
For projects needing double-pointed needles, use them with the "Magic Loop." I've knitted socks like this. There are different ways you use these needles.
When you're knitting, the cord holds the bulk of your project. It prevents strain on your hands, wrists and shoulders. Beneficial when you're knitting things like sweaters.
They make knitting when traveling easier, no losing the needle down the seat. Can you use straight needles instead of circular? Yes, though they're handy to have in your knitting toolbox.
Choosing The Best Circular Knitting Needles
There are two types, fixed circular knitting needles and interchangeable circular knitting needles.
Fixed have a set needle and cord size.
Interchangeables have different needle sizes in pairs, can be swapped, and come organized in a handy bag.
Things to remember when choosing the best circular knitting needles:
Ensure the joins are smooth. Roughness catches your stitches and tears your yarn
Cords should be strong and flexible. (If the cables become too coiled, soak in warm water. This relaxes the coils.)
Doing lace knitting? Choose sharp tips to make it easier to do the intricate designs and decreases
Choose the right size and cord length for the project
A little tip for storage of your circular needles. When you start to collect a few, place them in a sturdy zippered case or fabric roll organizer.
Handy Tip About Fixing Kinks In Your Cables
Heat water to almost boiling. Pour the water into a bowl – enough to cover your needles.
Use a chopstick to ensure the needles are covered (don't burn yourself). Leave them for about 30-40 seconds.
More if they aren't relaxing.
Once the cables relax, remove them from the hot water and lay them flat on a towel. The cables should be kink-free.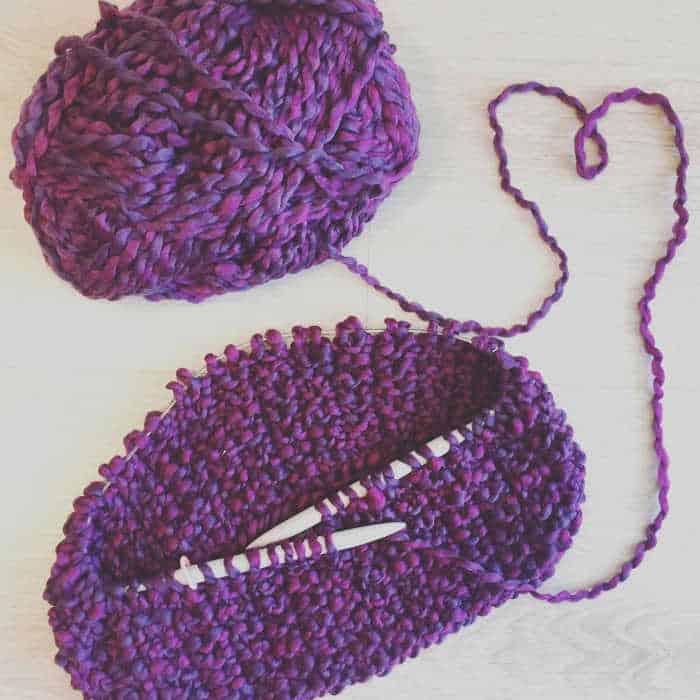 Interchangeable Circular Knitting Needles Set
The needles attach to many cord lengths. Ensure the cord length is smaller than the diameter of the knitted tube. If not, the stitches stretch, and you lose tension.
The price upfront may seem high, but if you purchase each, the cost is greater. Find a circular knitting needles set with many needles and cable sizes.
Things to remember when choosing Interchangeable Circular Knitting Needles:
Needles should stay fastened to the cord. It shouldn't unscrew or come loose
Sets with connectors are useful if you knit items like blankets.
Sounds good? Read my article on the best interchangeable knitting needles. I feature popular brands of these types of knitting tools.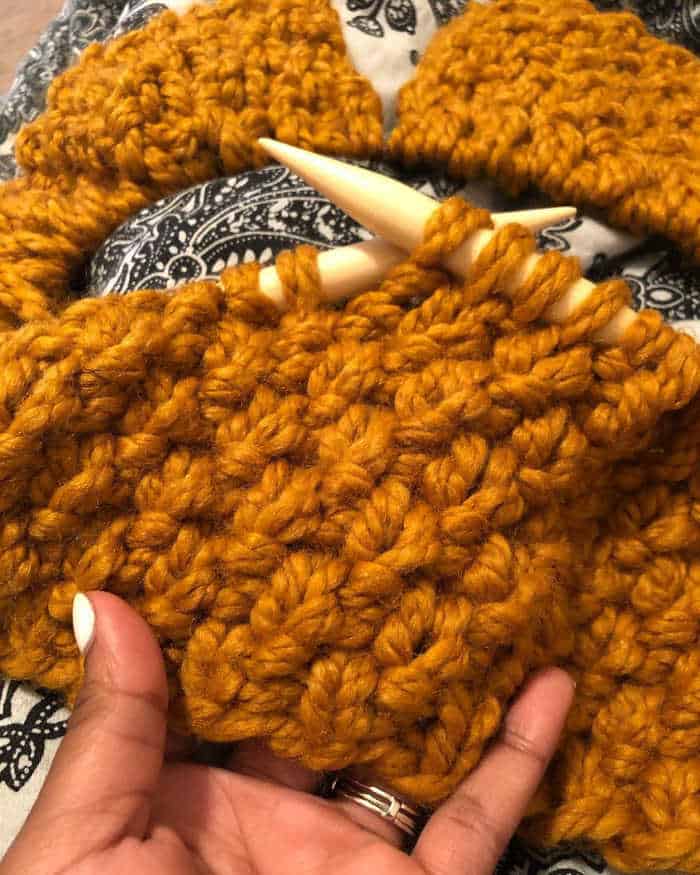 Guide To Cord Lengths
Cords are available lengths for different usage.
The circular knitting needle cables, including the needle tips (9″ – 40″.) Choose the right one to suit project.
All stitches need to sit on the cord without being stretched or bunched together. Not sure which length to use?
The pattern you're knitting tells you.
Circular needles sizes are confusing. They have 2 numbers. For example, Size 10 24″ needles.
The needles are size 10. 24″ is the measurement from tip to tip, including the needle lengths and the cable together.
To get the full measurement, you measure the whole thing.
What lengths do circular knitting needles have? Here's a list.
9″ – Super-narrow items, socks, baby hats, sleeves, clothing for dolls. Anything shorter isn't made, as they'd be impossible to use
16″ – Small projects, baby clothes, booties, collars, and sleeves for adult sweaters. Also for knitting in the round and hats for kids and adults.
24″ – Vests, cardigans, and other garments.
29″ – Medium projects, baby blankets or cardigans, knitted flat or in the round. Also, for the body of a sweater.
36″ – Heavy knitted flat things, like a shawl. Or small circumference creations knitted with magic loop.
40″ and Over – Great fixed circular needles for socks or sleeves two at a time. Also blankets and afghans. These are the biggest cord lengths you'll find.
Does length of circular needle matter? Yes.
Use a too small cord, and the stitches bunch up, lose tension, and become twisted.
Use a too big cord, and stitches stretch and become loose.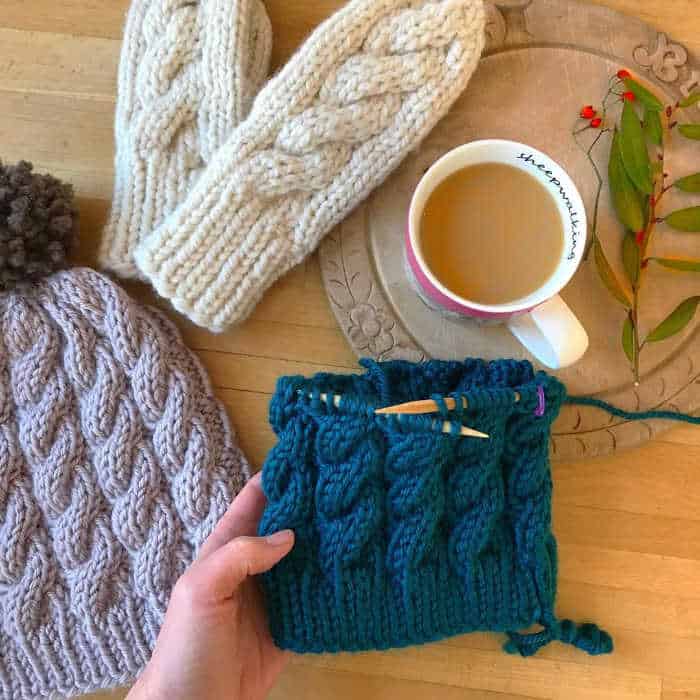 How To Knit With Circular Knitting Needles
There are two knitting methods. Knitting in the round and knitting flat.
Knitting in the round is where the cast-on row is joined, and you keep going until you've finished.
Knitting flat using fixed circular needles is like knitting on straights. You work back and forth.
Create each piece and sew them together at the end.
Circular needles are designed for knitting in the round, but you use both methods.
How Do You Knit On A Circular Needle?
Cast on your stitches, and distribute across the cord. The last stitch you cast on is the last one of the round.
Place a stitch marker here. It keeps them even.
If you twist them, the entire project becomes twisted. Undo your work and start again!
Knit a row until you reach the stitch marker.
You've done your first round. Put the marker on the right needle and knit the next row. Continue and repeat.
Say your knitting requires double-pointed needles. Do the project using two sets.
To knit in the round with this method
Cast on stitches needed on one set of circular needles
Slip half to the second set of circular needles
Slide the stitches to the other ends of your needles
Join them
How to Knit on Circular Needles in 5 Easy Steps
Studio Knit has an enjoyable and quick video on how to Knit on Circular Needles for visual learners.
With Kristen's recommendations, you'll create your first project in no time! She's a fabulous knitter.
Knitters new to this method have an issue with joining the round, this info helps.
How To Knit Flat With Circular Needles
Knitting flat is excellent when you're working on massive projects. For example, blankets, throws, and afghans.
The cables hold the project bulk. No aching limbs after a long day of knitting!
This method is the same as when you knit on straights.
No need to join the round, cast on, and knit.
Work from the left to right needle as usual, and switch hands when you reach the end of the row.
Continue and repeat as needed.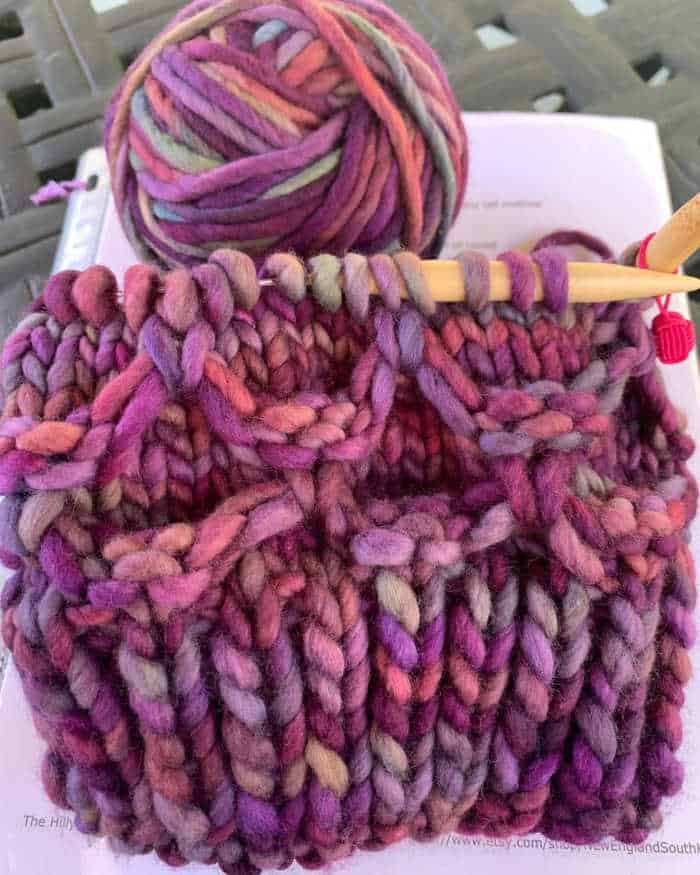 Knitting In The Round
With this method, you knit on the right side of the fabric. You need to change your basic stitches for it to turn out.
Most circular knitting is done in Stockinette Stitch. The way you do this is you knit every row. You don't have to stop at the end of the row. Keep knitting around and around.
That's the only difference when you knit on straights. There's less sewing of seams than flat pieces sewed together.
For Garter Stitch, you knit one row, purl one row. For Reverse Stockinette, purl every row.
These are common stitches you'll see in knitting in the round patterns.
Knitting in the Round for Beginners
Davina from Sheep & Stitch has an excellent tutorial about knitting in the round for beginners.
Davina has other video tutorials great for beginner knitters.
How To Use Circular Knitting Needles For A Blanket
Blankets are a massive labor of love. Large fixed circular knitting needles make it easier!
Holding a large number of stitches for a blanket is easier with these needles.
If you want to knit a chunky blanket with US50 (25mm) circular needles, you'll notice how quick it knits up.
Ryan from RJ Knits has a great video to learn from.
Q&A
What Are Circular Knitting Needles Used For?
Circular knitting needles are used for a variety of projects.
Smaller sized lengths like 16″ are perfect for hats and smaller circumference projects.
The tips of the knitting needles have a variety of points.
Material type
Metal
Wood
Bamboo
Plastic
Brands such as Boye, Susan Bates and Pony offer Aluminum versions.
Sharp points are ideal for knitting lace, and blunter points are perfect for bulky yarn.
The beauty of knitting with circular needles is the weight of many stitches is distributed.
Their primary purpose is to knit in the round.
Think
Sweaters
Cowls
Sleeves
Mittens
Hats
Knit flat by knitting back and forth with circular knitting needles. They're wonderful for knitting blankets.
How Long Should Circular Knitting Needles Be?
Patterns show the size and length of circular needles to use.
The circular knitting needles' length depends on the diameter of the tube you're knitting in the round.
Don't use a needle longer than the diameter of the tube of knitting. You also don't want them to be too short.
Knitting flat? It needs to be long enough to hold the stitches.
This is a guide for the length of circular knitting needles and the projects best suited to them:
9″ or 12″ (22 or 30cm) are best for small tubes like socks, mittens, or cuffs
40cm (16″) are useful for sleeves, hats, and bodies of children's jumpers
60 or 80cm (24 or 32″) work well for the bodies of sweaters for adults.
100, 120, 140, or 150cm (40, 47, 55, 60″) are for knitting large projects in the flat
Knitters love these small circular knitting needles, but they have shorter needle points.
You may not find them comfortable to knit with, depending on the size of your hands.
Perhaps it's better to use
A set of double-pointed needles
Other techniques like using 2 circular needles
Or magic loop
Can You Knit Anything On Circular Needles?
Pretty much everything can be knit on circular needles. Knit in the round and also flat pieces, so the choices are numerous. For this type of needle the choices are endless
knit hats
Scarves
Shawls
Cowls
Beanies
Mittens
Socks
Sweaters
Blankets
Home decor items
Can Circular Knitting Needles Be Too Long?
If you're making a project in the round, they can be too long. Don't choose needles longer than the creation you're making.
When Were Circular Knitting Needles Invented?
In 1918, the first US patent for circulars was issued. Antique to be sure! You can find circular vintage ones on Etsy.
How To Undo Knitting On Circular Needles
Here is a helpful video tutorial.
How To Transfer Knitting From Straight To Circular Needles
Here's a tutorial by Judy's Knitting Tips on Youtube.
Which Circular Knitting Needles Have The Most Flexible Cord?
Chiaogoo Red Lace are flexible and don't kink.
How To Fix Broken Circular Knitting Needles
Here are two helpful video tutorials.
How To Keep Knitting From Rolling On Circular Needles
You can't stop it when you're knitting. Blocking it after you've finished straightens it out.
How To Fix Knitting Mistakes On Circular Needles
Here's a helpful video tutorial on how to fix mistakes on circulars.
How To Measure Length Of Circular Knitting Needle
Here's an excellent tutorial by Nancy from NobleKnits on Youtube. Nancy has authored helpful books.
How To Make Circular Knitting Needles
Clara Parkes from Knitters Review has a great tutorial on how to make your own diy circular needles.
Circular knitting needles are my favorite! They create great results. As always I highly recommend checking your gauge as compared to the pattern gauge. Knitting a swatch gives you this information and makes the world of difference to the end result.
Leave a note in the comments below if you have questions. Your email address is never published.