Looking for a fun, colorful yarn? Self striping fibers might be the perfect choice. I explore what self striping yarn is, and ways to use it for knitting.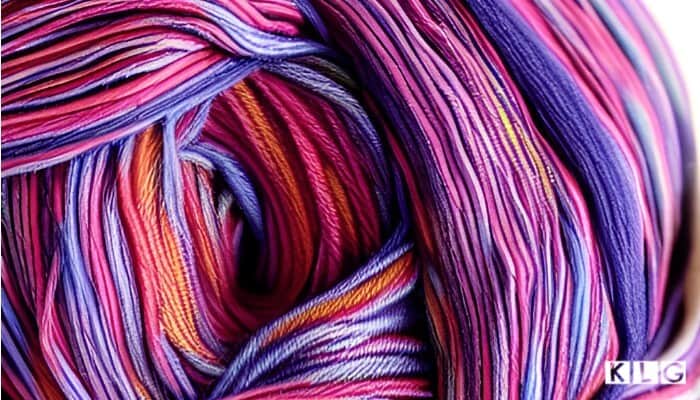 I reviewed, fact checked and updated this post on May 14, 2023.
Table Of Contents
What Is Self Striping Yarn?
They have gorgeous stripes and great for a pattern with color (colour) changes.(2) It's available in all colors of the rainbow, and it's also called self patterning yarn. They're great for knitters and crocheters. This fiber is popular because it's soft, durable, colorful, and fun to knit projects with.
Self striping yarn is a fiber sold at moderate prices.
How It's Made Into Yarn
The manufacturing process is different for handspun and mill-spun self striping yarn. For handspun yarn, the fiber is dyed in long sections of color. This is spun into a single ply yarn on a spinning wheel.
For mill-spun yarn, the fiber is dyed in shorter sections of color. It's plied with another thread to create a two-ply strand. This is wound into a ball, and dyed. It's very rare to find rayon yarn that's self striping.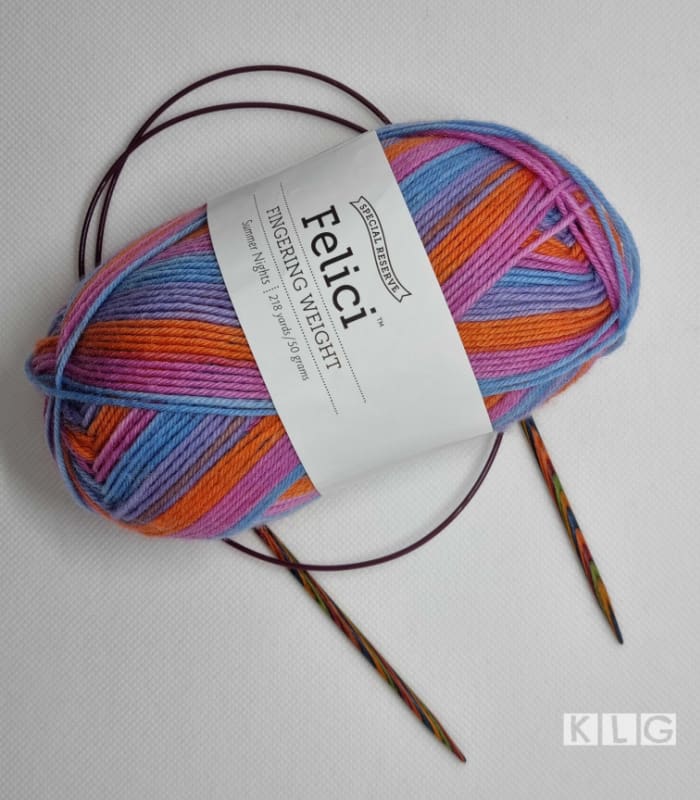 How To Wash Self Striping Yarn
Here are the care instructions for self striping fibers. Most self striping yarn is made of wool, so it felts if not washed properly. To avoid this, use cool water and a mild detergent designed for wool. Gently hand wash your project, and lay it flat to dry. Don't wring the yarn, as this damages the fibers.
Always check the yarn label for instructions specific to the yarn you're using.
Does It Shrink When Washed?
Wool fibers have a natural tendency to shrink when they're exposed to high heat. That's why it's important to hand wash your projects using cool water and a wool-safe detergent. If they're made with superwash wool, machine wash them on a cold cycle. This prevents the yarn from shrinking and keeps your project looking its best.
How To Soften Self Striping Yarn
Washing it after you've finished knitting always helps!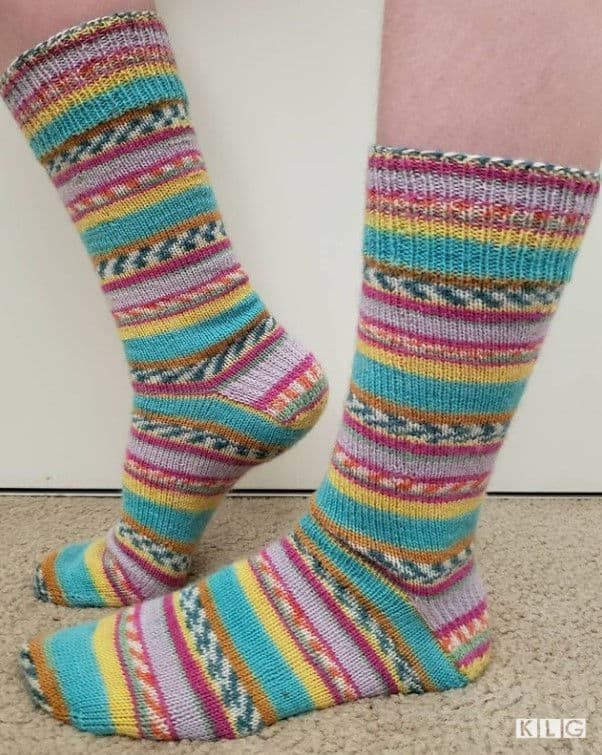 What's It Made From?
It's made with a collection of fibers like wool, acrylic, silk, and polyamide (nylon).
Pin For Later
What Do You Use It For?
It's often used for projects and things like socks, hats, scarves, shawls, sweaters, baby clothes, amigurumi, or a washcloth(1). It's a great choice for sock projects because it eliminates the need to cut and rejoin your yarn to change color.
The subtle color changes can create a lovely fair isle effect with self patterning yarns. Flecked yarn versions such as tweed include little daubs of color as well as the stripes. Many knitters and crochet designers take advantage of this. However, self striping yarn can be used for any project – your only limit is your imagination!
It's a great idea if you want to seperate the colors to use a yarn winder. So you can easily see each change of color and split as required. For more a guide on these winding tools see here.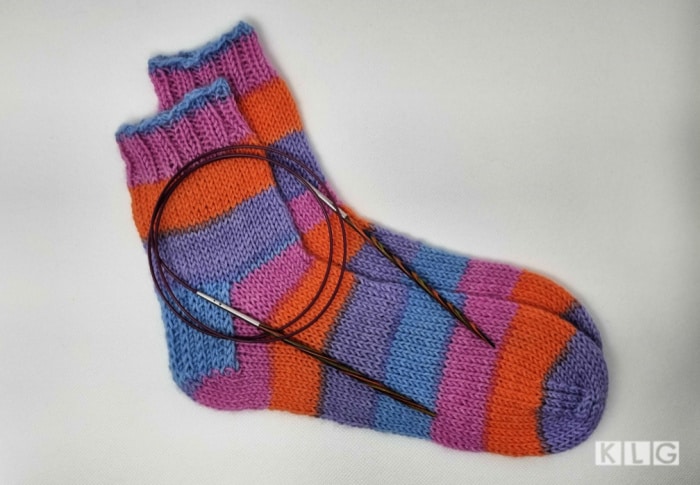 Where To Find It
Here's where to find this yarn: at a yarn store or craft stores in your area, at big box stores like Michaels, Walmart and Joann, online brand shops, and small businesses on Etsy. Here are brands or manufacturers of self striping yarns to try: Scheepjes Whirl, Paintbox Yarns, Ella Rae, Lion Brand Ferris Wheel, and Caron Cakes.
What's The Price Like?
The price of self striping yarn varies depending on the brand, fiber content, and where you buy it. Usually, it's more mid-range and upwards. They're available in many yarn colors all year round.
FAQS About Self Striping Yarn
Is Self Striping Yarn Safe For Babies?
Yes, it's safe for babies because many of them are OEKO-TEX certified. Ones made with merino are good for sensitive skin.
Is Self Striping Yarn Ethical & Eco-Friendly?
Some brands are more ethical and eco-friendly than others. Here are things to look for:
The yarn is made of sustainable fibers like bamboo, linen, or organic cotton
The yarn is certified by the Global Organic Textile Standard (GOTS), Fairtrade, or OEKO-TEX
The dyes used are non-toxic and safe for the environment
What Can I Make With Leftover Self Striping Yarn?
You can make scarf patterns, a shawl, an afghan, blankets, sweaters, baby clothes, amigurumi… the list is endless!
Is Self Striping Yarn Itchy?
Yes, sometimes it's itchy because it's often made with wool, and some people are allergic. If you or the person you're making an item is sensitive to the fiber, look for merino or plant fibers.
Is Self Striping Yarn Good For Clothes?
Yes, it's good for clothes because it's often made with natural fibers like wool, which is breathable and insulating.
Is Self Striping Yarn Good For Winter?
Yes, it's good for winter because it's often made with wool, which is warm and insulating. These skeins of yarn are often good for fall clothing, a hat, or a blanket too.
Is Self Striping Yarn Good For Summer?
No, it isn't good for summer because wool is a warm fiber. If you want something for summer, look for plant fibers like cotton or linen.
Do Self Striping Yarns Pill?
No, they don't pill.
Can You Dye Self Striping Yarns?
Yes, you can. Here is a video tutorial by ExpressionFiberArts on how to dye self-striping yarn.
It's a fascinating process!
What's The Difference Between Self Striping And Variegated Yarn?
Variegated yarns have random color changes, while self striping yarns have gradual, long color repeats. Here is a video tutorial by Nerdy Knitting on the difference between self striping and variegated balls of yarn.
It shows clearly the difference in how the colors appear in a knitted fabric.
Another type of yarn that's often confused self striping yarn is gradient yarn. Here is a video tutorial by Barbara from WatchBarbaraKnit on the difference between these two yarns.
These are both fun yarns to knit with but they create different affects. You can choose what suits you.
How Can You Tell If Yarn Is Self Striping?
The best way to tell if yarn is self striping is by looking at the way the colors change along the skein. If there are long color repeats, it's likely to be self striping.
Does Self Striping Yarn Work With Crochet?
Absolutely self striping yarn works with crochet! Crochet projects like scarves, hats, socks, mittens, sweaters and shawls look gorgeous in this yarn.
Conclusion
Happy crocheting or knitting! Hope you enjoyed this article. Do you have questions? Please leave them below!
References
N.d. Albany.edu. Accessed October 27, 2022. https://www.albany.edu/eap/images/Starfish_DishCloth_II_.pdf.
https://www.academia.edu/6804526/Yarns_2