The best yarn winder and swift make winding yarn easier. The swift keeps the yarn from getting tangled, and the winder makes quick work of winding yarn.
My Quick Recommendations
Want more detailed info? Read through this content.
I reviewed, fact checked and updated this post on March 29, 2023.
Table Of Contents
Knit Picks Wool Winder Station
It's a brilliant choice for those who want an all-in-one solution for winding yarn. It includes a yarn ball winder and an umbrella swift. This yarn swift is made of smooth birch wood, so your knitting yarn won't snag.
How Does This Swift Winder Combo Compare?
Is It Made Of Quality Materials? – Yes, they both are! However the winder is metal and plastic, so it's not as sturdy as wood
Are There Instructions? – Yes, they're included, and everything comes almost fully assembled, so you'll transform yarn hanks int a neat center pull ball in no time!
Size – The yarn swifts hold a yarn hank up to 66″ in circumference, and the yarn baller winds balls of up to 3.5 oz and the clamp fits most tables
Product Design: The swift has a sleek design and is collapsible for easy storage. This site also sells yarn, so you can purchase a yarn skein in your orders to try with your new tools!
Product Evolution: This handy kit includes a beautiful mango wood yarn bowl, which is much cheaper than buying it individually on sale.
Pros
The best yarn ball winder and swift for those on a budget
This sort of wool winder tool makes winding hanks easy
No need to untangle yarn with this setup of plastic winders and wooden swifts
The swift includes a metal table clamp to secure it to any surface
The winder helps the yarn balls pull directly onto the spindle
Secure when clamped to the surface
Ships to the United Kingdom, the United States, Canada & Australia
One significant feature is the smooth cranking
The hand-operated winder is incredibly easy to wind
The shape is compact, and the styles are pleasing
The smooth sanding on the swift prevents scratches
Makes winding a good experience
These items suit yarn weights like fingering weights
Mount the winder on a flat surface using the clamp and screws
The swift has a plastic stopper to prevent damage while spinning
Cons
They ship separately, so may arrive on different dates
Some found the swift had weak points, but that's a defect and is easily replaced
You need an account to purchase this
Doesn't come with a storage bag, but you can keep it in its box
Stanwood Medium Yarn Winder And Yarn Swift
The Stanwood Needlecraft Yarn Swift is made of smooth birch and metal, so your yarn won't snag. The yarn ball winder is metal and ABS plastic. This combination is excellent for those who want a medium yarn ball winder with an umbrella swift.
How Does It Compare To Other Wool Winders?
Is It Made Of Quality Materials? – Yes, because the umbrella-style swift is made of solid wood with sturdy metal parts, and the winder is made of durable plastic and metal
Are There Instructions? – Yes, and it comes almost totally assembled so there isn't much to do before you can create your center pull balls
Size – The ball winder holds a yarn cake up to 4 oz, and the swift holds skein dimensions up to 6 ft in circumference
Product Design: Stanwood is a well-known hobby brand in the fiber arts world of crafts, and they're renowned for their quality materials and attention to detail.
Product Evolution: Both the yarn winder and umbrella yarn swift clamps to a table edge up to a 1 3/4″ thickness.
Pros
They're often used in craft stores for a good reason!
Easily create a center pull yarn ball with the umbrella style yarn swift
This business offers fast shipping to your country
These categories of tools have great value
Ships to the USA
The current price is affordable.
The yarn purchased doesn't get stuck on the bobbin, so you can get back to creating your scarves, sweaters, clothing, socks, garments, or hats faster!
The yarn winder gives the working yarn even tension and grip
The table clamps are sturdy
Doesn't make a mess
The swift folds down easily for storage in your home
These sellers ensure the features are easy to assemble
Cons
Not suitable for bulky weight yarns or larger skeins
Doesn't come with any accessories
Some might not like the hemp ties holding the swift ribs together
Maple Jumbo Swift Yarn Winder Combo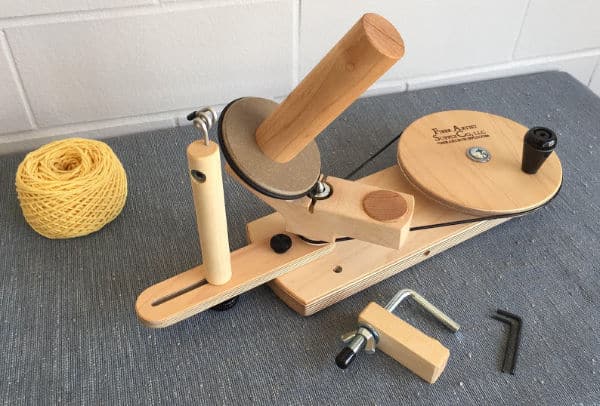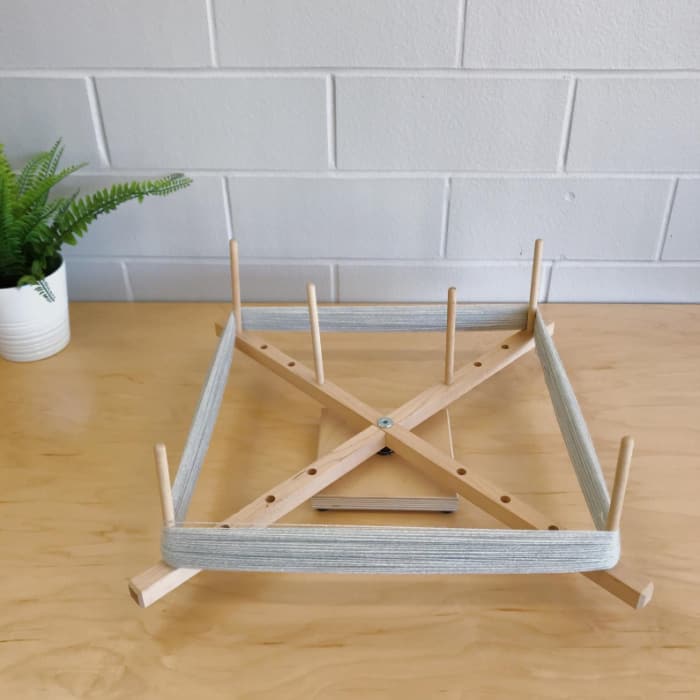 For the best in quality, long-lasting features and amount of yarn it winds, look no further than this excellent handmade combination of machines. Note: You have to buy these separately, but do them in the same order and it won't be much trouble.
How Does This Swift Ball Winder Combination Compare?
Is It Made Of Quality Materials? – Yes! The heavy-duty, strong materials used in the machine and screw construction (Metal, hard and plywood maple wood and plastic)
Are There Instructions? – Yes, and it's easy to put together as it's almost fully assembled when it arrives
Size – The tabletop swift sits flat on a work surface in your craft room. Because the winder is a jumbo version, you need lots of space for it to stand on a surface
Product Design
Perfect for large skeins and bulky yarns, though you can't wind too much. Up to one pound for a fingering weight ball of yarn, ten ounces for worsted weight and other smaller cakes.
Is this yarn winder worth it? Yes, if you're someone who does lots of winding and wants something to last you years of crocheting or knitting. It creates wonderful results.
Product Evolution: It's made by a company called Fiber Artist Supplies Co who is known for their quality fiber arts tools and attention to detail. Their Etsy shop gives great customer service for knitting and crochet lovers.
Pros
This combination makes it effortless to make center pull yarn cakes. No longer is the task tedious!
The varnish color on both tools prevents scratches and wear and tear
The manufacturer ensures it has a one-year warranty
The parts for this great tool are replaceable
The pegs on the Amish tabletop swifts are adjustable to fit many hank sizes
The strand of yarn winds at an even tension
Practically silent when you crank it, so no annoying sound
This type of winder suits nearly any weight yarn or gauge size from sock/baby yarn, sport and bulky fibers.
It also is suitable for almost any fiber, including nylon, cotton, bamboo, merino wool, alpaca and polyester.
Doesn't catch the hank of yarn
Crocheters, crafters, and knitters love these options
Many reviews with five stars from happy customers
Both tools have a smooth rotation and are in excellent condition
Cons
Expensive prices but worth it for the quality make
A variety of parts need regular cleaning, and maintenance is time-consuming. But if you take care of it, it lasts a long time
The manufacturers don't deliver to the United Kingdom
These types of model aren't lightweight
They're sometimes in limited supply.
What To Look For In The Best Winder And Swift
Here are some key decision-making factors and most important things to consider when choosing the best yarn winders and swifts.
Is It Sturdy?
You don't want something that's going to break with the first use. Look for a winder and swift made with high-quality material, like wood. For the most part, wooden ones are sturdier than plastic and metal.
Is It Made Of Quality, Smooth Materials?
You don't want the yarn to snag on anything while you're winding it. It'll be a hassle otherwise! No one needs tangles. The best winders and swifts have quality materials that'll hold the yarn without damaging it.
If you want something to do the winding of yarn hanks for you, get an electric yarn winder. They're suitable for people with wrist problems or if you want to wind lots of yarn, and they run on electricity.
However, I couldn't find a combination of an electric yarn baller machine and swift to buy. Purchase them separately.
Are There Instructions?
You need to know how to use your winder and swift before you wind yarn! Some products come with detailed instructions, while others don't.
Is It In Your Price Range?
Yarn ball winders and swifts range in price from around $30 to over $100. Choose the one to fit your budget.
Is There A Good Return Policy?
In case you don't like your winder or swift, or it arrives damaged, ensure the company has a good return policy.
How Big Is It?
Some winders and swifts fold down, while others don't. Consider how much space you have for storing yarn winders and your metal, plastic, or wooden yarn swift.
Sometimes you'll find vertical models rather than the usual ones that spin on their side. The former takes up less room than the latter.
Ensure the diameter of the hanks you buy fits the swift you're looking at. Consider whether the yarn weight will fit on the cone of the winder too.
Which Is Best For You?
Can't decide which to get? Here's a comparison.
Knit Picks Winding Station – A great budget choice for beginners or for those who want to wind a small amount of yarn.
Stanwood Medium Yarn Winder And Yarn Swift – This is a brilliant choice for those who want an medium-sized setup.
Maple Jumbo Yarn Ball Winder & Swift – The ultimate combination for serious yarn lovers, knitters, store owners, weavers, spinners or people who create big projects from hanks.
FAQS About Yarn Winder And Swift
What Is The Difference Between A Swift And A Yarn Winder?
The difference is a swift holds the yarn, and a yarn winder winds it into a ball. Use them in tandem with each other for the ultimate convenience.
Does Winding Yarn Save Space?
Yes, winding your yarn into balls or cakes can save a lot of space. It also keeps your yarn tidy, and makes it less likely to become tangled.
Why Is My Yarn Winder Not Working?
Probably because the yarn is caught in the teeth of the winder. Use the included guide to ensure the yarn is going onto the spindle properly. Another reason might be is you're winding too fast or too slow. An idea is to adjust your speed to see if that makes a difference to the yarn winder.
Something to keep in mind is you can always ask customer service!
Watch these videos for help on the matter of fixing a yarn holder or skein winder.
Read Next – Want yarn to go with your new setup? My guide to the best here.
Conclusion
Winding yarn is a necessary evil. It's time-consuming and frustrating if done by hand. These tools are worth it to have neatly wound balls of yarn. Hope you found a winder and swift to suit!
What is your favorite yarn ball winder and yarn swift? Let me know below in the comments and share your experience! (Your email address is never published.)
Pin Now to Save for Later