Knitting Socks is a popular knitting project choice. Sock knitting becomes addictive! Here's my guide to sock yarn. There are many yarn types, but some good yarn for knitting suits socks more than others.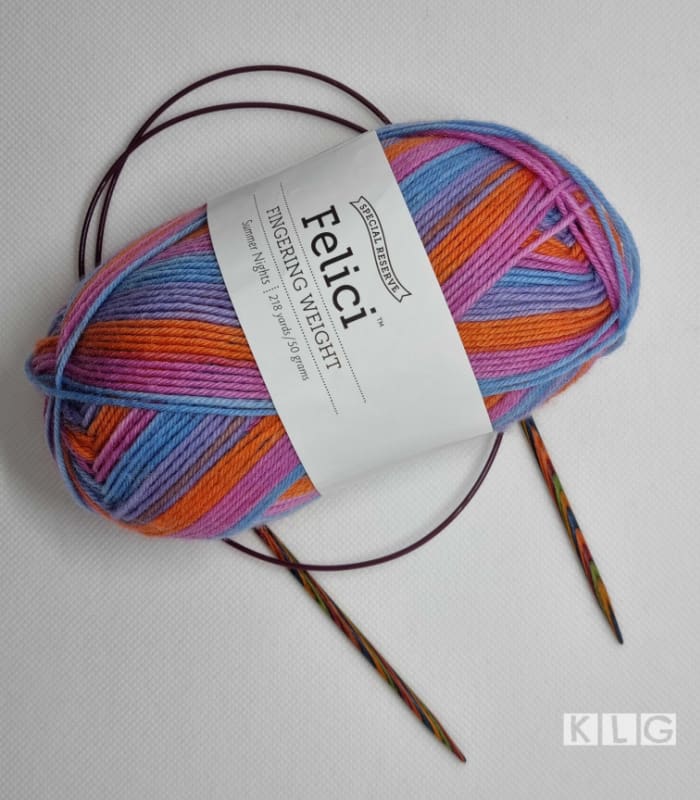 What Is The Best Yarn For Knitting Socks?
Here is the best yarn for knitting socks.
Many gorgeous sock patterns, stitches for socks, and dyed yarn to knit up into socks.
Explore color, different stitch techniques, and have great satisfaction!
I reviewed and updated this post on Aug 13, 2022.
Table Of Contents
Yarn Knitters Recommend
Most big brand yarn companies offer it. Knitters recommend.
Reena at Knit Better Socks is an expert yarn reviewer. Reena has shared her sock knit experiences for many years.
Where can you see the best places to buy yarn? Find out in my guide.
What To Consider In The Best
Socks Should Hug The Leg
Most people prefer a tight, non-floppy sock. They should hug the leg. No joy in having to pull up your socks!
You need plied and less yielding yarn, though you still need stretchy yarn for socks.

A blend of wool and nylon gives elasticity. Try KnitPicks Stroll yarn. It's lovely and soft and an affordable price.
It's amazing how elastic wool is, but reinforced with nylon adds strength.
Socks are given a workout being worn in shoes. The friction created means sock fabrics need to be sturdy.
Socks Need Washing
Socks are worn every day during cooler weather.
They stand wear and washing. Avoid yarns that visibly discolor with regular washing.
A machine-washable yarn saves time. If you don't mind hand-washing, choose many other types of yarn.
Want something to wind your new yarn for you? Check out an automatic yarn winder.
Thin Or Thick?
If you like thin socks, choose fingering weight sock yarn (400m/100g). (396 yds/3.5oz)
The first step is to think about what type of socks you want to knit or might like to knit.
Thick?
Thin?
For the office?
Wild and fun?
Thicker wool like DK weight or sport weight yarn makes bulkier socks.
Keep in mind the amount of space in your shoes!
Who Is Your Sock Audience?
It's easier to start with someone in mind.
Favorite colors?
One color or self-striping yarn?
Plain or fancy stitch patterns?
What thickness?
Long or short?
Think about this to ensure your handmade socks are worn. They'll love your knitted gift!
What Knitting Equipment You Have
Use
DPN (Double-Pointed Needles)
Circular knitting needles
Knitters recommend these needle options:
The best yarn bowls keep your lovely fibers free from rolling all over the floor.
Tension Of Knitting
Consider what type of tension you have, tight or loose.
It's crucial when working with any sock pattern to check your gauge.
How The Yarn Feels
How a yarn feels on your hands often feels different against the calf and foot.
Some people have heightened sensitivity to scratchy wools.
Others have a greater tolerance for rough yarns in socks they'd never bear as scarves or sweaters.
Softness is a consideration for some. Remember, softer yarns don't stand up to abrasion well.
They're more likely to pill and get holes quicker.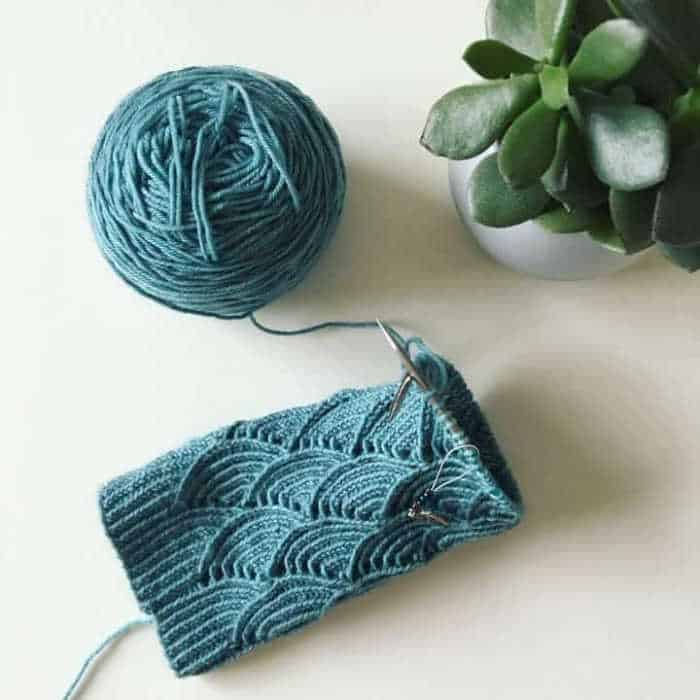 Do You Want Your Stitch To Shine?
Are you a fan of intricate stitch patterns? If so, think about the color of your yarn.
Plain or 'kettle dyed' yarn, the best solid color sock yarn, allows intricate stitch patterns in socks to shine.
Dark colors mask textures and cables. Choose lighter colors if you want the pattern to stand out.
Self Striping Yarn For Color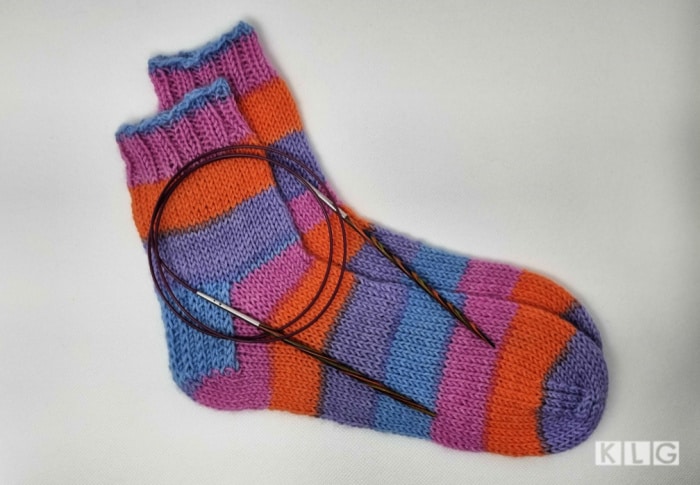 Self-striping yarn is fabulous for colorful, wild sock patterns.
Remember, the heel you choose in your sock impacts the stripes.
If you get this, use the leftovers for a best yarn for scarf that's super colorful!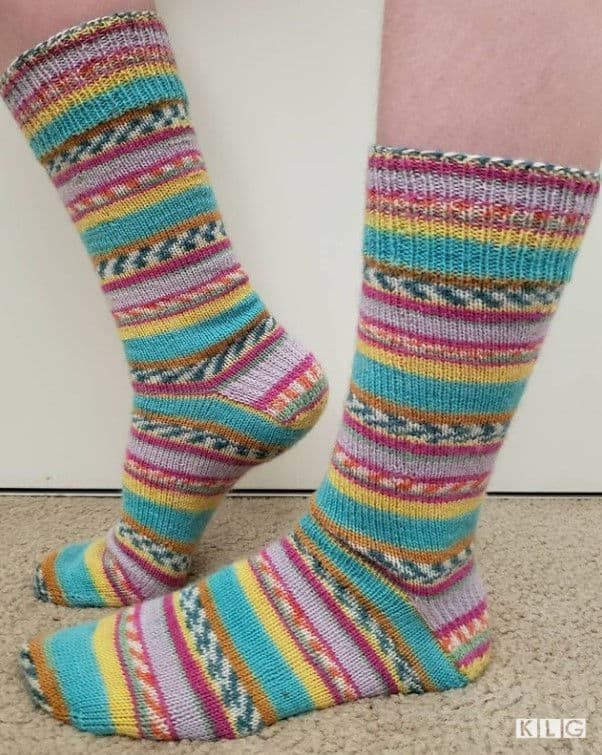 Think Of Your Budget
If you can afford expensive yarn, you want something that lasts. Only you can determine the best affordable yarn.

Yarn Blends
Avid sock knitters don't recommend yarns containing silk, bamboo, angora, cashmere, or alpaca, even in blends.
The best silk sock yarn is more for shawls or delicate knitted items.
Cotton-blend yarns are also more fragile than pure wool ones. These fibers don't stand abrasion well.
If you live in a warm climate, you'll want to stick with cotton or cotton-blend yarns. These are the best summer sock yarn.
Want to discover the best soft baby blanket yarn? Let me show you the contenders.
Pure synthetics won't provide much long-lasting warmth.
This type of yarn holds moisture against your feet, making them cold and clammy with wear.
There's no best acrylic sock yarn because it makes your feet sweat.
If you're new to knitting socks, start with yarns labeled sock yarns.
These are more durable and easier to wash than similar weight yarns not made for socks. They are more likely to have nylon to reinforce the yarn.
For the best non-wool sock yarn, consider blends of cotton/nylon and bamboo/cotton/nylon.
This is the best value yarn if you are allergic to wool.
Want neat sock yarn cakes? A ball winder yarn tool is essential.
Yarn For Socks Needs To Handle Rubbing
Yarn used for socks needs to be abrasion-resistant.
There's a lot of pressure on fibers in knitted socks because they rub your foot, shoe, or ground.
If you are making socks to wear when you sleep expect pilling. The movement of your feet rubbing against the sheets over time will cause the pilling.
Choosing a super soft yarn is not a good idea.
Socks Need To Absorb Or Wick Away Moisture
Feet sweat, socks need to absorb or wick away moisture to feel (and smell) good. Nothing beats wool.
It absorbs up to one-third of its weight in moisture before it feels moist.
Some knitters prefer cotton sock yarns, but these don't absorb moisture.
Socks Need To Be Washed
Consider superwash yarns, (like superwash merino wool.) Toss these in the washing machine in cold water.
The best washable wool sock yarn is labeled 'superwash.'
However, for non superwash wool, washing by hand isn't difficult.
Wool blend yarns may need to be washed by hand.
I always hand wash the socks that are not superwash wool. It doesn't take long and it keeps the socks looking great.
Sock Yarn Weight
Fingering weight yarn, sport, and DK weight ranging in gauge from 6 to 8 stitches per inch.
The finer the gauge, the more form-fitting the sock.
Knit socks in worsted-weight yarn at gauges up to 4 stitches per inch.
What is Sock Yarn?
It's a super fine yarn. The American Craft Yarn Council places it in the Super Fine category with the symbol number 1.
It's knitted on small needles like 2.25mm or US needle size 1-3.
In the US it's referred to as fingering and 4 ply in the UK, Australia and New Zealand.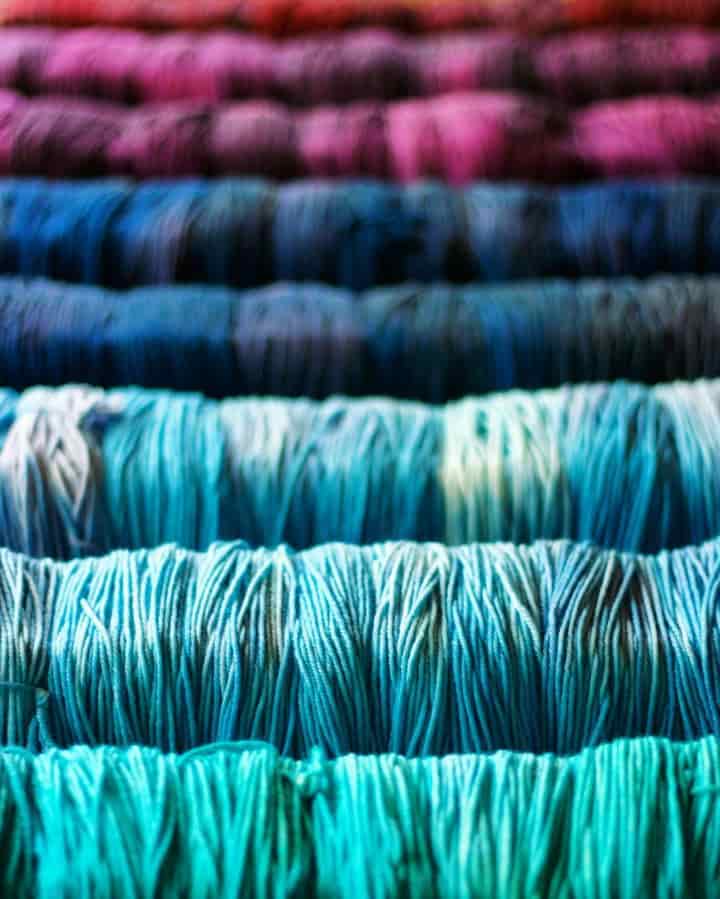 This type of yarn varies in thickness or yarn weight, like super bulky or worsted weight. These thicknesses are best suited to bed socks or outdoor socks to go hiking in.
It's often a blend of fibers, making the finished fabric more durable. It isn't only for socks. The fiber content varies.
Wool yarn is popular for warm and cozy socks. Use it in knitted blankets and shawls.
Arne & Carlos Use Self Striping Yarn To Knit The World's Easiest Socks!
You'll learn Arne's techniques for knitting a toe-up sock.
The yarn product they use is Regia Pairfect Design Line 4-Ply by Arne & Carlos.
This self-striping yarn creates different effects.
It's a blend of 75% superwash wool and 25% polyamide (for reinforcement). Giving it stretch and durability and it's machine washable.
Q&A
What Are Popular Yarn Blends for Knitting Socks?
Mohair is a wonderful durable fiber when blended with merino and nylon.
Have cold feet? Nothing beats angora's heating power.
Even a small amount of angora in a wool sock boosts its heating capacity.
What Is The Best Self Striping Sock Yarn?
Self-striping yarn creates fabulous wild stripes when knitting socks.
Sock knitting experts suggest the best self-striping has long color changes. Felici Yarn is a great option, and the cost is affordable.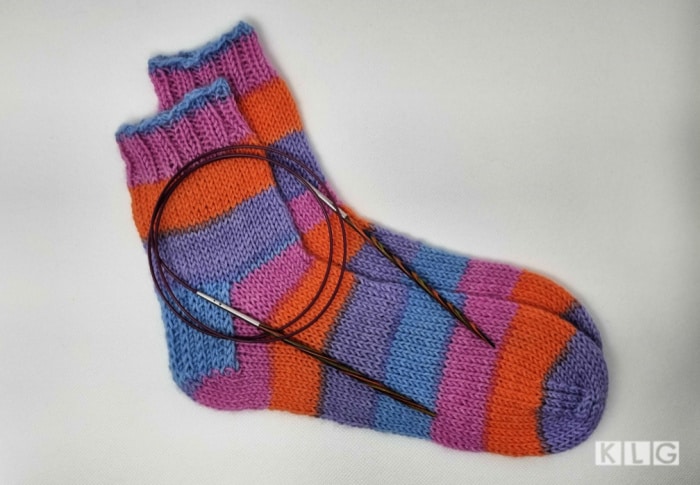 What Is The Best Worsted Weight Sock Yarn?
Worsted weight refers to yarn thickness.
Worsted weight sock yarn is thicker than ordinary yarn. Just the thing for making thicker, bulkier socks.
Knit Picks Chroma a wonderful worsted weight yarn – 70% wool / 30% nylon.
What Is The Best Sock Yarn For Knitting Socks?
Experts on yarn like the author Clara Parkes say the best yarns for socks are elastic.
Socks need to stretch around a foot, clinging to the foot while wearing, and hug the calf.
Yarns of a wool and nylon blend are great.
Read her excellent book: The Knitter's Book of Socks: The Yarn Lover's Ultimate Guide to Creating Socks That Fit Well, Feel Great, and Last a Lifetime
Check Price On Amazon
Why Wool and Nylon?
Wool has the best bounce and fiber memory. Cotton, angora, and alpaca have less elasticity.
Fond of less elastic fibers? Your best bet is a blend of wool and nylon. This has the best stretch yet warm.
Wool is the best fiber for spinning sock yarn.
The best, long-lasting yarns are wool and contain at least 20% nylon.
This is the best sock yarn ever and the most popular.
The essential ingredient for durability is nylon, acrylic, or some form of synthetic material.
The best for stretchy and longevity.
That's the best sock yarn for knitting socks. I know you'll find a gorgeous, quality yarn to suit your needs.
I'd love to hear about your preference. Please leave a note in the comments section below.
Enjoy your knitting 🙂
Next > Black Friday Yarn Sale 2022