Circular Knitting Machines are fabulous for when you want to knit faster than by hand. Read my reviews of the Addi Express King Size Knitting Machine and the smaller Addi Express Professional Knitting Machine.
An Addi Knitting Machine is a great way to churn out more knitted items than when you're using knitting needles. Great if you're knitting for charity or profit! It creates knitted fabrics, whether in the round or knitted in flat panels. Make all sorts of garments and accessories.
My Quick Recommendations
I reviewed, fact checked and updated this post on May 17, 2023.
Table Of Contents
Addi Express King Size Knitting Machine
The #1 Best Selling larger-sized Circular Knitting Machine. The addiExpress King size Extended Edition is worth the money. This large knitting machine is loved by knitters who complete hats, baby blankets, and scarves effortlessly.
To speed up your gorgeous, finished knits, you should consider the addiExpress King size Extended Edition. You can knit stockinette panels up to 17.5 inches wide!
The kit includes
King Size Knitting Machine
Five plastic replacement needles
One threading tool
Two stoppers
4 feet
Two clampers
"Winding instead of Knitting" book
addi Express Hook
This machine with 46 needles has twice the number of the original, allowing for larger pieces. Perfect for knitting scarves and woolly hats, or an infinity scarf. Knit fabric panels for jumpers, knitting sweaters, and blankets.
You hand crank the machine by turning the handle. You finish in a shorter amount of time than if you hand-knit. These knitting machines work best with medium-weight yarn. (Worsted weight yarn (no.4) or Aran weight, DK weight (no.3).)
They have a fixed gauge. They can't be adjusted to accommodate the lighter-weight yarns or heavier-weight yarns. The fabric you achieve using sock yarn, for example, turns out to have an open weave.
In hand knitting terms, it's like having one set of needles, and the fabric created with those needles changes depending on what yarn weight you use. Thinner yarn, a more open fabric, thicker yarn, a tighter fabric.
Here's more product information.
Pros
Made in Germany, sturdy construction materials
Simple setup, easy to use, suitable for beginners
Portable and space friendly
The express kingsize knitting mill is transportable
Make complicated and plain knitted items
Enhance your knitting experience and learn a new skill

They offer excellent construction quality

, and they're straightforward to use
Speedy in completing knitted projects
It offers rows back and forth and circular knitting functions, a bonus for projects requiring the assembly of pieces
Cost effective
Makes flat panels
It has spare needles
Lifetime warranty from authorised dealers
Cons
Lacks tension control mechanism: the only thing controlling your stitch size is your yarn. The yarn guide is there to keep your yarn in place. However, if you have access to 3-D printing, the clever user binarypickle has a model for a tension fork knitting machine adapter you could use.
No way to mechanically adjust tension to make the stitch smaller or bigger.
Need to experiment to determine whether your yarn works with the machine.
Prices are a little expensive, so shop around to see if there's any discounts.
Doesn't offer anything other than a 46 stitch knitted circle.
Digital row counter can be unreliable.
Addi Express Professional Knitting Machine
The addi-Express Professional has 22 needles. Machine knit circular knitted items in knit stitch and panels on this machine. The size of the knitted tube is something fitting around your arm or leg. Stitch together flat panels to make items wider.
Premmie hats, doll bonnets, narrow scarves, mittens, fingerless gloves, baby sweaters, and toys would be good ideas. To see how much yarn you need for a medium sweater, see my post.
Circular knitted items – From 10 to 15 cm (4″ to 6″).
Plain knitted items – From 15 to 20 cm (6″ to 8″) wide.
Pros
22 needles (You can buy AddiExpress replacement needles if necessary.)
Circular and flat panel knitted items (create seams)
Use many yarns but medium weight yarns (Worsted or DK) are best
Made in Germany with sturdy materials
Every product purchased from an Authorised Dealer has a Lifetime Warranty
Easy to create a good quantity of smaller sized projects in a short time
This knitting machinery is great for hobby purposes
Many reviews for this addiexpress knitting machine are five stars
Perfect for making a minature type of project, like small hats for Premmie babies or dolls, sock, scarves and finger-less gloves
Available in the United States and United Kingdom
Comes with an instruction manual and replacement pins
Reasonably priced shipping, and sometimes you'll get free shipping
Cons
Difficult to get neat edges when creating rows of knit stitches for flat panels.
Bulky yarns, stiff yarn or cotton are a challenge.
It's a little tricky to cast on, especially for beginners.
Be mindful of the yarn weight you're working with
One problem is the counter sometimes restarts by itself
Recommended Addi Machine Comparison Chart
Comparable Products To Consider: The Sentro machine.
FAQS About Addi Express Knitting Machines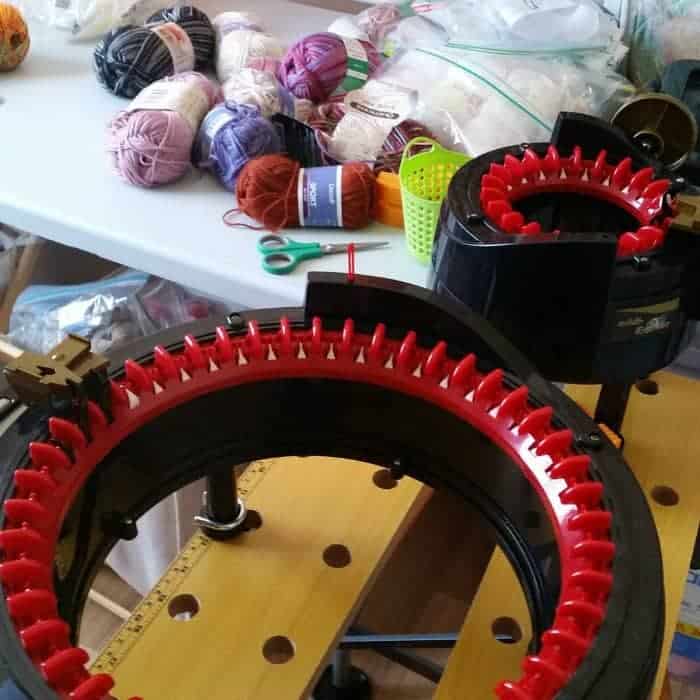 What Can You Make With Addi Express Machines?
With an Addi Express Pro (the smaller model): socks, scarves, a knit hat, mittens, gloves, cozies, beanies, and toys. With an Addi Express King Size Knitting Machine: long, groovy scarves, sweaters, child and adult hats, skirts, clothing like t-shirts, a knit cardigan pattern, shrugs, and afghans.
You could also make ponchos, pillow covers, or a scarf. Or, you can create thick i-cords on addi's smallest machine? The addi egg knitting machine is only 6 needles.
Here are some excellent tips and tricks from Whitney Betz in this YouTube video.
Margaret Olander from the YouTube channel Sheepishly Sharing shares her top tips and recommendations for knitting with the Express Model.
Check out the other videos she has for more helpful tutorials.
Making A Hat On The AddiExpress Machine
SkacelKnitting on Youtube has created a fantastic tutorial on making a knitted hat in less than thirty minutes. Impossible? Not if you're the proud owner of an Express Knitting Machine!
A Flat Panel On The addi Express Kingsize
Here's a tutorial on Knitting a Flat Panel piece by SkacelKnitting on YouTube.
Free Tutorials For Using Your Addi Express Machine
Yarn Yay has some useful tutorials for making a sweater.
Magaret Olander from Sheepishly Sharing is a wiz at making wearable garments on her Addi Knitting machines. Take a look at her cute Knot Top Hat tutorial using the Addi Express Professional Machine.
Suzy teaches you how to make mittens using the Professional model.
Yarn At Play offers this fantastic knitting blanket machine pattern and tutorial. Check out their other knitting patterns on their channel.
Pin Now to Save for Later
Can You Make Different Hat Sizes With One Machine?
Yes. The rows you knit in the round determine the length of the hat. The Addi Express Professional makes premmie hats, children's, small adult hats, and the Addi Express King Size makes adult hats.
Can You Make Blankets On Addi Knitting Machines?
Absolutely! By making flat panels, different colored squares look great, with your machine, sew each strip together to create a blanket. Or you can make tubes which creates a lovely thick fabric. Here's Casey Kinsey making tubular panels for a beautiful machine made blanket.
Can You Make Scarves?
Yes! These machines are perfect for making beautiful scarves. Using the circular mode to make a tube means the scarf is double the thickness, warm and comfy.
Is It Possible To Increase And Decrease On These Machines?
Yes, but only when you're working a flat panel on your machine.
How Do You Make Different Sizes Of Hats?
Premmie hat, you'd need to knit 20-25 rows on the Professional machine
Adult hat using the King size edition, you'd need to knit 55-60 rows
What Do I Do To Stop My Machine Dropping Stitches?
This sometimes happens when you're adjusting the stitches. It also occurs when the yarn isn't compatible with the knitting machine, and the machine drops stitches by itself. Use medium-weight yarn.
The Tube From A 22 Needle Machine Seems Narrow. What Is It Good For?
Depending on the yarn used, the width of the flattened tube is around 3″. This is perfect for children's scarves and smaller adults. Make mittens and tube socks, assuming the wearer is of average size.
Preemie hats for hospital donations are another widespread use. Make a flat panel option to get a wider strip (not a tube). Also, sew flat panels together to create many different items.
The yarns that work best with these items are worsted weight yarns, and synthetic fibers with a low ply number. Animal fibers like wool yarn is prone to splitting and sometimes jams the machine.
What Accessories Come With Addi Knit Machines?
The accessories included with addi knit machines are plastic replacement needles, a threading tool, stoppers, feet, clampers, a book, and an addi Express Hook
What Is The Best Addi Machine?
Of all the Addi products we researched, reviewed and tested, we liked the Addi Kingsize Extended Edition the best. The product is packed with the essential features.
It's sturdy, has a lifetime guarantee, and suits many yarn weights and patterns. Given those qualities, we believe so many reviews from happy knitters can't be wrong.
Our Best Recommendation:
They're great for speeding up the knitting process.
Conclusion
The Express King Size and the Addi Express are great for machine knitting enthusiasts. Regardless of your reason for wanting a knitting machine, one of Addi's models is sure to suit your preferences. Built to last, quick and efficient to set up and use, they're a handy tool.