A knitting blocking board is a great tool to make blocking easier, quicker and more convenient.
Make the final step of the knitting process much more comfortable with these tools. Blocking mats are a great, more convenient alternative to towels on the floor or a spare flat surface.
They're generally made of wood or similar hard material and are easy to pin things to, and no getting the surfaces damaged.
Table Of Contents
After you've cast off your project from your needles, and weaved in all the ends, you want the pattern design you've spent time on to look complete.
I highly recommend beginner to advance knitters to block their knits. I just love how everything looks so much better after this final step.
Blocking is an excellent technique for a number of things:
After knitting a swatch, blocking ensures you reach the gauge of the pattern. A gauge swatch should always be blocked.
Blocking helps lace stitches open up, intricate stitches look defined, selvedge edges lie flatter and the fibers relax.
When knitting stockinette stitch, ribbing, seed stitch button holes or cables, it is essential to block. You might be able to get away with not blocking garter stitch as this knits up quite flat. The edge doesn't curl up.
Read on for my review of the best knitting blocking board.
The Best Blocking Board For Knitting
Large 11″ Wooden Blocking Board
A smooth, lovely work of art as it is functional; this blocking board is perfect for blocking multiple shapes of the same size at once.
You place the pins in the perforated grid lines depending on the size of your knitted piece.
Handmade by the small woodworking business MlynJedrow from Poland, they sell a wide selection of tools for blocking for knitting and crochet.
Features
Dimensions – 30 cm x 33 cm
Made From – Beechwood and Oak Wood
T-Pins Included? – Not t-pins, but 50 stainless steel blocking pins
Boards Are 1″ Thick
Has A Grid? – No, but has 800 holes, lots of flexibility for the shape projects.
Best Suited For – Squares, circles, hexagons, afghan pieces, dishcloths.
1 Board Included
Pros
Smooth surface
Excellent craftsmanship
Great customer service
The pins are rust-proof
Varnished to protect against water
Withstands all types of blocking, even steam blocking.
Cons
Doesn't have any grid markings with measurements
Shipping can take a little while
Won't fit larger projects
Small Handmade Blocking Board
A smaller handmade blocking board suited for knitted squares from 4cm up to 10cm. You can block multiple of the same size at once with the long stainless steel pins included.
Perfect size to block crochet squares and granny squares too!
Features
Dimensions – 12x2cm
Made From – Pine Wood
T-Pins Included? – Four Stainless Steel Pins
Best Suited For – Smaller Squares
1 Board Included
Pros
Smooth
Affordable
Free & fast shipping
Waterproof
Cons
Not suitable for other shapes due to the positioning of the holes
Limited range of sizes
Medium Wooden Blocking Board
Similar to the first product in this list, made by the same person just in a smaller size, this board is smooth, well-made and the shop has excellent craftsmanship, customer service and attention to detail.
Features
Dimensions – 26 cm x 22 cm
Made From – Beech Wood & Oak Wood
T-Pins Included? – Yes, 30
Boards Are 1.8cm Thick
No. Of Holes – 462 holes
Best Suited For – Small and medium-sized projects, predominantly squares, triangles or hexagons
1 Board Included
Pros
Has a handy groove in the board to hold the pins when not in use
Smooth, varnished and protected surface
Personalisation available
Cons
Not suitable for circles
Not suitable for larger projects
Wooden Blocking Board With Stainless Steel Pins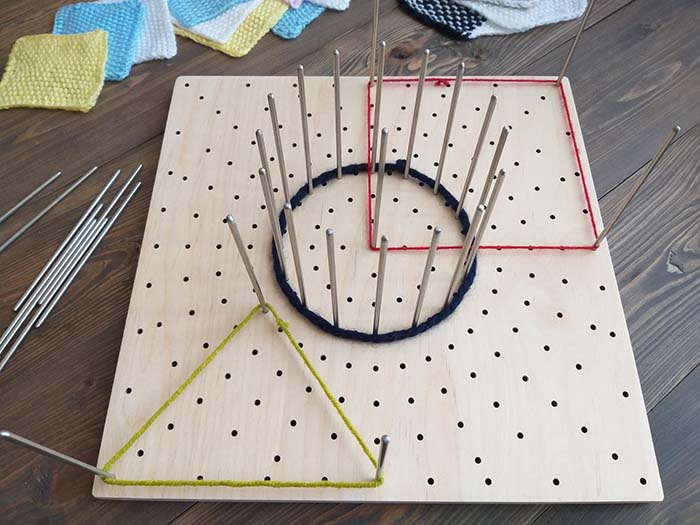 A wooden blocking board made of a mixture of woods, this is durable, affordable and expertly crafted by a small family-owned business based in Kyiv, Ukraine.
Be sure to choose the color of the lacquer before placing it in your shopping cart.
Features
Dimensions – 30cm x 30cm
Made From – Wood (plywood, alder, beech, pine)
T-Pins Included? – Yes, 23
Board Is 1.5cm Thick
Best Suited For – All manner of sized projects, from small to large
1 Board Included
Pros
Available in four colours, black (Marengo), redwood, walnut, and natural.
Excellent craftsmanship
Well made
The pins included are rust-free
Good customer service
5 star reviews mention customers are very content with the products received from this seller
Felt grips on the bottom to stop it from sliding or damaging the surface
Cons
May not fit some projects like a shawl or blanket
Takes a while to ship
Sock Blockers – For Blocking Socks
A unique handcrafted wooden blocking tool, specially designed for blocking your knitted socks! What a wonderful idea. Made with quality, treated wood to prevent damage when you block the knitted creation.
These would make a great notion for any knitter.
Features
Dimensions – 5 sizes available, refer to their handy sizing chart for reference.
Made From – Wood
T-Pins Included? –
Best Suited For – Socks
Pack Of
Pros
A lovely design of a wise owl cut into them, very pretty as well as functional
Fast shipping
Quality materials
Good customer service
Cons
The sizes may not be big enough for some larger men's socks.
Your Questions Answered
How Do You Block Knitting Without A Board?
Here is a list of how to block knitting without a board, a list of things you can use instead.
A kitchen counter or empty table padded with old towels is great for something that doesn't need to be pinned down. However, if you don't mind pinning through the sheets you're using, you can also use this method for items that need to be pinned down. Make sure the surface is waterproof!
For things needing pinning, you can also use waterproof foam boards, an ironing board, or coak boards covered in old towels. If you have kids, several of those little foam puzzle pieces stuck together make a great blocking board too!
How Do You Make A Block Board?
Here is a quick, simple tutorial to make a block board from materials you'll probably already have lying around the house by April Klich from With Wool.
How Thick Should Blocking Board Be For Knitting?
It should be at least 0.5 of an inch thick, most commercially available blocking boards are 0.75 inches thick or more.
Where To Buy A Blocking Board For Knitting?
You can buy them from any good brick and mortar crafts or yarn stores, or online from yarn companies and e-commerce stores like Amazon & Etsy.
Hopefully, this post helped you find the best blocking mat to suit your needs. It's sure to make your blocking journey easier, and have the results you want faster, a lovely finished knitted creation!
Do you prefer working with blocking mats, or without them? Why? I'd be interested to hear your thoughts.
Pin Now to Save for Later