Blocking mats are interlocking foam mats for easily blocking your lovely knitted creations. Blocking is a time consuming job and these essential tools for an knitter help the process go smoothly.
If you've ever blocked your knits on towels on the floor like me, you know how annoying it is! Here are my recommendations for the best blocking mats.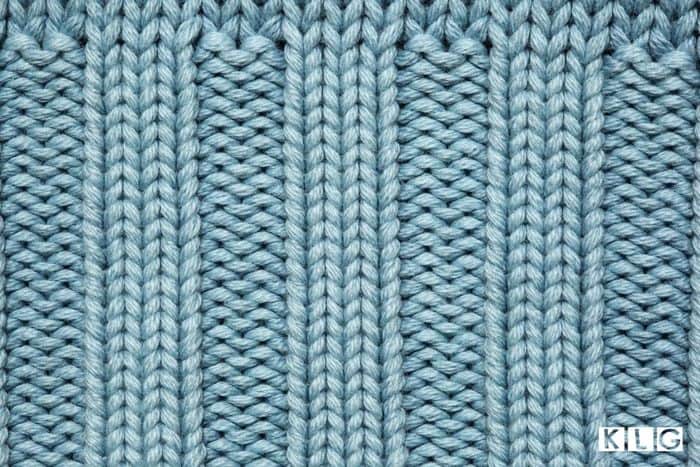 These mats are suitable for all blocking methods – steam, wet and mist/spray blocking.
I reviewed, fact checked and updated this post on March 26, 2023.
Table Of Contents
The Best Knitting Blocking Mat
KnitIQ Blocking Mat Set (9 Pieces) – Includes T Pins
Check Price On Amazon
Interlocking foam boards in a pack of 9, and with t-pins included. This brand, KnitIQ, is one of the more popular choices on the market for these accessories, for a good reason. Quality materials, affordable, they're great for a beginner, and they have many raving reviews.
Features
Dimensions – Single One is 12 3/4 x 12 3/4 "
Made From – Soft waterproof foam
T-Pins Included? – Yes, 100 rust-proof blocking pins
Boards Are 0.75″ Thick
Has A Grid? – Yes, 1″ grid
Suits – Almost any individual project, the interlocking feature gives much flexibility
Pack Of 9
Pros
KnitIQ blocking products are made with quality materials
Good extra thick blockings supplies with a professional finish on one side, so they're good for almost any blocking technique
Each square fits almost any size of the project
Comes in a convenient carry case
Very sturdy, so place them against a wall without them falling over while your creations are drying!
Instructions on how to block included
Withstands all types of blocking, even steam.
Comes with a storage bag for easy packing away
They stay firmly interlocked.
The pins are an ideal length
Cons
Some found these crafts blocking mats had an odd smell and needed to be aired for several days before use.
Some found the grid markings weren't very accurate, so it makes precise blocking difficult
Knitters Pride Mats For Blocking Lace
Check Price On Amazon
A large set fitting together like puzzle pieces are sure to suit any knitting project, regardless of size. Knitters Pride is known as KnitPro outside of North America. Great affordability and quality of materials.
Features
Dimensions – 12″ x 12″
Made From – Soft, waterproof foam
T-Pins Included? – No
Boards Are 3/8″ Thick
Has A Grid? – No grid lines.
Suits – Lace Projects, projects with a finer yarn, but could suit almost anything.
Pack Of 9
Pros
Storage case included
Suits a variety of blocking methods, even steam blocking
Waterproof
Ideal thickness, and they're larger so they're good for blocking shawls and other patterns of various sizes.
Affordable, and sometimes they're on sale.
They make good crochet blocking materials too.
Cons
Some found it hard to remove from the packaging, and the colors of the squares are dull.
KnitPicks Blocking Mat Kit – Suits Projects Of Different Sizes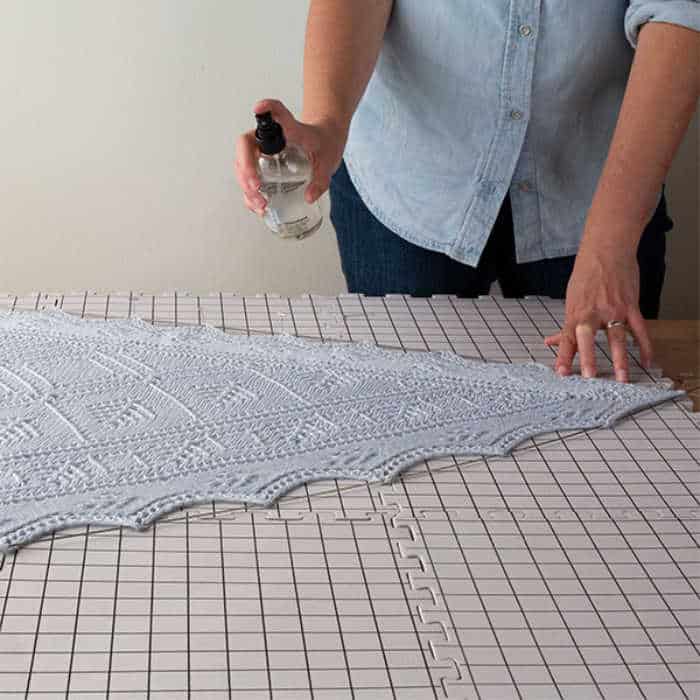 These are interlocking puzzle pieces with uneven edges. Suitable for a wide variety of knitting projects. Made from quality materials, they'll last a long time.
Note: You can get a blocking station kit including this product with some other helpful notions and tools at a discounted price.
Features
Dimensions – 12.5″ x 12.5″
Made From – Thick Foam Rubber
T-Pins Included? – No, but you can buy them from the company too
Boards Are 3/8″ Thick.
Has A Grid? – No
Suits – Variety of small and medium-sized projects
Discount Bundles Of 9
Pros
Lightweight, and they're safe to use and reliable
They're easy to clean, easy to store, portable, and heatproof
Ideal thickness
It's easy to make one order or more at this shop
For all types of blocking, even steam and wet blocking
This is something that's suitable for extra thick blocking
Cons
The factor of no grids might annoy some, and you might have to buy a second set to do larger knitted things
T-Pins not included
Yarn Mania Blocking Boards
Check Price On Amazon
A wooden blocking board suitable for small to medium projects of knitting or crochet. This board is a great choice due to its affordability, quality materials and craftsmanship, and flexibility in the size of your project.
This item is more decorative and colorful than the foam sets, as the wood color is nice, and stands out against your knits. The surface is smooth and
Features
Dimensions – Two Options available, 9×9″ or 13×13."
Made From – Wood
T-Pins Included? – No, but 20 stainless steel pins are included
Board Are " Thick
Has A Grid? – No grid lines
Suits – Small to medium knitting projects
1 Board Included
Pros
Lifetime warranty
Made with quality materials, so these blocking tools are impermeable, but not too heavy.
Great for knitting or crochet
Block many shapes of the same size at once
Felt cushioning on the back to prevent damage to surfaces
Great customer service
Free shipping available for US customers
Cons
Not suitable for larger projects
Sometimes pins are too small
Recommended Blocking Mat Comparison Chart
Pin For Later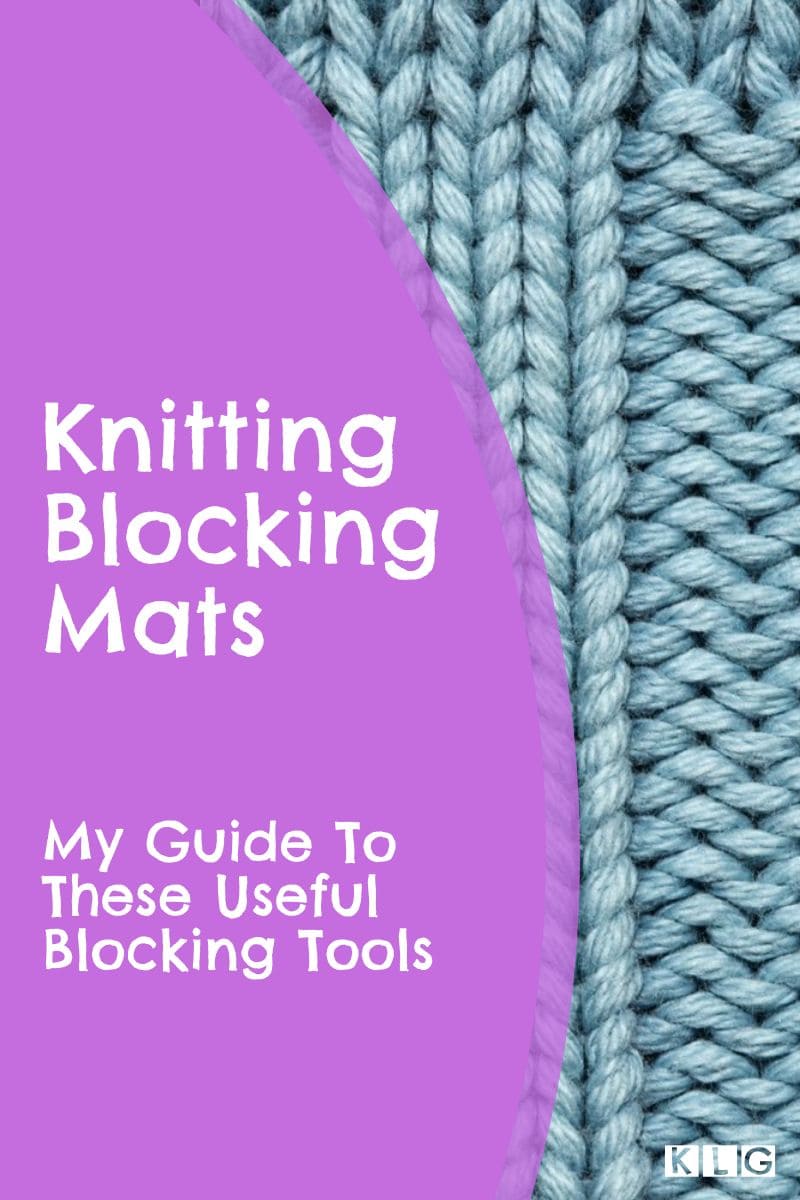 FAQS About Blocking Mats
What Are Blocking Mats For Knitting?
In knitting terms, the best blocking mats are tools to put your blocked items to dry. Made of waterproof foam or similar waterproofed material.(So they're great for wet blocking.) Used them for things needing pinning and those not.
Not to be confused with blocking boards, usually made of wood. For my complete guide to blocking boards, click here.
What Are Blocking Mats For?
They're for placing your knitting on to block them and let them dry once you've finished blocking them. The type of blocking you use is irrelevant. The best are heat resistant dense foam mats, so go ahead and use steam blocking.
They're a useful alternative to old towels, spare sheets, or whatever fabric you find in the back of your laundry cupboard!
A Mat For Blocking Vs A Blocking Board
A mat for blocking is made of foam, and a blocking board is made with wood.
How Do You Block Knitting Without A Mat?
My post on blocking knitting has tips on how to block knitting without a mat, plus everything else you need to know.
How To Use These Tools?
This video demonstrates how to block knitting using blocking wires, t-pins, and the foam mats in action.
Here's a demo of a product in this article from Knit Picks
Where To Buy?
Online from eCommerce stores such as Amazon and Etsy. Also, from online yarn companies, brick and mortar craft stores, and local yarn stores.
Conclusion
Hopefully, you discovered the best blocking mats for knitting. They make blocking easier and quicker. Get a lovely finished knitted garment faster. Do you find these beneficial? I'd be interested to hear your thoughts.