Chiaogoo and HiyaHiya are Chinese companies that make knitting needles. This is a knitting needle comparison guide to help you decide which is right for you.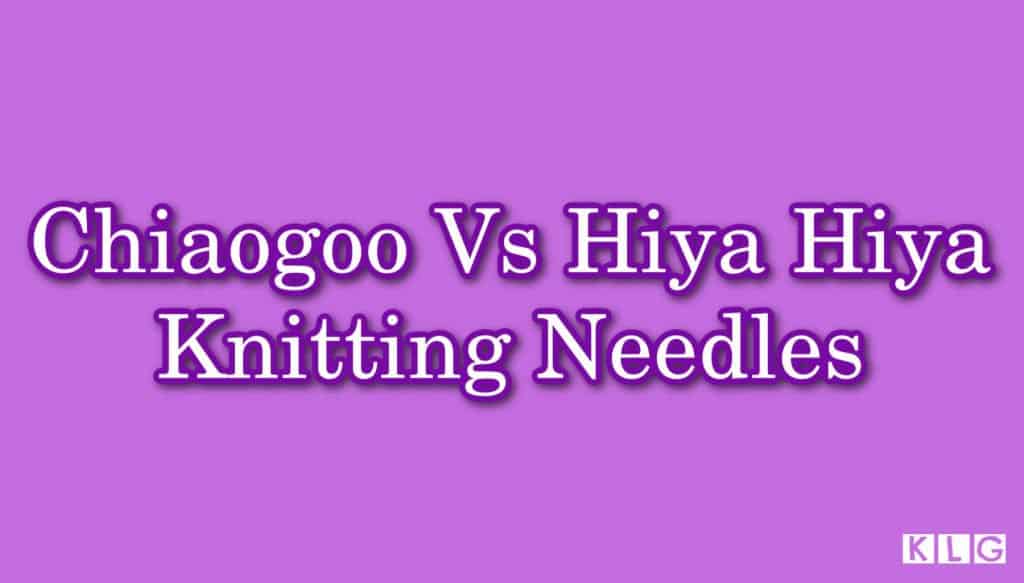 I reviewed, fact checked and updated this post on March 28, 2023.
Table Of Contents
HiyaHiya Vs Chiaogoo Knitting Needle Comparison: Differences & Similarities
Diameter
HiyaHiya Sharps 4″ Small – US 2-8 (2.75mm – 5mm)
HiyaHiya Sharps 4″ Large – US 9-15 (5.5mm – 10mm)
Chiaogoo Lace Complete Set – US 2- 15 (2.75mm – 10mm)
Chiaogoo offer shorties needle sets to create 9-inch lengths
Labeling
None printed on Hiya Hiya's needle tips
Chiaogoo have sizes labeled on the shaft in small print
Tips
HiyaHiya Sharps – Long and sharp
Chiaogoo Lace – Long and sharp
Shaft
HiyaHiya Sharps – Shiny, no drag, glides through every stitch.
Chiaogoo Lace – Slightly matte, no drag, though the ones from Chiaogoo have the highest friction of the two.
Join
HiyaHiya Sharps – Long taper, no catch
Chiaogoo Lace – Long taper
Cable
Hiya Hiya Sharps – Blue color, flexible, and thin. Doesn't kink, nor does it have a lifeline hole.
Chiaogoo Lace – Multi-stranded, steel cable coated with red nylon colors. Flexible and doesn't kink and has a life line.
Price
The 5 inch Chiaogoo and Hiya Hiya needle sets are an investment. At the time of writing Chiaogoo was around $28 less than the price of the Hiya Hiya set.
The prices of their other types of items and styles are cheaper.
They're both good value for money, and include accessories in their sets.
Materials
They don't tend to use plastic in their hand knit needles, focusing instead on metal, bamboo, and wood.
For my full reviews on both these brands of needles, take a look at my posts on the range of Chiaogoo Needles and the range of Hiya Hiya Needles.
Which Interchangeable Knitting Needles Are Best? Chiaogoo or Hiya Hiya?
Interchangeable sets vary between the two brands. They're very similar in many ways, but when compared the HiyaHiya needle tips are sharper than the Chiaogoo tips. Many knitters would love to see a needle on the market created with the most sharp HiyaHiya tips and the Chiaogoo Red Lace cables.
They believe this'd be a perfect combination, and would solve many problems.
Choosing the best is difficult as knitting needle choice comes down to a knitter's preference and reason for knitting. What knitting tools are preferred for knitting patterns projects. Below are the metal needles in the interchangeable sets for both brands. Here's an excellent video review on the topic.
Pin For Later
ChiaoGoo Red Twist Interchangeable Needles
Check Price On Amazon
Features
Needle Sizes – 2 – 15 (US size), 2.75 – 10.00 (mm size)
Cord Lengths – three small cables and three large cables to make 24-inch (60 cm), 32-inch (80 cm), and 40-inch (100 cm) circulars.
Needles Tips Are 5″ Long.
Accessories – easy-to-read, coded cable connectors, end stoppers, T-Shaped tightening keys, plastic ring stitch markers, a needle gauge, and a compact zipper-enclosed fabric case.
Pros
These needle sets have sharp tapered points
This needle set is lightweight.
Smooth surfaces
Superior quality
The Chiaogoo Cords have no memory and durable
Cons
Some users experienced a coating on their cables. It can be removed with rubbing alcohol.
HiyaHiya Sharp 5" Interchangeable Knitting Needles
Check Price On Amazon
Features
Needle Sizes – (2 US / 2.75 mm – 15 US / 10 mm )
Cord Lengths – 4 cables (18″, 26″, 34″, 42″)
Hiya Hiya Sharps Needles Tips Are 5″ Long.
Made From – High-quality stainless steel
Small Cable Connectors Tip Adapter, Small and Large Panda Stoppers, Small and Large Single Point Adapters, Puppy Snip, Darn Its, Knitters Safety Pins, Interchangeable Case Assorted fabric cases and Rubber Grips
Pros
Super sharp tapered points
Flexible swivel cables
Yarn glides over the surface of the interchangeable needles.
Cons
Some users found the screw connection loosened. I'd recommend tightening the screw join before starting your knitting.
Chiaogoo Fixed Circular Knitting Needles
Check Price On Amazon
The Red Lace Circulars come in lengths of
16″ (40cm) – Needle Sizes US 000 (1.5mm) to US15 (10mm)
24″ (60cm) – US 000 (1.5mm) to US19 (15mm)
32″ (80cm) – US 000 (1.5mm) to US19 (15mm)
40″ (100cm) – US 000 (1.5mm) to US19 (15mm)
47″(120cm) – US 0 – (2mm) to US19 (15mm)
60″ (150cm) – US 0 – (2mm) to US19 (15mm)
The tips are 5" long made from surgical stainless steel. The red cables are memory-free, made from multi-strand steel, and nylon-coated.
Pros
The points are beautifully tapered and sharp
Cables are flexible and easy to work with
The surface of the circular knitting needles is smooth
The yarn glides over without snagging
Excellent for small, medium and large projects
Cons
Probably not the best choice for beginners who'd prefer a bit of grip on their needle surface.
Hiya Hiya Fixed Circulars
HiyaHiya's Fixed circulars are either steel, sharp steel or bamboo needles. The lengths vary with the different materials.
The Hiya Hiyas points also vary. If you are looking for sharp points and you love knitting with metal needles, I'd highly recommend the Sharp Steel. You will need to be careful if you push the tips with your fingers.

If you suffer any pain in your hands from arthritis, I'd recommend the bamboo variety. They are more comfortable thing and you shouldn't have problems of hand fatigue. The 9 inch products are excellent for socks or sleeves.
Lengths:
Bamboo version – 9″, 16″, 24″, 32″, 40″ and 60″
Steel – 9″. 11″, 16″, 20″, 24″, 32″, 40″, 47″ and 60″
Sharp Steel – 9″, 12″, 16″, 24″, 32″ and 40″
ChiaoGoo Double-Pointed Needles
Check Price On Amazon
Set of 5 Double Point needles, each 6″ (15cm) These are ChiaoGoo red (stainless steel) double point knitting needles.
Features
Sizes – US 1 (2.25mm) – US 11 (8mm)
Needles Are 6″ Long
Pros
Easy to knit in the round.
Great for knitting with everything from silk to alpaca wool.
Affordable, especially when they're on sale.
Cons
Some may find the 6″ length a bit short if used to knitting on longer double pointed needles.
HiyaHiya 6″ Sharp Double Pointed Needle Set
Check Price On Amazon
Features
Sizes – 4 Sets of 5 needles in sizes 1, 1.5,2 and 2.5
Needles Are 6″ Long.
Pros
Smooth as silk surface so they don't catch the yarns.
This is something with super sharp tips.
Cons
I wouldn't recommend them for a beginner sock knitter. They're super smooth and sharp. You might experience dropped and split stitches.
They're not for everyone, especially if you have tight tension.
FAQs About Hiya Hiya Vs Chiaogoo
How Does Chiaogoo & HiyaHiya Compare To Knitter's Pride?
Chiaogoo and Hiya Hiya's products are similar to Knitter Pride needles in the range of materials and options they offer, similar pricing for their items, and international sale availability in almost any yarn shop or to order for online shipping.
Conclusion
Both are favorites among knitters for their superior quality, durability, and design. Chiaogoo and HiyaHiya are similar, so it's hard to declare one is overall better than the other. It's up to you to decide for yourself, based on your personal preference and research. Both companies also offer crochet hooks if your a crocheter.
Do you prefer HiyaHiya or Chiaogoo? I'd be interested to hear your thoughts.