Sometimes the average knitting needles won't cut it, especially if you're trying to knit something with many stitches, like the shawl I knitted below. Here's a review of the best knitting needles extra long, including long straight needles and circular needles with extra long cords.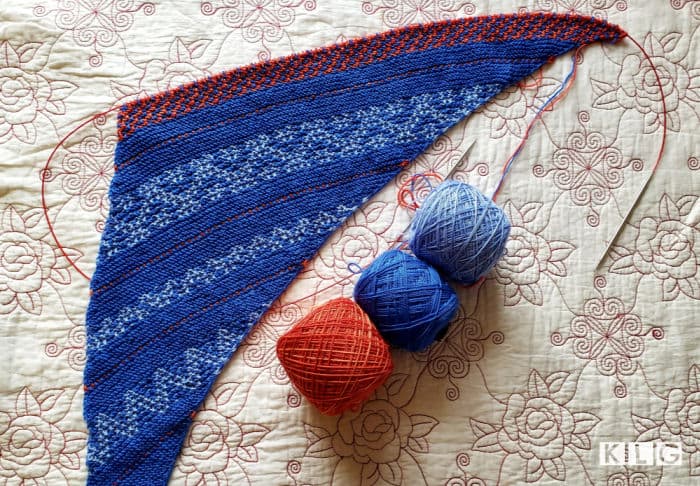 There are long needles, it just takes some searching for the best knitting needle.
I reviewed, fact checked and updated this post on March 26, 2023.
Table Of Contents
Extra Long Interchangeable Needles
Fashoknit Interchangeable Knitting Needle Set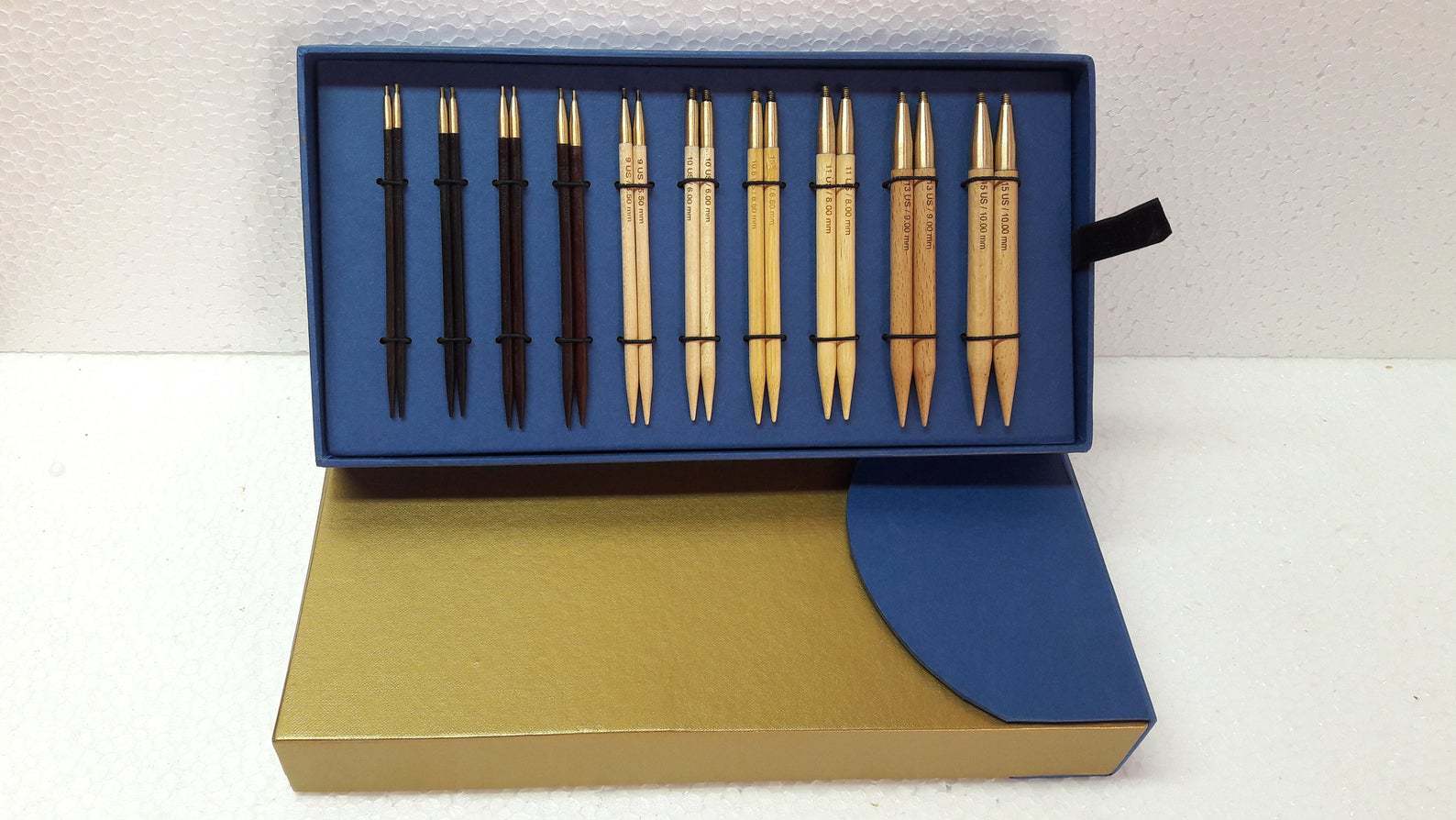 Made by a small business based in the US, Fashoknit's interchangeable set comprises several types of wood and bamboo. It has a selection of longer cords than usually included in these kinds of products and items.
Features
S3.50mm, 4mm, 4.50mm, 5mm, 5.50mm, 6mm, 6.50mm, 8mm, 9mm, 10mm
Cord Lengths Included – x2 60 cm, x2 80cm & x2 100 cm
Needle Tips Are 5″
Notions Included – 8 Stoppers & 4 Pins
Made From – A mixture of Ebony, Rosewood, Steam Beech Wood & Bamboo
Pros
Fast shipping
Smooth, snagless connections
Made of woods and bamboo that are smooth and warm to the touch
This needle set is well made
They're much better suited for projects with large circumferences
Cons
Smaller sizes aren't available.
Want the best yarn for baby blankets? Discover the contenders with my guide.
Extra Long Circular Needles
addi Turbo Circulars – 40."
The quality addi turbo plated circular needles you can expect, but with longer cords for bigger projects. Great for knitting socks two at a time.
Features
US 000 (1.5mm), 0 (2mm), 01 (2.5mm), 02 (3mm), 2.25mm, 2.75mm, 3 (3.25mm), 3.75, 4 (3.5mm), 5, 6 (4mm), 7 (4.5mm), 8 (5mm), 9 (5.5mm), 10 (6mm), 10.5 (6.5mm), 10.75 (7mm), 11 (8mm), 13 (9mm), 15 (11mm), 17 (12mm), 19 (15mm), 36 (20mm), 50 (25mm)
Cord Lengths Available – 40″ (100cm)
Needle Tips Are 5″
Made From – Hollow Brass & Plastic for the cords
Pros
Smooth
Made in Germany
Excellent craftsmanship and attention to detail
Made of quality materials
Snagless joins
Cons
Makes a clicking sound when you use them, which might be annoying for some people
Not recommended for those with brass sensitivities.
Check Price on Amazon
Addi Circulars
Though these don't have turbo plated tips, they come with the quality you can expect from Addi. Plus super long cords in a wide variety of sizes.
Features
Cord Lengths Available – 200cm Only
Needle Tips Are 5″
Made From – Brass Tips and gold plastic cords
Pros
Smooth
Snagless joins
Extra-long cord for a variety of projects
Lifetime warranty
Cons
Only available for purchase in the US
Check Price on Amazon
Extra Long Double Pointed Needles
Double Pointed Bamboo Set – 10″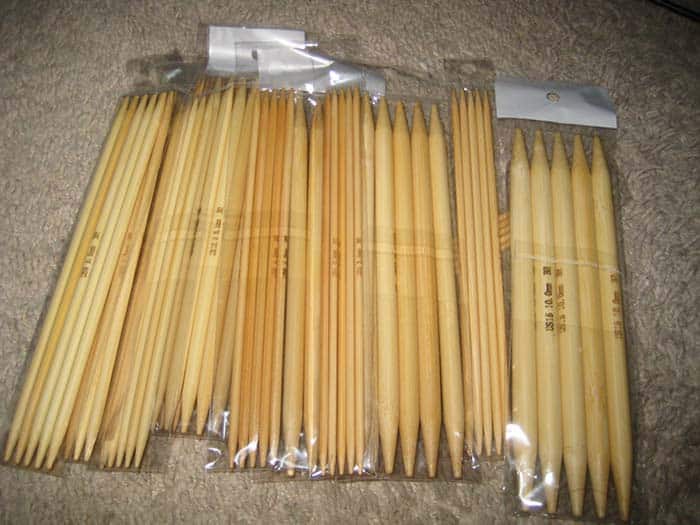 A complete set of double pointed needles made of bamboo available in various lengths, including 10″.
Features
US 0-15
Total Needle Length – 5″, 6″, 7″, 8″ and 10″
Comes In A Pack Of 5 Of Each Size
Made From – Bamboo
Pros
Smooth
Slightly grippy, so the stitches don't slide off accidentally
Durable
Slightly flexible
Lightweight
Inexpensive
Cons
Shipping can be expensive if you're outside the US.
Extra Long Straight Needles
KnitPro Symfonie Straights
Made from KnitPro's colorful Symfonie wood, dyed compressed Birch, which is lightweight yet exceptionally durable. Available in 15 sizes: 3mm-12mm. (This line is also available as a crochet hook, for crochet patterns needing that extra length.)

Albizia Needles (East Indian Walnut)
These 16 inch (40cm) straight wooden needles are available in: 3.5mm (US 4), 3.75mm (US 5), 4mm (US 6), 4.5mm (US 7), 5mm (US 8), 5.5mm (US 9), 6mm (US 10), 6.5mm (US 10.5), 7mm (US 10.75), 7.5mm (10.875), 8mm (US 11), 9mm (US 13).
This seller also has many other options in their home shop.
Boye Needles
Inexpensive and a no-frills option for a beginner knitter, Boye products are a good choice for economic needles.
Features
Total Needle Length – 14″
Made From – Aluminum
Pros
They're hollow and lightweight
These straight knitting needles are smooth
Excellent generic needles
Cons
Some sizes will be hard to find in this length.
Check Price on Amazon
Pin Now to Save for Later
CLOVER Takumi
Check Price on Amazon
Smooth needles made of bamboo, made in Japan from locally sourced, strong bamboo. These are smooth, slightly grippy, and have a lovely polished finish.
Features
Needle Sizes Available – US 0-15
Total Needle Length – 14″
Made From – Bamboo
Pros
These fixed circular knitting needles are smooth
Polished finish
Stitches glide along easily
Cons
Some sizes are subject to availability.
Curtzy Bamboo Set
No products found.
A set of 18 pairs of smooth, lightweight needles made of bamboo. With this collection at one affordable price, you'll have the right needle for any project. It's a great gift for a knitting enthusiast.
Features
0, 1, 2, 4, 6, 7, 8, 9 , 10, 10.5, 7mm, 7.5m, 11, 13, 15 & 17
Pros
Lightweight

Affordable
Great value
Cons
Some found they weren't of super good quality
No products found.
Single Point Giant Long Knitting Needles
Perfect for chunky knits like blankets and household décor, these handmade quality needles suitable for extreme knitting.
Features
40mm, 50mm & 60mm
Total Needle Length – 50cm
Made From – Wood
Pros
Fast delivery
Handmade with excellent craftsmanship
Made with sustainably sourced wood
Lightweight
Comfortable to use
Cons
FAQS About Extra Long Knitting Needles
How Long Are Knit Needles?
Here is a list of how long knitting needles are, depending on the type.
Straight Needles – 9, 10, 12, 14″, 16″
Circular Needles – Needle Tips – 3, 3.5, 4 & 5″ – Cords -9, 16, 24, 32, 40″, 60″, 80″
Double Pointed Needles – 6, 7, 8, 9, 10 & 12″
How Long Should My Knitter Needles Be?
How long your knitting needles should be depends on the size of the project. Look at the pattern to see what it recommends. A 10 inch straight needle is a good starting point for most projects for beginners.
How Long Should My Circular Needles Be?
It depends on how many stitches of wool you need to have on the circular cable. Too short a cable could mean you can't fit all the stitches.
When knitting in the round, have the right length in a circular needle is important. A needle length too long means the end stitch and the beginning stitch can't be joined without over stretching the stitches. Refer to the pattern you're using.
What Are The Longest Knitter Needles?
The longest knitting needles are 19 inches/50cm for straight needles. The longest length in a circular knitting needle is 80 inches/200cm.
Conclusion
Hopefully, this post helped you find the best extra long knitting needles. Though sometimes hard to find, if you're knitting a large project, spending a bit of time looking for the right length makes a real difference.