Are you a beginner knitter looking for information about gauge? I've got you covered! Today we'll talk about what knitting gauge is and how to measure it.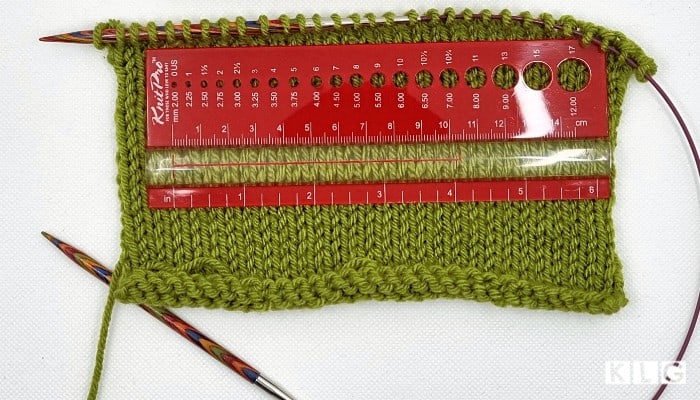 Table Of Contents
I reviewed, fact checked and updated this post on May 28, 2023.
What Is Knitting Gauge?
Knitting gauge is the number of stitches and rows that fit within a certain area of knitting. Gauge is usually given in stitches and rows over a 4-inch (10 cm) square. It's an important factor to consider when choosing the right knitting pattern or yarn for a project.
For each yarn weight, the gauge is often measured in the stockinette stitch pattern, alternate knit and purl rows. The right side of the fabric are all knits and the wrong side of the fabric are all purls.
Knowing your gauge is important because it ensures your finished project ends up with the right size and shape according to the pattern.
What Affects Your Knitting Gauge?
Your gauge can be affected by the needle size, the type of yarn, your knitting tension, and the stitch patterns you select, how you block it, and how you hold your yarn. These factors impact your finished project, so pay attention to them when you're knitting to get the best results.
Is Having The Correct Stitch Gauge Important?
Knitting gauge is incredibly important! It ensures your garment is the right size. If the gauge is off, the fabric looks sloppy or too small and it doesn't fit at all. So it's essential to always check if you have the correct gauge.

Sometimes a designer will mention a gauge for the pattern but have this additional information "Gauge is not crucial for this project, but variations will affect yardage and final measurements." I certainly found this when I've knitted large shawl patterns.
Pin For Later
How To Measure Gauge In Knitting
The best way to measure gauge in knitting is by using a swatch. If you want to practice making an accurate gauge swatch, try using garter stitch and worsted weight yarn or Aran weight yarn. They're the easiest for a beginner.
Here's a video tutorial.
What Is A Gauge Swatch?
Gauge swatches are small pieces of knitting used to measure gauge. To knit a gauge swatch, make a slip knot, cast on the recommended number of stitches and knit the recommended number of rows in the pattern gauge.
I recommend adding at least 5 stitches on either side so you have plenty of room to measure later. Once you've finished the swatch, block it, and you measure it with a ruler or tape measure to determine your gauge.
For example, if the pattern gauge calls for 20 stitches and 30 rows over a 4-inch (10 cm) square, measure your swatch and count the stitches. If it doesn't match, you can adjust your tension or needle size to get the right gauge.
Does The Knitting Gauge Swatch Need To Be Exact?
Absolutely! Knitting a gauge swatch is an important step in any knitting project. It's essential to ensure the finished project has the correct size and shape, and the only way to do that is an exact gauge swatch.
Taking the time to make a gauge swatch, and checking it against the pattern's row gauge saves time in the long run.
How To Adjust Gauge In Knitting
Adjusting gauge is a necessary step in nearly any knitting project, and it's easy to do. All you need is a ruler and a few simple calculations.
If there are too few stitches per inch, that means your tension is too loose. Try going down a needle size for looser stitches. If there are too many stitches per inch, your tension is too tight. Go up a needle size for tighter stitches.
FAQS About Knitting Gauge
What If My Knitting Gauge Is Too Big?
If your knitting gauge is too big, no worries! This means you have too many stitches in a row. Increase your needle size to get the right gauge for your knitted fabric.
What If My Knitting Gauge Is Too Small?
If your knitting gauge is too small, you have too few stitches in a row. You may need to use smaller knitting needles with the same yarn, or a thinner yarn. Also, try tightening up your tension.
Knitting Gauge In The Round Vs Flat
When knitting in the round, gauge differs from when you're knitting flat. For example, circular knitting typically has less stretch than knitting flat. It's important to swatch in the round and flat before beginning a project.
Conclusion
Gauge in knitting is an essential step in a knitting project. Armed with this knowledge, you can start your next creation with confidence!
Read Next: Spoil yourself (or someone you care about) with a set of luxury needles by following my suggestions.