Intarsia knitting is a colorwork technique intimidating to beginners. But it's fun once you know the basics. You don't need special equipment, only needles, and yarn in different colors.
I show you how intarsia knitting works and how to do it.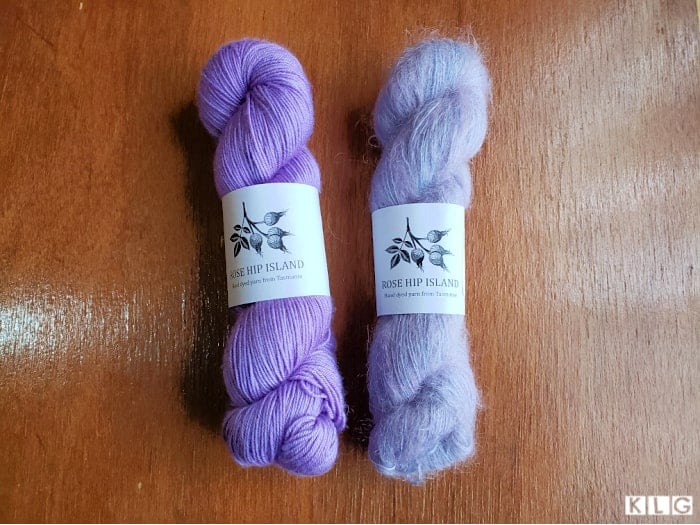 Table Of Contents
What Is Intarsia Knitting?
Intarsia knitting is a colorwork technique.
Isn't it the same as stranded knitting? Similar, but different.
In stranded knitting, you use two or more yarns to knit across the row. You leave behind the other yarns until you need them again.
When you need a yarn you left behind, you bring it to the tip of the needle, creating a strand at the back of a float.
Looking for big chunky yarn for arm knitting? See my article.
In Intarsia, use two or more colors. But it's a block of color surrounded by the other color. So the yarns aren't carried across the row.
Picture a blue square surrounded by yellow.
Knit up to the square using one yarn, then switch and use the blue. Next, use the third ball of yarn to knit the rest of the yellow.
They're not reversible, and most creations have the pattern on the knit side (right side.)
What Does Intarsia Mean In Knitting?
Intarsia means the colorwork technique in knitting.
Searching for a new skill? See my arm knitting tutorials.
How To Intarsia Knitting
Here is how to start intarsia knitting. Norman from Nimble Needles shows you the basics of Intarsia with a letter N pattern.
Tip: When you're changing yarns, you need to twist them around each other. Why? Because if you don't, you'll end up with a big hole. No one wants holey knitting!
When changing colors, put the old yarn to the left, and take the new yarn under the old one and to the right.
Where to buy yarn bowls? Let's find out!
How Do You Cast On Using Intarsia?
Here's a tutorial from YarnSub showing you how to cast on and off for Intarsia. If you use a regular cable cast on, the stitches won't line up.
Intarsia Knitting In Garter Stitch
Francoise Danoy shows you how to do Intarsia in garter stitch. It's almost the same method as intarsia knitting in stockinette. You use all knit.
Intarsia Knitting In The Round
In this video, Suzanne Bryan teaches you how to knit Intarsia in the round.
Intarsia Knitting With Multiple Colors
Suzanne Bryan shows you how to manage color changes in a row while doing the intarsia technique.
Knit Intarsia Projects To Try – Intarsia Knitting Patterns
Here are some intarsia patterns to try.
Tips For Knitting Intarsia
If you want to see the pattern clearly, enlarge and print out the chart
Using bobbins wound with small balls of yarn is a great idea. Use the pattern to determine how many you need before starting the project
Don't unwind the yarn until necessary, or it'll get tangled!
It would help if you blocked it after you've finished your intarsia project
Don't have too many colors on the go. Start with the basics
Choose a pattern with vertical color changes. They're easier
Your Questions Answered
How Do You Change Intarsia Colors In Knitting?
When knitting up to a color change in Intarsia, put the old yarn to the left. Place the new yarn to the right. That twists them around each other, so there's no hole. If you didn't do that, the two fabrics wouldn't connect.
What Is The Difference Between Intarsia And Stranded Knitting?
Intarsia is a block of color surrounded by another color. The colors aren't worked across the row.
Stranded knitting is lots of little patterns. You carry the yarn across the row, creating little floats on the back.
Fairisle is a style of colorwork using motifs.
How To Read An Intarsia Design?
Reading an Intarsia chart is like other charts. Each square means one stitch, and the squares are color-coded to tell you which yarn to use. You read the first row on the chart from right to left and the second from left to right.
Follow the hints the author of the chart gives.
Is Intarsia Knitting Hard?
No, you only need practice and persistence. Also, a tolerance for tangling and lots of yarn tails hanging out on the back of your fabric. Deep breaths!
As with anything new, the first stitch is always hard, but the next stitch and then the next gets easier!
How To Make Intarsia Knitting Patterns
Use some graph paper for your chart. Color in the boxes with two or more colors.
Add a dot to the boxes that are purl, and leave the knit stitches blank.
Add a key, so you remember the boxes with dots are purls, and the boxes without dots are knit. It's like a coloring book, how relaxing.
How To Finish Intarsia Knitting
Learn how to weave in your ends for Intarsia with JenACKnitwear.
Most knitters recommend using the duplicate stitch to weave in the ends of your finished knitting.
How To Avoid Holes In Intarsia Knitting
To avoid holes in Intarsia, twist the yarn around each other when changing colors. Keep your tension even because loose stitches lead to holes!
How To Fix Intarsia Holes
YarnSub shows you how to make the changeovers in colors have smaller stitches to keep your tension even.
Intarsia Knitting Vs Fair Isle
Intarsia is one block of color surrounded by another color. The yarns aren't stranded across the row.
Fair Isle knitting strands the yarn across the row, creating floats and stranded colorwork. There are no floats in Intarsia.
Intarsia Knitting Vs Jacquard
Intarsia knitting doesn't leave floats in the row, whereas Jacquard does.
Intarsia knitting, a colorwork technique for creating beautiful patterns. It seems daunting at first, but you'll be pleased with the result.
So why not try Intarsia?
Pin Now to Save for Later