Found knitting needles without sizes marked? Annoying! Get a knitting needle gauge to determine their size. This is essential for any knitter's toolkit.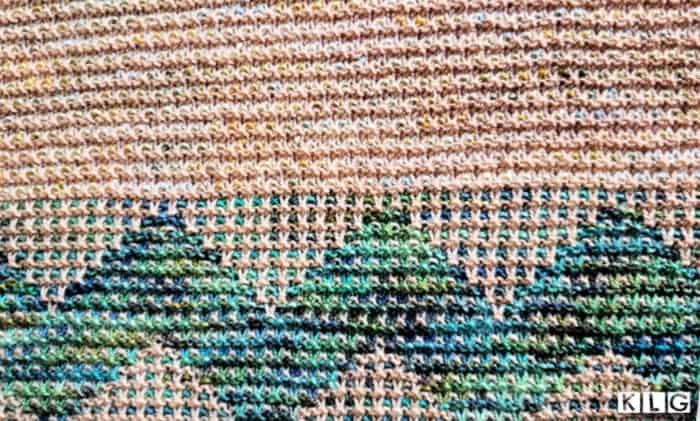 I reviewed, fact checked and updated this post on March 26, 2023.
Table Of Contents
Clover Knitting Needle Gauge
Inspired by a knitted hat with a pom-pom, it measures 20 needle sizes : 0-19 and their mm sizes. The ruler measures 6″ in length. The colored section for 4″. Handy for a swatch, and is durable plastic.
Susan Bates Knitting Needle Size Gauge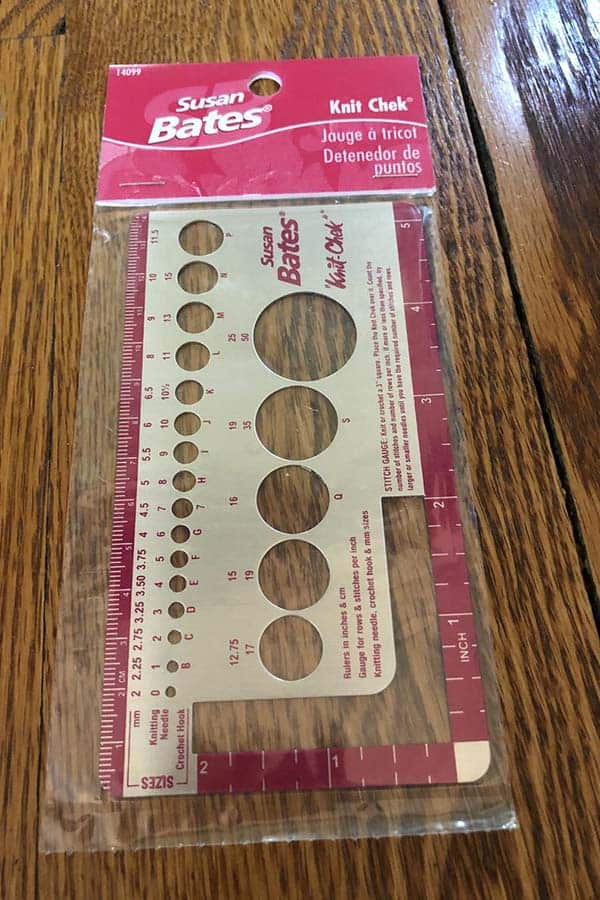 This is the practical Susan Bates needle gauge. The built-in rulers and gauge measure are handy. Besides providing metric and U.S. knitting needle sizes for different countries around the world, it measures crochet hook sizes. It's metal, so it's durable.
Multipurpose Knitting Needles Gauges Ruler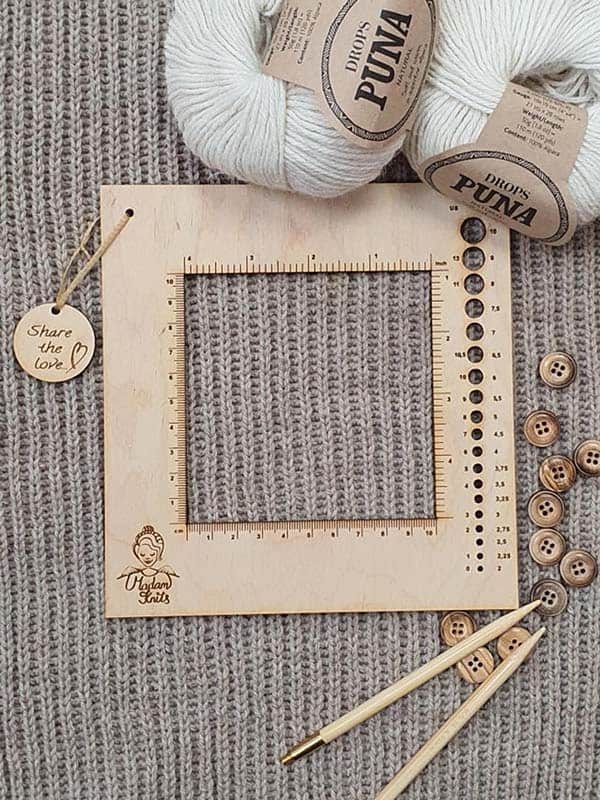 These material wood square tools measure gauge swatches knit or crocheted. Hold the tool against your work project and count the stitches inside the cut-out square. Used to measure needle thicknesses from 2-10 in EU needle size and US sizes. Measurements are inches and centimeters.
ChiaoGoo Swatch & Needle Gauge 5.5″
It's semi-flexible plastic. One side is a knitting needle conversion chart. The other has a crochet needle conversion chart. The ruler is 5.5″. Great to have a hook guide, yarn guide, and ruler in one. Fits in your knitting bag.
Other Options
What's A Knit Needle Gauge?
Knitting needle gauges are flat with holes in varying sizes. The holes are marked with the size of needles. Most knitting needle gauges have US and Metric sizing to use the holes to measure the size of a knitting needle. They're an inexpensive tool and handy. Needle gauges are combined with a knitting gauge ruler.
What's On A Needle Gauge
Needle gauge: The needle gauge is the little holes. Each hole is labeled with numbers corresponding to needle sizes. US & Metric knitting needle size
Ruler: Inches and centimeters
Window: An l-shaped or square window to count the stitches and rows per inch. It can't help you measure yarn weight.
What kind of yarn do you use for arm knitting? Look here.
How To Use A Knitting Gauge Ruler
Grab your unmarked needle and poke it through the holes. Have a small needle? It might fit the US size 1 hole. If the needle doesn't slide through the hole, size up. The knitting needle needs to slide through without extra space.
Here's an example. A needle might be US 4. When I slide it through the size 4 hole, it goes through with space to spare. I go down one size. When I put it through the size US 3 hole, it slides through the hole, but there's no room between the needle and the hole.It's a size US 3 needle.
When I tried the size US 2 hole, I couldn't get the needle to go in past the needle tip, so US 3 was correct. However, knitting needle companies have differences.
How To Gauge Knitting With A Ruler
Knitting needle gauge rulers are great for measuring your gauge swatch since it's 4″ (10 cm). Needle gauges with a little L-shaped or square window gauge ruler to measure the gauge is a great. It's easy to count stitches and get a gauge measurement. You need a 4″ window to get a good sample of your swatch.
How To Tell Knitting Needle Size
Knitting needles are measured by their diameter – the line segment through the center of a circle. To measure some of your knitting needles, you need a ruler with the metric system and my needle conversion chart.
Measure the diameter of your needle, place it between the # marks on your ruler, and count how many lines it falls between. One centimeter is ten millimeters. This method is difficult, but it'll do.
Here's my helpful size chart.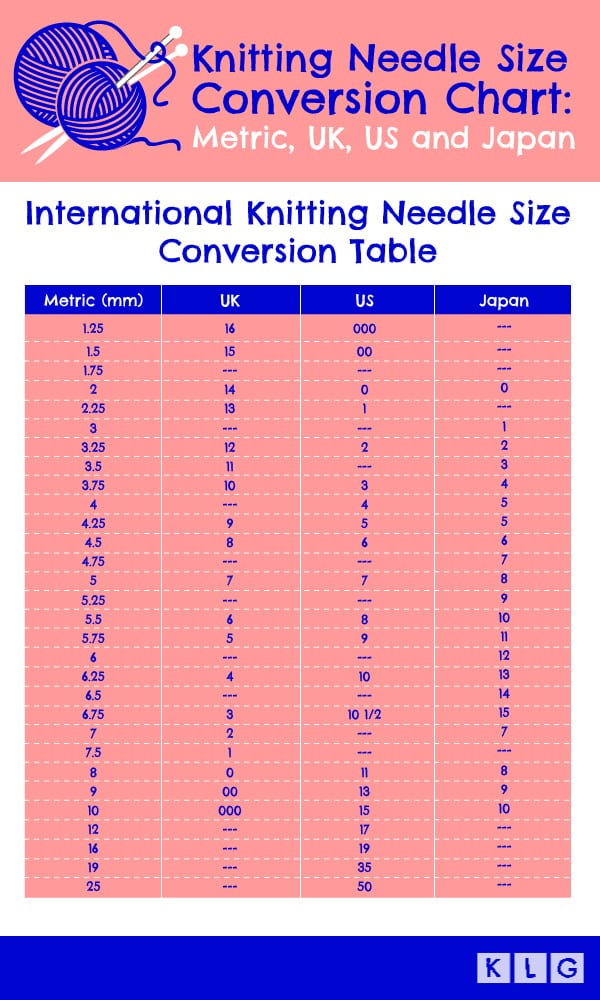 How To Measure Circular Knitting Needle Size Without Gauge
The needle tips between the cord of your circular needles are measured by diameter. Use the tips I discussed for straight needles earlier in the post for circular knitting needles too.
Clever Ideas For Labeling Your Needles
Use a small piece of tape with the size marked in pen. Get beautiful washi tape to add interest to your needles. This is best with single pointed or straight needles and the tape on the knob.
If labeling Double Pointed Needles, fixed circulars, or interchangeable tips in your needle set, use nail polish colors. Dash polish on an index card and note what size it is.
Have multiple needles of the same size? Bundle them with a rubber band and label. A fabric needle holder is excellent when you label the slots.
Conclusion
An easy way to figure out the size of the mystery needles in your knitting stash. If you have questions, pop a comment below.
Pin Now to Save for Later