I've made finding the best yarn to use for arm knitting easy.

Below I've got some fabulous suggestions for different kinds of arm knitting yarns to knit your projects.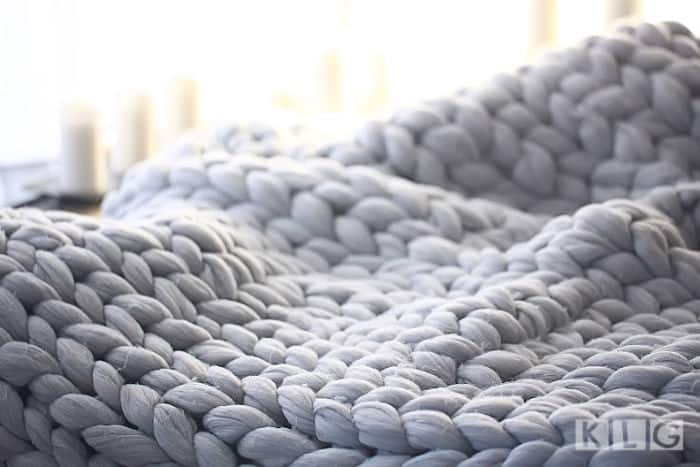 Table Of Contents
Whether they be scarves, shrugs or blankets, it's truly amazing what designs and patterns have been created to show off this knitting technique. All with just using your arms to knit projects! No need for equipment like giant knitting needles.
For those who aren't familiar with arm knitting, it's simply a matter of casting the stitches on to your arms instead of needles to knit all kinds of projects.
This technique works best when using the super chunky yarn. Such as merino wool, blends of fibers, and vegan fiber that mimics wool and acrylic.
Those who are beginners to arm knitting soon get hooked and love all the projects they can make. It's relatively quick to make a blanket or something even quicker like a cowl or scarf. Pet beds are popular as are couch pillows.
What is the best yarn to use for arm knitting?
For those of you in a hurry the best yarn to use for arm knitting is Becozi Merino Chunky Knit Wool.
You can read the full reviews of suitable products a little bit further down.
Things to consider when choosing the best yarn for arm knitting:
What sort of project are you making? Will it be a chunky knit blanket, a scarf or garment?
What's your budget? Many of the arm knitting yarns for chunky blankets are more expensive than what you're perhaps used to spending on yarn. Be prepared.
What type of yarn do you prefer? Natural fiber like merino, acrylic, a blend or vegan?
If you aren't sure, all's well, my guide will help you find an option to suit you for your arm knitting projects.
Merino Roving
Becozi Merino Chunky Knit Yarn
Creates a gorgeous color chunky knit product whether it is a coverlet, throw or pillows. Decorate your home with your arm knitted creations. If you aren't limited by price, this is a quality product. You'll love the results of your hobby!
Pros
Beautiful and soft
100% Australian Merino Wool
Doesn't irritate the skin
Distributor is based in the US
Shipping upgrades available for faster delivery
Cons
Larissa from Becozi shows you how to knit a super chunky Merino wool blanket.
Homemoda Studio Roving Yarn
Merino wool is a very popular material. Most people find it comfortable, soft and not itchy. This is great for those with sensitive skin. Be aware the balls are not as large as what you see on Pinterest.
Make sure you're selecting the products with the amount/weight of wool you wish to purchase. There are options from 0.55 lbs through to 6.6 lbs.
Pros
Soft and bouncy quality
Arm knits up quickly
Easy to work with
Chunky knitting wool
Cons
Bear in mind it's delicate and snags easily (be careful when knitting and you shouldn't have a problem.)
Requires dry cleaning
Click to Learn More / Buy from Amazon
Acrylic
Premier Yarns Couture Jazz Yarn
Premier Yarns Couture Jazz Yarn, a chunky, soft and fluffy knitted tube of fine, brushed acrylic. (81% Acrylic, 19% Nylon.) It was used in the Arm Knitting blanket video by Amanda Bassetti from Simply Maggie that went viral. (See below.)
A favorite chunky craft store yarn for arm knitting, widely available online. It's soft, easy to work with and doesn't tend to shed. A good option for those on a tighter budget.
Each 100g ball has a low yardage (16.5 yds/15m). When knitting a larger arm knitting blanket you'll find yourself joining on new skeins multiple times through projects.
The quality of this fiber allows you to sew yarn ends together with a needle and thread for almost invisible joins. It will be time consuming but worth it for the finish you get.
The good news is Premier Yarns created a 500g gram ball which gives 81.5 yds. Not as many ends to deal with. The 500g version doesn't have as many colors on offer.
Pros
Well known for its softness and durability
Good option for those on a tight budget
Machine washable
11 different colors to choose from
A great starting yarn for beginners to make a chunky knit item
Cons
Low yardage means sewing yarn ends together multiple times for bigger projects.
3.5oz (100g)
Click to Learn More / Buy from Amazon
17.5oz (500g)
Click to Learn More / Buy from Amazon
Bernat Mega Bulky
Lovely and thick, the perfect chunky knit choice for beginner arm knitters. It is a plied yarn with a slight shine and is great for arm knitting scarves and cowls.
Be aware, due to the yarn's thickness joining on a new skein there is a noticeable knot. Try and hide those sections in the curled edges of your garment when you can.
Pros
Thick and soft with a slight shine
Great beginner arm knitting yarn
8 different colors to choose from
Cons
When joining a new skein of yarn there's a visible knot.
Click to Learn More / Buy from Amazon
Acrylic/Wool Blend
Patons Cobbles
This blend is 49% wool 49% acrylic 2% polyester. It's a chunky knitted wool/acrylic blend roving fiber. Very bulky, light and fluffy. Since it's a roving and not plied meaning several strands of yarn wrapped around each other.
The addition of the 'cobbles' really fills the gaps in the arm knitting stitches.
Sometimes arm knitting blankets have a 'fishing net' look because the stitches are so open. Using 2 strands together looks fantastic. The resulting item has a pillowy, luxurious feel.
Pros
Lovely feel while working and the finished item
6 colors to choose from
No noticeable gaps and makes a denser fabric
Cons
If choosing to knit this yarn on needles, be careful of splitting.
Click to Learn More / Buy from Amazon
Red Heart Grand Yarn
Red Heart Grande is a blend of 78% Acrylic, 22% Wool. Having wool incorporated in the blend means it is softer than a 100% acrylic yarn. It is best to work it double stranded when arm knitting.
It's not as bulky as other fiber options.
Great for beginners when knitting with arms to make garments and accessories like cowls and scarves. Your project will make a great gift for a friend or family member.
Pros
Soft and lofty feel
Great beginner arm knitting yarn
Choice of 11 soft palette colors
Good for those looking for an inexpensive option
Cons
This is a plied (twisted) yarn. Some find it has a rope-like effect when arm knitted
Click to Learn More / Buy from Amazon
Yarn Bee Showstopper
Great arm knit yarn option from a craft store. Hobby Lobby sells this blend (50% Acrylic, 35% Polyamide, 15% wool) It's relatively inexpensive and thicker than Couture Jazz yarn, although not quite as soft.
Something to note is it does shed lightly. It's perfect for an accent blanket for the end of a bed or couch. If you're making a lap throw from this yarn, and you wear dark colors expect some fibers to come off onto your clothes. (Something to think about.)
To get the full effect of the chunkiness of the strand, pull it apart slightly when working with this yarn.
Pros
Soft and thick
Easy to work with
Variety of colors, one choice is Rainbow, which is multicolored
Good for smaller budgets
Cons
Lightly sheds
Be mindful of getting the same dye lot for multiple skeins
Only available at Hobby Lobby
Vegan Yarn
Homemoda Studio Chenille Chunky Yarn
The resulting blanket is so incredibly soft. Like having a giant teddy bear draped over yourself. It's lightweight, super fluffy and great for year-round use, adding style and coziness to any room.
The loops are easy to make. Super durable and easy to care for as it is Machine washable. It saves you time. Suitable for vegans who don't want fibers from animal products. It is made from 100% polyester.
Pet friendly and child friendly. A great alternative to wool.
Pros
Vegan yarn
Pet and child friendly
Great for sensitive skin
Cons
Not as warm as a merino wool yarn
Click to Learn More / Buy from Amazon
How much yarn do I need to arm knit a blanket?
The amount of yarn you need to arm knit a blanket is between 2.2lbs (1kg) for a Baby Blanket up to 15lbs (7kgs) for a Extra Large Blanket. Here's the amount for 5 different sized arm knit blankets below.
Baby Blanket ~ 30″x30″ (76 x 76cm)
2.2lbs (1 kg) lightly felted wool roving or 43 yds of yarn
Small Blanket ~ 30″ x 50″ (76 x 127cm)
4.4lbs (2kg) roving or 80 meters (87yds) of yarn
Medium Blanket ~ 40″x60″ (101 x 152cm)
6.6lbs (3kg) roving or 120 meters (131 yds) of yarn
Large Blanket ~ 50″x 70″ (127 x 177cm)
8.8 lbs (4kgs) Roving or 160 meters (174yds) of yarn
Extra Large Blanket ~ 70″x80″ (177 x 203cm)
15 lbs (7kgs) roving or 280 meters (306 yds) of yarn
This is a general guide. Remember every person has a different tension and arm diameter. There will be variations.
How many yards of yarn do I need for a chunky knit blanket?
The yards of yarn you need for a chunky knit blanket is from 43 yds for a baby blanket up to 306 yds for an extra large blanket.
The below is a yardage guide for #7 Super Bulky Yarn, for 5 blanket sizes from smallest to largest.
Baby Blanket ~ 30″ x 30″ (76 x 76cm)
43 yds of yarn (39 meters)
Small Blanket ~ 30″ x 50″ (76 x 127cm)
87yds of chunky yarn (80 meters)
Medium Blanket ~ 40″ x 60″ (101 x 152cm)
131 yds of yarn (120 meters)
Large Blanket ~ 50″ x 70″ (127 x 177cm)
174yds of yarn (159 meters)
Extra Large Blanket ~70″x 80″ (177 x 203cm)
306 yds of yarn (280 meters)
Again remember everyone has a different tension and arm diameter so there will be variations.
What kind of yarn is used for chunky blankets?
The kind of yarn used for chunky blankets is thick, soft and bulky. Any yarns labelled Bulky, Super Bulky or Jumbo are perfect for chunky blankets.

The best arm knitting yarn for a chunky blanket is a roving merino wool like Becozi Merino Chunky Yarn. The texture of this yarn will help fill in the gaps created by the loose weave of arm knitting.
The yarns I've featured above can all be used for chunky blankets.
That's A Wrap!
I hope my post has made finding a suitable fiber for your next arm knitting project easier. I'd love to see your creations. Please feel free to get in touch here with your pic and I'll share it with my readers.