I've made finding the best yarn to use for arm knitting easy. Below I've got fabulous suggestions for different arm knitting yarns to knit your projects.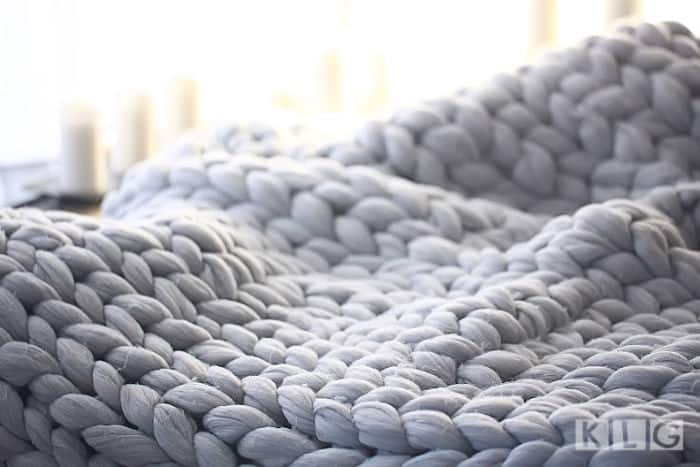 Find the best knitting wool for your arm knit projects with my reviews.
I reviewed, fact checked and updated this post on March 26, 2023.
My Quick Recommendations
Table Of Contents
It's truly amazing what arm knitting designs and patterns show off this technique. Whether they be scarves, shrugs or blankets, all with using your arms to knit projects! No need for equipment like giant knitting needles. Not familiar with arm knitting?
It's casting the stitches on to your arms instead of needles to knit all kinds of items. This knitting technique works best when using the super-chunky knit yarn. Like merino wool, blends, vegan fiber or acrylic.
Beginners to arm knitting soon get hooked and adore all the knitting projects they can make. It's quick to make an arm knit blanket. Even quicker for a cowl or scarf! Pet beds and couch pillows are popular. (Don't use it for a baby blanket though.)
What's The Best Yarn To Use For Arm Knitting?
For those of you in a hurry, the best yarn to use for arm knitting is Merino Chunky Knit Wool. Read the full reviews of suitable products further down.
What Makes The Best Yarn For Arm Knitting?
What are you making? A chunky knit blanket pattern with needles, a scarf, or a garment? What's your budget? Many brands of arm knitting yarns for chunky blankets are more expensive than what you're used to spending on yarn.
What yarn do you prefer? A natural fiber like merino? Acrylic? A blend? Vegan? Aren't sure? My guide will help you find an option for your arm knitting projects.
Best Arm Knitting Yarn For Most People: Merino Roving
Creates a gorgeous color chunky knit product, whether it's a coverlet, throw or pillows. Decorate your home with your arm knitted creations. Aren't limited by price? This is for arm knitting projects, like a diy chunky knit blanket.
This merino yarn is light and lofty. This type of fiber isn't plied, so it doesn't have the same strength. Go slowly to avoid pulling the strands apart. Select the different pound weights depending on the size of your project. This thick yarn makes a great gift for knitters.
Pros
Beautiful and soft for knitting projects
Doesn't irritate the skin
Great for baby blankets
This seller sometimes offers free shipping to the United States.
Cons
This yarn chunky requires delicate care
Not machine washable
Homemoda Studio Roving Merino Knitting Yarn
Check Price on Amazon
Merino wool is a popular material for giant yarn for arm knitting. Most people find it comfortable, soft, and not itchy. This is great for those with sensitive skin. Be aware the wool yarn balls aren't as large as what you see on Pinterest and other social media sites.
Knitting projects like a giant yarn blanket comes up well. Remember to handle with care. When shopping, select the products with the amount/weight of wool you wish to purchase. (0.55-6.6 lbs.)
Pros
Soft and bouncy quality
Arm knits up quickly
This yarn arm knitting is easy to work with
Chunky arm knitting wool
Great for a blanket knitting pattern
Cons
It's delicate and snags easily (be careful when arm knitting and you shouldn't have a problem.)
Requires dry cleaning
Not machine washable
It may pill
Another video tutorial worth watching is by Peony and Time – How to Make a Giant Yarn Blanket from Start to Finish!
Bulky Weight Knit Yarn Skeins
Tuff Puff is 100% Super Bulky Wool by Knit Picks and is a great budget option. Holding multiple strands together makes a dense fabric for an arm knitting project. Use a ballwinder to create neat yarn cakes of this chunky yarn.
A gorgeous range and a beautiful lofty, squishy feel. Perfect for an accent blanket at the end of your sofa. Suitable for home decor ideas like a diy knit blanket.
It's a great type of yarn for scarf. Also imagine chunky sweaters and bags with this bulky weight yarn. Get enough of the same dye lot for your arm knitting project. You'll need to hand wash items made from this knitting yarn.
Pin For Later
Merino Super Chunky Chenille Yarn
Check Price on Amazon
Super soft fiber for knitting bulkier garments, throws, pillows or wall macrame. Comes undyed in one pound.
Loopy Mango Big Loop Merino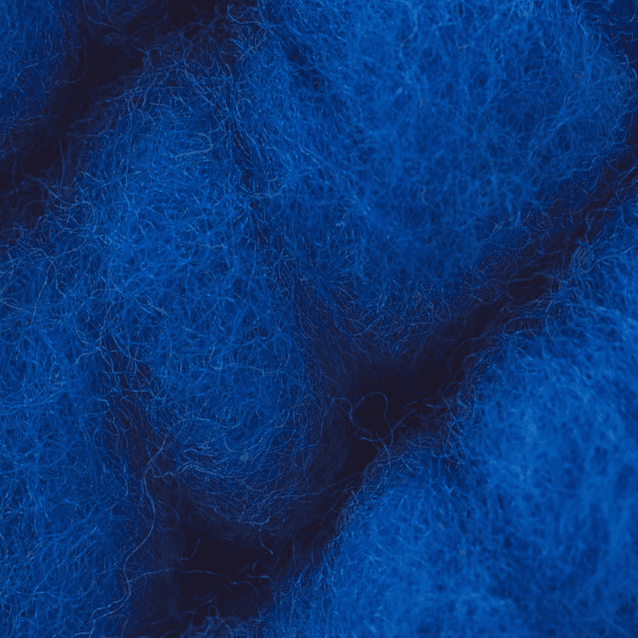 This huge ball of fluffy arm knitting yarn is a massive 40oz. One skein knits up in about 2-3 hours and makes a throw 28" x 40". The difference between this and a roving is it's twisted and plied, so it's stronger. Knitting with this creates a textured feel.
Pros
Thick and squishy
Great stitch definition
Cons
May shed fibers
Limited choice of colors
Acrylic Type
Best Budget Option: Premier Couture Jazz
Check Price on Amazon
Couture Jazz, a chunky, soft knitted tube of fine, brushed acrylic.(81% Acrylic, 19% Nylon.) It was used in the Arm Knitting blanket video by Amanda Bassetti from Simply Maggie that went viral. (See below for more information.)
Her blanket took 45 minutes. As a beginner it may take you longer. A favorite chunky craft store yarn for arm knitting projects, widely available online. It's easy to work with and doesn't shed. A good option for anyone on a tighter budget.
Each 100g ball has a low yardage (16.5 yds/15m). When knitting a larger arm knitting blanket you'll join on new skeins multiple times through projects. The quality of this fiber allows you to sew yarn ends together with a needle and thread for almost invisible joins.
It's time consuming, but worth it. A chunky knit throw looks great. Premier Yarns created a 500g gram ball, which gives 81.5 yds. Not as many ends to deal with. The 500g version doesn't have as many colors on offer.
Pros
Well known for its softness and durability
Good option for those on a tight budget
Machine washable
Ease of maintenance
A great starting yarn for beginners to make a chunky knit item
Cons
Low yardage means sewing ends together multiple times for bigger projects.
Not machine washable
Bernat Mega Bulky
Check Price on Amazon
Lovely and thick, the perfect chunky knit choice for beginner arm knitters. Widely available in crafts stores. Knit with a single strand. For a thicker fabric, hold double.
It's a plied yarn and is great for arm knitting scarves and cowls. Good value for money. Due to the thickness joining on a new skein, there's a noticeable knot. Hide those sections in the curled edges of your garment.
Due to arm knitting stitches, this arm knit yarn makes the fabric open and loose.
Pros
Thick and soft with a slight shine
8 different colors to choose from
Machine washable
Would suit those on smaller budgets
Cons
When joining a new skein, there's a visible knot
AR Workshop Chunky
A jumbo 100% Polyester chenille yarn that can be crocheted or knit. Try 4 balls for a lapghan or area rugs (4+ balls).
Pros
Soft and squishy
16 colors to choose from
Machine washable but dry flat (don't tumble dry)
Suitable for blankets, rugs and pillows
Cons
Some customers found issues with thinness in some spots. The good news is that Lion Brand Customer Service sorted it out.
Acrylic/Wool Blend
Patons Cobbles
Check Price on Amazon
This blend is 49% wool, 49% acrylic yarn, & 2% polyester. It's a chunky knitted wool/acrylic blend roving fiber. Bulky and fluffy. Since it's a roving and not plied, there are several strands wrapped around each other.
The 'cobble' details fill the gaps in the arm knitting stitches. Sometimes arm knitting blankets have a 'fishing net' look because the stitches are so open. To have a tighter texture, use 2 strands together. The resulting item has a pillowy, luxurious feel. Great for home decor items like cushions.
Pros
Lovely feel while working and the finished item
6 colors to choose from
No noticeable gaps and makes a denser fabric
Cons
If choosing to knit this yarn on needles, be careful of splitting
Don't put in the washing machine
Red Heart Grand
Check Price on Amazon
Red Heart Grande is 78% Acrylic, 22% Wool. Having wool incorporated means it's softer than a 100% acrylic yarn. Work it double stranded when arm knitting.
It's not as bulky as other fiber options, though it's super soft. Many compare the texture to 'cotton candy'! Red Heart Yarns are great for beginners when knitting with arms to make garments and accessories like cowls, snoods, and scarves.
Your project makes a great gift for a friend or family member. People appreciate receiving DIY home crafts as gifts.
Pros
Soft and lofty feel
Choice of 11 soft palette colors
Good for those looking for an inexpensive option
Cons
This is plied (twisted). Some find it has a rope-like effect when arm knitted
Vegan Yarn
Homemoda Studio Bulky Thick Roving
Check Price on Amazon
The resulting blanket is soft. Like having a giant teddy bear draped over yourself.It's lightweight, fluffy, and great for year-round use, adding style and coziness to any room. Great for a rug.
The loops are easy to make. Super durable and easy to care for as it's Machine washable. It saves you time. Suitable for vegans who don't want fibers from animal products. It's 100% acrylic. Pet friendly and child friendly. Children will enjoy its softness. A great alternative to wool or cotton yarn.
Pros
Pet and child friendly
Great for sensitive skin
Range of colors
Cons
Not as warm as a merino wool yarn
Less stretch
Best Luxury Option: Velvet Yarn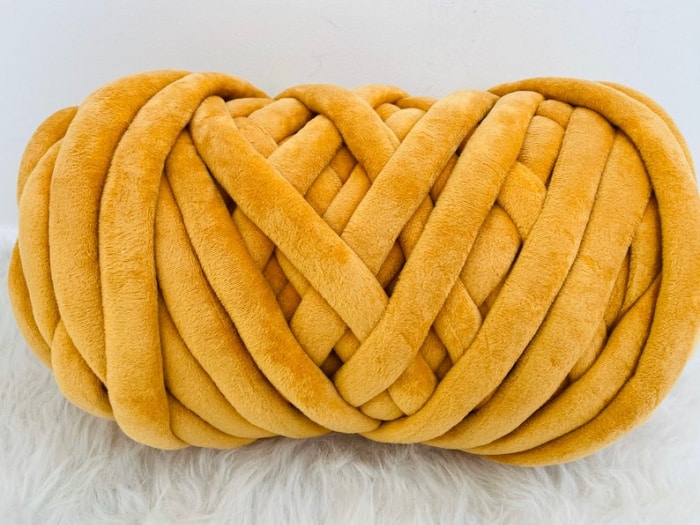 A soft plush feel of velvet. The construction is a velvet fabric tube filled with polyester. Becozi is a US based business for their variety of arm knitting yarns. There are lots of lovely colors available in their Etsy store.
Pros
Super soft and squishy
Lovely super chunky form
Easy to make loops with your hands
This Etsy seller has an excellent star rating
Suits beginners
Cons
Joining the yarn creates a visible knot
Bernat Blanket Extra
Check Price on Amazon
A chenille style 100% Polyester yarn. Hold it double for a thicker fabric. This type could be top of your list if you are sensitive to animal fibers.
Pros
Soft, cozy, and lightweight
Cons
If there are any joins in the yarn, it's noticeable
The table below helps you compare quick features of our top picks.
Best Arm Knit Yarn Comparison Chart
FAQS About Arm Knitting Yarns
How Much Yarn Do I Need To Arm Knit A Blanket?
The amount you need to arm knit a blanket is 2.2lbs (1kg) for a Baby Blanket to 15lbs (7kgs) for an Extra Large Blanket. Here's the amount for 5 arm knit blankets.
Baby Blanket ~ 30″x30″ (76 x 76cm)
2.2lbs (1 kg) lightly felted wool roving or 43 yds
Small Blanket ~ 30″ x 50″ (76 x 127cm)
4.4lbs (2kg) roving or 80 meters (87yds)
Medium Blanket ~ 40″x60″ (101 x 152cm)
6.6lbs (3kg) roving or 120 meters (131 yds)
Large Blanket ~ 50″x 70″ (127 x 177cm)
8.8 lbs (4kgs) Roving or 160 meters (174yds)
Extra Large Blanket ~ 70″x80″ (177 x 203cm)
15 lbs (7kgs) roving or 280 meters (306 yds)
This is a general guide. Every person has a different tension and arm diameter.
How Many Yards Of Yarn Do I Need For A Chunky Knit Blanket?
The yards of yarn you need for a chunky knit blanket is from 43 yds for a baby blanket up to 306 yds for an extra large blanket. Chunky wool knits up beautifully. Below is a yardage guide for #7 Super Bulky Yarn, for 5 blanket sizes.
Baby Blanket ~ 30″ x 30″ (76 x 76cm)
43 yds (39 meters)
Small Blanket ~ 30″ x 50″ (76 x 127cm)
87yds of chunky knit yarn (80 meters)
Medium Blanket ~ 40″ x 60″ (101 x 152cm)
131 yds (120 meters)
Large Blanket ~ 50″ x 70″ (127 x 177cm)
174yds (159 meters)
Extra Large Blanket ~70″x 80″ (177 x 203cm)
306 yds (280 meters)
Everyone has a different tension and arm diameter so there's variations.
What Kind Of Yarn Is Used For Chunky Blankets?
Yarn used for chunky blankets is thick, soft and bulky. Yarns labelled Bulky, Super Bulky or Jumbo are perfect for chunky blankets. The best arm knitting yarn for a chunky blanket is a roving merino wool like Becozi Merino Chunky Yarn.
The texture helps fill in the gaps of the loose weave of arm knitting. The yarns I've featured can be used for the best chunky yarn blankets.
Conclusion
I hope my recommendations has made finding a suitable fiber for your next arm knitting project easier. I'd love to see the creations you make. Have questions or tips? Leave a comment below, your email address is never made public.