Sick of rummaging around trying to find knitting needles? Organization is key to a stress-free knitting experience.
Suppose you collected needles over many years. (Let's not mention not finding a size you swore you had and buying more!)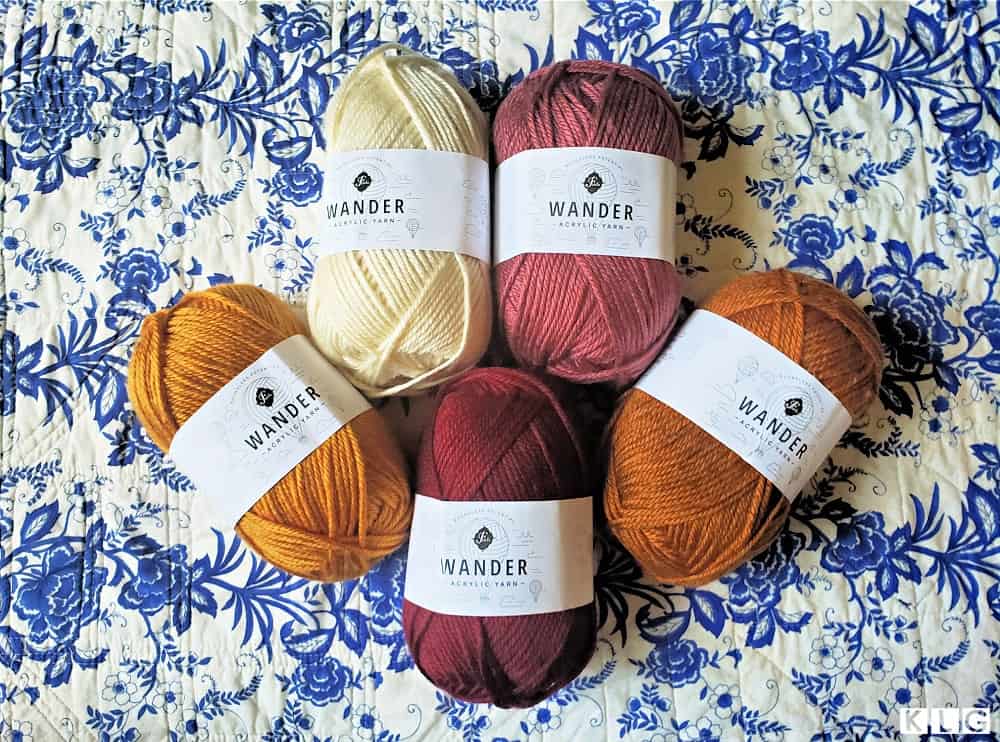 Now is the time to get things sorted. The tips I've shared below will get your knitting needle collection into ship shape order.
If you're organizing your knitting needles, remove the ones you no longer use. Put those in a pile to donate.
Be gentle and kind with yourself. Tackle what may seem like a massive task by doing it in steps. Your knitting needles don't have to be organized all in one day!
Now, here are some helpful tips for you.
Straight or Single Pointed Knitting Needles
1 – Recycle A Cylinder Container
Do you have gorgeous vases (the ones above are by ceramicist Kristin Nelson), jars, or cylindrical cookie tins stored away in cupboards? Bring them out and put your needles on display.
Opt to randomly stand them together or use a rubber band at the ends to secure them in the same sizes.
2 – Use a Needle Roll.
These fabric organizers have separate pockets to store your needles. Keeping them separate stops them from rubbing on each other. You simply roll up your organized needles and tie up the ribbon around the outside.
Perfect for knitting on the go as it fits in your project bag or tote.
Here's a beautiful one by Lena Brown Designs.
If you also love to sew, this would make a great DIY project. A chance for you to use up some fabric scraps and leftover ribbon.
Here's an easy-to-follow tutorial by Erica Arndt.
3 – A Project Bag
A project bag keeps your current work in progress, yarn, knitting needles, and notions all in one place. Perfect for knitting on the go.
Looking stylish as you knit is always a good idea, this large leather project bag by Furls is gorgeous. There is oodles of room for yarn and plenty of spaces for your needles.
These are a great choice for how to store wooden knitting needles, as the enclosed spaces keep them protected and dry.
Great for disguising the fact you've brought your knitting to work. It looks like an elegant handbag.
4 – A Storage Chest
Plenty of room for lots of knitting needles and yarn. Bonus points if you get one with a seat, so it's dual-use.
DPNs or Double Pointed Knitting Needles
1 – Use A Cylindrical Container
Double Pointed Needles can be displayed in smaller jars and vases. As most DPNS come in sets, it's important to keep the same sizes together. As I mentioned above, use a rubber band or even a hair tie to secure them.
2 – Use A Knitting Needle Roll
Again the Needle Roll is perfect for DPNs, and here's a selection of handmade options from Knit One Bead Two.
3 – A Ring Binder
Use something you'd find more in an office than a craft room, a three-ring binder with page protectors. Use a page protector for each set in the same size.
Check Price On Amazon
Click to Learn More / Buy from Amazon
4 – Ziplock Storage Bags
These make it easy to see the items inside. Put all of the same sizes of DPNS together, (bundle up the sets,) and label the outside of the bag with the size.
This idea would also suit those who're happy to have different kinds of needles together. Organize your DPNS, circulars, and straights into one bag.
The size of the ziplock bag depends on how many needles you have. You can pop the bags on a shelf or keep them in a drawer or a large bag/tote.
5 – DPNS Tubes
These tubes are a nifty solution. Protect your double-pointed needles with your project still on them. The slot is for your project in progress.
The tubes are made of acid-free rigid paper, and they extend out to hold DPNs of all sizes.
Click to Learn More / Buy from Amazon
6 – A Pencil Case
These work well as knitting needle organizer of DPNs. You might already have these hiding away in drawers, and this could be their new purpose.
There is a range of materials for pencil cases, fabric with a zip, metal, wooden, or leather.
Here are some of my favorites. For more options, check out my knitting needle case review.
Leather Pencil Case by Darrell Standing
The leather gives a vintage appearance. Brand new leather scuffs very easily. You can "repair" scuffs easily with a cotton soft cloth or your fingers – you just need wipe it softly. Hand cut and hand stitched with polyester waxed thread.
100% handmade using traditional saddle stitching method.
Fabric Zippered Pouch by Palm Trees and Paradise
This zipper pouch features a gorgeous mustard yellow dandelion print fabric lined with Kona gray fabric and sewn with a hidden layer of interacting for added stability. The pouch includes a black YKK zipper.
Pouch measures approximately 4.5″ x 9″.
Metal Personalized Tin Container from Mad For Monograms
Personalizable. You choose the color of the background pattern, the font and the shape of the monogram. The tin container measures 5″ x 7.75″ x 2″.
Wooden Celtic Love Knot Wood Pencil Box from Lyon Craft
This classic style wooden pencil box is laser engraved with the Celtic love knot design and can be personalized.
To do that, enter what you'd like engraved with the correct spelling, punctuation and capitalization into the section when placing your order.
Interchangeable Knitting Needles
The beauty about Interchangeable sets is they often come in a case You can usually fit some notions in the case too. If you didn't like the case, I'd highly recommend a Needle Clutch.
Look at the gorgeous handmade fabric ones by Kathy at 1000 Star Designs.
Circular Knitting Needles
Here are some rather ingenious circular knitting needle storage ideas.
1 – A Ring Binder
A three-ring binder with page protectors works well for circulars too. Set it up, so the same cable lengths are together in a section. Then have those cable lengths organized in the same size, and they'd go into their page protector.
2 – A Spool Rack
If you have space on a wall, put up a spool rack and label the pegs with the circular needles' size and length.
Check Price On Amazon
Check Price On Amazon
3 – A Hanging Circular Needle Organizer
Susie At Buttermilk Cottage's organizer consists of 15 pockets behind two strips of contrasting, neutral fabric. A total of 30 slots. Each slot holds multiple needles.
A simple idea is to store your circulars in the packaging they came in. Keeping them separate and protected.
There is also an option of a circular needle hanging organizer with the mm sizing printed on it.
Click to Learn More / Buy from Amazon
There you go, lots of knitting needle storage ideas to help you organize your stash. With your collection all neat and organized, happy knitting days ahead!
If you have any tips you want to share, I'd love to hear about them.
Pin Now to Save for Later