Stainless Knitting Needles are great for speeding up your knitting as the surface is slick, and the yarn glides effortlessly.
They're sturdy, durable, and built to last.
I highly recommend trying these needles if you haven't yet. Many knitters who experience hand pain have found these more comfortable than aluminum.
There's hardly any risk of them becoming scratch, dented, or bent. They're fabulous for delicate knitting, which requires a smaller needle size.
Better than plastic, wood, and bamboo in smaller sizes, these all too often break.
There is a range of excellent brands on the market. More on the best stainless steel knitting needles below.
I reviewed and updated this post on 8 September 2022
Table Of Contents
Stainless Steel Circular Knitting Needles
Hiya Hiya Stainless Steel Circular Knitting Needles
The needle tips are hollow high-quality stainless steel, cables are flexible plastic and the points are tapered and sharp.
Hiya Hiya needles are slightly sharper than ChiaGoo Red Lace needles.
The cord on these circulars isn't as popular with knitters as the ChiaoGoo version. Speed Knitters value these needles for, you guessed it, their speed!
They come in a range of sizes and lengths.
Check Price On Amazon
Chiaogoo Red Lace Stainless Steel Circular Knitting Needles
I love knitting with my Chiagoo Red Lace Stainless Steel Circular Knitting Needles.
I've used Size US 1 (2.25mm) for my hand-knitted socks.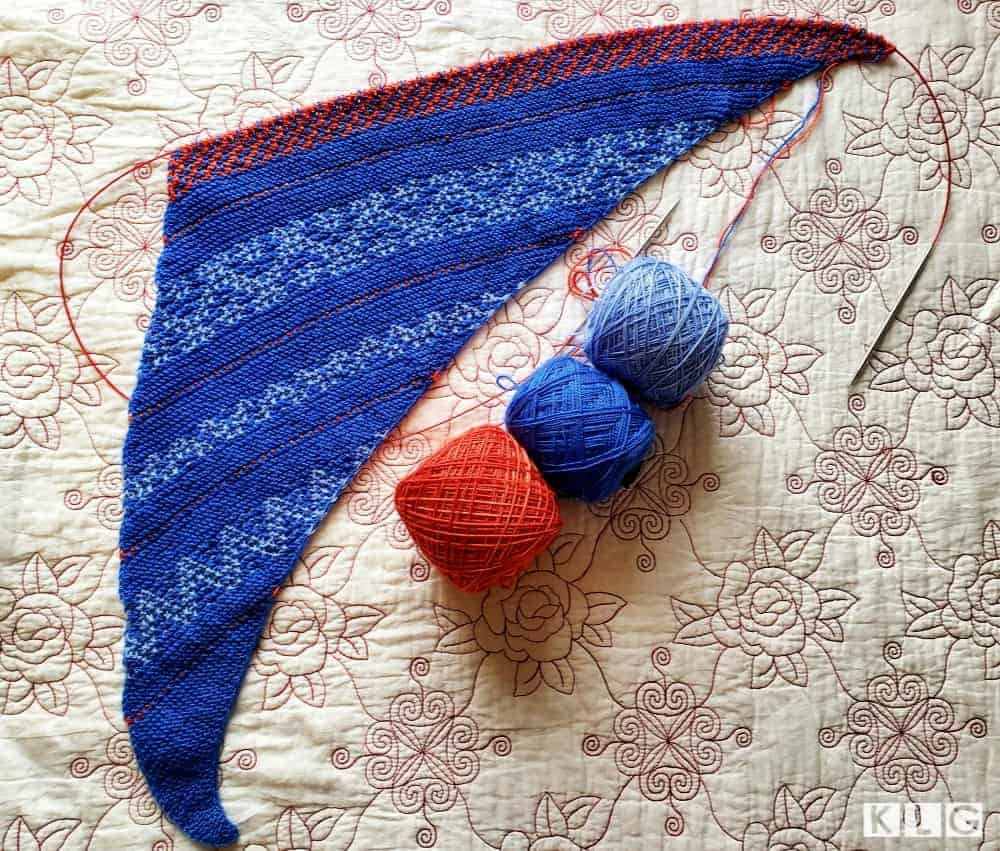 For my first mosaic shawl I used Chiaogoo circulars in US 4 (3.5mm) & US 5 (3.75mm).
These needles are lightweight and slick. The yarn doesn't snag, and the flexible nylon covered multi-strand stainless steel cable is lovely.
Knitters adore the red nylon coated stainless wire cables. They are thin, flexible and durable.
It doesn't kink or stayed coiled after taking it out of storage. I keep mine in their original packaging in my knitting bag.
The section where the cable is attached to the needle is smooth and I've had no problems with yarn or stitches snagging.
There are various lengths and sizes available. For more details visit my full review of ChiaoGoo needles.
Check Price on Amazon
Stainless Steel Interchangeable Knitting Needles
ChiaoGoo Twist Tip Interchangeable Complete Set, 4-Inch
ChiaoGoo sells three types of sets:
Small – containing 7 sizes – US 2 (2.75mm), US 3 (3.25mm), US 4 (3.55mm) , US 5 (3.75mm), US 6 (4mm), US 7 (4.5mm), US 8 (5mm).
Large – containing 6 sizes – US 9 (5.5mm), US 10 (6mm), US 10.5 (6.5mm), US 11 (8mm), US 13 (9mm), and US 15 (10mm).
Complete set featured in this article containing 13 sizes overall.
This set includes: 4″ (10 cm), surgical-grade, stainless steel metal lace tips, and three cable lengths: 8″ (20 cm), 14″ (35 cm), and 22″ (55 cm) cables to make 16″ (40 cm), 22″ (56 cm), and 30″ (76 cm) circulars.
Twist red cables consist of a multi-strand, steel cord coated with red nylon and memory-free, so no kinks!
The needle tips feature a lifeline hole making adding a lifeline as simple as knitting across the row. These are very popular for lace knitting.
Pros
Tips are smooth and fast
They have a longer taper than the HiyaHiya tips and are slightly sharper
The cables are memory free, so they don't kink
Cons
Some knitters don't like the 'zing' sound when knitting with the needle tips. I personally don't mind this sound.
You can't use the small size needle tip cables with the large size needle tip cables
Read my full review for the ChiaoGoo Interchangeable needle set.
Check Price on Amazon
Hiya Hiya Interchangeable Sharp Steel Knitting Needle Set
Premium stainless steel knitting needles set includes 13 pairs of 4" (10cm) sharp tips US sizes 2-15.
(2.75mm, 3.25mm, 3.5mm, 3.75mm, 4mm, 4.5mm, 5mm, 5,5mm, 6mm, 6.5mm, 8mm, 9mm, 10mm)
Includes 4 cables in 16″, 24″, 32″ and 42″ lengths
Includes tightening grip, small cable connectors, tip adaptor, small and large panda stoppers, small and large single point adapters, snips, darning needles, and safety pins and a brocade case.
Pros
Stitches slide smoothly over the needle
Smooth connections, yarn doesn't snag at the joins
Flexible Swivel Cables
Cons
May need to use waxed paper on first use to stop yarns sticking
If you are a knitter that moves the points with your finger, you may have to protect your fingertip somehow.
You can't use the small size needle tip cables with the large size needle tip cables.
Read my full Hiya Hiya Needle Set review.
Check Price on Amazon
Stainless Steel Double Pointed Needles
Both ChiaoGoo and Hiya Hiya brands are available in DPNS. There are a variety of sizes and lengths.
Chiaogoo have 6″ (15cm) and 8″ (20cm) in sizes US 0 – 11 (2mm – 8mm)
Made of surgical stainless steel, these needles have precisely machined and perfectly tapered tips. They have a smooth, satin-sheen finish with the size permanently laser imprinted on each needle.
While lightweight and durable, these are also solid and 100% recyclable!
Check Price on Amazon
Hiya Hiya also have sharp stainless steel double pointed needles in lengths 6″ (15cm) and 8″ (20cm) in sizes US 0 – 10 (2mm-6mm).
They come in a set of 5. They have a smooth surface with sharp tips, perfect for increasing and decreasing.
Check Price on Amazon
Stainless Steel Straight Knitting Needles
Single Point needles made of this material are harder to find.
Pony makes a 35cm (13.7 inches) version called Elan that I came across during my research.
Larger online retailers don't seem to stock them. You could try finding them second hand on sites like eBay.
Where To Buy Stainless Steel Knitting Needles
Many online stores stock these needles like Amazon and Etsy.
Yarn stores that have online services will also offer stainless steel knitting needles.
Physical Local Yarn Stores are sure to have them.
I hope you've found this guide helpful and I'd love to hear about your own experiences or favorites.
A lovely reader shared this about her experience of ChiaGoo Interchangeables and Hiya Hiya Interchangeable Set.
"When I was looking for a set of IC needles, I tried HiyaHiya, KnitPro and ChiaoGoo to compare. CG came out on top, with excellent no-memory cables and tips that weren't too pointy."
Leave a comment below or get in touch with me here.
Pin Now to Save for Later