Looking for an affordable, long-lasting yarn? Wool fibers might be the perfect choice. I explore what wool yarn is, and ways to use it for knitting.
I reviewed, fact checked and updated this post on May 14, 2023.
Table Of Contents
What Is Wool Yarn?
Wool yarn is an animal fiber sold at moderate prices. This fiber is popular because it's warm, easy care, durable and insulating, even when it's wet! They're easy to find and great for many knitted creations. It's available in a range of colors.
Where It Comes From
Wool yarn is derived from sheep. Other animals produce wool fiber but here I discuss sheep wool. The hair closest to the skin is called "wool", while the coarser outer layer is known as "hair". There are many types of wool yarn, depending on the breed and how the wool is processed.
How It's Made Into Yarn
After the wool is shorn from the sheep, it's combed to get rid of any short fibers, dirt, grass or other debris. After this the raw wool is washed, rinsed and spun (nearly dry) and then left to air dry on racks. This is called "scouring"
The next step is to spin the fibers into yarn. Here is a video tutorial by The Woolmark Company on the process of wool production.
The information in this video on processing wool will be a great help!
It's spun, either by machine or hand. The wool yarn you'll find in stores is typically machine-spun. Here is a video tutorial by Chandi from ExpressionFiberArts on how to spin wool yarn on a wheel by hand.
Spinning is a real art, so much to co-ordinate!
Types Of Wool
Aran: Specially processed for Aran Sweaters, it's thick and unbleached.[3]
Bluefaced Leicester Wool: A lustrous longwool for next-to-skin garments.
Bond Wool: A type of carpet wool, it's often used in rugs or wall hangings.
Cormo Wool: Soft, bouncy and springy, it's great for sweaters.
Debouillet Wool: A lustrous and bouncy fiber for next-to-skin garments.
Finnish Landrace Wool: A fine, soft fiber, often used in baby garments.
Merino Wool: One of the most popular wools, it's soft, and non-scratchy.
Rambouillet Wool: A silky fiber often used in next-to-skin garments.
Shetland: From the Shetland sheep, it's warm, hard-wearing, and textured.[3]
Superwash Wool: A wool that's been treated to be machine washable.
Targhee Wool: A bouncy, springy yarn that's great for sweaters.
Teeswater Wool: A lustrous longwool, often used in next-to-skin garments.
Virgin Wool: Wool that's never been processed before.
Wensleydale Wool: A longwool often used in garments.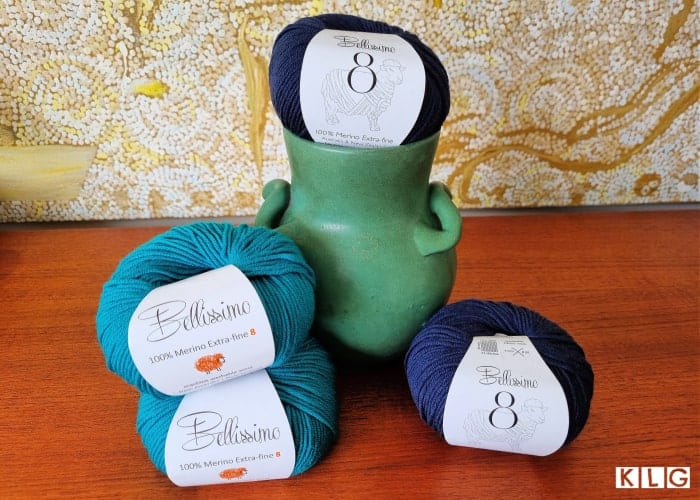 How To Wash Wool Yarn
Here are the care instructions for wool fibers.
Use cool water and a mild detergent, like baby shampoo or wool wash
Gently agitate the garment in the water
Rinse well and press out excess water
Lay flat to dry away from direct sunlight
Always check the yarn label for instructions specific to the yarn you're using.
Can You Bleach Or Iron Wool Yarn?
No, you should never bleach or iron wool yarn. The heat from an iron shrinks and damage the fibers, and bleaching strips the yarn of its color.
Does It Shrink When Washed?
Yes, wool yarn can shrink when it's washed or dried on high heat. Always hand wash your garments in cool water.
How To Soften Wool Yarn
Washing it after you've finished knitting always helps!
Pin For Later
What Do You Use It For?
It's often used for a range of projects and things like knit shawls and wraps(1), heavy or light sweaters, socks, slippers, hats, scarves, gloves, rugs, and wall hangings. It's ideal for knitting or crochet beginners to practice stitches. Sometimes you'll find it in arm knit yarns.
If a baby doesn't have allergies, it's excellent for a winter baby blanket. Find out more in my blog post here.
Common Blends Using This Fiber
Here is a list of common blends using this yarn, and why they're created.
Wool/Acrylic – The wool is there for softness, while the acrylic provides durability
Wool/Silk – This is a luxurious blend perfect for delicate items like shawls. The silk adds shine and drape
Wool/Linen – This blend is perfect for summer garments because it's lightweight and breathable
Wool/Nylon – This is a common sock yarn because the nylon adds strength and stretch. It's usually available in fingering or sport weight
It's also sometimes blended with polyester fibers. For a more detailed guide on wool blend yarns, see my post. If you prefer 100% wool, that's easy to find too.
Where To Find It
Here's where to find this yarn: at a yarn store or craft stores in your area, an indie dyer's shop, at big box stores like Michaels, Walmart and Joann, or online brand shops. Here are brands or manufacturers of wool yarns to try: Wool and the Gang, Debbie Bliss, Berroco, Malabrigo, Manos del Uruguay, Blue Sky Fibers, and Noro.
What's The Price Like?
Prices for wool yarn can range depending on the quality, weight and brand. Though they range from moderate to expensive.
Interesting Facts
Want to know some fascinating tidbits about this material? Impress your friends with these.
During WW2, they set up Wool Reclamation plants in the US to reuse yarn, as it was in limited supply
It has natural UV protection, antimicrobial and antibacterial properties
It's stain resistant
It'll only catch fire at upwards of 1058 Fahrenheit (570 degrees Celsius)
It keeps its shape well
It's easy to recycle and reuse
FAQS About Wool Yarn
Is Wool Yarn Safe For Babies?
This will depend on whether a baby is sensitive to animal fibers.
Merino wool is often a good choice because it is soft and usually not irritating.
Is Wool Yarn Ethical & Eco-Friendly?
It's a renewable resource, and it's also biodegradable. Wool knits can last for decades if well cared for. Always check the wool you buy is ethically sourced from well cared for sheep.
What Can I Make With Leftover Wool Yarn?
You can make wrist warmers, mittens, potholders, or baskets.
Is Wool Yarn Itchy?
Yes, it's itchy because it's a fiber some people have sensitivities too. Here are ways to make it less itchy: choose a soft wool like merino, wear a layer between your skin and the wool, or wash your garments before wearing them.
Is Wool Yarn Good For Clothes?
Yes, it's good for clothes because it's durable and it has natural properties like being stain and odor-resistant.
Is Wool Yarn Good For Winter?
Yes, it's good for winter because it's a warm, insulating fiber.
Is Wool Yarn Good For Summer?
No, it isn't good for summer because it can make you feel hot.
Do Wool Yarns Pill?
Yes, they pill.
Can You Dye Wool Yarns?
Yes, you can.
Is Wool Yarn Stretchy?
Not really, it's better at keeping its shape than stretching.
Does Wool Yarn Burn?
It has a high ignition temperature, so it won't catch fire easily.
Is Wool Yarn Compostable?
Yes, you can put wool yarn in your compost.
Does Wool Yarn Shed?
Yes, it sheds.
What Is Felted Wool Yarn?
It's wool yarn that's gone through a process to shrink it and make it thicker.
What Is Wool Crepe Yarn?
It's a wool yarn that's been tightly twisted and finished to give it a textured surface.
Wool Yarn Vs Cotton Yarn
Wool is an animal fiber, stain resistant, odor resistant, and insulating. Cotton is a plant fiber, durable, absorbent, breathable, and hypoallergenic.
Wool Yarn Or Acrylic
Wool is an animal fiber, non-allergenic, and insulating. Acrylic is a synthetic fiber, durable, hypoallergenic, and affordable.
Conclusion
Such a versatile yarn suitable to so many projects. Hope you enjoyed this article. Happy crocheting or knitting! Do you have questions? Please leave them below!
References
"Ball of Fleisher's 'Ice Wool' Yarn; 1918." n.d. National Museum of American History. Accessed October 27, 2022. https://americanhistory.si.edu/collections/search/object/nmah_641340.
Gruber, Edward. 1942. Salvage. Wool Reclamation. Spinning Wool Yarn in an Eastern Wool Reclamation Plant. This Operation Draws the Roving and Puts a Twist in It to Toughen the Fibers and Increase the Tensile Strength of the Yarn.
Knitting. 1984. Octopus Books.