Suffer from pain in your hands or wrists when knitting? Wooden needles like Birch Knitting Needles are well worth trying.
Table Of Contents
Why Is Birch A Good Material for Knitting Needles?
Generally, birch knitting needles are a good option for the following reasons:
Lightweight
Warm to the touch
Smooth finish
Often the birch is from a sustainable source
The yarn glides across easily as it does with metal needles
Wooden needles are commonly preferred over plastic as they're gentle on sensitive fingers, comfortable to use and great for people with arthritis.
Wood is also better for the environment as it's biodegradable and easier to recycle than plastic.
Something to remember; Wooden needles need to be treated gently and stored carefully to prevent damage. They're more delicate than plastic or metal.
Wondering what the best baby yarn for blankets is? Your search is over!
Brittany knitting needles are made using sustainably sourced birch wood. They're beautifully hand-finished and exactly sized, and comfortable to work with. A quality product made to last.
Brittany cares about their impact on the environment and ensures their packaging is 100% recyclable. Made in California, United States.
Their range includes straight needles, double pointed needles and cable needles. Read more about these beautifully crafted needles in my guide.
Click to Learn More / Buy from Amazon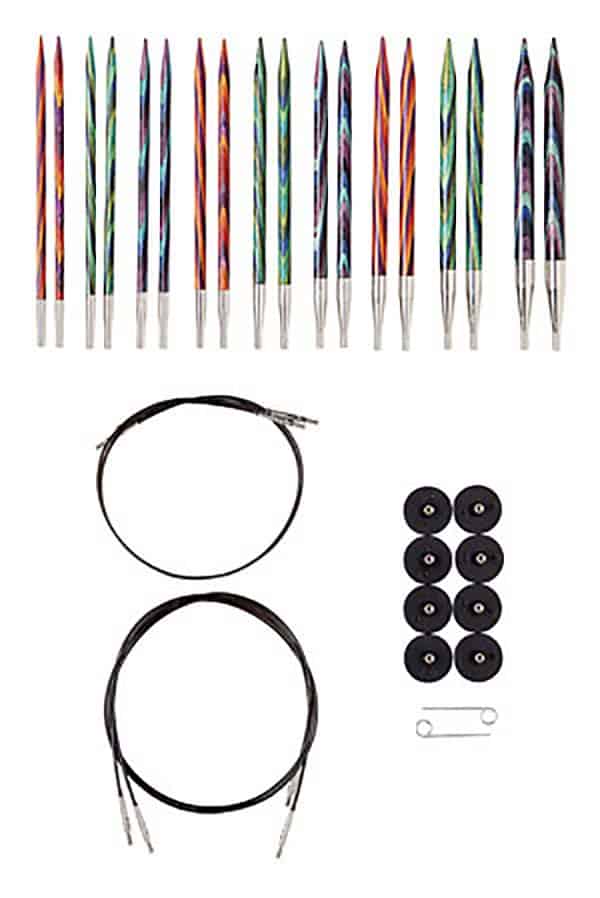 The Knit Picks Wood Needle range boasts gorgeous colors. Made from laminated birch wood, they are available in Interchangeables, straights, double pointed needles and fixed circulars.
My guide (on the options below gives you more information on each.
Radiant – Colorway is rich, warm arrays of red, yellow, orange, and purple.
Caspian – Vibrant hues of blue, green, and aquamarine.
Majestic – Luxurious hues of blue, green, and royal purple.
Sunstruck – Natural laminated birch wood color, polished to allow the individual colors of the different wood grains to shine through. Looks beautiful and has a rustic feel.
Rainbow – Lovely rainbow hues of a variety of gorgeous colors.
Mosaic – is a combination of all the wood needles colorways.
Lykke's "Driftwood" needles are made of smooth, hard birch with a beautiful grayish finish. The tips are long and slender. The black metal end caps have the sizes etched into them and the black cables are smooth and flexible.
The fixed circulars are available in a range of sizes and lengths. This is the 16 inches (40 cm) option.
The Lykke Driftwood Interchangeable Knitting Needles set are favored by many. Read more in my review.
Click to Learn More / Buy from Amazon
These needes are made from densely laminated birch wood.
The range includes interchangeable circular needles, fixed circulars, single-pointed needles, double pointed needles and cable needles.
Each needle size is a different color, easy to find the needle you need!
I have a detailed review of all the range in my post linked above.
Click to Learn More / Buy from Amazon
Has the lightness of Birch and the strength of natural wood. Needle tips are sharp but not too sharp. The larger needle tips work well with chunky yarns.
Available in 10″ and 14″ lengths in sizes US 2.5 (3.0mm) to US 17 (12.0mm)
If you're looking for needles to make knitting for longer periods more comfortable, consider birch needles. They're a pleasure to knit with, and you'll be impressed with their smoothness.
Pin Now to Save for Later